Marketing - Pavlenko A.F., Voychak A.V.
Pavlenko A.F., Voychak A.V.
P 12 Marketing: Pіdruchnik. - K .: KNEU, 2003. - 246 p.
ISBN 966–574–431–3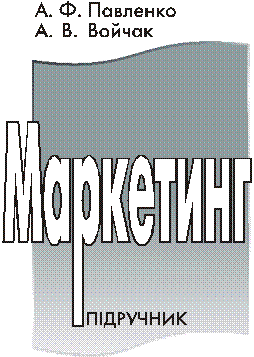 In podruchniku ​​vikladeno basic nutrition, rozkrivayut sutnіst marketer yak of philosophy pіdpriєmnitskoya іyalnost for brains rinkovih vіdnosin and competition. Most of my respect is wicked in marketing, methods, algorithms and tools, which will be funded by other companies for the pleasure of consuming them.
For training, educational services of marketing services, as well as for students and students of economical specialties of public schools.
BBK 65.290-2
ZMIST