Maps of the World, Geographic maps on the Internet
If you are going to an unfamiliar city, whether it is vacation, business trip or travel, first of all you need to find out how to get to the hotel or meeting place, where you can eat cheap, what attractions to visit and how to get there.
In this case, you should get a good guidebook or use one of the cartographic Web-services. Fortunately, there are a lot of them now, and unlike the same Google Earth, the traffic generated by them is an order of magnitude smaller.
MapQuest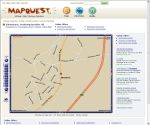 www.mapquest.com
MapQuest is one of the oldest cartographic Internet services. He repeatedly helped the author on travel. And although the site is clearly targeted at residents of the US and Canada, there are detailed maps (with details up to 70 m / cm) of almost all European countries. Unfortunately, Ukraine is not among the elected ones, there is only Zoom Level 7 - that is, only to the level of the city, but not of individual streets and houses.
The Drive Direction function does not work for every country. But all sections of the route are provided with separate detailed maps and clear descriptions. They can be printed, sent by e-mail, downloaded to the PDA. In general, the support of mobile phones, PDA and GPS-devices paid great attention. But how we organized the search for the nearest hotels, shopping centers, etc., we did not like, especially since they are not displayed on the map. The speed of query processing on MapQuest is impressive.
Multimap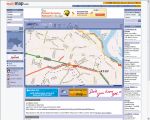 www.multimap.com
Too long-functioning cartographic Web-service, only European. The scale of the maps of the developed countries of Europe is quite good - 50 m / cm, but for Ukraine and its neighbors the resolution is limited to 500 m / cm. Unlike most other services, maps on Multimap are not vector maps, but bitmaps, that is, they are loaded a little longer and in parts. For sites with a resolution of 50 m / cm, a search is made for streets, hotels, attractions, etc. are displayed.
Travel Directions has traditionally operated only in some countries. The sections of the route are supplied with maps and even a travel time counter. You can choose the fastest and shortest way. Not bad realized information about the nearest hotels, room reservation and air tickets. There are mobile service options, as well as additional opportunities - search for the full address, the purchase of souvenirs and historical photographs.
Ukrainska Cartography Mereja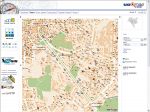 uamap.net
The service of the "Ukrainian Mapping Network" from Virtual Net GIS is the most interesting for us, since it is this resource that represents the most detailed maps of cities and regions of our country. Most of the maps hosted in the UAE are clones and uamap.net client applications.
The server presents maps of all 24 regions of Ukraine and the Republic of Crimea on a scale of 200-500 m / cm, as well as 27 cities, data for 10 more cities should appear in the near future. Detailing is amazing. For example, for Kiev the resolution is 25 m / cm, and for Kanev - 10 m / cm! Naturally, there is a numbering of houses, medical institutions, schools, kindergartens, housing offices, administrative buildings, mails, etc., etc. are displayed. The search is possible in three languages ​​- Ukrainian, Russian and English.
Claims are not very impressive speed of processing requests, especially for Kiev, and some errors in the search for information. In addition, there is no way to plan a route, detailed schemes of interchanges, information about hotels and other services. But nevertheless, this is the best Ukrainian server of this kind, and we hope for its further development.
Map24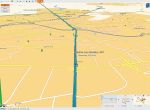 www.map24.com
One of the best cartographic services of the new generation, made on technology AJAX. The site contains stunning interactive maps of most regions of Europe, the US, Australia and Brazil, while the number of countries is constantly growing. Like on Google Map, it is possible to display a conventional, satellite and hybrid map. There is a search for restaurants, hotels, cultural institutions, gas stations, etc. And many of them are equipped with interactive tips with phones and work schedules (alas, for Ukraine this function is not implemented).
But the most impressive are the 3D functions of Map24. For example, the ability to tilt the map and view the terrain in an isometric view. When planning a trip, you will not only be given clear instructions, but will also allow you to fly along the entire route in 3D (!), Which greatly facilitates orientation on the terrain. Management, scaling and moving here are intuitive. Convenient and deploying the map window to the full screen. Since the AJAX service is before us, the reaction speed of the application and its interactivity are simply amazing.
As for Ukraine, here there is only a detailed map of Kiev, alas, without any additional facilities. In addition, the search for streets is hampered by the somewhat strange transliteration of Ukrainian toponyms.
World of Maps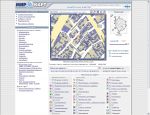 mirkart.ru
This service is similar to uamap.net, only focused primarily on Russia. The selection of cards is distinguished by some eclecticism. So, along with the detailed interactive plans of Moscow, St. Petersburg and other large cities of Russia, there are separate maps of the DPRK, South Korea, Chechnya, Afghanistan, Alpine ski resorts, Mediterranean resorts, Kuwait and for some reason a map of the distribution of votes in presidential elections, the number crimes, population density, an interactive atlas of the world with background information, and so on.
For Moscow and St. Petersburg, it is possible to display a multitude of layers that contain information about the location of passport offices, embassies, pharmacies, nightclubs, food markets, Internet providers and much more (more than 30 types of institutions). The main claim to the "World of Maps" is a terribly small map window and surprisingly uncomfortable navigation.
Subway Navigator

www.subwaynavigator.com
If visitors manage to get confused in the Kiev metro, which has only three lines, what can we say about the orientation in the metro of Paris, London or Tokyo. Subway Navigator will help you. The site contains interactive metropolitan schemes in several hundred cities around the world. There is an opportunity, having set the station of departure and destination, to get an approximate time of the trip and precise tips, where to make transplants. The author of this article has repeatedly used this resource - it helps.

Uv. service, if you want to add, edit, highlight, raise data - communication via [ contact form ].