Grand battery test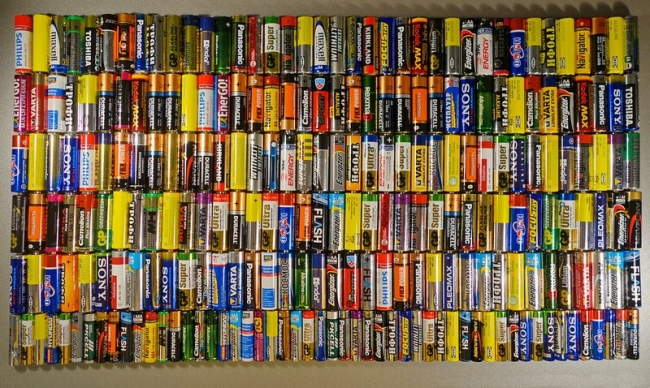 Battery testing will let you know:
How expensive are better batteries than cheap ones?
How much larger are lithium batteries than usual?
How much less salt batteries have alkaline batteries?
Do batteries for digital devices differ from ordinary batteries?
Which of the same batteries are better to buy?
All AA and AAA batteries that we can find participated in our tests.
58 types of AA batteries and 35 types of AAA were collected.
A total of 255 batteries were tested - 170 AA and 85 AAA.
To improve the accuracy of measurements, the battery analyzer does not use PWM - it creates a constant resistive load on the battery
The device can work in different modes. To test AA batteries, three main modes were used:
Discharge with a direct current of 200 mA. Such a load is inherent in electronic toys;
Discharge with 1000 mA pulses (10 seconds load, 10 seconds pause). Such a load is inherent in digital devices;
Discharge with 2500 mA pulses (10 seconds load, 20 seconds pause). Such a load is typical for powerful digital devices - cameras, flashes.
In addition, four batteries were discharged with small currents of 50 and 100 mA.
The measurements were made when the batteries were discharged to a voltage of 0.7 V.
The discharge graph clearly shows how different types of batteries behave.
Discharge AA batteries with a current of 200 mA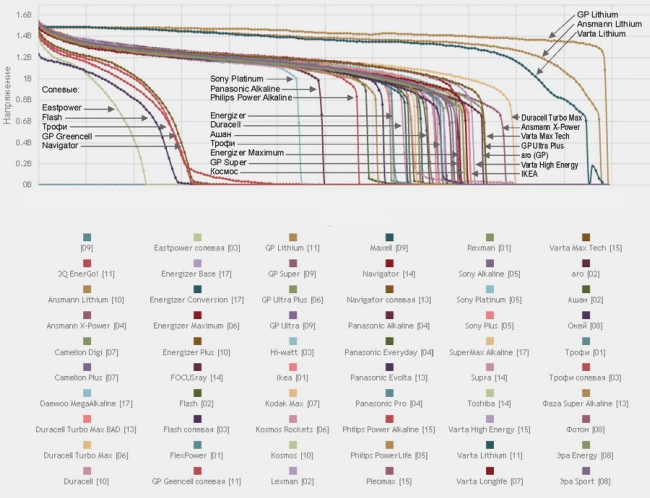 The first five lines are salt batteries.
You can clearly see how much less their capacity.
The last three lines are lithium batteries.
They not only have a large capacity, but also discharge in a different way: the voltage on them does not decrease almost to the very end, and then drops sharply.
This is especially pronounced in the GP Lithium battery.
In addition, lithium batteries can work in cold weather.
Among the many similar alkaline batteries, two outsiders are clearly visible - Sony Platinum and Panasonic Alkaline and two leaders - Duracell Turbo Max and Ansmann X-Power.
The remaining batteries differ in capacity by only 15%.
Diagram 1 - AA batteries sorted by capacity at a discharge current of 200 mA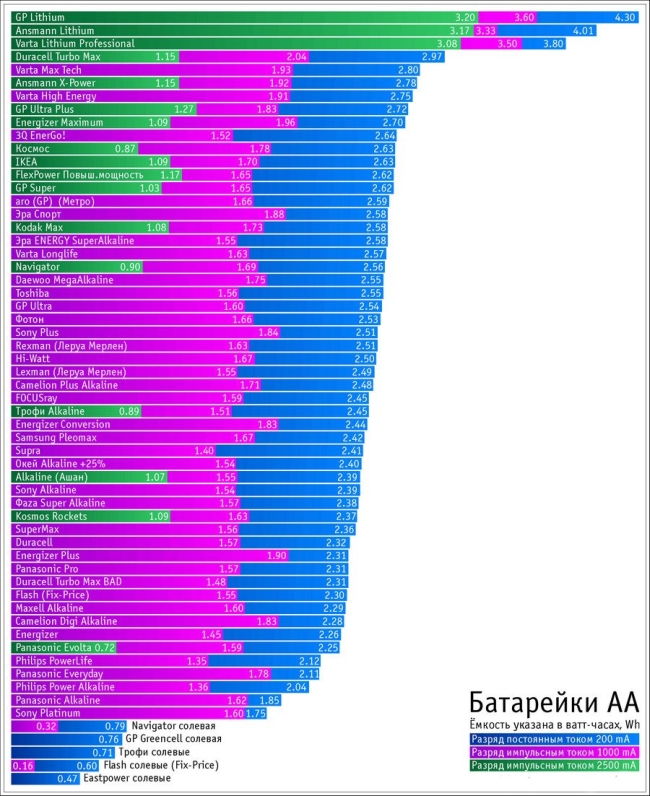 The Duracell Turbo Max batteries really have a capacity slightly larger than all the other alkaline batteries, however I came across one package of Duracell Turbo Max, which were significantly worse than others.
In terms of capacity, they corresponded to ordinary cheap batteries.
In the table and graphs they are labeled "Duracell Turbo Max BAD".
The diagram clearly shows that different batteries behave differently when discharged by large and low currents.
For example, Camelion Plus Alkaline provides more energy than Camelion Digi Alkaline at low current.
But on the big everything is the opposite.
Typically, high-current batteries indicate that they are designed for digital devices.
At the same time, there are many universal batteries that work perfectly with any currents.
I averaged the amount of energy that the batteries give out at high and low currents, and based on the results and price of the batteries (which in some cases is only approximate), I compiled a diagram of the cost of one watt-hour for all AA batteries.
Diagram 2 - the cost of one watt-hour for all AA batteries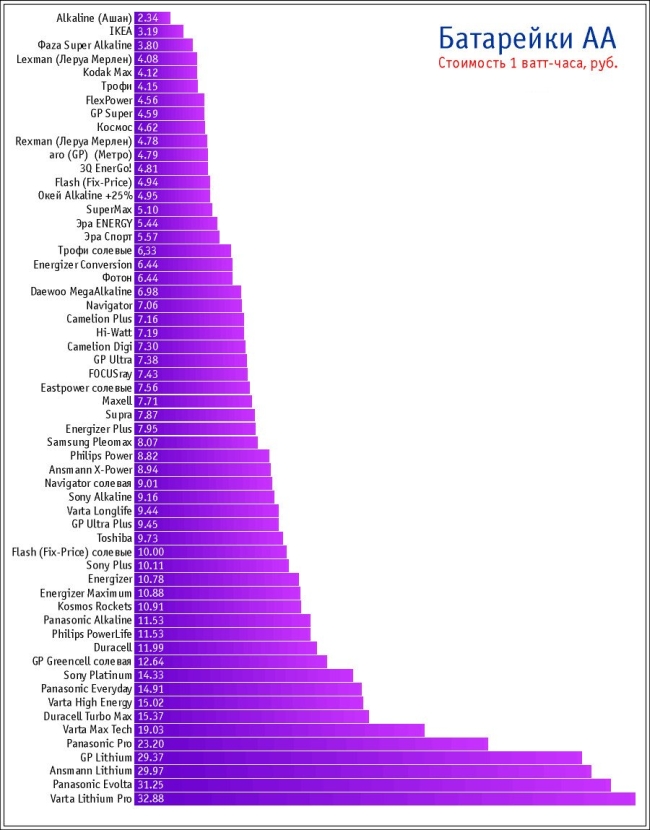 All types of AAA batteries were discharged with a direct current of 200 mA.
Some types of AAA batteries were subjected to a second test — a discharge with a current of 1000 mA in the "constant resistance" mode (the current decreased with the discharge).
This mode emulates the operation of batteries in a flashlight.
In AAA format, the Duracell Turbo Max turned out to be far from the best alkaline battery.
Many cheap batteries (like Ikea, Navigator, aro, FlexPower) had more capacity.
Diagram 3 - AAA batteries sorted by capacity at a discharge current of 200 mA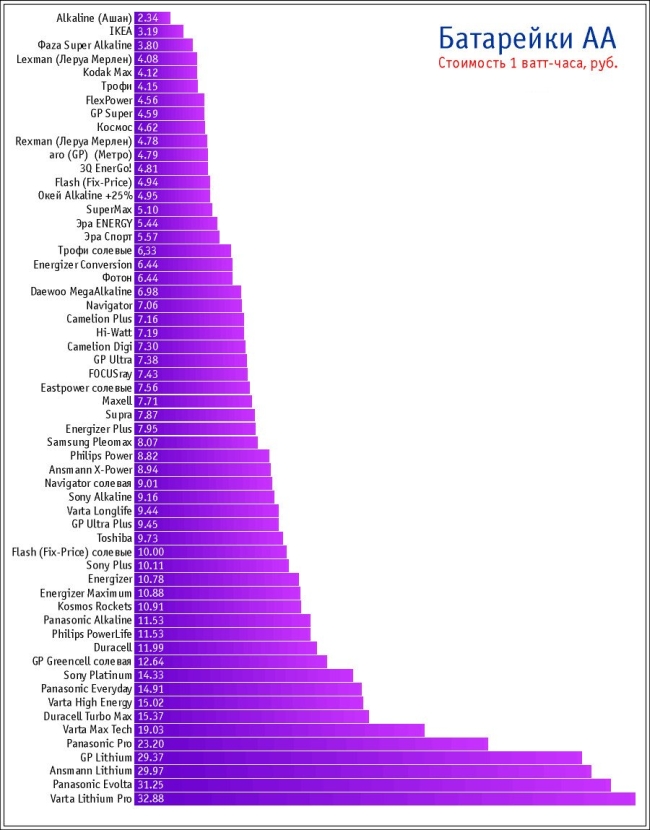 Technical findings
Most alkaline batteries differ in capacity by only 15%;
Lithium batteries have 1.5-3 times (depending on the load current) a larger capacity than alkaline;
Unlike alkaline, the voltage on lithium batteries almost does not decrease during the discharge process;
Salt batteries are 3.5 times worse than alkaline batteries at low currents and cannot work at large;
There are three types of alkaline batteries: universal, designed for low load currents and designed for high load currents. At the same time, universal ones are better than the other two at all currents.
Consumer findings
Salt batteries are not worth buying. Even in devices with the smallest consumption, alkaline (Alkaline) will last much longer due to its long shelf life;
It is most profitable to buy batteries sold under the brands of Auchan and Ikea stores;
In other stores you can safely buy the cheapest alkaline batteries;
From what is sold at grocery stores, the best choice is GP Super;
Lithium batteries are expensive, but they are lightweight, capacious and can work in cold weather.
Most of the batteries were provided by wholesale companies Source Bettaris, and Power Systems and Technologies.
Their batteries were provided by Ikea, Camelion, Navigator.
I bought part of the batteries in the stores Auchan, Metro, Okay, Yulmart, Pyaterochka, Dixie.
AA and AAA tests with iMAX B6
For testing, iMAX B6 was used.
Each battery was discharged with a current of 0.2A until it could give out such a current.
To confirm the results, I tested two copies of some batteries.
My experiments took almost two months, because it took about ten hours to test each battery.
Measured battery capacity in milliampere-hours.
The voltage was measured on the battery two minutes after the start of the test.
After the battery "died", it was left for a while (usually half an hour) and the test was carried out again, while it gave out some more energy - "Capacity 2".
The cost of one ampere hour is indicated in the last column.
The results look more clearly in the diagram.
A tablet sorted by ampere-hour price shows which batteries are the most profitable.
Technical and Consumer Conclusions
Conventional Duracell and Energizer batteries are pointless to buy. They are no better than batteries, which are 2-4 times cheaper.
Duracell Turbo Max for 38 rubles, of course, good batteries, but not as much as asking for them.
The capacity of salt batteries is three times less than that of the cheapest alkaline (alkaline) batteries.
Trophy, Okay - not very good batteries.
Duracell is better than Energizer.
GP, Photon, Era, Space are good batteries with less than 10% difference in capacity.
The most profitable batteries are Ikea and FlexPower, but they are sold only in Ikea and F-center stores, respectively.
The capacity of AAA batteries is almost three times less than AA.
It is possible in certain conditions (for example, when discharging with large currents) expensive Duracell batteries can be more effective than when discharging with medium current, but their capacity is unlikely to be as high as those of Ikea as much as their price (5.5 times).
Battery participants
Testing process