Free electronic electronic journal "I'm an electrician!"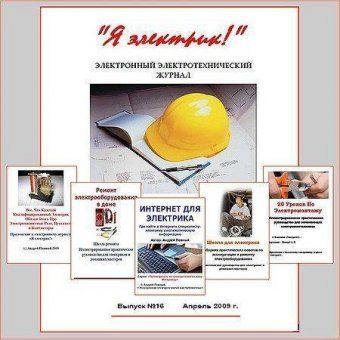 The magazine is to facilitate the life of specialists - electricians, and for all who really want to become an electrician

Download all the journal numbers with all the applications in one file!
This is 1650 pages of detailed instructions with illustrations that will help you become a real expert in electrical engineering!
Just choose the right one and skachayte.
---
The last

22th issue of the journal "I'm an

electrician

!" (3.2 mb)

In this issue of the magazine you will find 7 articles on 77 pages.

Download the magazine in the ZIP archive:

The same file without the archive in PDF:

This journal number has a PDF-format and is opened with Adobe Acrobat Reader version 5.0 and higher! It is possible to print on the printer.

The contents of this issue are:
The organization of an electrical network in an apartment house
AVR - automatic reserve input for a private house
The loss of electricity in the horticultural partnership and the means to reduce them
Automation of water supply
Notes on electrical equipment for industrial automation
Modern induction heaters. Design and application features
---
Archive of the journal "I'm an electrician!"

This journal number has a PDF-format and is opened with Adobe Acrobat Reader version 5.0 and higher! (You must unzip the log beforehand by any archiver).

2007
№1-3 | №4 | №5 | №6 | №7 | №8
2008
№9 | №10 | №11 | №12 | №13 | №14
2009
№15 | №16 | №17 | №18 | №19 | № 20 | №21 | Last
ELECTROTECHNICAL PROGRAMS