Openbox X-800 / X-820CI
Attention!
Since November 2007, the circuit design of the OPENBOX X-800/810 / 820CI receivers has been changed, the design of the front panel and shipping packaging.



Also on the shipping carton there should now be a holographic sticker on which with confidence you can identify the original OPENBOX receiver.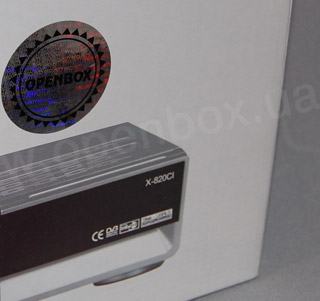 Specifications and specifications of the devices remained unchanged.



The supply of receivers of the old model of the company Sat Systems no longer carries out:



The Openbox® X-800 / 820CI receivers deserve great popularity among consumers due to the maximum simplicity, convenience, high technical parameters and reasonable price.

Distinctive features of the Openbox® X-800 / 820CI receivers:

1 x UniCAS interface for access cards
2 x CI interface for CAM modules (only for model X-820CI)
Rich functionality and powerful technical support

The Openbox® X-800 / 820CI receivers are made in the same housing as the F-300FTA, X-810. Strict lines of "silver metallic", stylish POWER button with blue backlight, moderately bright green indicator - all this perfectly fits into the interior of your room.




The name of the brand is stamped on the metal cover of the receiver, which is an additional protection against counterfeits.



At the rear, the receiver has the following communication connectors:
The RF tuner input "IF IN" and the loop output "IF OUT"
Input and output of the modulator "ANT IN" and "TV OUT" respectively
Analog RCA audio output "AUDIO R / L"
Composite RCA video output "VIDEO"
RCA output for switch "0 / 12V"
2 x SCART connectors (TV and VCR)
RS232 port for computer connection
Optical digital sound output "S / PDIF"



The remote control of black color has strict forms. The arrangement of the buttons, their dimensions and the required pressing force are chosen almost perfectly. Thanks to the protrusion of the compartments of the feeding elements, the console conveniently lies in the hand and does not stick out.