Sockets and plugs in countries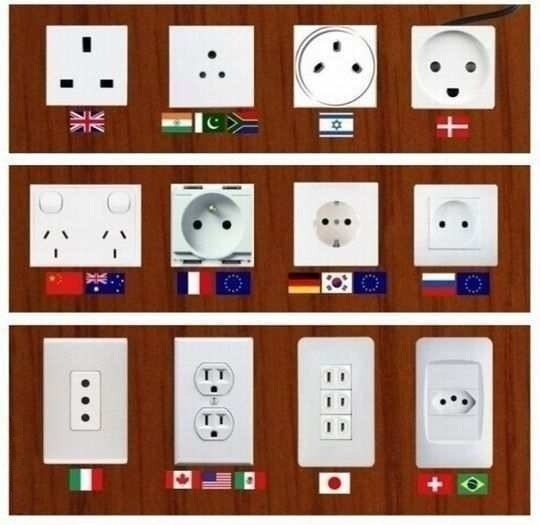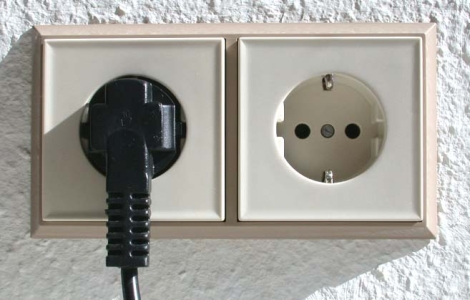 Plug connectors (from it. Stopsel - plug) are devices for plug-in connection of electrical appliances to the electrical network. The plug connection consists of two parts: the socket and the plug.
A power outlet is a part of a connector to which electrical energy is supplied from a source. The Russian name comes from the popular jewelry. To prevent contact with foreign objects, the socket is executed as a female connector.
Plug - part of the connector for connecting the consumer to an electrical outlet. Electrical contacts of the plug are usually in the form of pins, which give it some similarity with the table fork, which is why the Russian name originated. It can be connected to an electrical device with a flexible cable (cord), or be fixedly mounted on it.
Spreading standards
The widespread use of electricity in everyday life is impossible without the development of appropriate standards. Standardization of electrical installation products made it possible to make the use of electricity safer, devices - more reliable, inexpensive and massive. However, standards in different countries were often developed independently of each other, which led to their great diversity and incompatibility with each other. Some standards were not widely spread and disappeared. As a result of the influence of economic and political factors, some countries have changed their standards. Hotels and airports for the convenience of travelers may have sockets of foreign standards. In some countries, several connection standards, voltages and frequencies can be used simultaneously, which often leads to problems.
Unification of standards
In recent years, many countries have agreed among themselves a few de facto standards that have become formally official national standards, although many countries still use connectors of obsolete types. In some buildings there is a wiring that has been used for about a century, which was carried out before the introduction of modern standards.
Steps have been taken to combine the standards of different countries. For example, the CEE 7/7 plug is adopted in some European countries and is compatible with E and F socket types, while the non-polarized CEE 7/16 plug (Europlug) is compatible with sockets in most parts of continental Europe, the former USSR and many others. countries. The IEC 60906-1 standard is proposed as a general standard for all 230-volt plugs and sockets around the world, but so far it has been adopted only in Brazil.
Many manufacturers of electrical appliances, such as personal computers, have adopted the practice of using a removable cord connected to the IEC connector. For each country, the device is equipped with a different cord, while the other parts remain unchanged. To select the voltage and frequency standards, a switch is installed, and sometimes the device is calculated to operate in a wide range of network voltages, which has become possible with the use of switching power supplies. The practical benefit of this approach is to simplify certification, as well as to release one device, instead of several for each standard.
Standards of different countries
The two most common voltage and frequency standards in the world are common. One of them is the American standard 110–127 Volt 60 Hertz, together with plugs A and B. The other standard is European, 220–240 Volt 50 Hertz, type C-M plugs. Most countries accepted one of these two standards, although sometimes there are transitional, or unique standards. The maps show which countries use certain standards.
| | |
| --- | --- |
| Voltage and frequency. Blue - 220/50, green - 220/60, yellow - 110/50, red - 110/60 | Types of plugs. |
Summary table of types of household plugs, sockets, nominal supply of single-phase electrical voltage and frequency of the network in the world.
Electric network ratings. A guide for determining the types of plugs and sockets that you have.
Type of
A photo
Explanations

A

Type A

NEMA 1-15 (North American 15 A / 125 V, ungrounded) North America
GOST 7396.1-89 - type A 1-15 Russia
JIS C 8303, Class II (15 A / 100 V, ungrounded) Japan

Type A plugs are compatible with type B sockets. There are polarized and unpolarized type A plugs. Polarized type A plugs are not included in unpolarized type A sockets because both slots in the outlet are equally narrow. However, non-polarized and polarized type A plugs are supplied with a type A polarized socket and a type B socket.

The Japanese plug and socket are identical to the NEMA 1-15 type. Many Japanese sockets and multilink adapters are unpolarized - the slots in the sockets are the same size - and only accept unpolarized plugs. Japanese plugs generally fit most North American outlets without problems, but polarized North American plugs may require an adapter or replacement to connect to old Japanese outlets.

B

Type B

NEMA 5-15 (15 A / 125 V, grounded) North America
GOST 7396.1-89 - type A 5-15, Russia
JIS C 8303, Class I (15 A / 100 V, grounded), Japan
CSA 22.2, _ 42, Canada

NEMA 5-20 (20 A / 125 V, grounded) North America
GOST 7396.1-89 - type A 5-20, Russia
PBG (Parallel Blade with Ground), North America
Hubbell, North America
Edisson, North America

In addition to parallel flat knives, the type B plug has a round, or U- shaped, grounding pin. Sometimes both power contacts in type B plugs are narrow, because due to the presence of a grounding contact, the plug cannot be plugged in incorrectly, however, the slots in the socket have different sizes for the correct connection of type A plugs. Not always 20 and 15 amp plugs often it is so).

WITH

CEE 7/16 (Europlug) 2.5 A / 250 V
GOST 7396.1-89 - type C5 version II
CEI 23-5 Italy

This FLAT plug is designed for a current of 2.5 A. Since it is unpolarized, it can be inserted into the outlet in any position, so the phase and neutral are connected randomly. Spacing and pin lengths allow you to safely plug it into most CEE 7/17 type C, type E, type H, CEE 7/4 (Schuko) type F sockets, CEE 7/7 type E / F, type J, type K and type sockets. L (L10 ampere).

CEE 7/17 plug (16 A / 250 V, ungrounded)
GOST 7396.1-89 - type C6

This plug also has two round pins, but they have a diameter of 4.8 mm, like the types E and F. The plug has a round plastic or rubber base that prevents it from being plugged into the small sockets provided for Europlug. The plug is intended only for large round sockets for types E and F, but may be inserted into a type H socket, although this is undesirable, as they are designed for pins of smaller diameter. The plug has both a hole for the ground pin and (sometimes) contact strips for the side contacts.

C1 / C USSR

GOST 7396.1-89 - type C1 a (socket) and b (plug).

In the USSR, according to GOST 7396.1-89, there was a standard C1 plug, the same as type C, but with pins 4 mm in diameter. Such plug is calculated on current 6A. It is difficult to plug the euro plug into the sockets outlet due to the difference in the thickness of the pins. It is difficult to turn on the Soviet plug into the euro socket because the plug C1 has a round base.

D and M

type D

type M

Type D

BS 546 BS 546 (5 A / 250 V, grounded)
GOST 7396.1-89 - type B1

She has three large round pins, placed on the vertices of the triangle.

Type M

15 amp version of plug D. In most cases, plugs and sockets D and M are compatible. The pins on the plug D are already pins on M and this plug can always be pushed into the socket M (whether there is a contact - as lucky), the plug M can not always be pushed into the socket D.

E

Type E

CEE 7/5
French type E
GOST 7396.1-89 - type C3

The socket is incompatible with the type F CEE 7/4 plug. The grounding in the E-type socket is made with a round pin permanently built into the socket. The plug is round, with two round pins measuring 4.8x19 mm, with a distance between them of 19 mm and a hole for the grounding pin of the socket. The socket fits with Europlug 7/16 type C and CEE 7/17 flat plugs. The plug often fits into other types of sockets; when using force, the socket may be damaged.

F

Type F

CEE 7/4
German Schuko 16 A / 250 V, with grounding
GOST 7396.1-89 - type C2

Designed for current up to 16 Amps, non-polarized and accepts Type C and Europlug CEE 7/16 and 7/17 plugs.

E / f

E / F type

CEE 7/7 plug
French-German 16 A / 250 V, grounded
GOST 7396.1-89 - type C4

CEE 7/7 plug is compatible with types E and F. Polarized when used with a type E socket, but in type F sockets the phase and neutral wires are not observed. The plug is designed for 16 A. Grounding clamps on both sides for connection to the type F CEE 7/4 outlet and a female contact for the grounding pin of the type E CEE 7/5 outlet.

G

Type G

BS 1363
British 13 A / 230-240 V 50 Hz, grounded, with fuse
GOST 7396.1-89 - type B2 BS 1363.

Any fuse can be inserted into the plug, but according to the safety requirements it should be designed for the maximum current of the protected device. The fuse has a length of 1 inch (25.4 mm) according to the British standard BS 1362.

H

Type H

SI 32
Israeli 16 A / 250 V, with grounding
IS16A-R

Two plugs and one outlet, not found anywhere else except Israel. Plugs are not compatible with other types of sockets. You can connect type C plugs to most type H sockets.

I

Type I

AS / NZS 3112
Australasian type 10 A / 240 V
Chinese 10 A / 250 V
GOST 7396.1-89 - type A10-20
IRAM 2073 Argentinian 10A / 250B

J

Type j

SEV 1011 (Swiss type 10 A / 250 V).

Swiss sockets or flat Europlug CEE 7/16 type C are suitable for sockets.

K

Type K

Danish 107-2-D1,

The socket is suitable for Danish plugs, you can insert plugs type C CEE 7/16 or CEE 7/17, type E / F CEE7 / 7 and type F CEE 7/4 (Schuko). Forks almost never fit.

L

Type L - Center Pin - Ground

CEI 23-16 / VII (Italian 10 A / 250 V)

The 10 ampere socket (it is smaller) includes a flat plug type C (CEE 7/16)

CEI 23-16 / VII (Italian 16 A / 250 V)

Does not fit anywhere else.

M

See type D
Power supply and the types of outlets and plugs used in the countries of the world.
Countries and Territories
Outlet type
Single phase voltage
Network frequency
Note (we would like to make your remarks)
Australia
I
230 V
50 Hz
Austria
C, F
230 V
50 Hz
Azerbaijan
C
220 V
50 Hz
Azores
C, F
220 V
50 Hz
Albania
C, F
220 V
50 Hz
Algeria
C, F
230 V
50 Hz
American Samoa
A, B, F, I
120 V
60 Hz
Anguilla
A, B
110 V
60 Hz
Angola
C
220 V
50 Hz
Andorra
C, F
230 V
50 Hz
Antigua
A, B
230 V
60 Hz
at the airport 110 V
Macau (Macau)
D, M, G, rarely F
220 V
50 Hz
Argentina
C, I
220 V
50 Hz
Armenia
C, F
220 V
50 Hz
Aruba
A, B, F
127 V
60 Hz
in Lago 115 V
Afghanistan
C, D, F
240 V
50 Hz
anything is found
Bahamas
A, B
120 V
60 Hz
in some remote regions 50 Hz
Balearic Islands
C, F
220 V
50 Hz
Bangladesh
A, C, D, G, K
220 V
50 Hz
Barbados
A, B
115 V
50 Hz
Bahrain
G
230 V
50 Hz
in Avali 110 V, 60 Hz
Belorussia
C
220 V
50 Hz
Belize
A, B, G
110 V, 220 V
60 Hz
Belgium
C, E
230 V
50 Hz
Benin
C, E
220 V
50 Hz
Bermuda
A, B
120 V
60 Hz
Bulgaria
C, F
230 V
50 Hz
Bolivia
A, C
220 V
50 Hz
in La Paz 115V
Bosnia
C, F
220 V
50 Hz
Botswana
D, G, M
231 V
50 Hz
Brazil
A, B, C, I
127 V, 220 V
60 Hz
Brunei
G
240 V
50 Hz
Burkina Faso
C, E
220 V
50 Hz
Burundi
C, E
220 V
50 Hz
Butane
D, F, G, M
230 V
50 Hz
Vanuatu
I
230 V
50 Hz
United Kingdom (England, Britain, United Kingdom)
G, much less D and M
230 V
50 Hz
earlier than 240 V; sometimes additionally low-voltage (110-115 V) outlet in the bathroom, similar to type C
Venezuela
A, B
120 V
60 Hz
also possible 220 in with type G to power air conditioners, etc.
Hungary
C, F
230 V
50 Hz
previously 220 V
East Timor
C, E, F, I
220 V
50 Hz
Vietnam
A, C
220 V
50 Hz
Type A is in South Vietnam, Type C is in North. In expensive hotels also applies type G
Gabon
C
220 V
50 Hz
Haiti
A, B
110 V
60 Hz
Guyana
A, B, D, G
240 V
60 Hz
Gambia
G
230 V
50 Hz
Ghana
D, G
230 V
50 Hz
Germany
C, F
230 V
50 Hz
previously 220 V
Guadeloupe
C, D, E
230 V
50 Hz
Guatemala
A, B
120 V
60 Hz
Guinea
C, F, K
220 V
50 Hz
Guinea bissau
C
220 V
50 Hz
Gibraltar
G, K
240 V
50 Hz
type K only in Europort
Honduras
A, B
110 V
60 Hz
Hong Kong
G, M, D
220 V
50 Hz
Grenada
G
230 V
50 Hz
Greenland
C, K
220 V
50 Hz
Greece
C, F
230 V
50 Hz
previously 220 V
Guam
A, B
110 V
60 Hz
Denmark
C, K, E
230 V
50 Hz
Djibouti
C, E
220 V
50 Hz
Dominica
D, G
230 V
50 Hz
Dominican Republic
A, B
110 V
60 Hz
Egypt
C
220 V
50 Hz
Zambia
C, D, G
230 V
50 Hz
Western Samoa
I
230 V
50 Hz
Zimbabwe
D, G
220 V
50 Hz
Israel
C, H, M
230 V
50 Hz
India
C, D, M
230 V
50 Hz
Indonesia
C, F, less G
127 V, 230 V
50 Hz
Jordan
B, C, D, F, G, J
230 V
50 Hz
Iraq
C, D, G
230 V
50 Hz
Iran
F, less C
220 V
50 Hz
Ireland
D, F, G, M
230 V
50 Hz
previously 220 V; sometimes an extra 110V
Iceland
C, F
230 V
50 Hz
Spain
C, F
230 V
50 Hz
previously 220 V
Italy
C, F, L
230 V
50 Hz
previously 220 V
Yemen
A, D, G
230 V
50 Hz
Cape Verde (Cape Verde Islands)
C, F
220 V
50 Hz
Kazakhstan
C, F
220 V
50 Hz
Cayman Islands
A, B
120 V
60 Hz
Cambodia
A, C, G
230 V
50 Hz
Cameroon
C, E
220 V
50 Hz
Canada
A, B
120 V
60 Hz
sometimes an extra 240 volts
Canary Islands
C, E, F, L
220 V
50 Hz
Qatar
D, G
240 V
50 Hz
Kenya
G
240 V
50 Hz
Cyprus
G
240 V
50 Hz
Kyrgyzstan
C
220 V
50 Hz
Kiribati
I
240 V
50 Hz
China (Mainland)
A, C, I
220 V
50 Hz
DPRK
C
220 V
50 Hz
Colombia
A, B
120 V
60 Hz
sometimes an extra 240 volts
Comoros
C, E
220 V
50 Hz
50 Hz
Democratic Republic of Congo (Kinshasa)
C, D
220 V
50 Hz
Republic of the Congo (Brazzaville)
C, E
230 V
50 Hz
Korea (South)
A, B, C, F
220 V, less 110 V
60 Hz
Types A and B are used at 110 V in old buildings
Costa Rica
A, B
120 V
60 Hz
Ivory Coast (Ivory Coast)
C, E
230 V
50 Hz
Cuba
A, B
110 V
60 Hz
Kuwait
C, G
240 V
50 Hz
Laos
A, B, C, E, F
230 V
50 Hz
Latvia
C, F
220 V
50 Hz
Lesotho
M
220 V
50 Hz
Liberia
A, B, C, E, F
120V, 240V
50 Hz
earlier than 60 Hz; in private electrical networks it is possible to save the frequency of 60 Hz; Types A and B are used at 110-120 V
Lebanon
A, B, C, D, G
110 V, 200 V
50 Hz
Libya
D, L
127 V, in some cities 230 V
50 Hz
Lithuania
C, F
230 V
50 Hz
previously 220 V
Liechtenstein
C, J
230 V
50 Hz
Luxembourg
C, F
230 V
50 Hz
previously 220 V
Mauritius
C, G
230 V
50 Hz
Mauritania
C
220 V
50 Hz
Madagascar
C, D, E, J, K
127 V, 220 V
50 Hz
Madeira
C, F
220 V
50 Hz
Macedonia
C, F
220 V
50 Hz
Malawi
G
230 V
50 Hz
Malaysia
G, less M, C
240 V
50 Hz
type M is used to connect air conditioners, dryers, etc. C - for audio and video equipment
Mali
C, E
220 V
50 Hz
Maldives
A, D, G, J, K, L
230 V
50 Hz
Malta
G
230 V
50 Hz
Morocco
C, E
127 V, 220 V
50 Hz
the transition to 220 V continues
Martinique
C, D, E
220 V
50 Hz
Mexico
A, B
120 V
60 Hz
Micronesia (Federated States of Micronesia, Yap, Chuuk, Pohnpei and Kosrae)
A, B
120 V
60 Hz
Mozambique
C, F, M
220 V
50 Hz
type M is used at the border with South Africa, including in the capital, Maputo
Monaco
C, D, E, F
127 V, 220 V
50 Hz
Moldavia
C, F
220-230 V
50 Hz
Mongolia
C, E
230 V
50 Hz
Monserrat
A, B
230 V
60 Hz
Myanmar (Burma)
C, D, F, G
230 V
50 Hz
type G is used only in expensive hotels
Namibia
D, M
220 V
50 Hz
Nauru
I
240 V
50 Hz
Nepal
C, D, M
230 V
50 Hz
Niger
A, B, C, D, E, F
220 V
50 Hz
Nigeria
D, G
240 V
50 Hz
Netherlands Antilles
A, B, F
127 V, 220 V
50 Hz
Netherlands (Holland)
C, F
230 V
50 Hz
previously 220 V
Nicaragua
A, B
120 V
60 Hz
New Zealand
I
230 V
50 Hz
New Caledonia
E
220 V
50 Hz
Norway
C, F
230 V
50 Hz
Channel Islands
C, G
230 V
50 Hz
UAE
C, D, G
220 V
50 Hz
Okinawa
A, B
100 V
60 Hz
at military sites 120 V
Oman
C, G
240 V
50 Hz
O. Man
C, G
240 V
50 Hz
Cook Islands
I
240 V
50 Hz
Pakistan
C, D, M, less G
230 V
50 Hz
Type M is used for connecting air conditioners, etc.
Panama
A, B
110 V
60 Hz
Papua New Guinea
I
240 V
50 Hz
Paraguay
C
220 V
50 Hz
Peru
A, B, C
220 V
60 Hz
in Talara also 110 V, in Arequipa 50 Hz
Poland
C, E
230 V
50 Hz
Portugal
C, F
220 V
50 Hz
Puerto rico
A, B
120 V
60 Hz
Reunion
E
220 V
50 Hz
Russia
C, F
220 V
50 Hz
quite a lot of Soviet outlets and plugs according to GOST - type C 1 (C ussr) in the table
Rwanda
C, J
230 V
50 Hz
Romania
C, F
230 V
50 Hz
previously 220 V; In some places, Soviet-style GOST sockets are preserved - type C 1 (С USSR) in the table
Salvador
A, B
115 V
60 Hz
Sao Tome and Principe
C, F
220 V
50 Hz
Santa lucia
G
240 V
50 Hz
Seychelles
G
240 V
50 Hz
Saudi Arabia
A, B, F, G
127 V, 220 V
60 Hz
Gaza Strip
C, H, M
230 V
50 Hz
Senegal
C, D, E, K
230 V
50 Hz
Saint Vincent and the Grenadines
A, C, E, G, I, K
230 V
50 Hz
Serbia
C, F
220 V
50 Hz
Singapore
G, M, A, C
230 V
50 Hz
Types A and C are used to connect audio-video equipment, type M - for air conditioners, dryers, etc.
Syria
C, E, L
220 V
50 Hz
Slovakia
C, E
230 V
50 Hz
Slovenia
C, F
230 V
50 Hz
Somalia
C
220 V
50 Hz
Sudan
C, D
230 V
50 Hz
Suriname
C, F
127 V
60 Hz
USA
A, B
120 V
60 Hz
Sierra Leone
D, G
230 V
50 Hz
Tajikistan
C, I
220 V
50 Hz
Thailand
A, B, C
220 V
50 Hz
Taiwan
A, B
110V, 220V
60 Hz
220 V is used to power air conditioners, etc.
Tanzania
D, G
230 V
50 Hz
Togo
C
220 V
50 Hz
in Lome 127 V
Tonga
I
240 V
50 Hz
Trinidad and Tobago
A, B
115 V
60 Hz
Tunisia
C, E
230 V
50 Hz
Turkmenistan (Turkmenistan)
B, F
220 V
50 Hz
Turkey
C, F
230 V
50 Hz
Uganda
G
240 V
50 Hz
Uzbekistan
C, F
220 V
50 Hz
Ukraine
C, F
220 V
50 Hz
Uruguay
C, F, I, L
230 V
50 Hz
previously 220 V
Faroe Islands
C, K
220 V
50 Hz
Fiji
I
240 V
50 Hz
Philippines
A, less B
220 V
60 Hz
in some regions, for example, in Baguio 110 V
Finland
C, F
230 V
50 Hz
Falkland Islands
G
240 V
50 Hz
France
C, E
230 V
50 Hz
previously 220 V; Type C is prohibited for installation for more than 10 years
French Guiana
C, D, E
220 V
50 Hz
French Polynesia (Tahiti)
A, B, E
110 V, 220 V
60 Hz, 50 Hz
Croatia
C, F
230 V
50 Hz
Central African Republic
C, E
220 V
50 Hz
Chad
D, E, F
220 V
50 Hz
Montenegro
C, F
220 V
50 Hz
Czech
C, E
230 V
50 Hz
Chile
C, L
220 V
50 Hz
Switzerland
C, J
230 V
50 Hz
Sweden
C, F
230 V
50 Hz
Sri Lanka (Ceylon)
D, M, G
230 V
50 Hz
in new houses and expensive hotels more often type G
Ecuador
A, B
120 V
60 Hz
Equatorial Guinea
C, E
220 V
50 Hz
Eritrea
C
230 V
50 Hz
Estonia
C, F
230 V
50 Hz
very little - according to GOST - type C 1 (С ussr) in the table
Ethiopia
C, E, F, L
220 V
50 Hz
South Africa
M
220 V
50 Hz
in some cities 250 V
Jamaica
A, B
110 V
50 Hz
Japan
A, B
100 V
50 Hz, 60 Hz
50 Hz in Eastern Japan (Tokyo, Sapporo, Yokohama, Sendai), 60 Hz in Western (Okinawa, Osaka, Kyoto, Kobe, Nagoya, Hiroshima)