Wire connection. Stop twisting!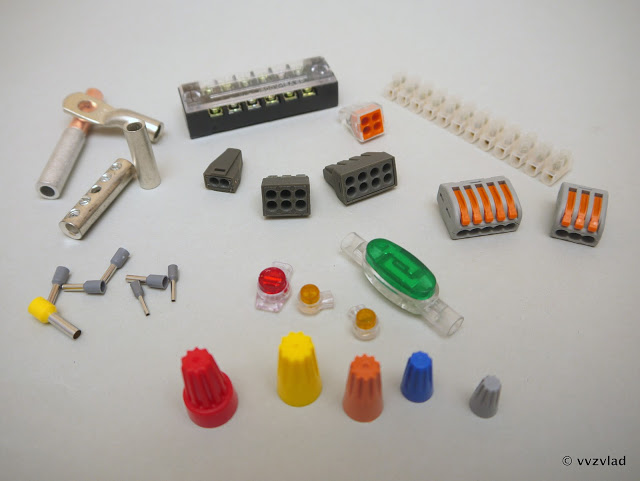 Stop twisting! Well really, stop it.
There is a bunch of cool pieces for connecting a wide variety of wires, but still the technology "bite off insulation with your teeth, twist, wind up with electrical tape" is still alive.
About normal wiring
When I see this, I feel uncomfortable ...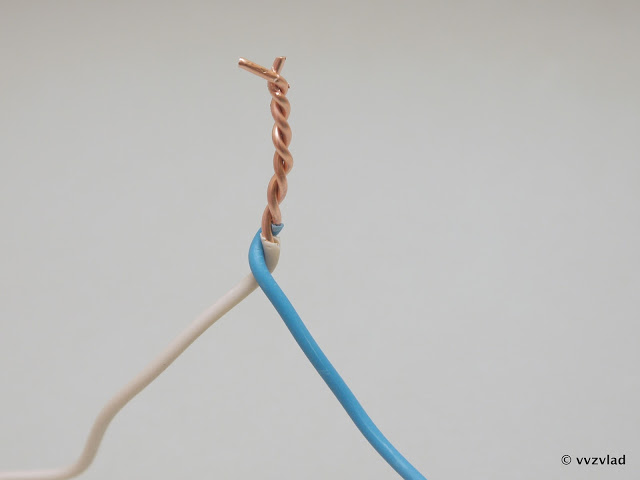 And when I see this, I want to kill the author ...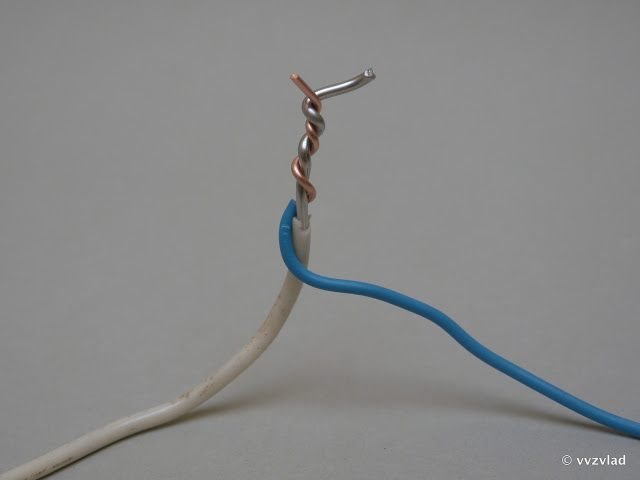 The fact is that it is impossible to connect copper and aluminum wires with twisting in any case.
There are several reasons for this. The main one is the problem of oxidation of the aluminum wire in contact with the copper - a galvanic pair is formed, which slowly but surely destroys the connection. And the faster, the greater the current through this twist goes.
Of course, in a couple of hours, such a connection will not fall apart, even if a heater or kettle is turned on through it. But over time, the resistance will slowly increase, because of which the twist will warm stronger and stronger. And if the load is not constant, but episodic, then constant heating-cooling cycles will further worsen conductivity. Different materials expand differently when heated, and turning on / off the load through such a twist will be tantamount to constantly tugging it back and forth. You understand that this will not lead to anything good.
Well, if just heating, it can usually be traced by the characteristic smell of burnt insulation. But the sparking of the compound, especially near the wallpaper or something flammable, can easily turn into a fire.
Polyethylene terminal blocks
Here's such a thing. For sale in any hardware store, it costs a penny ...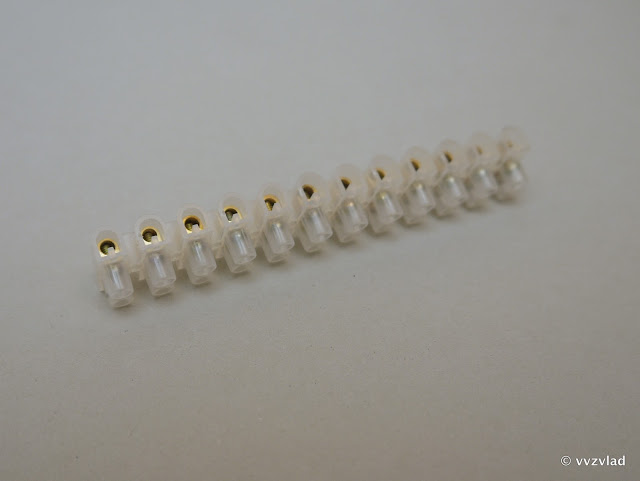 Inside is such a brass sleeve with two screws ...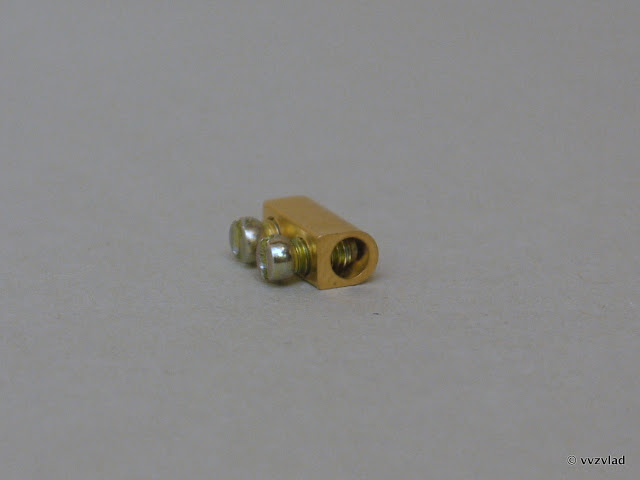 We push the wires into it, clamp it with screws ...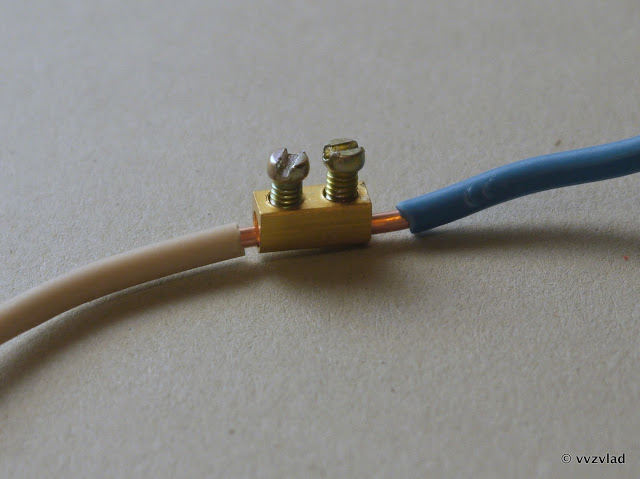 I specially pulled it out for clarity. Together with isolation, it will look like this ...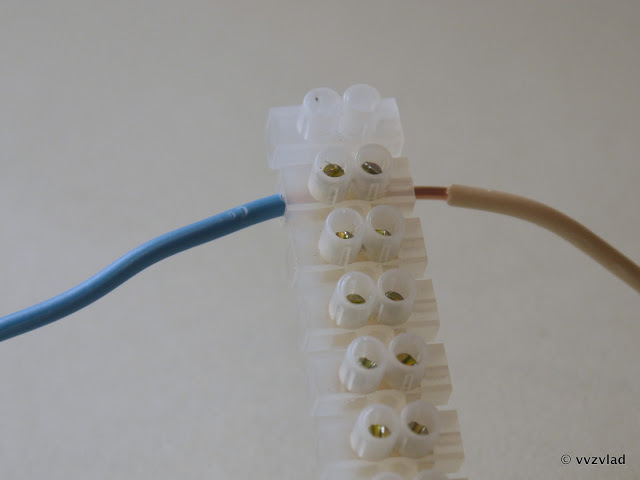 Each segment can be cut off. It would seem an ideal option. But there is a nuance!
Although these nuances and shortcomings are a wagon and a small trolley, do not fall for simplicity:
Do not clamp aluminum. The aluminum core has flowability under constant pressure, and after some time the contact can easily disappear or deteriorate. What this is fraught with - you know, heat and fire. Strictly speaking, ALL aluminum screw connections must be tightened once a year. The photo shows that the extreme clamp lost contact, began to sparkle and bask - as a result, it melted its shell and a little insulation of the wire. Has been replaced by the same, hehe.

Stranded wires must not be clamped. There is a complete set of what the stranded wire does not like - and the rotational movement, and the uneven surface of the screw, and point uneven pressure. Everything may be normal, especially if the current is small, but it may not be lucky and half of the wires will remain from the wire. Then you know.
It is necessary to choose the size for the cross section of the wire. The wire will not fit into a diameter that is too small, and it is inconvenient to pinch into a too large diameter, worse contact and more freedom - risk that the wire will fall out or break off.
If you hold it a little harder, the hard, but fragile brass will easily crack. What is fraught with bad contact, and ... Well, you understand.
Do not pay attention to the current plates at the time of purchase. They are lying. Divide the current into two, and preferably by 3.
In general, it is advisable not to use such terminal blocks. If you use it, then only with single-core wires and for connecting something small - a bulb, a fan (not industrial). And no aluminum! It is also advisable to buy not noname china, but terminal blocks of normal manufacturers: Tridonik, ABB, Legrand, Believe Cost: from 10 to 50 rubles.
Terminal Blocks TB Series
Hard black plastic pads.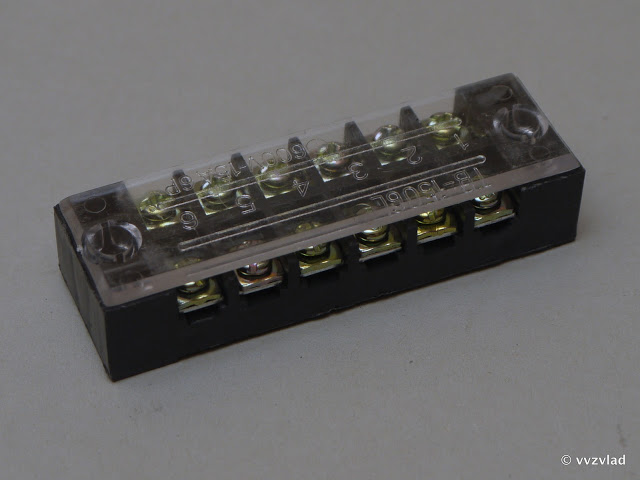 Already better. Have a removable cover.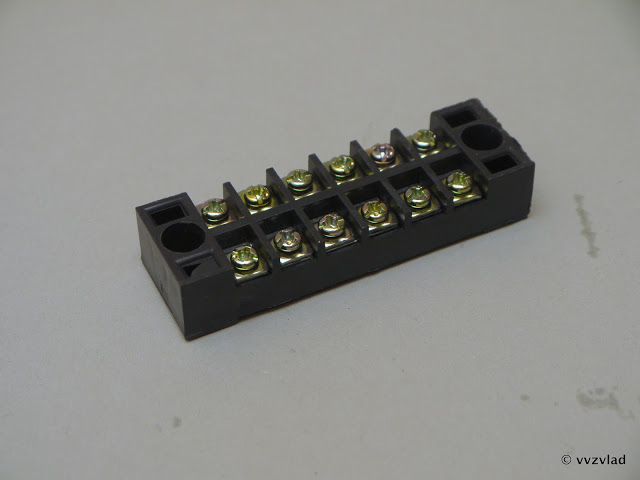 And here is the internal structure: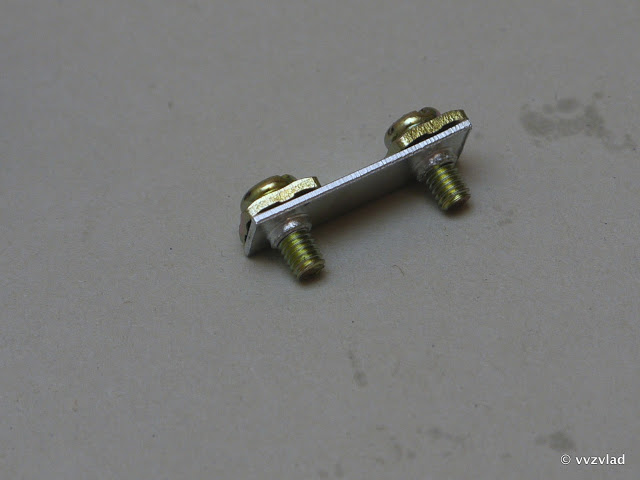 Unscrew, insert the wire, clamp.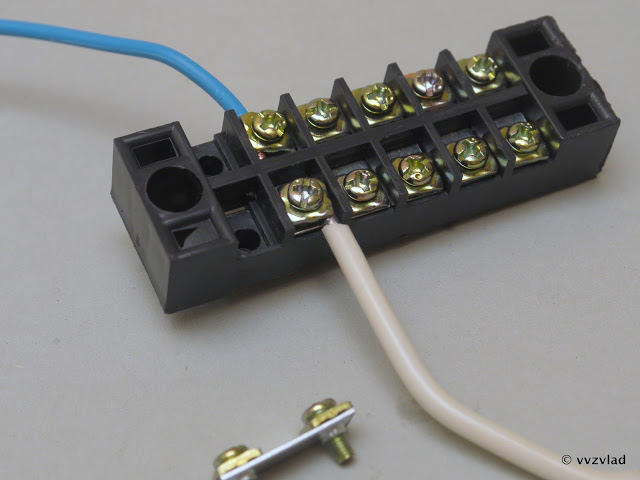 Pros - not a screw clamps, but a metal plate. Press to the bottom steel plate. In addition, the upper part is not flat, but with a characteristic surface, which increases the surface of the clip: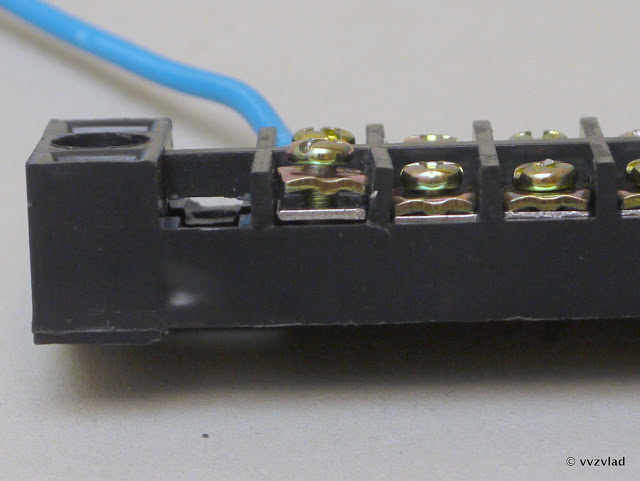 Due to this, multicore and aluminum wires can be clamped. Aluminum, however, it is advisable at least sometimes to check for loosening the clamp. The pads themselves I saw on currents 25A and 40A.
The inconvenience - it is not cut and not divided, either to buy a bunch of small ones (I have not seen less than 6 pieces), or even put one large wire on two wires.
Cost: from 30 to 80 rubles.
Self-locking terminals (WAGO or REXANT 773 series and their copies)
Or they are also called express terminals.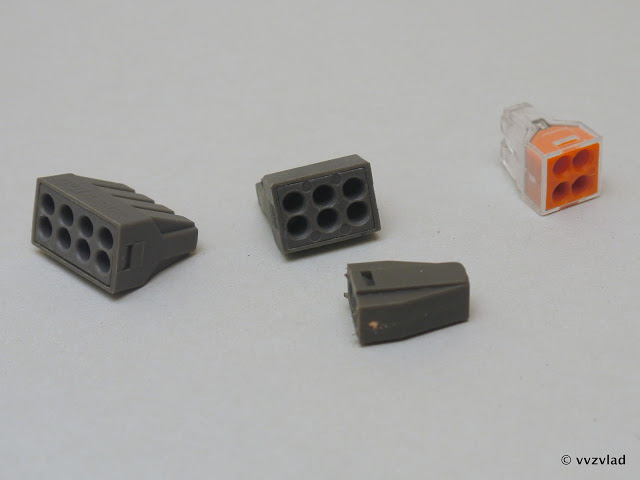 Very comfortable stuff. I cleaned the wire, put it in until the end, that's it!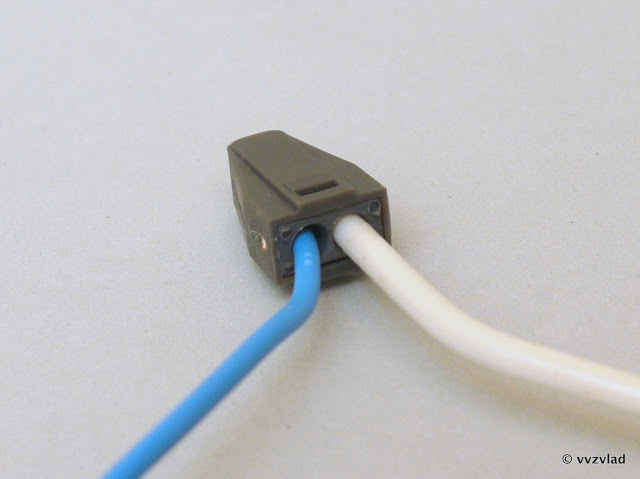 Inside there is a pressure plate (blue arrow) and a small bar (orange) made of tinned copper.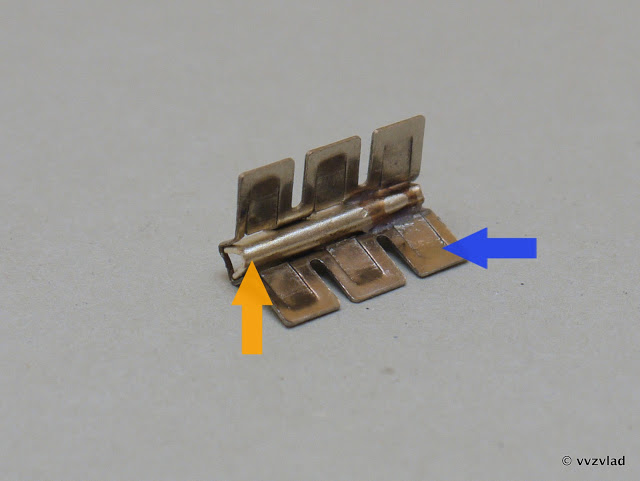 When wires are pushed into it, this is what happens: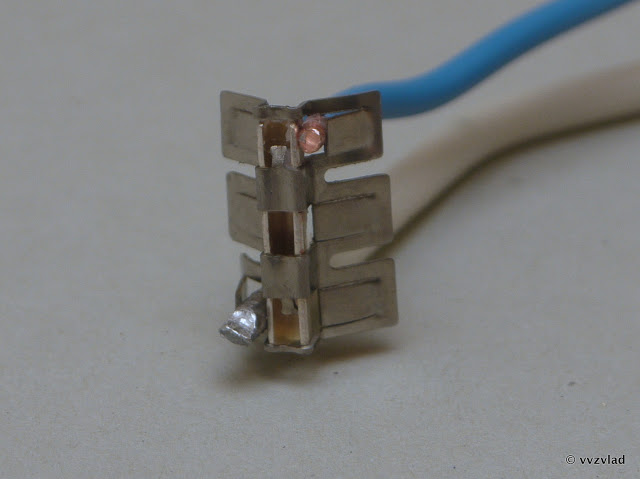 The plate presses the wire to the tire, maintaining pressure all the time. And the design of the pressing part does not let the wire fall out. It's difficult to pull it out.
In general, they are disposable, but if you really want it, you can pull it out by gently rotating the wire around its axis.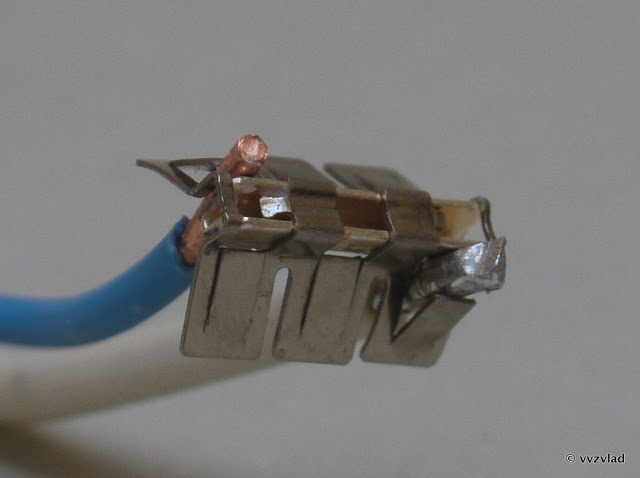 Since the copper contact is tinned, an aluminum wire can be inserted into such a terminal without fear of problems. At the same time, constant pressure will prevent the aluminum wire from falling out.
White paste (in the next photo you can see the white mass on the contact) is quartz sand with technical petroleum jelly, especially for aluminum wires. Quartz sand is an abrasive that cleans the oxide film from the surface of aluminum, and petroleum jelly prevents it from re-forming.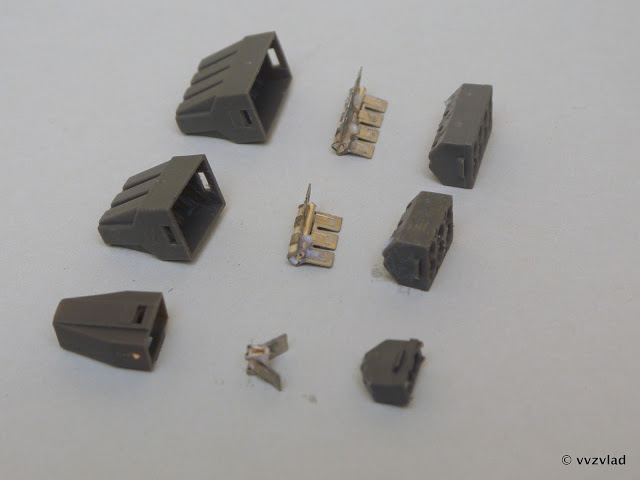 Same terminals, but transparent: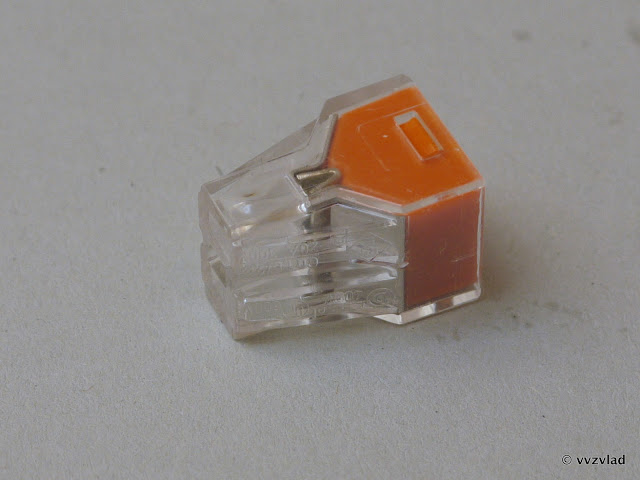 They are no different than dye. Well, in transparent terminals it is more convenient to see the wire - they will push it to the end or not.
Plastic is non-combustible, melts when the temperature rises, without releasing harmful substances into the air.
Designed for 25 A, and this is approximately 4 kW.
Attention! Currents are indicated for original WAGO terminals only. Rexant terminals (manufacturer - SDS groups) use a different spring steel, which relaxes when heated. Accordingly, the maximum current is limited, except in lighting it is not recommended.
Here test in which they held 50A and did not even melt. Well, this is in ideal conditions - in the air, the cooling was good. And the terminals are original, yes.
Cost: from 2 to 6 rubles, depending on the number of contacts
WAGO Series 222 Terminals with Levers.
I saw only Vagovsky, others do not produce.
For especially difficult cases, when there are several types of wires, of different thicknesses, aluminum, copper, etc.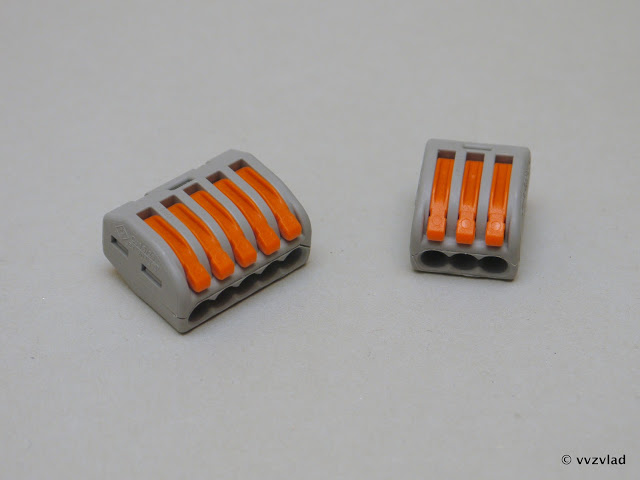 Raise the lever: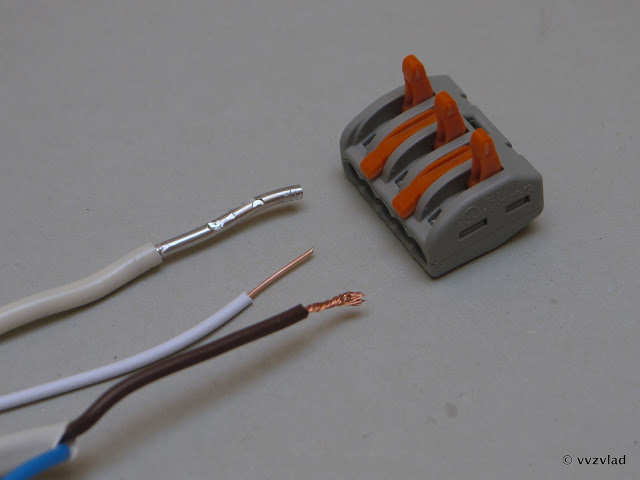 We push the wires, lower the lever: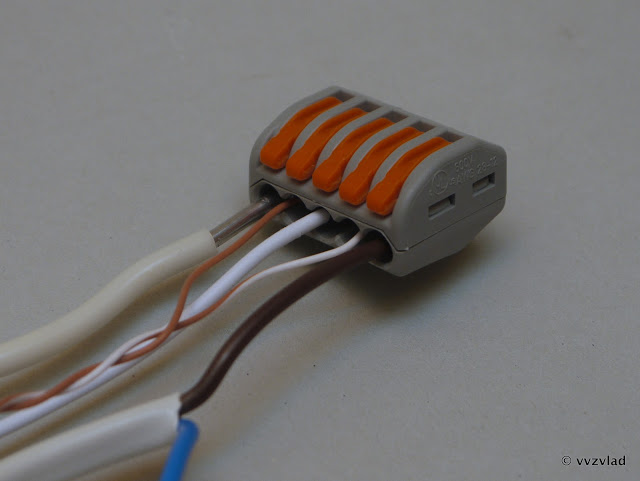 If necessary - you can raise the lever, pull out the wire, insert another. And so many, many times. Great thing for those circuits whose wiring can change a bunch of times.
They eat everything. Current - up to 32A. Inside - a plate that presses against a common bus connected to the lever.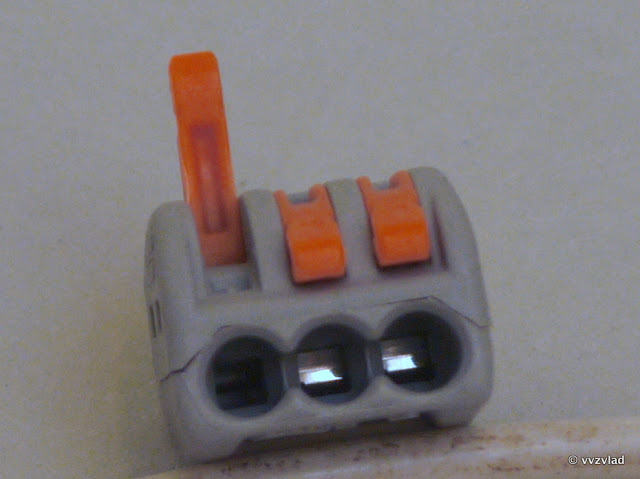 Tricky design, in general.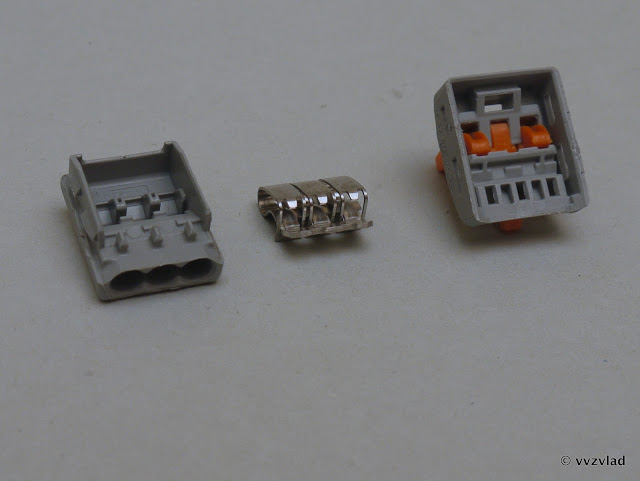 Shred - tinned copper, as usual: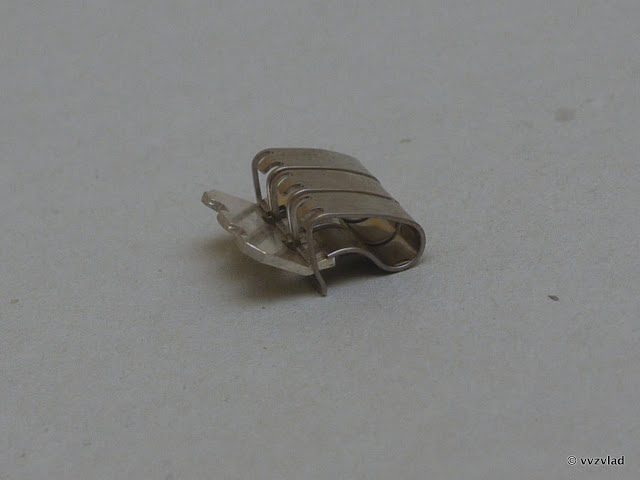 Cost: from 5 to 15 rubles.
Scotch Lock, ScotchLok, electrical connector with mortise contact.
This is for low voltage (network, telephones, LED lights, etc.).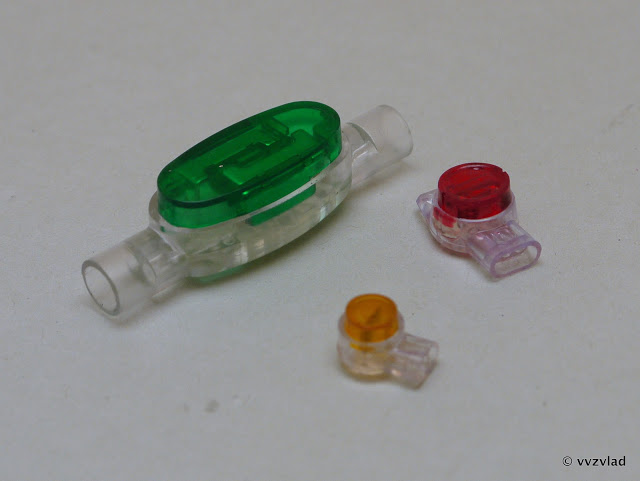 The meaning is simple - several wires are stuffed into such a thing: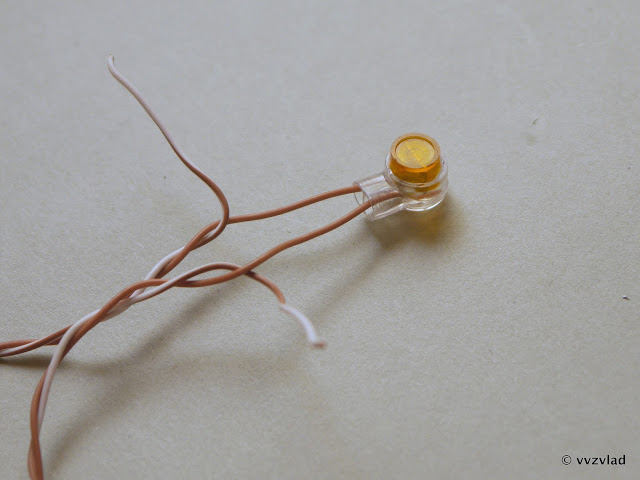 Then it snaps with pliers or any pressing tool. No, of course there is a special tool, but I do not see the point in it - it is a small pliers with flat lips.
They are especially loved by installers of SCS and networks, for simplicity, cheapness, water resistance, and the lack of the need to remove insulation.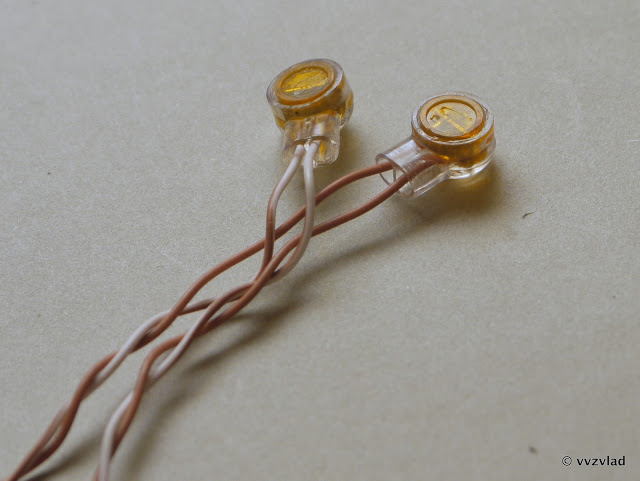 Inside - a hydrophobic gel that protects against corrosion, moisture, oxidation, etc. And a plate with a cutting-clamping surface: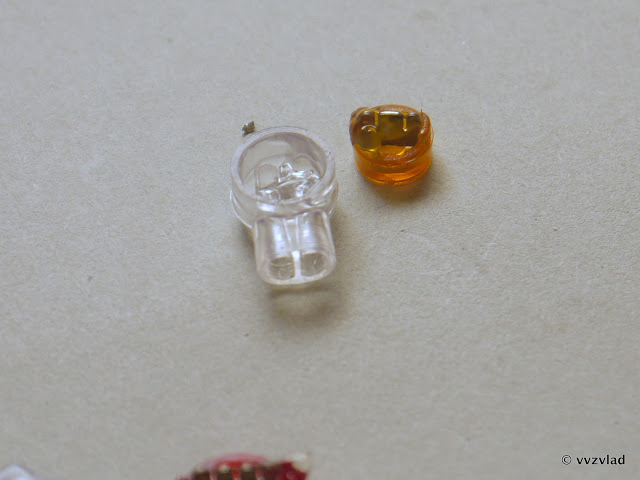 Or two plates: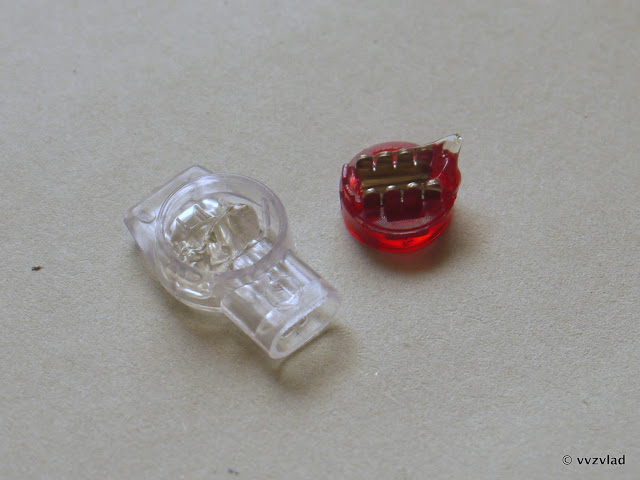 Here you can see what happens to the cable after termination: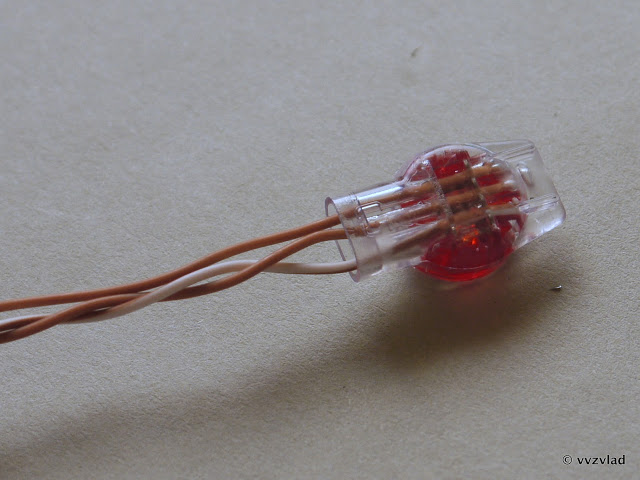 Knives cut through the insulation, and firmly pressed to the wire. There is also a version for two cables at once, and the plates are slightly thicker - it is quite suitable for lighting: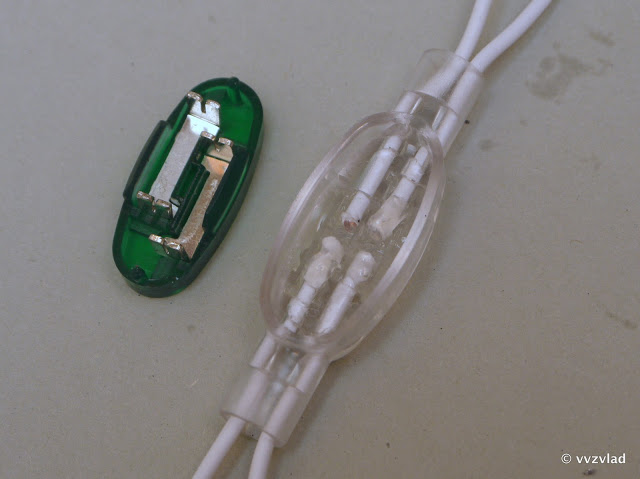 Of course, they are disposable and maintenance-free. It is necessary to replace - a piece of cable with them bites off, and a new one is put.
Cost: from 1 to 4 rubles apiece.
For high currents
For such cases, there are sleeves: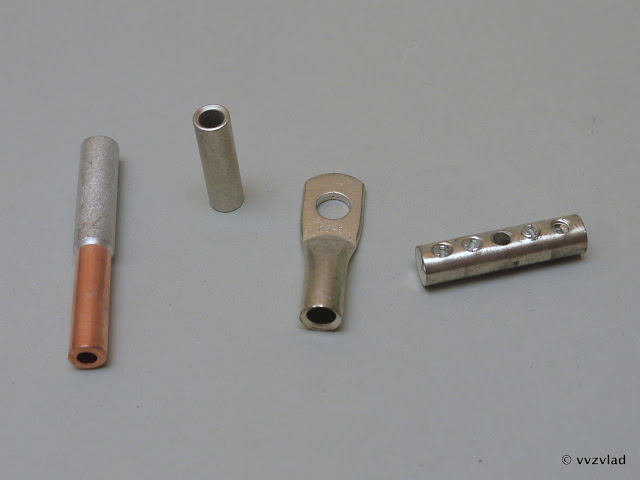 At the top is a sleeve connector of aluminum and copper cable, at the bottom is a universal tinned copper: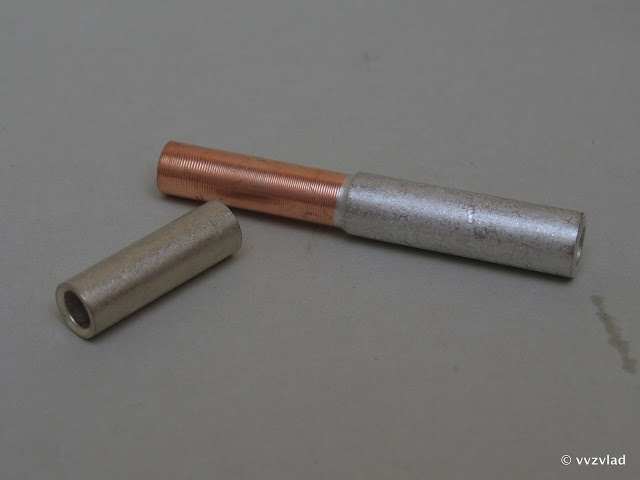 A wire (or several) is inserted inside, the sleeve is crimped with a special tool. Unfortunately, some bad person put up my pincers, so I won't show them. I found a picture in Google:

And here is the compressed sleeve: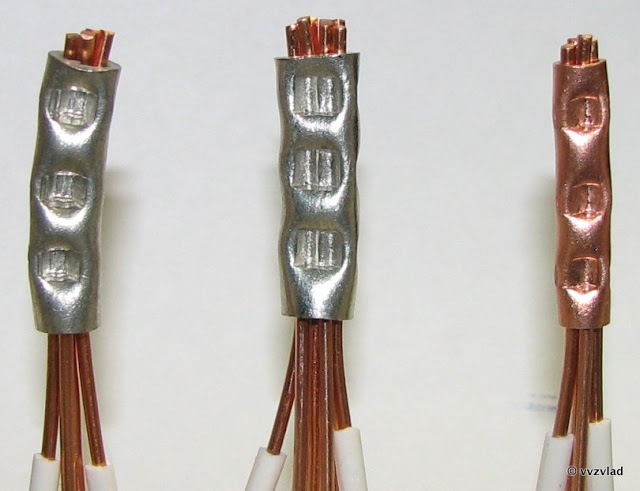 A huge plus is that with the right choice of size and the right crimp, the resistance does not decrease compared to a conventional wire. And maintenance free, which is sometimes important. This means that it can be bricked up (after normal insulation, of course) in a wall, buried in the ground (taking care of waterproofing), etc.
Sleeves with a flat end and a hole are used mainly for grounding, when the wire must be connected to the housing: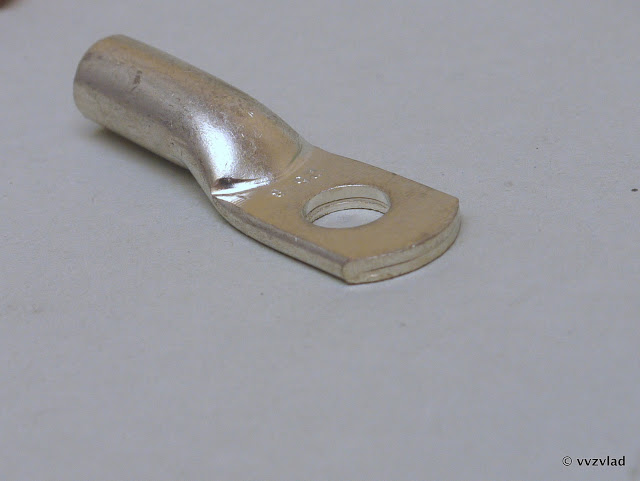 Sleeves with screw clamp - when you need to clamp the wire without a tool.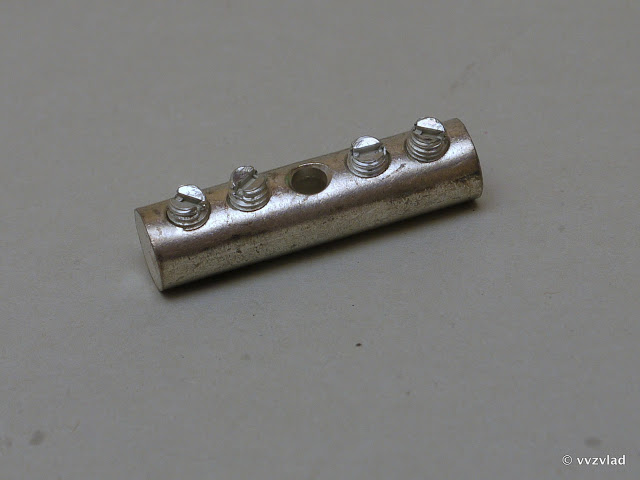 Currents are similar to currents for that section of a copper wire that coincides with the inner diameter of the sleeve.
Cost: from 10 rubles per sleeve, from 1000 for crimping.
About stranded wires
And there is also a situation when you need to connect a single-core wire to a multi-core: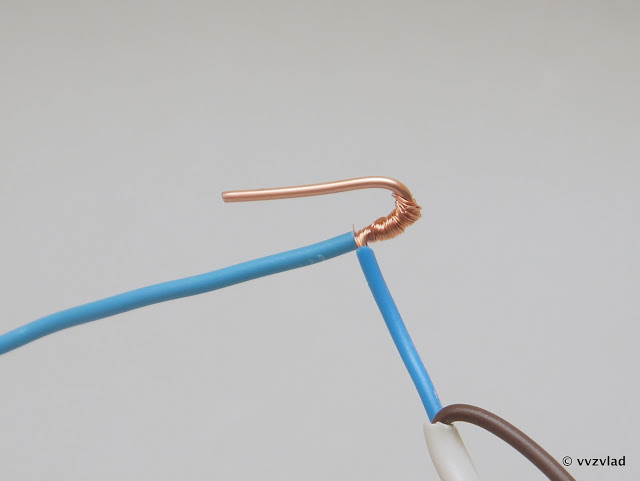 No, in general it is possible to tin and clamp already as a single-core. But there is an easier option: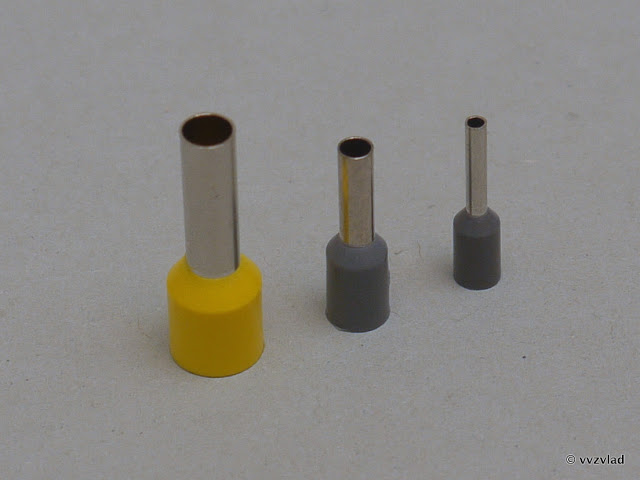 They are called NShVI - Tip Pin Whole Insulated. The meaning is simple: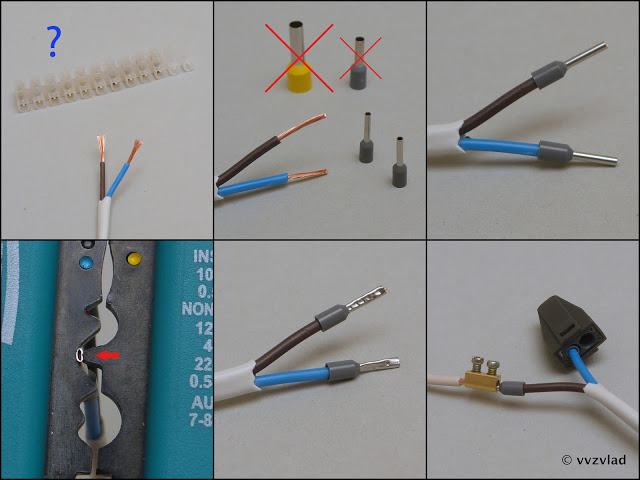 We select its diameter for the cross section of the wire, slightly twist so as not to push, put on the tip and crimp along the entire length (well, at least 3-4 times). Everything, now this wire can be clamped into any connection, without fear that the wires will break off, contact will be broken or something else. It is important to choose the right diameter of the tip depending on the wire, otherwise the contact will be worse and the wire may slip out.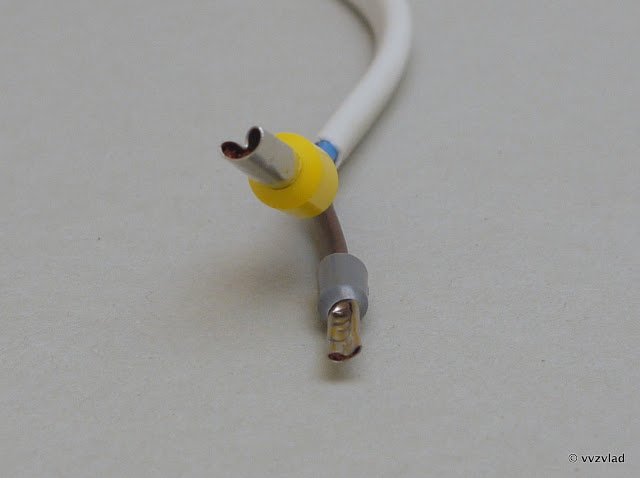 They can be clamped even with a hammer with a screwdriver, or pliers, but better with a special tool, since it is not very expensive - from 500 rubles to 2000. It is better, of course, not to take the Chinese non-name, but take 30-40% more expensive than the minimum price.
I use this one: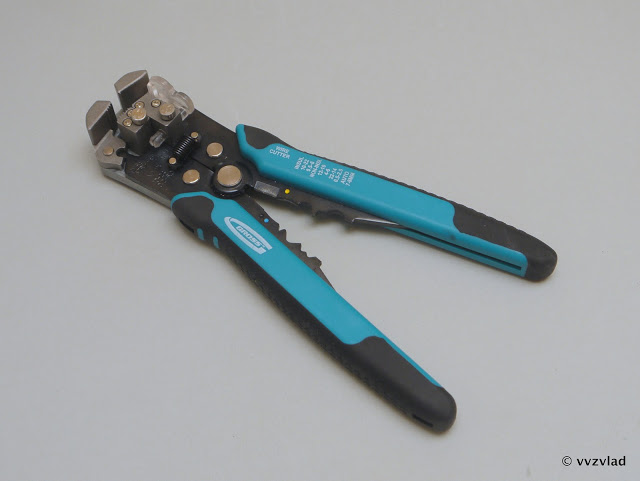 Wire Stripper Combination: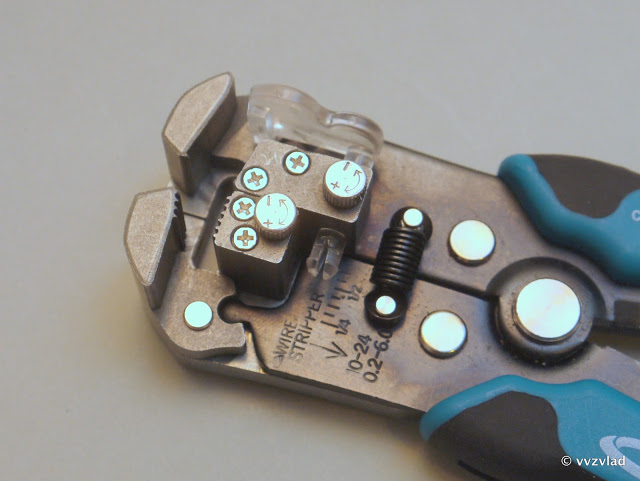 And crimp: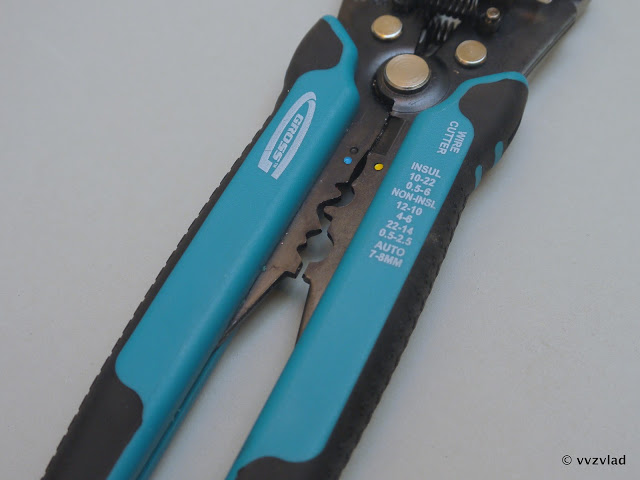 Bonuses
Scheme
There are sleeves with PVC insulation
There are sleeves in heat shrink - they are generally airtight
Possible branches
From experience with self-locking terminals and twists
Different twists are needed, different twists are important!
Twisting
Thanks habrhabr.