Win Password Screensaver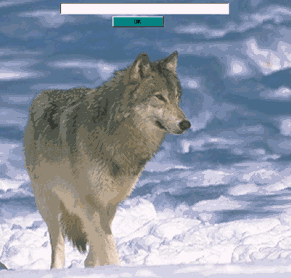 ---
About the program
Installation
Work
Setup
log file
Uninstall
---
The program is designed to set a password on a computer in order to block Windows.
MANUAL (pasww.exe) Copy pasww.exe to the Windows folder
AUTOMATIC (Setup.exe) 1. Run Setup.exe 2. After installation and reboot, 5 files will be installed C: \ Program Files \ Password \ -pasww.bat installation file -unins000.dat uninstall data file -unins000.exe uninstall executable file -setup.txt help file C: \ Windows \ -pasww.exe program file 3. After rebooting, the program will AUTOMATICALLY START 4. There is no password at the first start. Press OK and select SETUP.
After entering the password, click "OK" and choose to exit to Windows or configure the program.
If you don't want to enter the password or you forgot, click on the end of the wolf's tail and Ctrl + Alt + Del will appear on the wolf's forehead, press the "OK" button and then press these 3 keys on the keyboard together, then follow the instructions and "complete the task"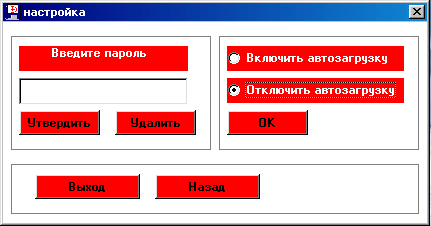 1. Enter your password and approve it by clicking on the same button Set any password (numbers, letters, mixed, etc.) 2. Select startup from the 2 "Open" or "On" switches and reboot (or later) *** during installation ( automatic installation ) the program is installed at startup 3. If you need to go somewhere, run the program from the start menu. If you need to change the password. If you do not need a splash screen at each Windows boot, turn off autoload. If there is no password, the password is an empty text field.

The program records all attempts to open Windows in the pasww.txt file. You can watch it either by clicking on the log.l file in the SETTINGS or manually at C: \ pasww.txt. Do not forget to periodically clean pasww.txt

During automatic installation: 1. Before uninstalling, delete the password and DISABLE the autoload in the settings. 2. START-PROGRAMS-PASSWORD-UNINSTALL PASSWORD or C: \ Program Files \ Password \ unins000.exe 3. Delete the pasww.txt file from C: \ 4. Reboot (or later) During manual installation: 1. Delete the password and DISABLE autoload in settings. 2. Delete the pasww.exe file from the Windows folder 3. Delete the pasww.txt file from C: \ 4. Reboot (or later)

---
download Screensaver Password Win
Win98 requires the VB
msvbvm60.dll
library