Bookmark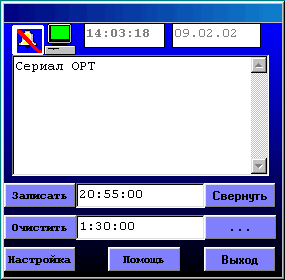 About the program
The program is designed to remind events or / and the inclusion of any programs at a given time.
It is possible to enable startup with the memory function (when you turn on the computer at a specified time, the program will remind you of the event or / and turn on the program you set the day before)
Work with the program
The program runs in tray (this is where you have a watch).
To activate it, double-click the icon or, when you right-click on the icon, click "Open."
Enter the information in the text box (Series ORT) and the time in the first box (20:55:00).
Press the button "drill down".
At the time you set, the program will remind you of the information you set.
If you want to launch an application, click on the "..." button and select it, then enter the time (1:00:00) in the second field to start the program you need. The program allows you to record time and information by clicking on the "Record" button. There is a possibility voice information reminder
| | |
| --- | --- |
| | Music is on |
| | Music is off |
| | No program selected |
| | The program is selected. Mouse over icon |
Customization
Allows you to select a melody to accompany, by clicking on the "..." button.
Wav and mp3 files.
Set autoload.
Set "always on top" - always visible on the monitor screen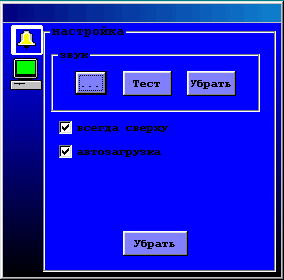 ---
download bookmark
Win98 requires the VB
msvbvm60.dll
library