As the wind off the water meter?
Unwinding and deceit water meters
4 free ways to unmetered water use will be described on the page coming over the counter.
The most simple and implemented in home conditions, we believe only operations with counters SCC-15 "Betar-East".
The same instructions unmetered water use by other types of counters will be given.
These counters are used for both hot and cold water supply.
Both methods are guaranteed unconditionally and work on counters SCC-15 "Betar-East".
On the other counters these methods apply as possible, but with different restrictions depending on the meter model.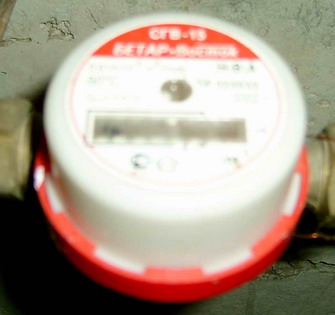 1st method consists in the inhibition of the water meter
The method is simple - you need to put on a water meter sufficiently strong magnet.
Wheel water meter will not be able to rotate, and the counter will not count.
For braking counter is used device that you produce yourself.
For making unnecessary any special tools or materials that are difficult to control.
Materials if you do they will not be very easy to get (sorry of course), even in a landfill.
No sealing, sealing is not broken. Interference with the water supply is unnecessary!
Depending on the amount of water passing through the meter method allows to save from 40 to 100% water.
With lots of running water (if at the same time open a few cranes and a very high water pressure) to completely stop the counting mechanism is not always possible (for SCC-15 "Betar-East")
2nd way is to change the meter reading of the water meter
Application of this method allows you to change the totalizer readings.
In a few minutes you take to counter unwanted cubic meters or even tens or hundreds of them.
The apparent disadvantage of this method is a violation of the factory sealing the counter, but the documentation for this method includes not only detailed instructions on changing testimony counting device, but also recommendations for the restoration of sealing counter mechanism (for SCC-15 "Betar-East")
3rd method if you have installed another counter
Smash it with a hammer, and immediately inform the water utility, in writing, in the form of a statement to the head of this organization: "... during the repair work in the room, on a certain date (yesterday) containment counter was damaged.
Debts for water do not have. Please allow the installation of a new water meter. "
Perhaps they will offer you to buy the counter with them, but it's you they certainly refusal, refer to the fact that the store cheaper, and more choice (and it really is!)
Because counter you stood, the project and installation services you have inappropriately.
You buy our recommended counter, set (of course check with all Vodokanal), and water utility experts call for receiving and sealing the counter.
Regarding the self-installation are of course a little weep, but to take money for screwing two kontragaek conscience they will not be enough, especially if you are confident will require !!! And yet ...