How to rewind the water meter?
Rewinding and deception of water meters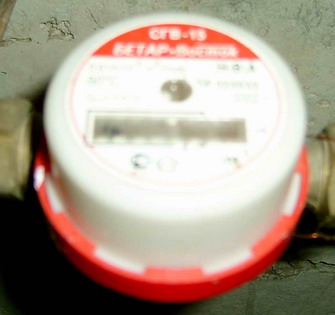 This article describes free ways to use water without metering through the meter.
The most simple and feasible at home, we consider only operations with counter SGB-15 "Betar-Vostok".
Instructions will also be given to taking water out of account through other types of meters.
These counters are used for both hot and cold water supply.
The methods are guaranteed and unconditionally working on the counter SGB-15 "Betar-Vostok".
On other counters, these methods can also be applied, but with different restrictions depending on the counter model.
The way is to brake the water meter.
The method is simple - you need to put a sufficiently strong magnet on the water meter.
The water meter wheel will not rotate and the meter will not count.
No sealing, sealing is not broken. Intervention in the plumbing is unnecessary!
Depending on the amount of water passing through the meter, the method saves from 40 to 100% of water.
With a large amount of passing water (if several taps and a very high water pressure are open at the same time) it is not always possible to completely stop the counting mechanism (only for SGV-15 "Betar-Vostok").
For braking the counter, a magnet is used, which you can buy yourself on specialized sites.
No special tools or materials that are difficult to reach are needed for use.
How, if you have another counter installed
Break it with a hammer, and immediately inform the water utility, in writing, in the form of a statement to the head of this organization: "... during the repair work in the room, on a certain number (yesterday) the meter's protective shell was damaged.
I have no debt for water. Please allow the installation of a new water meter. "
Perhaps they will begin to offer you to purchase a meter from them, but of course you refuse them, refer to the fact that the store is cheaper, and the choice is more (it is true!)
Since The counter you stood in, then the project and installation services you already need.
You buy the counter recommended by us, you install (of course, you coordinate everything with the water utility), and you call the water utility experts to receive and seal the meter.
Regarding the self-installation, they will certainly cry a little, but they will not have enough conscience to take money for screwing two contra-nuts of conscience, especially if you confidently demand !!! And that's all ...