Coyote - the program for FREE sending SMS to mobile phones
Russia: BaykalWestCom, Beeline, Centertelecom, DalSvyaz, ETK, Megafon, Motiv, MTS, NCC, ON, Smarts, Tatincom, Tele2, Utel
Ukraine: UMC, Kievstar, Jeans, Life, Beeline, Ecotel, Golden Telecom
Of Belarus: MTS, Velcom
Of Uzbekistan: Unitel
Of Moldova: IDC, Moldcell, Orange
Czech Republic: O2, Vodafone
Coyote is our open source software for Windows and Linux !
Coyote is a program for FREE sending SMS to mobile phones of many operators:



Russia

(Akos, BaykalWestCom, Beeline, Centertelecom, DalSvyaz, ETK, Megafon, Motiv, MTS, NCC, NTK, ON, Skylink, Smarts, Tatincom, Tele2, Utel, VolgaTelecom)


Ukraine

(Beeline, Ecotel, GoldenTelecom, Jeans, Kyivstar, Life, MTS)


Of Belarus

(Diallog, MTS, Velcom)


Uzbekistan

(MTS, Beeline, Perfectum Mobile)


Moldova

(IDC, Moldcell, Orange)


Czech Republic

(O2, Vodafone)
Kyrgyzstan (Bitel, Fonex, Megacom)

As well as some operators of Lithuania, Latvia, Germany (so far only 1 sms per day)


ATTENTION!
There are no versions of Coyote 0.3.0.3 yet
, although the Internet is full of information about it. Version 0.3.0.3 - fake.
Remember that the last version is always possible and you need to download only from the official or our site!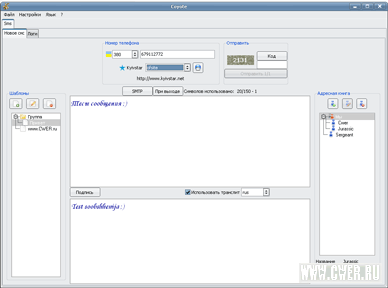 Characteristics of the program:
Possibility to choose a gate for sending
Proxy support
Https support
Auto detection of operators
Update of operators
Address book with groups
Transliteration of messages
Automatic breakdown of messages
Templates with groups
Logging
Skin themes
Corrected:
When switching by arrows to the address book, the information below was not updated
When trying to edit someone from the address book, no matter which country was installed, reset to +7
In smtp, if you enter a password, you get an error
Not always adequately determined the number of characters
Incorrect height of the window
Operators and language files are now in UTF encoding
Added by:
If only one gate is found, replace the drop-down list with just a line of text
Remember last selected country
By pressing Enter, activate the ability to send an SMS to the addressee (when the focus is on the address book)
Each user is set by default via which gate to send SMS
About Linux:
A curl package is required (you can download here ), Openssl
Run via file coyote.sh (you can make a shortcut)
If you get a terrible font - you can change it in the menu "Settings" - "Choose a font"
About all bugs we write, do not hesitate to us on off. site
Fixed in build 1:
Problems with the encoding (maybe there are still some problems)