SMS Gateways (SMS-GateWay)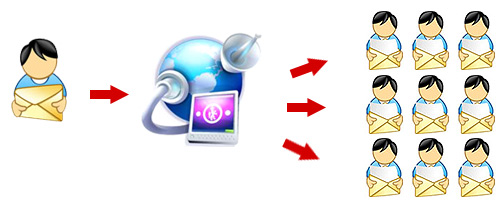 SMS gateway is an interface that allows you to send and receive SMS messages without using a mobile phone. SMS messages are converted to emails, HTTP requests and vice versa. A message sent through a similar gateway may be free for the sender; however, technical limitations are possible (for example, limiting the number of messages sent from one computer per day).
Types of SMS gateways
The most famous varieties: WEB2SMS, SMS2EMAIL, EMAIL2SMS, SMS2Skype .
Web2SMS : In addition to services available via the web interface, some companies provide services that are accessible through applications, a set of API functions for working with SMS. Simply put, on the basis of specially developed libraries of programs and / or interfaces, you will be able to send SMS via the Internet.
SMS2Email : This type of SMS gateway allows you to send email via a mobile phone. Most US mobile service providers provide this feature. In the UK, the M-Mail service provided by Connectotel allows you to send emails even from networks of providers that do not directly support this service.
Email2SMS: These SMS gateways allow you to send sms-messages to subscribers via the postal address provided by the operator. For example, by sending an e-mail message to the address 123456789000@useroperator.com, the user with the number 123456789000 of the useroperator operator will receive a message with the text contained in the e-mail message.
There are gateways that allow you to send SMS messages to regular landline phones.
In this case, the SMS is automatically converted into a voice message.
Sometimes the addressee is given the opportunity to send voice mail to the mobile phone from which the SMS was received.
There are also so-called corporate SMS gateways that allow SMS access to corporate applications or databases.
SMS Gateway List
Global
Global SMS Gateways
ICQ
@ pager.icq.com
AT & T
@ mobile.att.net
Cingular
@ mobile.mycingular.net
Cingular # 2
@ mobile.mycingular.com
Verizon
@ vzwpix.com
Sprint pcs
@ messaging.sprintpcs.com
T-mobile
@ tmomail.net
Alltel
@ alltelmessage.com
Alltel # 2
@ message.alltel.com
CellularONE
@ mobile.celloneusa.com
Green's Communications
@ pager.schmobile.com
Gte wireless
@ messagealert.com
Nextel
@ messaging.nextel.com
Omnipoint
@ omnipointpcs.com
Qwest
@ qwestmp.com
SMF / Schuylkill Mobile Fone
@ pager.schmobile.com
SouthernLinc
@ page.southernlinc.com
Suncom
@ tms.suncom.com
Napishi.Ru
send a message
Ukraine
Ukraine
Kyivstar (contract and corporate packages)
GSM 900/1800
380*********@sms.kyivstar.net
send a message
Kyivstar (Ace & Base package)
GSM 900/1800
380*********@2sms.kyivstar.net
Kyivstar has disabled receiving SMS messages from e-mail for all its users by default. To unlock you need to send any message to the address 7021. Only the owner of the number can do this. There is information that unlocking occurs a day after sending the message. For more information, contact Kyivstar support service. (Edited by DmN) Send message
Kyivstar (Djuice package)
GSM 900/1800
380*********@sms.kyivstar.net
send a message
UMC (contract and corporate packages)
GSM 900/1800
38050*******@sms.umc.ua
send a message
UMC (Sim-Sim package)
GSM 900/1800
38050*******@sms.umc.ua
send a message
UMC (virtual operator Jeans)
GSM 900/1800
*******@sms.jeans.com.ua
send a message
UMC (virtual operator Jeans)
GSM 900/1800
*******@sms.jeans.net.ua
send a message
life
GSM 900/1800
mail2sms not supported
send a message
Beeline
GSM 900/1800
38068*******@sms.beeline.ua
send a message
Golden Telecom
GSM 1800
+38039*******@sms.gt.com.ua
send a message
Russia
Russia
Beeline
Russia
@ sms.beemail.ru
To send a message, the phone owner must register on the Beeonline website or send a request to activate the service to the number 06849909
F1 Communications
Eagle
@ pager.oryol.ru
GSM
Ulyanovsk
@ sms.smr.ru
Interantena
Kazan
inter@bancorp.ru
Kontinental
Lipetsk
pager@link.lipetsk.su
Mobil telecom
Kaluga
@ pager.mobil-telecom.kaluga.com
RANET
Moscow
send@ra.net.ru
RCA
Kazan
pager@rca.ru
Smsclub
Moscow


Vessolink
Moscow
@ pager.vessolink.ru
YeniseyTelecom
Russia
@ sms.etk.ru
Alcom Electronics
Kemerovo
@ alel.kuzbass.net
Astrakhanpage
Astrakhan
page@page.astranet.ru
Baykalvestkom
Irkutsk
@ sms.bwc.ru
BM TELECOM
Ufa
bmt@mail.bashtelecom.ru
VessoLink
St. Petersburg
@ pager.vesso.spb.ru
Wesso Tel
Vladivostok
@ vesso.vl.ru
Westcom
Samara
wectcom@transit.samara.ru
Eastern Express
Novosibirsk
pager@exp.irs.ru
Jacur
Tomsk
pager@pager.tomsk.ru
Dontelecom
@ dontelecom.ru
Europroject
Ulyanovsk
@ pager.europe.mv.ru
Unified paging
Abakan
pager@mir.khakassia.ru
Unified Paging
Saratov
pager@tp.saratov.su
Unified paging
Ulyanovsk
pg@epsr.mv.ru
Unified Paging
Tyumen
pager@tyumen.ru
Interpage
Ulyanovsk
@ pager.simbir.ru
Sparkle page
Krasnoyarsk
page@iskra.krs.ru
Itex
Pskov
@ pager.pskov.ru
KKTs
Kaliningrad
pager@kcc.baltnet.ru
KODASH
Chelyabinsk
pager@mtelecom.chel.su
Continental
Yekaterinburg
pager@continental.ural.ru
Kuban-GSM
Krasnodar
@ sms.kubangsm.ru
Megaphone
Russia
7 <number> @ sms.mgsm.ru
Megaphone Ural
Khanty-Mansiysk
@ sms.megafonural.ru
Megaphone Siberia
Russia
+7 <number> @ sms.megafonsib.ru
Megaphone
Penza
@ sms.mgsm.ru
Mobikom-Kirov
Kirov
@ kirov-ugsm.ru
Mobile Service
Tyumen
@ page.scc.ru
MobileTelecom East
Vladivostok
pager@mtv.febras.ru
Mobiltelecom
Astrakhan
page@page.bignet.ru
Mobiltelecom
Barnaul
pager@mtc.alt.ru
Mobiltelecom
Kazan
pager@bancorp.ru
Mobiltelecom
Moscow
@ notify.mtelecom.ru
Mobiltelecom
Omsk
@ pager.rvs-mtc.infomsk.ru
Mobiltelecom
Cherepovets
pager@metacom.ru
Mts
Russia
@ sms.gate.ru
send a message
Mts
Russia
@scs? 900.ru
send a message
Multi-page
Moscow
@ pager.multi-page.ru
NGTS
Novosibirsk
@ pager.nsk.su
NPS Continental
Krasnoyarsk
cont@continental.krsk.ru
Omsk pager
Omsk
ompager@online.ru
Paragon
Krasnoyarsk
pager@paragon.krasnoyarsk.su
Paging company
Novosibirsk
pmail@pagercom.ru
Penza-GSM
Penza
@ penza-gsm.ru
PS Continental
Moscow
pager@continental.ru
Radiopage
Moscow
@ radiopage.ru
Radiopage
Tashkent
pager@rpage.uznet.net
Sibpage
Nizhnevartovsk
page@nvart.ru
Sibpage
Novosibirsk
pager@pager.sibpage.ru
SIBton & TransCom
Novosibirsk
pager@sibton.nsk.su
Smarts
Tolyatti
@ sms.smr.ru
CCC-900
Novosibirsk
@scs? 900.ru
STLINK
Permian
pager@stlink.perm.ru
TASKOM
Moscow
@ pager.tascom.ru
TTC
Magadan
page@tts.magadan.su
UralSvyazInform
Permian
@ pager.mtts.perm.ru
send a message
KhantymansiyskElectroSvyaz
Khantymansiysk
pagein@hms.wsnet.ru
Excom
Yekaterinburg
@ excom.nexcom.ru
Excom
Lipetsk
pager@excom.lipetsk.ru
Belarus
Belarus
Solid paging
Minsk
pager@solid.minsk.by
Belradiopage
Minsk
@ pager.radiopage.com.by
Wessobel
Minsk
pager@vessobel.minsk.by
Mobile phone
Minsk
pager@mobilcom.com.by
Moldova
Moldova
Orange
GSM 900/1800
mail2sms not supported
send a message
Moldcell
GSM 900/1800
mail2sms not supported
send a message
Unite
CDMA2000
mail2sms not supported
send a message
Interdnestrkom
CDMA
777*****@sms.idknet.com
send a message
To use sms-mail service you need to order it from the operator