Atomix VirtualDJ Professional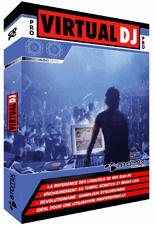 Atomix Virtual DJ program for mixing MP3 in real time, with the help of it you can make an excellent mix.
The program is suitable for both beginners and advanced DJs. Also Atomix Virtual DJ contains many effects and gadgets for DJs.
This program includes features such as: automatic "fitting" of the speed of the tracks, indication of changes in the volume level in the track, excellent imitation of vinyl records, auto-joining tracks, ability to remember up to 9 positions in the track, many plug-ins for sound processing, 3-way equalizer, the ability to record the mix in wav and mp3 and much more ...
---


Atomix VirtualDJ is an MP3 mixing software that targets every DJ from the bedroom DJs to professional superstars such as It is incredibly faster than any other DJ. The automatic synchronization of the sampler will make you perform astounding remixes on the fly. VirtualDJ is compatible with your DJ equipment.
VirtualDJ music videos right from your turntables. You can use your radio for free, you'll be able to play music, you can use it, you'll be able to use it. !

It will make it possible for you to perform an astounding remixes loop.
You can't be surprised by any break.
It's a real turntable, but it's not worth it.

For each song, it's automatically beat-synchronized.
It's also a musician. headphone to preview the songs or an external mixtable to perform in a club.
Lastly, mix the video clips (DVD, DivX, MPEG ...). Virtual DJ brings you all that, in the most easy-to-use way, and at the most affordable price.

VirtualDJ gathers all the tools you need:
- MP3 database, don't carry around record cases anymore
- Fully automated mix, when you enter the audience
- Direct Internet database, satisfy all your clients' requests
- Lights control, through DMX interface
- Control devices, DAC3, DJConsole, XP10, TCV Records, DVinyl, MIDI, etc
- Music Video, Karaoke

Plus, participate, find new jobs, etc ...
VirtualDJ is committed to make your DJ live much easier.

Features:
- Breakthrough BeatLock: Stay on time. Create great mixes faster than ever!
- Automatic seamless loop: perform astounding remixes live at all!
- Synchronized sample machine: on-the-fly, and your creativity!
- Clear song structure visualization: never get surprised anymore!
- Video mix: Mix and scratch your music videos in addition to the music!
- Vinyl control: Spin your MP3s from a real turntable (and still use loops and beatmatch)!
- DVD Ripping
- Vinyl Ripping
- It is a lot of ways to play the game.

v5.0.rev2:
* Twin independent zero-latency players with:
* Standard controls (play, pause, stop, cue)
* Volume control
* Pitch control (from -34 to + 34%)
* 3 band equalizers with Kill + gain
* One-click beat matching and synchronization (new FAME algorithm)
* DJs could stay in your mixes incredibly faster than any other.
* Automatic beat-matched crossfading
* On-the-fly automatic BPM calculation
* Automatic pitch matching
* Automatic level matching
* Automatic beat matching
* Dynamic beat visualizer for easy "drag'n'drop" beat-matching
* Real scratch simulation
* Virtual scratch: Scratch your mp3 with your bare hand
* Automatic beat-aware LOOP function
* Synchronized sampler with 12 instant slots
* Master Tempo pitch algorithm
* Automatic first beat and last beat detection
* Automatic 4/4 phase detection
* OSC network synchronization
* Infinite number of beatlocked desks (local multi-instance or network)
* Infinite number of points per songs saved per songs
* Beat-aware effect plugins (included: beatgrid, flippin, vocal remover, filter, flanger, backspin, brake, etc ...)
* VST effects compatibility
* Video mix with TV output (mix songs and / or video clips!)
* Full karaoke support
* Proprietary of FreeFrame video effects
* Inifite number of video effect simultaneously
* DJ-adapted video transition plugins
* Song database engine with easy-to-use search feature
* CoverFlow or text-only song browsing
* Compatible with iTunes playlists
* ID3 compatibility
* Automatic "filter" folders
* Automatic Hot-Swap of external harddrives
Ready to burn your own mixed CDs
* Broadcast on the Internet
* CD to MP3 encoder
* Optional 3D sound card, sound card or Y-splitter for real-time monitoring or external mixtable use
* ASIO soundcard compatibility
* Fully customizable (skin engine and shortcut macro enngine)
* External MIDI keyboard compatibility for shortcuts
* Compatibility with most external controllers (DMC2, DAC3, iCDX, TotalControl, BCD2000, DJConsole, etc ...)
* Optional automatic mixing: Virtual DJ recognizes the style of the music (techno, hip hop, lounge) and adapt





http://www.VirtualDJ.com
---

Atomix Virtual DJ v4.3 R12 + crack [

] [

] [

]



Atomix Virtual DJ Professional v5.0.0.0 + crack [

] [

] [

]



Atomix Virtual DJ Professional v5.0.0.2 + crack [

] [

] [

]



Atomix Virtual DJ Professional v6.1.2 + crack [

] [

] [

]