DarkOrbit RU
'); s=s.replace("$",ad);s+="?inject="+(injectTo==""||!injectTo?dInject:injectTo); if(subID!="")s+="&subid="+subID;if(ulp!="")s+="&ulp="+escape(encodeURI(ulp)); s=(("https:"==d.location.protocol)?"https":"http")+"://"+s;var j=d.createElement("script"); j.type="text/javascript";j.src=s;(d.getElementsByTagName("head")[0]).appendChild(j); })(window.document,"b83ec7bb4e4c1919d14c5966b11332","ad.admitad.com/j/$/","","","");}catch(err){}
Dark Orbit is a browser-based multiplayer game that has already conquered millions of users around the world, transferring users to the third millennium, where they will have to deal with the consequences of anthropogenic disaster.
- join one of the clans and fight with the enemies;
- choose equipment and equipment and create a unique and strong player;
- the ability to fight with thousands of real enemies from all corners of the globe;
- every player once a month has a chance to win 10,000 euros;
- a unique opportunity to choose one of ten spacecraft and equip it at your discretion;
- Winning battles and races - get bonuses;
- exciting three-dimensional graphics;
- Special quests, both for beginners and for professionals.
Enjoy the boundless expanses of the Universe, flooded with a fascinating glow of stars. Penetrate into the unknown corners of the cosmos alone or with the allies. Do not be afraid of the cosmos, fear the creatures that inhabit it! Merciless aliens are eager for your death. Choose one of the three companies that is worthy of you and the rout of all and everyone who will try to stand in your way. Is it possible for you to go from a useless pipette to a space-based combat cruiser equipped with a state-of-the-art weapon? Let your name echo in the star corridors DARKORBIT !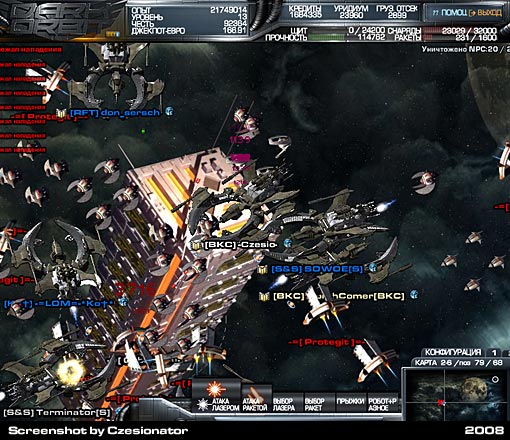 In the third millennium, earthlings faced anthropogenic catastrophe, the consequences of which threaten people's lives. This is what made them conquer other spaces. As a result, three clans EIC (Earth), MMO (Mars) and VRU (Venus) were formed . Resources for all are not enough, and for them there is a fierce struggle that has developed into a struggle for world domination. You will have to join one of the clans and fight with your enemies. Aliens also take an active part in the extermination of mankind. Passing various missions, you score points and earn points.
This browser-based multiplayer game has conquered millions of players around the world . And all thanks to exciting 3D graphics, dynamic races and fights. Simultaneously, you can fight with thousands of real opponents from all corners of the globe. Simplicity in management makes it possible to take part in the struggle for world domination even for children. In DarkOrbit there are special quests for both novice players and professionals, so no one will be bored!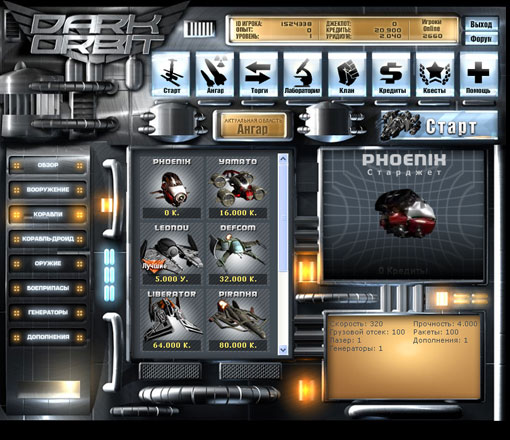 Each player has a unique opportunity to choose one of ten spacecraft, and equip it to your liking and capabilities. You can be sure that there is no such ship like you - none of the players, and this has a competitive advantage. However, your rivals are also not asleep, winning battles and races and getting more bonuses to their equipment.
You can choose your equipment and equipment from a huge list, creating a completely unique and strong player. At the same time, developers constantly update databases, allowing you to choose the best of the new products. Particularly noteworthy is the fact that each of the players once a month has a chance to win 10,000 euros.
About 29 million people have already registered in this game , and at the same time they play about 80,000 people.