AIMP is a multifunctional audio center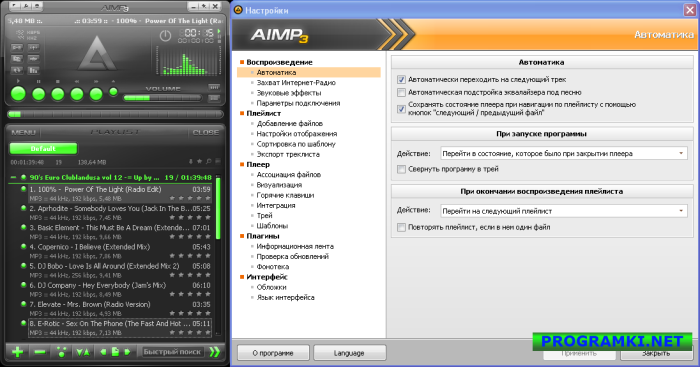 Description

Http://aimp.ru AIMP is a multifunctional audio center.
With built-in utilities, you can easily transcode music from one format to another, record audio from a microphone or other audio device, burn files to CD-DVD discs, edit the tags of music files, and rename or sort them by a group.
The program was created based on user comments to other players - it focused all the best from all players!
Here you can find everything you wanted from audio players and even more!
The main advantages of the AIMP player
Support for a large number of music formats:
MP1, MP2, MP3, MPC, MP +, AAC, AC3, OGG, FLAC, APE, WavPack, Speex, WAV, CDA, WMA, S3M, XM, MOD, IT, MO3, MTM, UMX
Huge functionality and user-friendly interface
18-band equalizer and built-in sound effects
Reverb, Flanger, Chorus, Pitch, Tempo, Echo, Speed
32-bit sound processing
To achieve the best quality
Work with multiple playlists at once
We list one - we work with another
Support for expansion modules functionality
You can add new utilities and extend existing ones, plug in the Input, Gen, DSP plugins from WinAmp
Shutting down the computer
You can go to sleep under your favorite music by turning off the computer by timer or at the end of playback
Internet radio
Listen and write!
Create bookmarks and play queue
Hotkeys
Customize local and global hotkeys to your taste!
Multilingual interface
Multiuser support
Do several users work on the same computer? No problem
Full support for Unicode
Search for files
Search files for all open playlists
Flexible program settings
The small size of the distribution
Audio Converter
Allows you to convert music from various formats to wma, mp3, wav, ogg
Audio Grabber
Allows you to convert AudioCD (CDA) to MP3, OGG, WAV or WMA
Sound recording
Allows you to record sound from any audio device in the system and save in mp3, ogg, wav and wma format
Tag Editor
You can easily edit tags of audio files, as well as rename files by a group, sort by a given template or apply tag values ​​to a group of files
Audio Library
It is an organizer of music files, which will allow you to easily organize your music, set ratings for the listened tracks, keep statistics of playback
AIMP v3.10 Build 1065 (04.07.2012)
- Fixed: When dragging a file from a playlist to another folder, it moves instead of being copied
- Fixed: When deleting a file from a playlist, playback jumps through one track
- Fixed: Incompatibility with Synaptics TouchPad
- Fixed: The bookmark selection window does not work by navigating through the records as you type
- Fixed: When applying any settings, AIMP overwrites the integration information into the registry
- Fixed: "Can not open file" error when multithreaded encoding from a file in WavPack + CUE format
- Fixed: The music library does not take into account the number of plays of each of the files when creating a report about favorite compositions
- Fixed: Leak when working with an encoder in MP3 format
- Fixed: Minor bugs and flaws
AIMP v3.10 Build 1061 (Jun 29, 2012)
* Audio Converter: Added displaying conversion progress in the title bar
* General: Updated localizations
* Player: The following pre-tunings for the equalizer have been added: Headphones / Reggae / Ska / Techno

- Fixed: Audio Converter incorrectly selects the target sample rate in some cases
- Fixed: The play cursor is not reset when the playlist is cleared
- Fixed: Errors in displaying the equalizer window in old skins
- Fixed: The track is removed from the queue twice when it starts playing
- Fixed: Minor bugs and flaws
AIMP v3.10 Build 1051 RC 2 (01.06.2012)
* Bookmarks: Ability to sort records in the Bookmarks Manager
* Plugins: Improved support for Input-plugins from Winamp
* Skin engine: Text rendering speeded up twice

- Fixed: Player clipping the value of the track number field, if it is greater than 255
- Fixed: In some cases, covers from ID3v2.4 are not loaded correctly
- Fixed: "Skip mode" does not work in the file transfer dialog from the playlist to another folder
- Fixed: Skin engine - Wrong step in the scroll bar with a slider with unchanged dimensions
- Fixed: Skin engine - Controls did not get focus in some cases
- Fixed: Minor bugs and flaws
AIMP v3.10 Build 1045 RC 1 (21.05.2012)
* Tags - The size of the padding between the tag and audio data is now limited to 100 KByte
* Tags - Improved algorithm for counting the duration of an audio file in MP3 VBR format

- Fixed: Appearance of cod when listening to files with a sampling frequency greater than the specified sampling rate of the output device
- Fixed: Errors in the behavior and display of old skins
- Fixed: Incorrect text of error messages that occurred when the output device was initialized
- Fixed: Equalizer window does not always take into account animation settings
- Fixed: Player incorrectly read tags, the size of which is more than 1 MB
- Fixed: Playlist freezes when trying to delete files from disk in some cases
- Fixed: "Disable transparency if the mouse above the window" function does not work correctly in some cases
- Fixed: Minor bugs and flaws
AIMP v3.10 Build 1040 Beta 3 (08.05.2012)
* Decoders: BASS updated to v2.4.9
* Converter: Support for the Blade interface of the library lame_enc.dll
* Converter: Encoders are moved from the "AIMP3 \ Plugins" folder to "AIMP3 \ Modules"
* Sound engine: Increased performance

- Fixed: Errors in displaying old skins
- Fixed: Language selection window - the drop-down list is displayed outside the window
- Fixed: The tag editor does not write the cover to a file if it did not have before this tag
- Fixed: The window size is not saved if it is in the "desktop toolbar" mode
- Fixed: Memory leak in the Library
- Fixed: Playlist does not accept files from some applications using Drag-n-Drop operation
- Fixed: Minor bugs and flaws
AIMP v3.10 Build 1034 Beta 2 (27.04.2012)
+ Fonoteka: Added the ability to quickly navigate through the values ​​of fields with the Alt key pressed

* General: Changed hints when editing templates
* Sound engine: Improved ressempler algorithm
* Playlist: Improved convenience of highlighting multiple files with the mouse
* Library: Accelerated addition of files to the database

- Fixed: Playing the selected track did not start from a quick search by pressing the Enter key
- Fixed: Internet radio capture does not work
- Fixed: The focus disappears after deleting the last file in the playlist
- Fixed: Macros are not untwisted in some cases
- Fixed: Incorrect duration calculation for some WavPack files
- Fixed: No localization at the first start of the program
- Fixed: The option "Add pause between tracks" does not work correctly
- Fixed: Errors in displaying old skins
- Fixed: An error occurred while changing the skin and its color
- Fixed: The player freezes when you click on the "Play" button, if in the playlist all tracks are disabled
- Fixed: Increased CPU load when playing silence with the equalizer turned on
- Fixed: Minor bugs and flaws
AIMP v3.10 Build 1027 Beta 1 (16.04.2012)
+ General: Updated default skin design
+ General: The design of the error notification window has been updated
+ General: Custom skins are now stored in a folder with program settings
+ General: Added the ability to set a template for the creeping line when playing Internet radio
+ General: The option "Smooth increase of volume at start of playback" is displayed in the quick settings menu

+ Audio Converter: The "Audio Converter" utility is again shipped with the player
+ Audio Converter: Added multithreaded encoding capability
+ Audio Converter: Support for encoding in APE, FLAC, OGG, WAV, WV, WMA and MP3 (if installed codec)
+ Audio Converter: Updated design

+ Playlist: Now playlists are always stored in a folder with program settings
+ Playlist: Now the playlists are not deleted from the disc when the tab is closed (optional)
+ Playlist: Added playlist management dialog
+ Playlist: Added ability to semi-automatically sync playlist with selected folder / playlist
+ Playlist: Added the ability to load multiple playlists with Drag-n-Drop
+ Playlist: Added the ability to work with groups using the keyboard
+ Playlist: Added the item "Rating" to the main menu

+ Plugins: Update Checker - added the ability to download and install the update semi-automatically

+ Skin Engine: The engine is separated from the functional part of the program - the potential is expanded

+ Music library: Ability to select the default player - AIMP or built-in music library
+ Music library: The playlist store has been moved to the playlist manager of the player
+ Fonoteka: Removed possibility of access to the catalog of Internet radio stations
+ Fonoteka: Removed access to flash media
AIMP v3.00 Build 981 (16/02/2012)
Updated localizations
Playlist: Improved algorithm for capturing markup files for audio files - support for files with double extension
Fixed: Buffer for DMO effects is not cleared after stopping playback
Fixed: Incorrectly read information about the duration of the file from the playlist in PLS format
Fixed: Incorrect auto-type pre-tuning equalizer for virtual files
Fixed: The "default" button in the effects manager resets all settings only from the second time
Fixed: The number of the track in the queue displayed in the playlist is truncated in some cases
Fixed: Folders and files are not sorted by name when they are added from Windows Explorer
Fixed: Data from the markup file (CUE) is not picked up for files in the .DTS format
Fixed: The program crashed when trying to play a file without audio data, but having tags
Fixed: Player does not allow adding AIFF files to the playlist
Fixed: When the equalizer is on, you can hear crackling on very quiet tracks
Fixed: Plugins - Catalog of Radio Stations: An error occurred when switching to the "IceCast" tab, if at least one of the records has no information about the bitrate
Fixed: Plugins - Some visualizations from AIMP2 do not work under AIMP3
Fixed: Plugins - Lastfm Client Helper crashes when trying to call up settings if Lastfm Client is not installed
Fixed: Plugins - The list loses focus after enabling / disabling the plugin