Anaglyph Maker 3D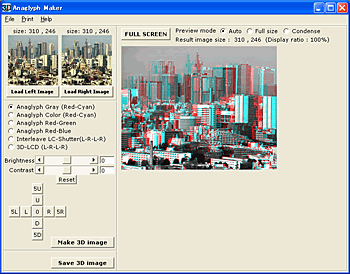 The Anaglyph Maker program creates Anaglyph images, a 3D image for red and blue glasses, and creates an interactive image that is a 3D image for LCD shutter glasses. And all that is needed for this: only a couple of ordinary digital photos.
Features:

Windows 98 / Me / NT / 2000 / XP / VISTA / 7.
Completely Free.
Gray-anaglyph, color-anaglyph, interleave image for LC-shutter glasses, image for SHARP 3D-LC Display.
JPEG, BMP format on import
In the correction mode, a horizontal shift or vertical offset by the 'U, D, L, R' buttons on the screen is possible.
This program was written in C ++ Builder5 by Takashi Sekitani.