Activation by phone Windows 8

At the moment there are no activators, so we will activate the system by legal means, but nonetheless free of charge.
In this article we will tell you about one of the most popular ways to activate the Windows 8 operating system - activation of Windows 8 by phone using a robot or a Microsoft technical support employee. Activation of Windows 8 by phone is a standard procedure. In addition to activation via the phone, Windows 8 can be activated in various ways.
Our instruction is universal, but if you want to activate Windows without any problems, make sure that your license key is valid and legal. So, as we mentioned above, when you activate by phone, you can start a conversation either with a live person or with a robot. Moreover, it is easier and better to activate with the robot , and you can catch it after 8 pm Moscow time.
What will it give?
1. Legal activation opens all system privileges - updates and improvements.
2. There is no possibility of a rally activation due to system updates.
3. The system will work steadily constantly, and not in a limited mode for 90 days and all possibilities of personalization will be open.
Instruction:
1. Download and install the distribution of Windows 8.1 or Windows 8. Install. To install, use the following keys:
Core: 334NH-RXG76-64THK-C7CKG-D3VPT
Professional: XHQ8N-C3MCJ-RQXB6-WCHYG-C9WKB
2. We are waiting for the installation to complete. Not longer than 10 min. depending on the speed of the computer.
3. Pass all system settings.
4. We are waiting for the installation of applications.
5. First of all, you need to install an unlocked key in the system:
1) Go to the upper right corner - "Options" - "Changing computer settings" - "Activating Windows".
2) You can also do this by clicking on the icon "This computer" or "Computer" - go to the activation.
3) Find, check and install keys into the system using the KeyCheck Ratiborus utility. At the end, the program will display the message "the key is installed, now you can activate it by phone"
4) Run the command line as administrator and execute: slmgr / ipk XXXXX-XXXXX-XXXXX-XXXXX-XXXXX (where X is the working key)
2C9ND-V2GFR-RR4YD-QB4DR-JHRDP
4RHDN-D6CT9-8PJCM-C7XBP-HH3HC
D7HNG-C6MPP-DVR4B-V2GX4-JHRDP
HJQNJ-879TM-47X6T-F3Q9C-HH3HC
JXNBF-VG8TP-PBDBW-TB2K2-P9T7C
MQJNQ-G2TKM-YJP7W-CCXVY-VQR92
NJ34M-WQ2DX-T8W7T-CBRMX-YDR92
YT4KP-4TNXX-9MKRP-BYJC9-JW8X2
! Please note that Microsoft very often blocks keys that are shared, so it is possible that some of these keys will not work. Do not panic, just choose another one or search on the Internet.
7. Now there are two possible errors:
1) The key is locked - take another key.
2) The key has exceeded the number of activations. This is the second error we need to get
8. If you get a second error, turn off the Internet.
9. Close the key input window and select "Activate by phone".
10. Choose your country and call. To do this, take your cell or landline phone. This is as you wish. You can also call from Skype.
11. Follow the instructions of the robot girl, who will dictate instructions to you in a monotonous voice. You need to select in sequence:
- 2 business customer (press the button 2, the robot talks)
- 1 activate MS product (press button 1 so that the robot does not chat, press # to skip chatter and the robot immediately goes to the dialog for entering groups of numbers)
! Button designations: # skip instruction (skip the instruction), * repeat the entered block, # enter the next one, at the end you can repeat the whole digital code by pressing 1.
12. The system will issue a verification code of nine blocks. These numbers must be entered in the phone when the girl will ask you about it. After entering all the digits, the robot may ask how many computers the system is installed on, answer 1.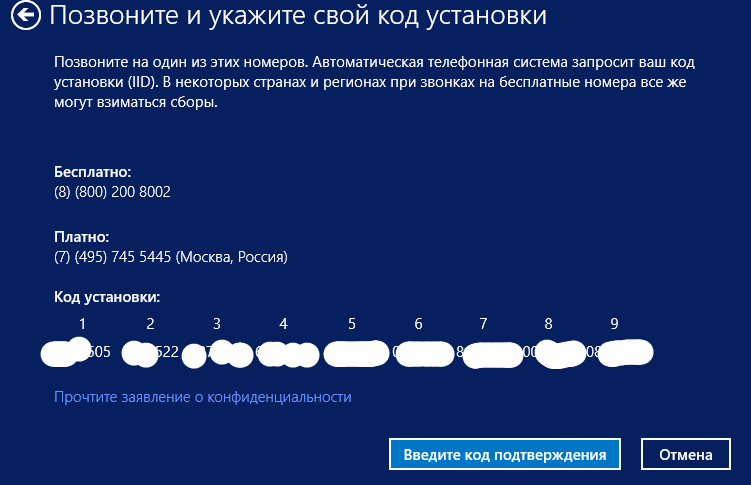 13. We are waiting for an answer. It will take 10 seconds. In response, they will say 8 blocks of numbers (write them in any way).
14. Enter the numbers that the girl will dictate to you in the appropriate fields.
15. Done, the system is fully activated, use on health!
Activation check:
slmgr / dli - display license information.
slmgr / dlv — display license details.
slmgr / xpr - display the end date of activation.