Hacking PlayStation 3 (PS3) + Original EBOOT.BIN
The site ps3-hacks.com was pleased with the incredible news! - the firmware was released, allowing to start backups of all games, with full access to PSN, installing official updates, not requiring USB dongles or creating PKG.
FW 3.55, which allows you to run signed managers
"Press once to show the spoiler - click again to hide ..."
The new iteration of FW 3.55, which allows running signed managers (and another homebrew) without any dongles and iPhones. This firmware does not bark the console and is put on all models.
Installation Instructions:
1. Upgrade your console to the official FW 3.55.
2. Copy the contents of the "Kmeaw CFW tools" folder to the root of the flash media, connect it to the console, then select "System Update" -> "Update from media" in the CMV and install the update.
3. After installing the update, go to Install Package Files and install the "lv2 patcher" utility.


If all steps are executed without errors, then the probability of the bricks tends to zero (there have been no documented cases). However, do not forget that no one gives guarantees, and you install this firmware at your own peril and risk.
Now every time you start the system, you need to run "lv2 patcher" to get the managers working. They say that MultiMan does not launch all the games with this firmware. I advise you to use Rogero Manager, which is also included in this distribution. Most games work with him.
Added:
After running "lv2 patcher", the console can start hanging from time to time in CMS and PS Store. This is because the utility is based on PL3, which is known for its random hangs. Accordingly, it is desirable to run the utility just before running the games. According to reviews, in games, hangs are extremely rare.
Also, one (1) user from the forum psx-scene.com stated that his friend's console (Fat - 40 GB - CECHG04) shut down and stopped working half an hour after launching "lv2 patcher". This is still the only such case on this firmware.
CONCLUSION: If you are afraid for your console or do not want to hang, do not run "lv2 patcher". The firmware itself has nothing to do with it. it does not make any changes to the memory of lvl2. It is possible that the utility will soon be rewritten under hermes v4 and will make it more reliable.
The "lv2 patcher" utility can sometimes hang up the console. This is normal, you do not need to be frightened. It is treated by reboot.
Added:
Games with modified EBOOT.BIN may not work with this firmware. Rogero Manager can restore them, but not always successfully. In the case of such games, I advise you to first try to run as is, replying "No" to the question of changing the file. If the game does not start, then look for the original EBOOT.BIN
!!! Instruction ( strongly recommend reading through, and then again ):

1. Download and install the official PS3 Firmware 3.55 Update from Sony:
PS3 Firmware 3.55 Update [ ? ] [ ] [ ] [ PS3 Hacks ]

2. Swing and put on top of it kmeaw CFW 3.55 Patched PUP :
kmeaw CFW 3.55 Patched PUP [ ? ] [ ] [ ] [ PS3-Hacks ]

3. Through the "Install pkg files" menu in the XMB, set the last Gaia 2.06 (from the archive select UP0001-GAIA01985_00-7679866932773369-GAMEZ.pkg):
Gaia Manager v2.06 [ ? ] [ ] [ ] [ PS3-Hacks ]

4. Done!


Official updates for games to put is not just possible, but it is necessary .
Tested today on PS3 fat at games:

1. Gran Turismo 5!
2. Assassin's Creed III (and network game including!)
3. Little Big Planet GOTY
4. EyePet Move Edition (with downloading content from the EyePet Shop)
Important! With OFW 3.55, that kmeaw CFW 3.55 Patched PUP is set via Recovery Menu! Otherwise, it will be said that there is no need to be updated, it's worth mentioning the latest firmware. Also to run the games you need the original EBOOT.BIN files (below on the page) ...
How to enter the Recovery Menu?

1. Turn off the PS3 from the front panel (standby mode, the red light is on).
2. Clamp the power on the front panel, wait a bit, the PS3 turns on and then turns off.
3. Let go and then again tighten the power.
4. PS3 will emit a single squeak, just behind him a quick double "peak-peak".
5. We release power and hook the gamepad with a USB-cord.
6. In the menu that appears, select the last item "Update system".
7. Insert the USB drive with the following folder structure: "/PS3/UPDATE/PS3UPDAT.PUP" , where PS3UPDAT.PUP is the firmware file (for the first time OFW 3.55 before full installation, the second time is kmeaw CFW 3.55 Patched PUP).
Additional information:

And although I checked all these steps today and personally asked for my PS3, and then wrote this instruction, just in case, I remind you: you do it at your own peril and risk!
[PS3] Original EBOOT.BIN files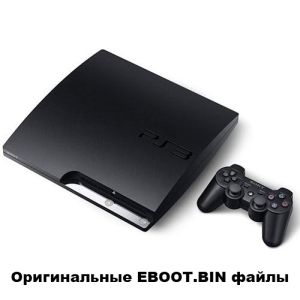 Year of manufacture: 2011
Genre: Do not have
Developer: None
Publisher: Away


Region: Region Free
Disc number: Not available
Load from Media: External and Internal HDD
Language: Multi


Transfer type: Original
Firmware: 3.55 waninkoko's / Kmeaw
Description: Original EBOOT.BIN files.


Search:
COD Modern Warfare 2 (BLES00683)
Prince of Persia: The Forgotten Sands BLES00906
GoW 3 [EU]


Available EBOOT.BIN files:
Dead Rising 2 [BLES00948]
Demon's Souls [BLUS30443]
Start the Party [BCES00969]
Sports Champions [BCES00795]
HAZE [BLES00169]
Skate 3 [EU] [BLES-00760]
God Of War III [BCUS98111]
assassin's creed Brotherhood [BLES00910]
call of duty black ops [BLES01031]
Harry Potter and the Deathly Hallows Pt. 1 [EU]
Mass Effect 2 [BLES01133]

ruse [BLUS30478]
Two worlds II [BLES00845]
nfs hot pursuit [BLES00949]
mindjack [MRTC00014]
GTA4 [EU]
Infamous [BCES00609]
Gran turismo 5 [EU] [BCES-00569]
Enslaved [EU] [BLES-00989]
Colin McRae Dirt 2 [EU] [BLES00673]
Little Big Planet 2 [USA] [BCUS98245]
Splatterhouse [EU] [BLES01120]

PS: if you have any origins that we do not have, then do not be evil and share it with us ^ _ ^

Original EBOOT.BIN files for PS3 [

] [

]