How to get an icon from a site?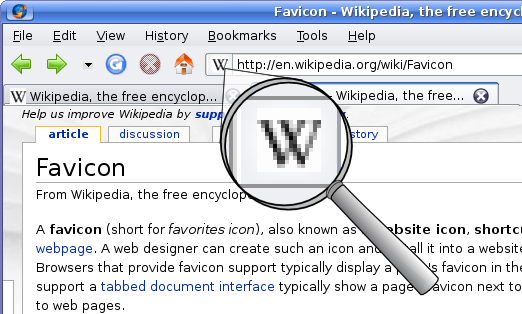 Favicon (abbreviated from English. FAVorite ICON - "icon for favorites") - the icon of a website or web page. It is displayed by the browser in a tab in front of the page name, and also as a picture next to the bookmark, in tabs and in other interface elements.
Traditionally, images of 16x16 pixels in ICO format were used, placed in the root directory of the site under the name favicon.ico - then Microsoft Internet Explorer used them for bookmarks. Prior to version 7.0, MSIE used icons only for bookmarks, and so server administrators could find out how many users bookmarked their site.
How to get the icon from the site that is near the URL in the browser will describe further ...
  http://favicon.yandex.net/favicon/www.shram.kiev.ua 
Result:
  http://www.google.com/s2/favicons?domain=www.shram.kiev.ua 
Result:
Favicon Development History
In March 1999, Microsoft released Internet Explorer 5, which was the first to support website icons. Initially, this icon was a file called favicon.ico, placed in the root directory (for example, http://en.wikipedia.org/favicon.ico ) of the website. The icon is used by Internet Explorer in the favorites list and next to the URL in the address bar if the page is in bookmarks. A side effect was that the number of visitors who bookmarked the page could be estimated by the number of hits on the icon file. This technique has been deprecated since all modern browsers support the bookmark-free icon.