Calculator stretch ceiling (script) with the possibility of ordering through the contact form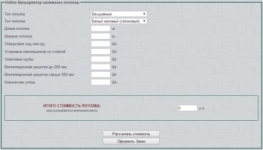 Calculator calculator for calculating the cost of stretch ceiling.
With this virtual calculator, you can calculate the cost of the stretch ceiling and provide the opportunity to order the goods to the customer.
Online calculator example and free download possibility itself script calculator.
Easy-to-customize the stretch ceiling cost calculation script is easy to configure.
The settings for the price are in the script itself. Settings by currency in the form of calculation.
You can download the script source for free at the end of the article.