Web services for online creation of buttons in the style of WEB2.0
Always and everywhere, a web developer takes care of the "roundness" of his site. Round menus, buttons. It's all easy. Below is my list of the top 10 online resources (Button Maker, Da Button Factory, Button Flash Player, Button Button Maker, Button Maker ) to generate buttons of any standards and needs. Button (button) can be an element of design, menu, etc. These web services of online button generation in WEB2.0 will allow you to design gorgeous buttons.
Learn about each of them. Be sure to test them. Find those that can facilitate your work.
Button Maker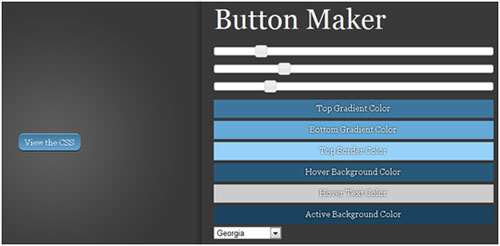 Button Maker »Button Maker is a wonderful free service for generating CSS codes for your buttons. Different parts of the button can be painted in different colors. The sliders above the color determiners allow you to vary the size and shape of the button, keeping track of the changes in the window to the left. To get the code, click on the button
Da Button Factory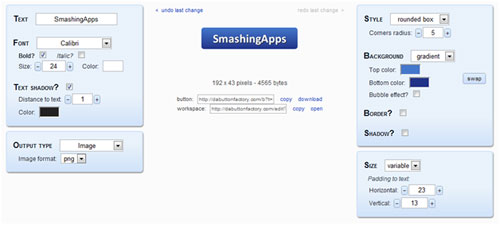 Da Button Factory »Da Button Factory offers you great tools for building buttons. You can vary the size of the button, the color and font type, shade it, and also select the final format (PNG / JPEG / GIF / ICO). During operation, the button is constantly updated in accordance with the changes you make. After completing its construction, you can perform the download by clicking on it.
Buttonator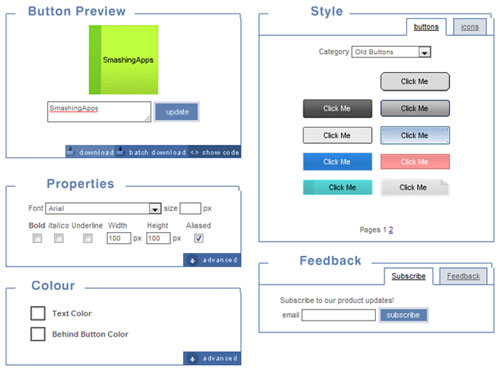 Buttonator »Another great online service for building buttons, Buttonator, will provide you with almost all the possibilities for solving this problem. You can start by selecting a specific style of the button in the right pane. And then you can make changes to it; including, to vary color and font / font size. Download buttons can be in the form of GIF-files.
Free Flash Button Generator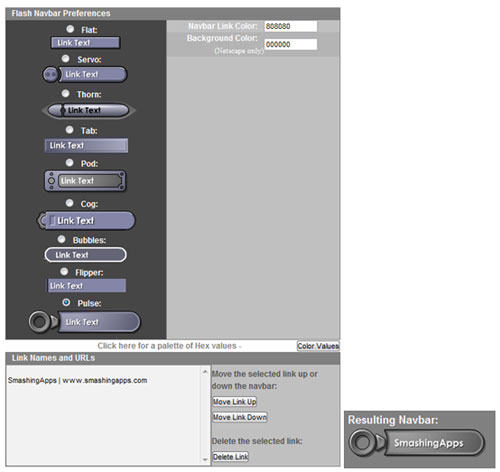 Free Flash Button Generator »If you are looking for a resource for designing Flash buttons, the Free Flash Button Generator service will cope with this task perfectly. First, choose the style of the button. The color can be varied by selecting hexadecimal numeric values. In the bottom panel, you can provide buttons with links and assign names to these links. Clicking on the final version of the button starts the process of creating it and compiling the corresponding HTML-encoding.
Cool RGB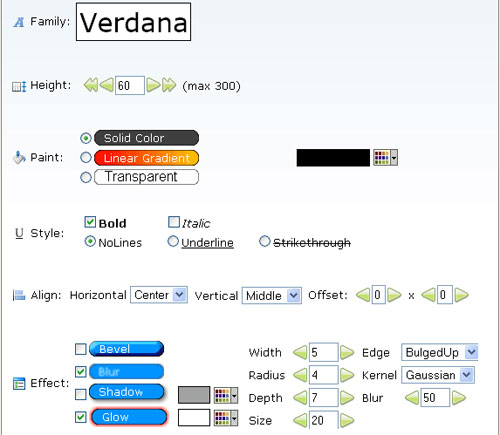 Cool RGB »Cool RGB is a wonderful website for designing various elements of a web page. Here you can create logos, banners, panels and, of course, buttons. The button construction interface is adapted through a variety of options - from selecting fonts and colors to setting the transparency level and linear tilt angles.
As Button Generator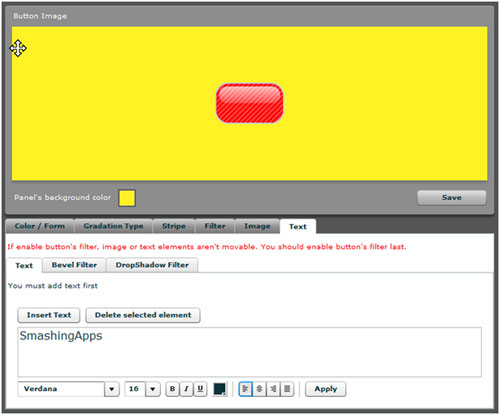 As Button Generator »Service As Button Generator allows you to design buttons by editing in the interface made up of tabs. There are many options for adaptation, which is enough to build your buttons. The finished image is downloaded as a PNG file.
HTML and CSS Rounded Corner Button Generator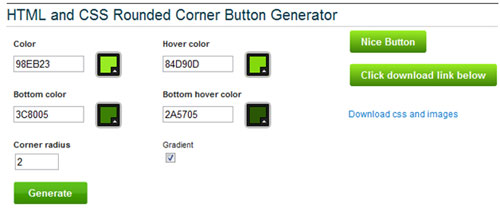 HTML and CSS Rounded Corner Button Generator »This site is designed for developers looking for a very simple but doubly useful online button building service. HTML and CSS The Rounded Corner Button Generator allows you to not only design buttons, but also to vary their colors, and also provides you with a ZIP-archive with PNG-image of the button, HTML and CSS-codes.
Feed Icon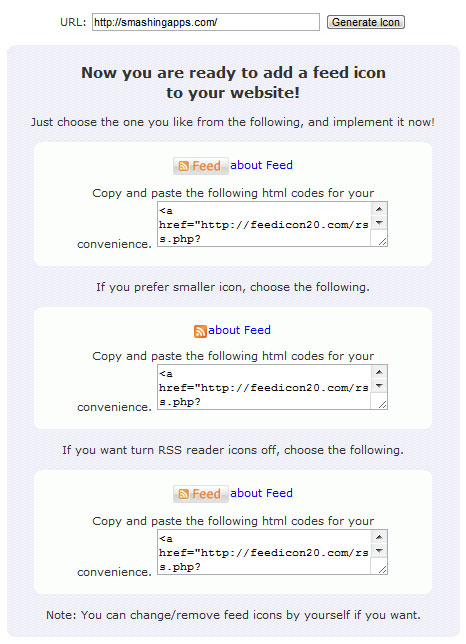 Feed Icon »If you are looking for a service for building a simple icon for feeds, the Feed Icon is the best solution. You just need to specify the URL of your website, and then choose one of the 3 suggested HTML code options. Three variants of the encoding provide the same shape of the icon, but its different sizes.
Adam Kalsey's Button Maker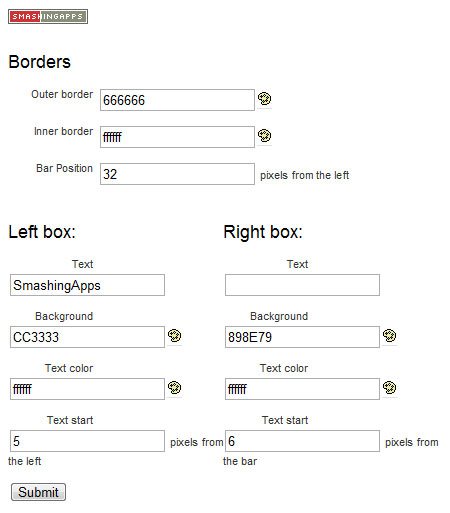 Adam Kalsey's Button Maker »This button building service from Adam Kalsey has a very simple interface. The icon can be divided by a line and set the interval in pixels between this border and the edge of the button.
Button Maker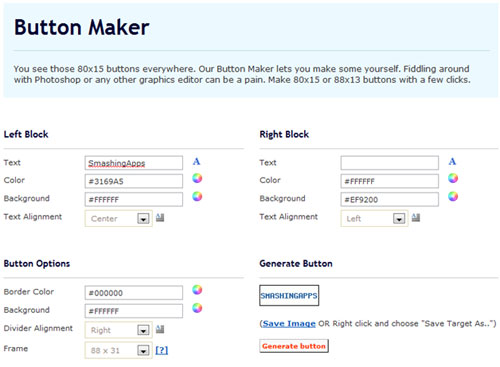 Button Maker »Service is very similar to the resource of Edam Kelsey, but its important difference is that you can choose the position of the dividing line -" left "," center "or" right ". You can choose one of two options for the size of the button.
---
Cool Text »Online application for creating logos and buttons, for use on the pages of your site as a stylish and beautiful sign that distinguishes you from everyone else.
open-eye Banner-Generator »A resource for generating free banners for sites with many templates of different sizes, about 1500. There are also free banner templates for flash.
The Banner Generator »Online service for creating beautiful banners and buttons.
QuickBanner »A free online resource for the production of banners of excellent quality, with a simple and intuitive control.
Animation Online »The online application will help you quickly and free to create a banner or a bright and stylish button. There are many templates on the site.
MediaBuilder 3D Text Maker »Simple but fast online service for creating free and high-quality animated banners with 3D text.