How to make an avatar (animated) from a cool photo

Table of contents:
1. What is an avatar and where can I use it?
2. What programs are needed to create an avatar?
3. From what to do the avatar and where does it come from?
4. Let's get to work.
4.1. Cutting, shredding and fitting to dimensions.
4.2. Adding beauty and originality.
4.3. Correctly save.
5. What is good, and what is bad.
6. I do not want to study, but I want to ...




Well, I will not consider all the homonyms of the word "avatar" - in vain bytes only translate. We will talk about those avatars that you usually see on the forums. These are pictures that you just look at, and the original opinion about the interlocutor is already being formed. And it does not matter that the first opinion is erroneous, it never loses its importance.
For example, compare these three avatars, they are more eloquent than any words:



Now, as for their alternative use, i.e. not only on the forums. Yes, almost everywhere where the graphics are used: in ICQ qip, in the creation of banners (for example, I made my banners on the basis of their own avatar), in decorating the design, even as a background on web pages. At this point, someone has enough for that.




Programs can be used different. There are even specialized programs for avatars, only I do not trust them and do not use them. I believe that their hands will make a better automated robot.

I'll teach you on the basis of the old (or new) good (and not very) photoshop. If you do not have any version of this program, then I advise you to buy it (do not worry, it's free to some extent, it's just a lot of weight and it's easier to buy it on a disk than half-day downloading from Ineta).

We can also use the following programs: Vindosovsky Paint (Paint), any Vinamp (if you like listening to music at work), well, and something at hand - to eat (or if inspiration spills, even with a strong hunger to the fridge to go broke ).




Avatars are usually made from source - images with something that attracted your attention. And where do you get these sources? And you yourself think - from what is at your fingertips! Your (or not your) drawings (you can scan them), any wallpaper, screenshots from cartoons, movies or games, ready-made avatars, which according to your plan will be changed.

From the scanned drawings . The option is ideal, since such an avatar will certainly be unique throughout the Internet. Truth for a while. After all, you can not forbid anyone to take your avatar.

Use wallpaper . Wallpaper is your background on the desktop, and there are a fair amount of them on the network. Any search engine will give you a bunch of sites with wallpaper. But do not count on absolute uniqueness, since this is the easiest way. Avatar of course, although it will be unique, but the source - no.

Screenshots from games, movies and cartoons . The method is pretty good, because not everyone has the intelligence to make a screenshot of exactly the same moment as yours. This is done like this:
1) let's say we are a cartoon,
2) look, until we find something interesting,
3) We press a pause,
4) Hit Ctrl + Prt Screen - i.e. take a screenshot, this button is near the backspace,
5) Open Paint, select the highlight button, right click on the white background of the picture and select "paste",
6) Choose to save as ... with the extension jpg. And we already have ready-made wallpaper in our hands.

Use the ready avatar for the change . The situation is about the same as with the wallpaper, but there will be less trouble.




To be more convenient, I broke the training of each step into separate subtopics.


We will proceed from the fact that in Photoshop you are almost complete zero.
We approached this stage with the fact that we should already have two pictures. Why two? And we will immediately make an animated avatar, if you learn how to make animated, then without animation, even more so. These two experimental pictures: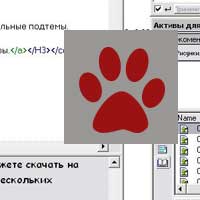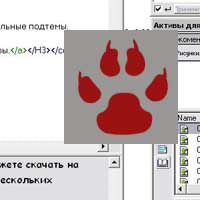 And we will make animation from these two paws. That is, the paw without claws becomes a clawed paw. This example is ideal for using screenshots from movies and cartoons. That is, the subject that we will process is approximately in the same place as in the previous frame.

And now we need the Photoshop application "Image Ready". Run it. Create a folder named 1 on the desktop. Copy into our folder our pictures. Now in the program, select File => Import => Folder as Frames => Folder 1 on the desktop.

You can see the zero animation by clicking on the play button at the bottom. There will be frequent flashing of frames (frames). Click on the stop, get to work ...
Since we want to make an avatar only of our paw, not of the whole background, then we need to get rid of all the superfluous: select using a square selection (holding Shift) a gray square on one of the frames.
Next, choose Image => Crop (Crop) - We got rid of the background! (low quality images to save traffic)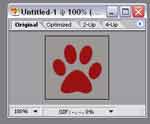 Now we want to get rid of the gray surroundings of our paws. Select the "Magic" eraser and make the first frame active (look at the pictures), then click the eraser on the gray background, there is no gray background now. Same with the second frame. Do not forget to make it active.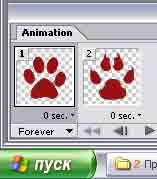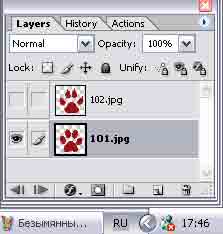 But we do not need an arbitrary size, after all. To proportionally change the size of the entire avatar, select Image => Image Size => dimensions eg 64.
Now let's make the animation smoother, select below the frames of the delay second (see the middle picture), say 0.5 seconds to each frame. On the play you can see the result. For better animation in the gap between them, you can cram more frames (I like it more) or make the animation automatically with the button

and click OK, we will make 5 internal frames - transitions, give them each time for 0.2 seconds and admire, clicking on the play.




And the beauties can be dealt with as before point 4.1, and after. I will not disclose the technical side here, as it will take a very long time, but I will give examples of improvements: you can add inscriptions, nadmisi can change with each frame, the colors of objects can also change, you can distort and sub-align, etc.




There remained an important point - preservation. Do not underestimate it, with the right preservation you can save 10 times! And the quality will remain the same.
Begin. Select the tab above the image of the Optimized avatar. So it will really look like your avatar after saving, at the bottom you can see how much it will weigh. You need to reduce its size and the number of colors until you reach the acceptable weight. The colors change on the right in the Color Table. Fit to the desired result, select Save Optimized as ... and AVatara READY !






It's good to make your own unique avatars, but it's bad to assign someone else's authorship. If you slightly changed the avatar - there is nothing wrong with that, but you did not become its author. It is not very good to take someone else's avatar from the forum and use it right there, on this same forum. It is not good to prescribe in the avatar mats - it does not decorate you, but it can alienate. The rest will come up with your own ideas

.