PROGRAM FOR CALCULATION OF QUARTZ FILTERS
Quartz 5.9.0.5 rus
This program is designed to calculate staircase quartz filters on the same resonators by the method
G3JIR (see "QST" No. 11/1980) and UP2NV (see "RADIO" No. 1-2 / 1982) .
It implements the construction of the transfer amplitude-frequency characteristic of the filter, taking into account the complete equivalent circuit for the replacement of a quartz resonator consisting of Ld, Cd, Rd, and Cs .
Unlike similar programs, this program avoids the errors caused by the presence of a quartz resonator with static capacitance and active resistance. The frequency response is produced with accuracy up to 1 Hz in frequency.
In the program, it is possible to scroll through and analyze any area of ​​the frequency response .
At the end of calculations and simulation of the filter, the results can be printed out on the printer.
Works from under Windows 95, .. 98, ..98x, 2000, XP .
Appearance of the program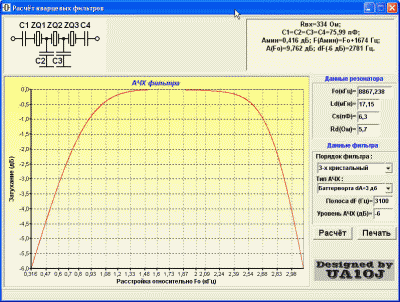 ---
NEW ARTICLES AND PUBLICATIONS

The technology of manufacturing universal couplings for unvoiced, threadless, flossless connection of pipe sections in high pressure pipelines (video is available)
Technology of oil and oil products cleaning
On the possibility of moving a closed mechanical system at the expense of internal forces
Fluorescence in thin dielectric channels
The relationship between quantum and classical mechanics
Millimeter waves in medicine. A New Look. MMV therapy
Magnetic engine
Heat source based on pump units
---