ULTRASOUND GENERATOR FOR RAPPING RATS
VICTOR BORODAY
This generator can be used in storage of grain and other storage areas for products. The oscillator circuit shown in the figure consists of a low-frequency modulator ( C1, C2, DD1.1, DD1.2, R1, R2 ). generator of ultrasonic oscillations ( СЗ, С4, DD1.3, DD1.4, R3, R4 ), power amplifier on transistors VT1 ... VT3 and the radiator, which is a high-frequency loudspeaker 4GDV-1 .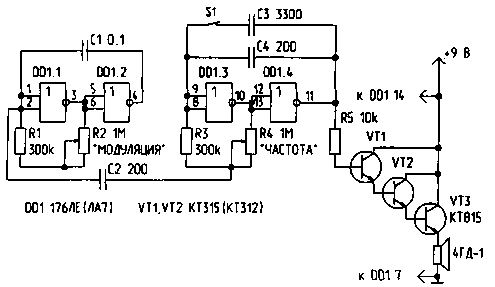 At the nominal values ​​indicated on the diagram, the generator emits frequency-modulated oscillations in the range 15 ... 40 kHz . The oscillator frequency is controlled by the resistor R4 , the modulation frequency is regulated by the resistor R2 within the range 2 ... 10 Hz . It should be borne in mind that ultrasonic vibrations emitted by this generator can negatively affect the nervous system of humans and domestic animals. Long stay in the room with a working generator can cause headache, nausea and other discomfort, so it is recommended to include it immediately before leaving the room. If the contact S1 is installed in such a way that this contact closes during unauthorized entry into the room, the generator can also work as an alarm siren, since it begins to emit frequency-modulated oscillations in the range of 1000 ... 2000 Hz . It should be borne in mind that with prolonged operation in one frequency range, rats can adapt, so R2 and R4 need to change the radiation parameters 2 ... 3 times a week. You can also apply this method: connect the capacitor C4 to the length of the wire, creating an additional capacitance, changing when the temperature, humidity, wind force change (if the wire is pulled out), etc. Then the frequency will change by random law.
Authors: Victor Boroday
Address: 330000, Zaporozhye, b. The central, 12B-4.
Date of publication: 19.05.05.

---
---
NEW ARTICLES AND PUBLICATIONS

The technology of manufacturing universal couplings for unvoiced, threadless, flossless connection of pipe sections in high pressure pipelines (video is available)
Technology of oil and oil products cleaning
On the possibility of moving a closed mechanical system at the expense of internal forces
Fluorescence in thin dielectric channels
The relationship between quantum and classical mechanics
Millimeter waves in medicine. A New Look. MMV therapy
Magnetic engine
Heat source based on pump units
---