This page has been robot translated, sorry for typos if any. Original content here.
The only minus (although it is difficult to call it a minus) of this online calculator is that he does not know how to build spheres and other three-dimensional figures - only a plane.
How to work with Math Calculator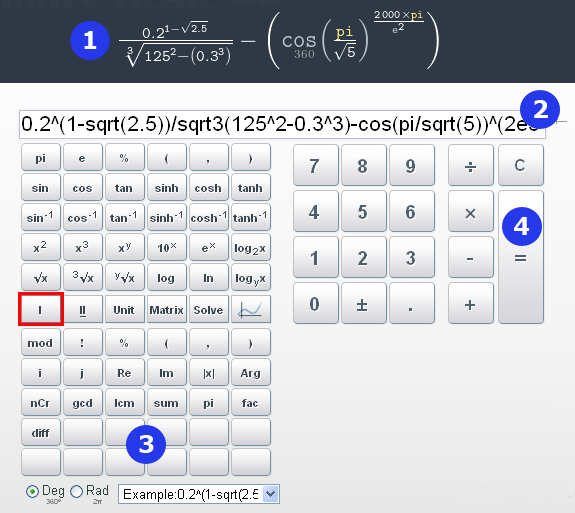 1. The display (calculator screen) displays the entered expression and the result of its calculation using ordinary characters as we write on paper. This field is simply for viewing the current operation. The record is displayed on the display as a mathematical expression is typed in the input line.
2. The expression input field is intended for recording the expression to be calculated. It should be noted here that the mathematical symbols used in computer programs do not always coincide with those that we usually use on paper. In the overview of each function of the calculator you will find the correct designation of a specific operation and examples of calculations in the calculator. On this page below is a list of all possible operations in the calculator, also with an indication of their correct spelling.
3. The toolbar is the calculator buttons that replace the manual input of mathematical symbols denoting the corresponding operation. Some buttons of the calculator (additional functions, unit converter, solution of matrices and equations, graphics) complement the taskbar with new fields, where data is entered for a specific calculation. The History field contains examples of writing mathematical expressions, as well as your last six entries.
Please note that when you press the buttons for calling additional functions, converter of quantities, solving matrices and equations, plotting, the entire calculator panel is shifted upwards, closing part of the display. Fill in the required fields and press the "I" key (highlighted in red in the figure) to see the display in full size.
4. The numeric keypad contains numbers and symbols of arithmetic operations. The "C" button deletes the entire entry in the expression input field. To delete characters one by one, use the arrow to the right of the input line.
Always try to close parentheses at the end of an expression. For most operations, this is not critical, the online calculator will calculate everything correctly. However, in some cases errors are possible. For example, when raising to a fractional degree, unclosed parentheses will cause the denominator of the fraction in the exponent to go to the denominator of the base. On the display, the closing bracket is indicated by a pale gray color; it must be closed when the recording is finished.
Key
Symbol
Operation
pi
pi
Constant pi
e
e
Euler number
%
%
Percent
()
()
Open / Close Brackets
,
,
Comma
sin
sin (?)
Sine angle
cos
cos (?)
Cosine
tan
tan (y)
Tangent
sinh
sinh ()
Hyperbolic sine
cosh
cosh ()
Hyperbolic cosine
tanh
tanh ()
Hyperbolic tangent
sin -1
asin ()
Reverse sine
cos -1
acos ()
Cosine reverse
tan -1
atan ()
Reverse tangent
sinh -1
asinh ()
Reverse hyperbolic sine
cosh -1
acosh ()
Reverse Hyperbolic Cosine
tanh -1
atanh ()
Reverse hyperbolic tangent
x 2
^ 2
Squaring
x 3
^ 3
Cube construction
x y
^
Exponentiation
10 x
10 ^ ()
Exponentiation in base 10
e x
exp ()
Raising the power of the Euler number
v

x

sqrt (x)
Square root
3 v

x

sqrt3 (x)
3rd degree root
y v

x

sqrt (x, y)
Root extraction
log 2 x
log2 (x)
Binary logarithm
log
log (x)
Decimal logarithm
ln
ln (x)
Natural logarithm
log y x
log (x, y)
Logarithm
I / ii
Collapse / Call additional functions
Unit
Unit converter
Matrix
Matrices
Solve
Equations and systems of equations
Plotting
Additional functions (call by key II)
mod
mod
Division with remainder
!
!
Factorial
i / j
i / j
Imaginary unit
Re
Re ()
Selection of the whole real part
Im
Im ()
Exclusion of the real part
| x |
abs ()
The absolute value of a number
Arg
arg ()
Function argument
ncr
ncr ()
Binominal coefficient
gcd
gcd ()
Gcd
lcm
lcm ()
NOC
sum
sum ()
The total value of all decisions
fac
factorize ()
Prime factorization
diff
diff ()
Differentiation
Deg
Degrees
Rad
Radians