Wrong English verbs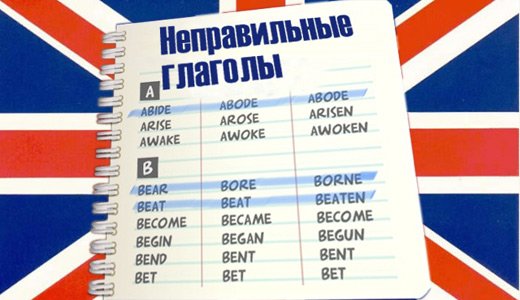 An incorrect verb is a verb whose conjugation paradigm deviates from the typical paradigms of a given language. As a rule, the most common verbs are the wrong verbs, partially preserving the remains of ancient forms lost by other verbs. Especially often they are auxiliary verbs, for example, ligaments. Sometimes in the conjugation of irregular verbs suppletivism is observed. Wrong verbs are most typical for inflectional languages, for example, Indo-European. In agglutinative languages, irregular verbs, as a rule, are very few, and sometimes they are completely absent.
Wrong verbs are a stepping stone to the top of English. And often this stage has to be stormed again and again! Sometimes, you remember all the forms of the verb, and the translation does not go to your mind. Or you know the initial form and the translation, but the second and third forms completely flew from the head.
We offer an interactive dictionary of irregular English verbs.
Watch a video with basic irregular verbs
Repeat, remember the correct pronunciation, and call the translation of the word.
| | | | |
| --- | --- | --- | --- |
| Infinitive | Past simple | Past participle | Transfer |
| abide | abode; abided | abode; abided | to abide; hold on |
| the | arose | arisen | to rise; arise |
| awake | awoke | awaked; awoke | wake up; wake up |
| backbite | backbitten | backbitten | slander |
| backslide | backslid | backslid | fall off |
| be | was; were | been | be |
| bear | bore | born; borne | give birth |
| beat | beat | beaten | beat |
| become | become a | become | become |
| befall | befell | befallen | to happen |
| beget | begot; begat | begotten | generate |
| begin | began | has begun | start off |
| begird | begirt | begirt | gird |
| behold | beheld | beheld | ripen |
| bend | bent | bent; bended | bend |
| bereave | bereft; bereaved | bereft; bereaved | deprive |
| beseech | besought; beseeched | besought; beseeched | beg; entreat |
| beset | beset | beset | besiege |
| bespeak | bespoke | bespoke; bespoken | order |
| bespit | bespat | bespat | spit |
| bestride | bestrode | bestridden | sit down; be on horseback |
| bet | bet; betted | bet; betted | bet |
| betake | betook | betaken | to be accepted; go |
| bid | bad; bade; bid | bid; bidden | to order; ask |
| bind | bound | bound | to tie |
| bite | bit | bit; bitten | bite |
| bleed | bled | bled | bleed |
| bless | blessed | blessed; blest | bless |
| blow | blew | blown; blowed | blow |
| break | broke | broken | (c) break |
| breed | bred | bred | grow |
| bring | brought | brought | bring |
| broadcast | broadcast | broadcast | distribute; scatter |
| browbeat | browbeat | browbeaten | intimidate |
| build | built | built | build |
| burn | burnt; burned | burnt; burned | burn; burn |
| burst | burst | burst | break out; explode |
| bust | bust; busted | bust; busted | demot |
| buy | bought | bought | buy |
| can | could | could | can; be able to |
| cast | cast | cast | throw; pour metal |
| catch | caught | caught | catch |
| chide | chid; chided | chid; chided; chidden | scold |
| choose | I chose | chosen | to choose |
| cleave | clove; cleft; cleaved | cloven; cleft; cleaved | cut |
| cling | clung | clung | cling; cling |
| come | came to | come | come |
| cost | cost | cost | cost |
| countersink | countersank | countersunk | countersink |
| creep | crept | crept | crawl |
| crow | crowed; crew | crowed | sing |
| cut | cut | cut | cut |
| dare | durst; dared | dared | dare |
| deal | dealt | dealt | to deal with |
| dig | dug | dug | dig |
| dive | dived; dove | dived | dive; dive |
| do | did | done | do |
| draw | drew | drawn | draw |
| dream | dreamt; dreamed | dreamt; dreamed | dream; dream |
| drink | drank | drunk | drink |
| drive | drove | driven | led (machine etc.) |
| dwell | dwelt | dwelt | dwell; linger |
| eat | ate | eaten | eat; there is |
| fall | fellow | fallen | fall |
| feed | fed | fed | feed |
| feel | felt | felt | feel |
| fight | fought | fought | fight; fight |
| find | found | found | find |
| fit | fit | fit | fit to size |
| flee | fled | fled | to run; escape |
| fling | flung | flung | quit |
| floodlight | floodlighted; floodlit | floodlighted; floodlit | spotlight |
| fly | flew | flown | to fly |
| forbear | forbore | forborne | refrain |
| forbid | forbad; forbade | forbidden | forbid |
| forecast | forecast; forecasted | forecast; forecasted | predict |
| foresee | foresaw | foreseen | anticipate |
| foretell | foretold | foretold | predict |
| forget | forgot | forgotten | forget |
| forgive | forgave | forgiven | forgive |
| forsake | forsook | forsaken | leave |
| forswear | forswore | forsworn | abjure |
| freeze | froze | frozen | freeze |
| gainsay | gainsaid | gainsaid | deny; contradict |
| get | got | got | get |
| gild | gilt; gilded | gilt; gilded | to gild |
| gird | girded; girt | girded; girt | gird |
| give | gave | given | give |
| go | went | gone | go |
| grave | graved | graved; graven | engrave |
| grind | ground | ground | sharpen; grind |
| grow | grew | the grown | grow |
| hamstring | hamstringed; hamstrung | hamstringed; hamstrung | hamstring |
| hang | hung; hanged | hung; hanged | hang |
| have | had | had | have |
| hear | heard | heard | listen |
| heave | heaved; hove | heaved; hove | raise |
| hew | hewed | hewed; hewn | hack; hover |
| hide | hid | hidden | hide) |
| hit | hit | hit | strike; hit the mark |
| hold | held | held | Keep |
| hurt | hurt | hurt | hurt |
| inlay | inlaid | inlaid | invest; lap |
| input | input; inputted | input; inputted | enter |
| inset | inset | inset | insert; invest |
| interweave | interwove | interwoven | weave |
| keep | is kept | is kept | keep; contain |
| ken | kenned; kent | kenned | know; recognize by sight |
| kneel | knelt; kneeled | knelt; kneeled | kneel |
| knit | knit; knitted | knit; knitted | to knit |
| know | knew | known | know |
| lade | laded | laded; laden | ship |
| lay | laid | laid | to put; put |
| lead | led | led | lead |
| lean | leant; leaned | leant; leaned | rely on; lean |
| leap | leapt; leaped | leapt; leaped | jump |
| learn | learnt; learned | learnt; learned | learn |
| leave | left | left | leave |
| lend | lent | lent | lend |
| let | let | let | let |
| lie | lay | lain | lie |
| light | lit; lighted | lit; lighted | illumine |
| lose | lost | lost | lose |
| make | made | made | do; produce |
| may | might | might | can; to have a possibility |
| mean | mean | mean | mean |
| meet | met | met | meet |
| miscast | miscast | miscast | miscast |
| misdeal | misdealt | misdealt | go wrong |
| misgive | misgave | misgiven | awe |
| mishear | misheard | misheard | mishear |
| mishit | mishit | mishit | miss |
| mislay | mislaid | mislaid | misplace |
| mislead | misled | misled | mislead |
| misread | misread | misread | misinterpret |
| misspell | misspelt; misspeled | misspelt; misspeled | write with errors |
| misspend | misspent | misspent | save |
| a mistake | mistook | mistaken | be wrong |
| misunderstand | misunderstood | misunderstood | misunderstand |
| mow | mowed | mown; mowed | mow down |
| outbid | outbid | outbid | interrupt a price |
| outdo | outdid | outdone | transcend |
| outfight | outfought | outfought | win |
| outgrow | outgrew | outgrown | grow out of |
| output | output; outputted | output; outputted | come out |
| outrun | outran | outrun | overtake; outrun |
| outsell | outsold | outsold | sell better or more expensive |
| outshine | outshone | outshone | eclipse |
| overbid | overbid | overbid | command |
| overcome | overcame | overcome | compensate |
| overdo | overdid | overdone | overdo |
| overdraw | overdrew | overdrawn | exceed |
| overeat | overate | overeaten | overeat |
| overfly | overflew | overflown | fly over |
| overhang | overhung | overhung | overhang |
| overhear | overheard | overheard | eavesdrop |
| overlay | overlaid | overlaid | cover |
| overpay | overpaid | overpaid | overpay |
| override | overrode | overridden | reject; reject |
| overrun | overran | overrun | overflow |
| oversee | oversaw | overseen | oversee |
| overshoot | overshot | overshot | shoot |
| oversleep | overslept | overslept | proshe (s) to go |
| overtake | overtook | overtaken | catching up |
| overthrow | overthrew | overthrown | depose |
| partake | partook | partaken | participate |
| pay | paid | paid | to pay |
| plead | pleaded; pled | pleaded; pled | go to court |
| prepay | prepaid | prepaid | pay in advance |
| prove | the | proved; proven | prove; turn up |
| put | put | put | lay |
| quit | quit; quitted | quit; quitted | leave; leave; come out |
| read | read; red | read; red | to read |
| rebind | rebound | rebound | bandage |
| rebuild | rebuilt | rebuilt | rebuild |
| recast | recast | recast | modify; transform |
| redo | redid | redone | repeat |
| rehear | reheard | reheard | listen again |
| remake | remade | remade | redo |
| rend | rent | rent | rend |
| repay | repaid | repaid | repay |
| rerun | reran | rerun | reapply |
| resell | resold | resold | resell |
| reset | reset | reset | to return |
| resit | resat | resat | outstay |
| retake | retook | retaken | take away |
| retell | retold | retold | retell |
| rewrite | rewrote | rewritten | pere |
| rid | rid; ridded | rid; ridded | spare |
| ride | rode | ridden | ride |
| ring | rang | rung | ring |
| rise | rose | risen | rise |
| rive | rived | riven | cleave |
| run | ran | run | to run; flow |
| saw | sawed | sawn; sawed | to nag |
| say | said | said | speak; to tell |
| see | saw | seen | see |
| seek | sought after | sought after | look for |
| sell | sold | sold | sell |
| send | sent | sent | send |
| set | set | set | to put; install |
| sew | sewed | sewed; sewn | stitch |
| shake | shook | shaken | shake |
| shave | shaved | shaved; shaven | to shave) |
| shear | sheared | shorn; sheared | shear |
| shed | shed | shed | shed |
| shine | shone; shined | shone; shined | shine; shine |
| shoe | shod | shod | to shoe; shoe |
| shoot | shot | shot | shoot; shoot |
| show | showed | shown; showed | show |
| shred | shred; shredded | shred; shredded | to shred; crawl away |
| shrink | shrank; shrunk | shrunk | shrink; shrink; recoil |
| shrive | shrove; shrived | shriven; shrived | confess |
| shut | shut | shut | close |
| sing | sang | sung | sing |
| sink | sank | sunk | to go down; dive; sink |
| sit | sat | sat | sit |
| slay | slew | slain | kill |
| sleep | slept | slept | sleep |
| slide | slid | slid | slide |
| sling | slung | slung | toss; hang |
| slink | slunk | slunk | slink |
| slit | slit | slit | tear (s); cut |
| smell | smelt; smelted | smelt; smelted | smell; to sniff |
| smite | smote | smitten | strike; smash |
| sow | sowed | sowed; sown | (to) sow |
| speak | spoke | of the | speak |
| speed | sped; speeded | sped; speeded | accelerate; hurry |
| spell | spelt; spelled | spell; spelled | write or spell |
| spend | spent | spent | spend |
| spill | spilt; spilled | spilt; spilled | shed |
| spin | spun; span | spun | spin |
| spit | spat; spit | spat; spit | spit |
| split | split | split | split |
| spoil | spoiled; spoiled | spoiled; spoiled | spoil |
| spotlight | spotlit; spotlighted | spotlit; spotlighted | illuminate |
| spread | spread | spread | spread |
| spring | sprang | sprung | jump; arise |
| stand | was | was | stand |
| stave | staved; stove | staved; stove | break through; breakdown (s) |
| steal | stole | stolen | steal |
| stick | stuck | stuck | prick; glue |
| sting | stung | stung | sting |
| stink | stank; stunk | stunk | stink |
| strew | strewed | strewn; strewed | to cover; to cover |
| stride | strode | stridden | step; strike |
| strike | struck | struck | bump; beat; strike |
| string | strung | strung | string; stretch |
| strive | strove | striven | try |
| sublet | sublet | sublet | sublet |
| swear | swore | sworn | (swear; swear an oath |
| sweep | swept | swept | to sweep; rush |
| swell | swelled | swollen; swelled | swell |
| swim | swam | swum | to swim |
| swing | swung | swung | sway |
| take | took | taken | take; take |
| teach | taught | taught | learn |
| tear | tore | torn | to tear |
| tell | told | told | narrate; to tell |
| think | thought | thought | think |
| thrive | throve; trived | thriven; trived | prosper |
| throw | threw | thrown | quit |
| thrust | thrust | thrust | to push; sink |
| tread | trod | trod; trodden | tread |
| unbend | unbent | unbent | unbend |
| underbid | underbid | underbid | reduce the price |
| undercut | undercut | undercut | undercut |
| undergo | underwent | undergone | pass through; be subjected to |
| underlie | underlay | underlain | underpin |
| underpay | underpaid | underpaid | pay too low |
| undersell | undersold | undersold | sell cheaper |
| understand | is understood | is understood | understand |
| undert | undertook | done | undertake |
| underwrite | underwrote | underwritten | sign |
| undo | undid | undone | undo |
| unfreeze | unfroze | unfrozen | defrost |
| unsay | unsaid | unsaid | take back |
| unwind | unwound | unwound | deploy |
| uphold | upheld | upheld | support |
| upset | upset | upset | overturn |
| wake | woke; waked | woken; waked | wake; wake |
| waylay | waylaid | waylaid | lurk |
| wear | wore | worn | wear clothes) |
| weave | wove; weaved | woven; weaved | weave |
| wed | wed; wedded | wed; wedded | marry |
| weep | wept | wept | cry |
| wet | wet; wetted | wet; wetted | wetting; moisturize |
| win | won | won | win |
| wind | wound | wound | wind up |
| withdraw | withdrew | withdrawn | take back; withdraw |
| withhold | withheld | withheld | hold |
| withstand | withstood | withstood | resist |
| work | worked; wrought | worked; wrought | work |
| wring | wrung | wrung | twist; squeeze |
| write | wrote | written | write |