Where to learn to the entrant IT specialist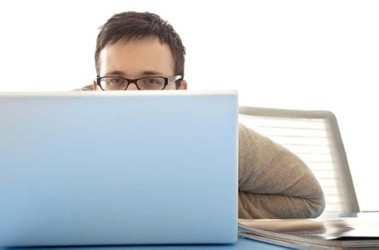 Very soon the applicants will begin a hot time - the introductory campaign.
Each of them will have to decide on their future profession and university.
Of course, the main thing is to "not miss the mark" and make the right choice in order to get a high-quality education demanded by employers.
PROSPECTS.
Today one of the most popular specialists in the labor market is IT specialists.
So, according to the portal rabota.ua, by the end of 2010, the number of vacancies for them exceeded the number of resumes by 2.6 times.
And it seems that in 5 years IT specialists will have no problems finding a job.
Not only are technologies rapidly developing, our professionals have also established themselves well abroad.
And labor flows there, freeing up a place for graduates in high schools.
Moreover, IT companies are quite loyal to young professionals.
They are ready to train students and graduates of high schools, to "raise" personnel for themselves.
Most large companies, for example, create internship programs or conduct specialized training, and then select the best to work for themselves.
Also, experts in the field of IT can boast high salaries: according to the portal HeadHunter, their average salary is 7500—13600 UAH.
WHOM TO GO AND WHERE?
Many universities in specialized faculties have about 10 IT specialties.
Which ones are the most promising? "Of course, first of all they are programmers (Java, C ++, C #, .NET, PHP, etc.).
Specialists in the management and support of databases, operating systems, e-mail and collaboration platforms, and communication systems are also in great demand.
Specialists in the field of information security are also needed, "says Igor Palamarchuk, head of the i-Klass training center, trainer-consultant. "And the popularity of mobile devices is increasing the demand for software development professionals for them."
According to experts, the future belongs to specialists in the field of Internet technologies: starting from developers (programmers or web designers) and ending with professionals for promoting various products and projects in the network.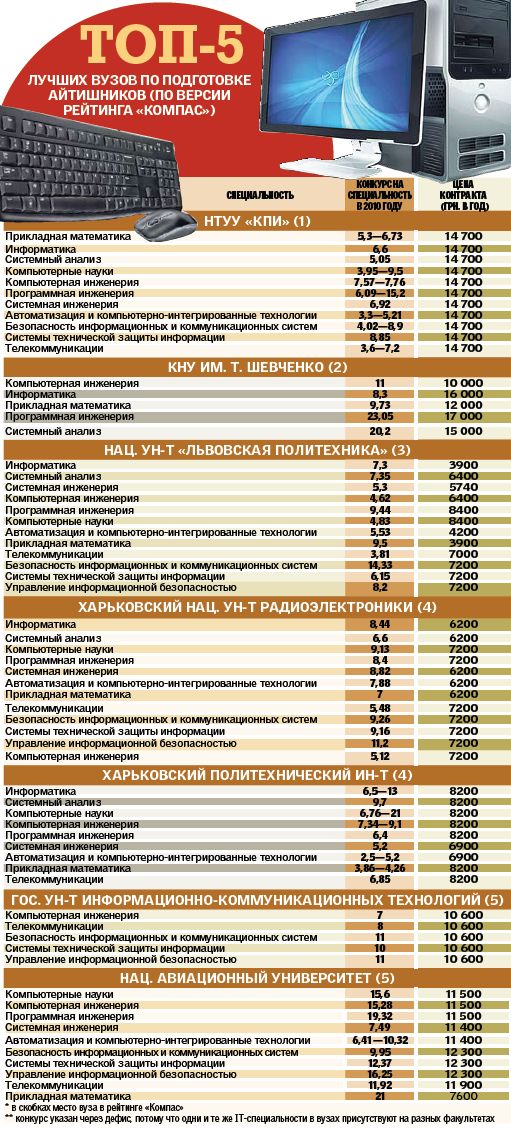 TAKE AT THE MAXIMUM.
Recall that in order to enroll in this or that IT specialty, applicants must pass three subjects on external independent testing (VNO): the Ukrainian language and literature, mathematics, and also a choice of physics or a foreign language.
But already at the final direct introductory campaign, the guys should think carefully about exactly where to place the original documents.
Before you make the final choice, find out as much as possible about the educational opportunities offered by the university. For example, ask the admissions office about international programs with foreign alma mater.
For example, KPI IT students can get a double master's degree from such foreign universities as the Technical University of Dresden (Germany), the University of Indianapolis (Greece), the Highest nat. Mountain School (France), Polytechnic School (France).
And in Lviv Polytechnic there are double degree programs with Silesian Polytechnic (Poland), Technical University Ilmenau (Germany) and Giessen-Friedberg University of Applied Sciences.
It does not hurt to ask and familiar IT specialists, which universities provide the best education.
Here is what Anna Kiselevskaya, director of IT at GlobalLogic IT, told us: "When recruiting people to work, we pay attention to the credibility of the university in a particular region.
In Lviv - this, of course, Lviv Polytechnic and National University of them. I. Franko, in Kiev - "KPI", "Shevchenko", "Mogilyanka", NAU, and in Kharkov - Kharkov Polytechnic Institute, Kharkov Aviation Institute, and also Kharkov National. un-t radio electronics.
However, according to Anna, as a rule, they pay attention to the higher education institution when hiring a young specialist.
If an experienced specialist comes with a technical base, the name of the university no longer plays such a role.
By the way, you should not be limited to the university "crust".
To earn your place in the sun in the world of IT-business, you can not do without certificates from large IT-companies.
To get it, you must pass the exam at the Prometric and Pearson VUE testing centers (www.prometric.com and www.vue.com).
They have offices in different countries of the world, including in Ukraine.
The cost of one exam varies between $ 80 and $ 300 (although in some cases the price may reach $ 500).
segodnya.ua