Amazingly delicious chocolate sausage Salame Dolce (Sweet Salami) for tea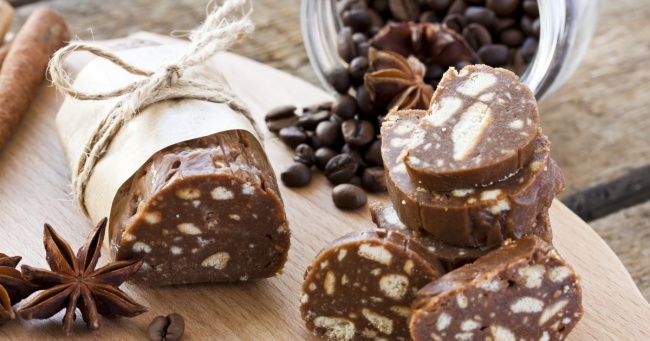 Classics of the genre - a very tasty dessert! Surprisingly, from the simplest ingredients, the most delicious delicacies are often obtained. Our mothers and grandmothers used this rule and indulged us in childhood as a familiar chocolate sausage . We remind you of this easy-to-make, but incredibly tasty dessert.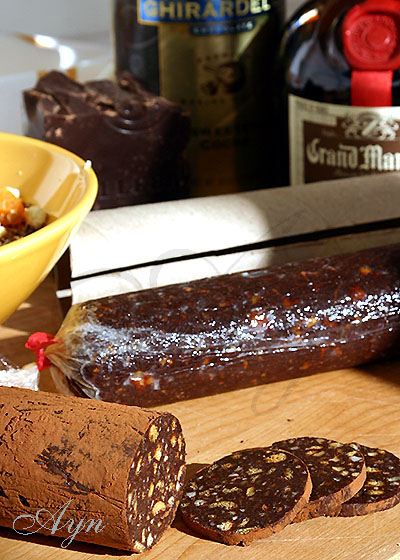 Put cookies and biscuits in the processor (combine) and make crumbs of different sizes in pulse mode. Transfer the crumb to a large bowl. Put nuts and dried fruits in a combine and chop finely. Mix biscuits and nuts with dried fruits.
Heat the milk and butter over medium heat, add finely chopped chocolate and continue to heat, stirring, until the chocolate is dissolved. Remove from heat, add cocoa, liqueur, and vanilla.
Mix liquid ingredients with dry ingredients (if the mixture is dry, add milk). Split the mixture into two parts, roll each part into a sausage and wrap it in a film or foil, or tracing paper (you can immediately mass into a film and form a sausage with a film). Put the finished product in the refrigerator or freezer for freezing.
To make the sausage "round", without "flat" sides, it can be put in a cardboard cylinder (on which paper towels are screwed; I used cardboard from under New Year's wrapping paper, it is denser), after having cut it. Put the sausage into the cylinder, connect the seam, squeezing it with hands, so that the mass takes the form of a cylinder. Seam tape stuck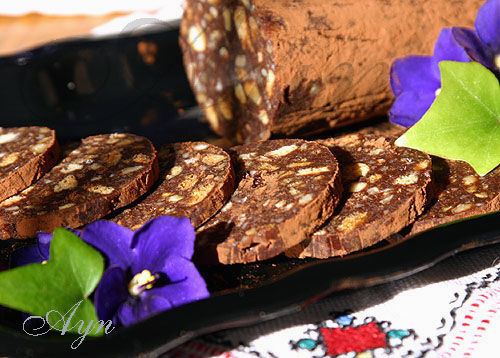 Before cutting, salami can be sprinkled with cocoa or icing sugar, then cut it into slices and vale with tea!
Store in the refrigerator or freezer.
Enjoy your meal.
Via aynmark.wordpress.com & wme.org