The house is looking for a smart owner
Ukraine imports 40% of all energy resources. At the same time, we annually lose 185 billion UAH. due to inefficient use of energy. Are we used to thinking that big business is "to blame" for everything? Not at all. It turned out that 35% is the loss of population, our loss.
The Ukrainian manages to "consume" twice as much as the energy-conscious Norwegian, but even than a resident of Bulgaria - a country with a similar climate.
185 billion annual losses - is it a lot or a little? Trying to measure "in parrots." It turns out that this is 3,100 km of category 1 roads ("autobahn") annually (for comparison: the distance between Lviv and Donetsk is 1230 km). 185 "lost" billion - this is 925 new domestic trains. 185 billion are 8 budgets of Ukraine for education, 16 budgets for the army or more than 6,000 (!) Budgets for energy efficiency. The circle is closed.
Further more. Every Ukrainian gave $ 280 for Russian energy in 2013. 150 billion UAH. Ukraine paid for the import of Russian gas and nuclear fuel.
It becomes absolutely clear: energy efficiency is a matter of national security, and not just your own wallet.
The last couple of weeks I no longer feel like a miser when I close the faucet while brushing my teeth or washing my hair - a big goal looms before me - Energy Evolution in Ukraine. A cold shower invigorates in the morning; and in general, Dr. Komarovsky argues that cold is good. I refuse to wash at high temperatures and make sure that the washing machine is fully loaded. Moreover, now in the afternoon I do what I previously did only at night.
And I turn off the devices from the outlet (so you can save up to 8% of electricity). The behavior model, everyday habits are gradually changing - and I understand that this is not as scary as it might seem. It's like a game: it's like you are re-exploring your house, apartment, looking for where you can help him become more effective. While we were dreaming of a smart home, our houses were dreaming of smart owners.
But how tangible will these small "steps" be? Are they able to significantly affect the situation? There is hope. I find out that energy consumption can be reduced by almost half - ~ by 45.8%. This is ~ 29.3 billion m3 of natural gas - more than Ukraine imported from Russia in 2013.
And on heating alone, the housing sector can save more than 30 billion hryvnias per year.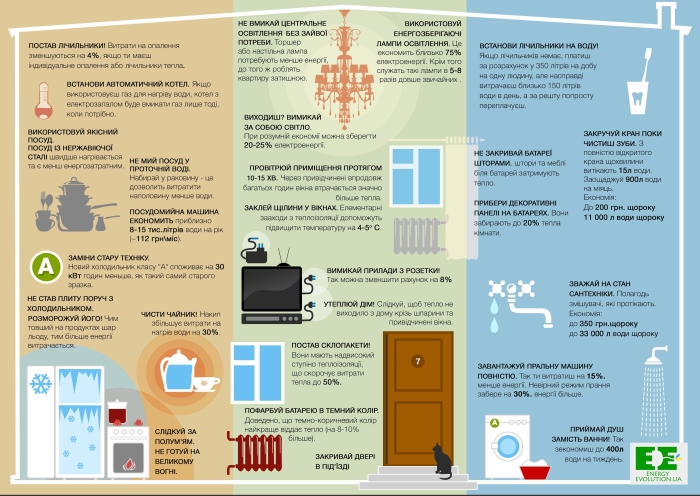 If you start saving gas, water, electricity, heat, each family can save about 2500 UAH on utility bills. in year. For someone, by the way, this is a monthly salary. What would you spend it on?
So everything spun. Marketing. Timing plan. Team meetings. Distribution of tasks. Responsible, deadlines. The birth of a brand. Logo, slogan, first layouts. Creative anthill. A lot of work, little sleep. Personal crisis: I again packed myself into the project mode - until ?! But for the sake of the country, you can tolerate

They are looking for Akhmetov, Kolomoisky, the state behind us. They don't find it. At the second meeting of volunteers comes 95% of those who were at the first. An indicator of success and cohesion as a single idea. So, we are doing everything right.
In parallel, I notice my own energy evolution: the gas could be ignited after water was drawn into the pan, and the devices should be turned off from the outlet not only at night, but also during the day. I begin to close the water while brushing my teeth. I hang up a bottle in the entrance to collect waste batteries.
Having read that Naftogaz is initiating its own energy conservation campaign, I am actively looking for an outlet for Andrei Kobolev. It would be foolish to do one thing in parallel. We must pay tribute to the head of Naftogaz - he reacts to my motivational letter with lightning speed - within half an hour. A day later, we meet with a company representative. Professionalism, understanding of common goals - we do not compete, but cooperate. We agreed to help each other with content and connections.
I spend days at the office of the National Ecological Center of Ukraine. Employees do their usual business - climate and energy projects ... I am surprised to see that without the need they do not turn on the lights in the kitchen, make sure that plumbing does not flow, and even use tea bags twice, despite the fact that they may afford to live uneconomically. Mutual understanding and support reign in the office.
Beginners do not survive; on the contrary, they help than they can. It gives strength. Clear boundaries between private life and work are being erased, I find myself feeling that our goal is interconnected with more global initiatives. The view is scaled: our team "suddenly" has the feeling that we are doing something significant not only for Ukraine, but also for the planet as a whole.
Notice, we are not those "crazy ecologists" who go to campaigns with posters and urge them not to eat meat (although it is better not to eat it). We are ordinary people who have come from business and politics, and ourselves are surprised by the changes that began to happen to us.
But, returning to Ukraine, we rejoice at our first successes - just these days began putting up the first series of energy-saving boards and city lights. Volunteers provided us with more than 500 planes in Ukraine (social advertising). Netsu paid for the seal (thanks !!!) All the money that we managed to scrape together went to the "outdoor". Not even left to print flyers. We'll come up with something.
Having fun watching the first volunteer videos. In the style of Hitchcock. And just harmless youth creativity. And one more.
We are looking forward to a short film contest on energy conservation as part of the Crazy Cameraman Cinema Fest. We are preparing two educational events on Khreshchatyk. We create an educational computer game. We create a series of motivating posters with celebrities. We work with offices.
We are creating a series of creative stickers on sockets and switches, bathtubs and gas stoves ... We want to overcome the stereotype that saving is embarrassing. We think it's time for each of us to change the position of "Why me ?!" on the installation of "Who, if not me ?!" Energy saving is a new trend among Ukrainian youth.
Take a look at the house in which the intelligent owner lives.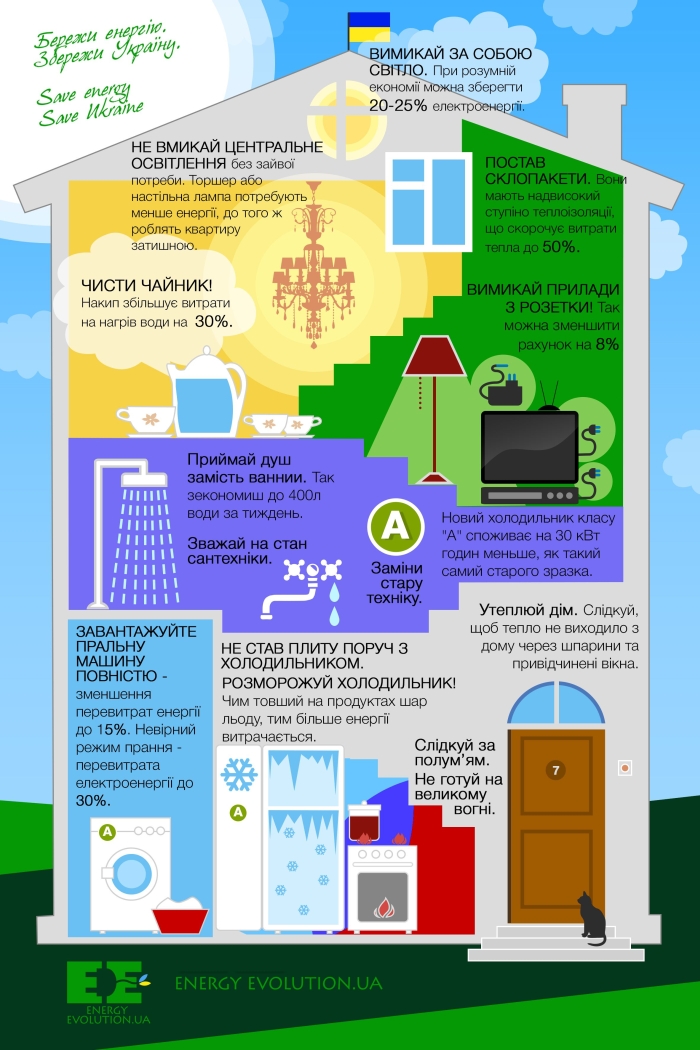 This and other layouts will be freely available. Any person in the most remote town of Ukraine can "pick up" him on his website or print and hang, say, in the stairwell. The project will gradually turn into a horizontal initiative - and not we, but new, full of fresh forces volunteers will begin to inform about energy conservation in their cities.
I never thought that someday I would associate the word "saving" with myself. But now you know how I got to such a life. In addition, saving is so nice: taking a shower together. Do not wash the tea bag. Well, or have dinner with night vision devices.
Ukrainian truth.