What you need to have with you in case of war or "Emergency case"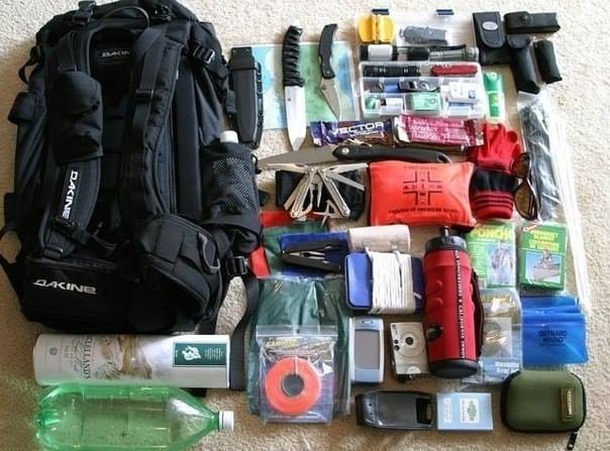 An emergency "suitcase" is a generalized definition of the basic set of things that every civilian needs to survive in any extreme situation.
A civilian alarm case, as a rule, is a complete backpack with a volume of 30 or more liters, containing the necessary individual minimum of clothing, hygiene items, medicines, tools, personal protective equipment and food. All things in the alarming backpack are new (periodically renewable) and are not used by the owner in everyday life.
The civilian alarm case is designed for the fastest possible evacuation from the emergency zone, be it an earthquake, flood, fire, aggravated criminal situation, the epicenter of hostilities, etc.
I believe that today an alarming suitcase should be present in every family. If you think differently, then you do not need to read further.
First of all, you need to decide on the "suitcase" itself.
For this purpose, in my opinion, it is more convenient to use a small backpack.
Why a backpack, not a bag?
Imagine a situation in which you have to walk instead of driving a car.
For example, there is traffic jam everywhere and you need to urgently evacuate on foot.
They threw a backpack and went. It's more problematic with a bag - carrying less conveniently.
Just want to say about the conclusion of the backpack.
Both small and expeditionary backpacks should not be stacked according to the "heavy-down" principle, but should be distributed evenly.
It's great if you have a backpack with a "basement" (bottom flap).
Keep your backpack so that you can quickly and easily find the right thing.
It is good if the backpack is equipped with a special rain cover. If it is not included, then it can be purchased separately.
It is also worth noting that preference should be given to a backpack, which is conveniently located on the back, does not constrain movements and does not go apart at the seams in the first 30 minutes.
We now consider in more detail and thoroughly which sets of things and essential goods you will need to collect.
The list is based in part on recommendations from the New York Emergency Services.
Perhaps in your area and for your family it will have to be reduced or, conversely, expanded. For example, the elderly, the disabled, and children have special needs.
So, in case of emergency evacuation, it is advised to have at the ready a durable and comfortable backpack with the most necessary.
It is recommended to put the following into it:
Copies of important documents in waterproof packaging. Make copies in advance of all important documents - passports, car rights, documents for real estate, car, etc. Documents must be stacked so that, if necessary, they can be quickly obtained. Some sources also indicate among the documents to keep several photographs of relatives and friends.
Credit cards and cash. May you have a small supply of money.
Duplicate car and house keys
A map of the area, as well as information on the method of communication and your family's meeting place
Communication and information. A small radio with the ability to receive in the VHF and FM band. Now there are inexpensive receivers with a dynamo machine and a battery. Allows you to keep abreast of the situation. Spare batteries for the radio (if needed). You can take a mobile phone (if any) with a charger.
Flashlight (several better) and spare batteries for it
Compass, watch (give preference to waterproof).
Multitool is a multifunctional tool, usually in the form of complex pliers with hollow handles, in which additional tools are hidden (knife blade, awl, saw, screwdriver, scissors, etc.)
Hatchet
Signal devices (whistle, false lamp, etc.)
Pieces five garbage bags , a volume of 120 liters. Can replace a tent or tent, if cut
Roll of wide tape
Condom packaging (12 pieces without a box, of course, without grease and flavoring). A condom is a multifaceted thing.
Synthetic cord 4-5mm, about 20 m
Notebook and pencil
Threads and needles
First Aid Kit . In the description of any "alarming suitcase" a large place is given to medicines. Almost always there are more of them than in a standard car kit. It is understandable: it means that help can be provided not only to ourselves, but also to others. The first-aid kit should include: - Bandages, adhesive plaster, cotton wool, iodine, - "Activated charcoal" (intoxication), - "Paracetamol" (antipyretic) - "Pentalgin" (anesthetic) - "Suprastin" (allergy) - "Immodium" ( diarrhea) - "Phthalazole" (stomach infection) - "Albucid" (eye drops).
The medicines you have taken (for at least a week) with a description of the method of use and dose, prescriptions, names and mobile phones of your doctors (monitor the shelf life of the medicine).
Clothing : a set of underwear (2 pairs), cotton socks (2 pairs) and wool, spare trousers, a shirt or jacket, raincoat, raincoat, knitted hat, gloves, scarf (may be needed in the most unexpected situations). Comfortable, reliable shoes.
Mini-tent, polyurethane rug, sleeping bag (if space permits).
Hygiene products : a toothbrush and toothpaste, a small piece of soap, a towel (there are pressed ones in the package), toilet paper, several packs of disposable dry handkerchiefs or napkins, several handkerchiefs, and wet wipes. Women - means of intimate hygiene. You can take a razor and manicure set.
Accessories for children (if necessary).
Utensils : a pot, a flask, a spoon, a mug (preferably metal 0.5l), a folding cup.
Matches (preferably tourist), a lighter.
A food reserve for several days is all that can be eaten without pre-treatment and does not take up much space, perishable for a long time), drinking water is especially necessary: ​​- a supply of drinking water for 1-2 days, which must be updated periodically (the water should not be stagnant ) - High-calorie sweets: several Snickers or Shock bars (still used by tactical groups as a source of nutrition and energy, is light in weight), a handful of candies - A set of products: a couple of cans of good stew, biscuits, soup packets, meat and fish nye canned. If the place still allows it: pearl barley, buckwheat, long-grain rice, millet, pasta, vermicelli, dried vegetable semi-finished products, etc. - Vodka, wine, drinking alcohol. Half a liter of vodka for someone can be a stress reliever and currency.
Family values , relics, but in no case to the detriment of everything else. This list, of course, is supplemented and adjusted according to your needs. Tent, rug and sleeping bag things are optional, but nevertheless they are included in the list. Without them, the approximate volume of the backpack is about 30 liters.