Form, type of cut, licensing, information on semiprecious stones and gems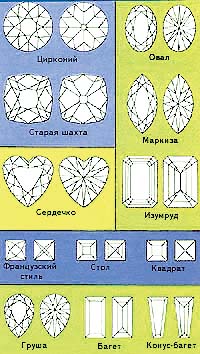 A stone is called a stone with flat polished surfaces - faces. The degree of brilliance and "play" of a stone depends on the optical properties of the mineral and the mutual arrangement of the faces. A stone having a larger refractive index gives light much better than a stone with a smaller refractive index, provided it is correctly cut. In any faceted stone, the angles under which the faces are arranged are selected in such a way as to give it maximum shine, and it is not by chance that the chosen angles are chosen. It is at this stage that the professionalism of the cutter plays an important role. If the individual optical properties of raw materials are not taken into account when cutting jewelry stones, the quality of the cut can greatly affect the cost.
By analyzing the cross-section of three faceted stones, demonstrating the effects of faceting, it can be determined that the great importance for the quality of the cut is not only finding the right proportions of the stone, but also the ideal corners, that is, corners and pavilions that provide maximum gloss. These corners are always shown in the tables. In transparent faceted stones, a good gloss is achieved at crown corners of 40-50 degrees and the corners of the pavilion of 39-43 degrees.
Smaller angles are recommended for stones with a higher refractive index, and larger ones for stones with a lower index. The stones, whose proportions are chosen so that they provide maximum shine and "play", the pad is calculated as 50 percent of the diameter of the stone. In the case of a rectangular step-cut, it is 50 percent of the width. The height of the top is 1/3 of the height of the stone, the height of the pavilion is 2/3 of the total height. For large stones, the correct proportions are rarely observed, not only because of the increase in the yield of suitable raw materials, but also because it is impossible to fix too high stones in the frame.
When evaluating the quality of diamond cutting, polishing the surface is very important. Good polishing on one side ensures the maximum amount of light entering the stone, and on the other hand it helps to maximize the light entering the eyes after it is reflected from the rear faces, which creates the impression of a sparkling stone.
The most popular and touted stone on earth is a diamond. The remarkable properties of diamond - its exceptional hardness, high refractive indexes, amazing color play - placed the diamond on an exceptional place among other minerals. The most valuable are colorless or bluish-white diamonds. The diamond has extraordinary strength. According to legend, he must bring his owner good luck, passing his own qualities - strength, firmness and purity.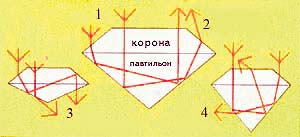 1 - light passes through the crown
2 - reflected back through the crown
3 - the pavilion is too small
4 - pavilion too deep
The shape and type of the gem cut should provide its external beauty, high degree of "play" and brilliance. A good cut can best represent the color of the stone, while a bad cut can make the gem look too dark or too light. When assessing the quality of the cut of a colored stone, the defectiveness and quality of processing are not separately identified.
Sale of faceted stones for example in the United States, taking into account the quality of the cut, is made according to the following classification (proportions, symmetry and quality are taken into account):
EX - magnificent,
VG is very good,
G is good,
F is not bad,
P is bad.
The prices for faceted colored stones take into account the gradation of the quality of the processing of colored stones:
Very Good - very good,
Good - good,
Poor - bad.
We remind you that practically all natural minerals and crystals come with inclusions, cracks and voila, many natural stones are opaque or partially translucent, have unevenness and color defects, natural cracks, inclusions and irregularities in shape. In many stones, their special structure is valued at a reasonable minimum of processing or a unique color. This does not in any way mean their "danger" or "unfitness" for lithotherapy, jewelry or ornamental needs - ONLY radioactive and poisonous stones (especially soluble imitation stones) are very dangerous and unsuitable for use, even if they look visually appealing . Perfect transparency in 99.97% of cases indicates forgery - "ideal" -pure and transparent stone-and-semis raw material is now actively used in industry and production, and small and inexpensive products (rare) can be made from its waste. Glass and composite glass materials - the most common, convenient and objectively inexpensive and practical material for imitations and imitations of stones, especially clean and transparent or with bright and catchy effects.
Buy natural or do not overpay for glass and other synthetic materials, which also cost money (malachite, turquoise, cat's eye, aventurine with sparkles, reamed rhinestones from painted, colorless or tinted glass, etc.) !!! All colorless and color imitators of high-value jewelry raw materials (industrial pure quartz, cubic zirconia, synthetic corundums, garnets, etc.) are subject to state monopoly. No stones drilled through should be used in industrial jewelry - there are effective methods of fastening nerazverlennyh through the stones. A complete ban on the use of all non-drilled through cut facets and any imitations from glass, including stained glass imitations of stones, including faceting, facets, cabochon and fancy cut, are subject to any ban, all complex stones using glass and stones ennobled with the use of glass, because they are the most popular tool of scammers and swindlers "from cut and jewelery."
Attention - the sale, exchange and other operations with jewelry and other products made of precious metals from one piece with a production sample and industrial branding marks from one piece and above ( subject to the purchase by private individuals as end-users of products in any quantity for personal use ). All the tested (serial) jewelery must have an official sealing with a sealer with a label fixed ONLY on the test wire (threads, fishing line and other non-standard materials are prohibited for serial production jewelry).
Any details, fasteners, wires, grains and other components of jewelry from any materials are not punished , provided that they are used by third parties for products not strictly subject to licensing (the responsibility for their use is completely borne by third parties). Installation of standard marking stamps for any non-standard products (including small lots and handmade products made by handmanship and handmade) and registration of an article for them is prohibited (protection of these products is carried out on the basis of the Copyright Law without patenting , including through the departments and registers of masters and researchers with personal and departmental copyright codes of related specialties - providing copies of the passport of a citizen and a diploma of the availability of professions from the master of construction on required).
Licenses are subject to any transactions with precious stones both separately (from one piece and up), and in any products (both individual and industrial and production) in a standard machine cut that strictly meet the requirements of official technical standards: they must be at least specified in GOST, TU and other official instructions of the size, strictly from the stone-colored raw material described in these instructions, not to have cracks and inclusions visible to the eye (under a 10-fold magnifier), to be evenly colored (opals, ulexites, chalcedony, nephrite, adulars and other opaque stones with a cryptocrystalline structure) or pure-transparent and monophonic (defect-free diamonds, topazes, rubies, sapphires, aquamarines, amethysts, citrine and other transparent "canonical" crystals with a pronounced crystal lattice). The seller has no right to refuse the buyer in the legitimate sale of the product, if it is licensed and stamped, and also has no right to refuse the legal sale of any licensed stone with a certificate of conformity.
All licensed stones, punched precious metals and licensed stone-colored raw materials should be hardware-diagnosed with almost 99.7% accuracy, any doubts in diagnostics (including expert ones) require the exclusion of these stones and metals from the licensed list, since the product may be undiagnosed . Diagnostics is objectively very expensive and is a strictly necessary condition for licensing activities in the precious stones and precious metals market.
The use of a simple peer review for ANY licensed gems in standard cut and licensed stone-colored raw materials without standardized laboratory research methods is prohibited .
It is also forbidden to put the branding marks on precious metals without their hardware laboratory diagnostics. On any bone, skin, food, wool, earth, articles made of clay and similar materials, wood, stones, glass, money, paper, paint, nuggets, monuments, copper, bronze, brass, non-alloy alloys, banking and industrial metals and alloys , live objects, illiquid, waste and similar materials (including composite, thin, too small, especially large and not covered by the license) are not stamped .
It is prohibited to sell and exchange any stones and any products with them (especially those marked with branding stamps) using and specifying a license if these stones and products do not meet the standards and licensing requirements and are not satisfied (this can be interpreted as deliberate misrepresentation and fraud). Full and reliable indication of the use of all methods of upgrading for licensed stones and products is strictly necessary (for ordinary stones, there are enough ordinary and planned expert checks and standard state inspections for radioactivity and for the lack of poisons in the stones).
Conditions for storage of precious metals and precious stones - a specialized high-security safe with an alarm and a button, put on the central police station or a licensed security structure. The condition of sale and purchase is a secure premise with an alarm system and a button that is displayed on the central console (a law enforcement services or a self-supporting firm with a strict state license). Actual inventory of licensed stones and products is strictly required. It is desirable to have insurance (both seller and customer).
All the safe (ie, non-toxic, insoluble in water with the formation of toxic compounds, non-evaporating with the formation of toxic fumes and gases and non-radioactive) turbidity and fissured stones of any chemical composition and crystal structure, all stones with visible wo voils, bubbles, cracks, transitions and patterns (especially pronounced), too small, flat or very high, very large or of an explicit non-standard shape, any processed stones of a deliberately asymmetrical shape, all stones with visible defects cut and even without cut (not falling under the category "raw material for standard cutting"), all stones with obvious visible traces of the surrounding rock, all gems stones, all chemically and physically (including radiation) safe for health and life production marriage and "selection" and other illiquid stone-semium color waste are NOT SUBJECT TO LICENSING . They can go on sale, be bought out by private individuals and used by other illegal means in limited quantities (including faceted and other facets, and perforated through holes) and be in non-serial, "non-standard" and "experimental" products (especially manual work or small batches, in educational and student works, etc.) of any unprocessed metals, with the obligatory condition that these products do not have standard PRODUCTION and INDUSTRIAL test stamps! !! Their sealing is allowed.
Sellers of such stones and products with them are not responsible for the presence in these stones of visible structures that are safe for human life and health and defects if stones were mined, processed, if necessary delivered, cleared, donated, transferred or sold legally. At the same time, it is not customary in jewelry and similar practice and in the work of masters to use easily soluble and evaporating stones, as well as very soft and discolored stones, simply for reasons of common sense, reasonableness and expediency (such stones are usually for reasons of originality, extravagance and other internal motives).
For all non-standard stones, standard certificates of compliance with precious raw materials and faceted precious stones are not issued - it is only possible to carry out gemological expertise on a commercial basis, as well as issuing a written or expert opinion (without the use of instruments), whose reliability usually does not exceed 92-97% and is often in the limits of 75-80%. In this case, the buyer has the right to refuse to purchase, and the seller - from the sale in case of ANY doubts. The seller also has the right to use any trade and common names of stones , provided that the price of stones and products is not increased . The seller has the right to admit that he does not know the correct name of the concrete stone, he can not determine it or doubts the concrete stone, even if he is a professional geologist or minerologist - it is desirable that at least 75% of the stone-colored assortment be properly diagnosed. No license required !!!
Any safe stones, metals and their alloys used by people as ornaments are not licensed if they are not raw materials for the jewelry and cutting industry and do not meet strict state standards, which can be found in official state industries and in relevant state educational institutions, who are preparing cutters and jewelers. These standards exist, they are written down on paper and are exhaustive. As raw materials for the standard licensed faceting, raw materials extracted from the dumps are not used in an uninhibited way in an unblocked place, provided that the TOTALLY granular raw materials are completely delivered to state reception points in full on state prices.
Stone-colored and other industrial waste products (including quartz, corundums, cubic zirconia, carborundum, carbonado, etc.) are illiquid and therefore can not be used for standard licensed industrial cutting and jewelry production. All stone-colored non-liquid products are subject to processing in full, including all waste products (dust, crumbs, non-standards, etc.). It is forbidden to lower the cost of stones in the process of their processing, regardless of the presence or absence of a license and the desire of cutters. The scientific goals and state economic and political priorities of Ukraine are fundamental and topical.
If non-counterfeit metals for products are not punished with state stamps and are non-toxic and non-radioactive, sellers and owners are not responsible for their chemical composition, its compliance or non-compliance with the requirements of state standards, provided that these metals are not objects of state monopoly (for example, especially valuable rare earth, science-intensive or potentially dangerous isotopes of any chemical elements). The seller is obliged to warn the buyer at his request that these products from non-counterfeit metals are not punched and are not subject to industrial and production sampling, as standard samples and stamps are not installed on any non-standard alloys and native metals. Install in such products precious stones, falling under any standards, is prohibited. Rhinestones of any origin and glass imitations of drag stones are not recommended for aesthetic reasons.
It is forbidden to insert into licensed jewelry, which is put industrial seal mark, stones and minerals, which are not covered by the license for precious stones. In particular, it is forbidden to insert any stones in the industrial products made of gold, silver and platinum (even made in a single copy) that do not meet the standards of jewelry raw materials and cut and are not subject to the state license - this is treated as a fraud of the buyer, which means fraud . For example, it is forbidden to install any non-standard stones and even precious stones (sapphires, rubies, emeralds and diamonds) objectively different shades in one piece of jewelry or in their set (earrings, headsets, etc.), if accompanied by a stamping stamp.
The brand can be installed only on the finished jewelry with precious stones that strictly comply with state standards. Otherwise, the stigma and probing is prohibited. It is forbidden to use any non-standard ways of securing precious stones in products with penetration marks (innovative stone fastening or innovative type of cut is first subject to a preliminary application for standardization, is patented, and only then put into production on the basis of a patent on the invention and documents on the adoption of these standards by the state).
Any stones (including diamonds, sapphires, emeralds and other stones of natural and synthetic origin and ennobled), extracted from any jewelry or other items (from new, used, produced or stored) are "automatically" used, defective and can not be reused in ANY production cycle, even if they are missing visible defects or they have been re-cut and re-polished (issuing any used stones, especially from the licensed category, for new ones in any persons Products in any form fall into the category of "fraud").
It does not matter how the operations of selling, exchanging or bartering with licensed products and stones - from one piece, "scattering" or in the size of any goods lot - through warehouses, senders, manufactures, shops, pawnshops, exhibitions, "with hands" "from under the floor" or through any Internet sites, since these transactions are a STRICTLY licensed type of activity. Licensed are all services for storing and storing licensed stones and licensed products that are not at the end user, from one piece, up to the state monopoly (for example, state reserve, state funds and bonded warehouses), and any storage of these products is performed as a responsible storage with compulsory state assessment and inventory, regardless of the purpose of storage (including storage for the purpose of transporting and delivering said products from one piece or higher).
Sale of licensed products without a license by private and other persons from one piece or more (up to the lot or "scattered", including used or stored) is possible only through a system of certified pawnshops and reception points licensed to purchase these products (including the state reserve and other responsible funds and authorized officials who designate a mandatory state and other independent examination of the product, designate the purchase price and may refuse to purchase the product on any preliminary stage without collateral).
The licensed operations and even objects of the state monopoly are any operations with all potentially and potentially dangerous stones and areas that can be radioactive (radioactive testing in state metrology must be performed), there are toxic soluble concretions or restrictions on use (mandatory special warnings in the instructions, labeling and color of the package), are poisonous, dangerous vapors, hazardous solutions and other dangerous to the life and health of the biological individual in the compound. For example, the evaporation of sulfur sources is dangerous, blue celestite is dangerous if it is not used for crystallography and is mistakenly used in lithotherapy to infuse water (a water-soluble strontium compound is a doublet combination of poison and radiation with isotope extracts that are difficult to remove from the body).
Dangerous is red cinnabar - a soluble mercury compound, and silver arsenic pyrite is a dangerous arsenic compound (especially for children). Dangerous poisonous green conichalcite, all arsenates and arsenides. Many zircons are radioactive and dangerous, especially with damaged crystal lattice and rare earths (purchased only for scientific purposes). It is impossible to irradiate beryllium heliodores, which contain uranium isotopes. Charoite and eudialyte, which contains rare earths in high concentrations (dangerous for regular dosimeters), are also dangerous. Especially dangerous are the ores of uranium, thorium and other metals used for "nuclear" devices and reactors, scientific purposes and other needs of the state monopoly. Professional activity without a documented profession (especially requiring higher and especially scientific education) in Ukraine is prohibited and can be treated as fraud.
The state of Ukraine actively and really cares about life, health and safety of citizens, having the necessary legislative base, state apparatuses, power, metrological, scientific and other structures. From 2010-2016 in Ukraine, any science and all scientific research are objects of state monopoly and strict state control, including by state metrological institutions and the Academy of Sciences of Ukraine with its subdivisions (N. K.305, Ukraine, r. . Kharkiv).