How to buy the cheapest flight ticket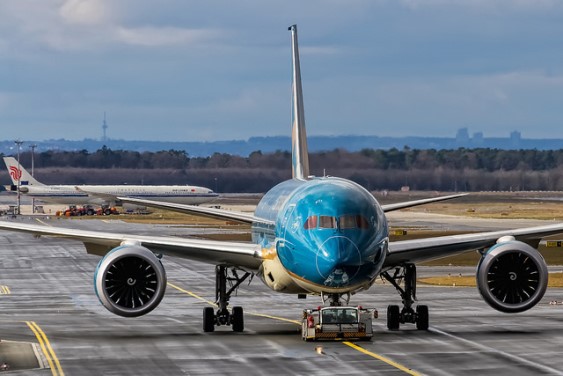 How to buy airline tickets is cheaper and significantly save on this, even if you are a traveler with great experience. We collected in one article 12 tricks, methods and tools that have accumulated over 10 years of travel, so that you can very significantly bring down the price of air tickets on your next trip. The direction does not matter: these tips are suitable for planning trips anywhere.
Perhaps you already know some of these tricks; you can try others for the first time. I recommend reading to the end, because we have structured information from more popular ways - to less used ones.

Search for tickets through meta search engines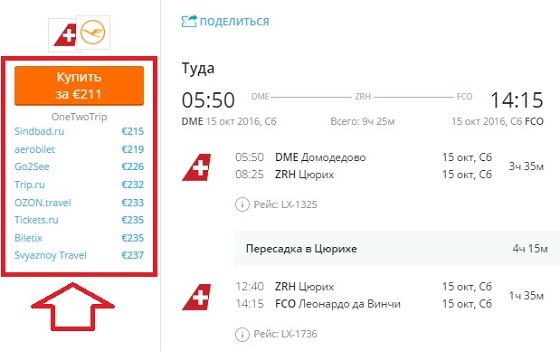 The difference in prices depending on the agency can reach 10%!
Strangely enough, so far very few people understand the difference between the price of a ticket in a metasearch and, say, an agency or airline. And it is quite substantial. For example, the agency receives prices from airlines and / or booking systems, adds something on top and sells us with you. Markets each market participant puts, as he likes.
Agencies sell a lot of tickets for airlines and their conditions are often even more pleasant than with the carriers themselves. Therefore, buying on the airline's website, as the original price, does not always make sense.
Metasearch is engaged in receiving data from everyone (agencies, airlines and booking systems), compares them and gives the results with links to sources.
For example, Aviasales , one of the most popular meta search engines , searches for and finds the cheapest flights from 728 airlines, 200 sales offices and 5 reservation systems. By default in the search results in the first place is the cheapest offer.
Well, in order to visually see the "expansion" in prices between agencies, for example, the search results for the query "Moscow-Rome" for an arbitrarily chosen date. The price of the same flight in different agencies differs by more than 10%.
Buy round trip tickets
Most often, a round-trip ticket is cheaper than if you buy separately for the departure date and return date. It happens that a round trip is even cheaper than one.
Use Low Price Calendar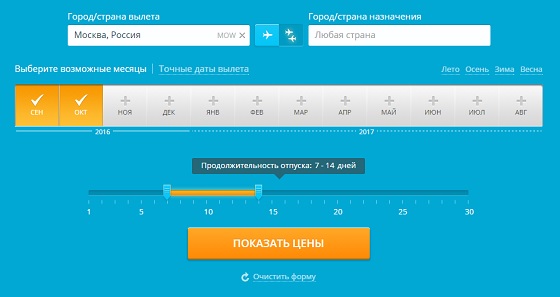 With the help of the calendar, you can quickly find the cheapest tickets to any destination.
Convenient and very popular feature with Aviasales . It helps, knowing the right direction, very quickly find dates with the most attractive prices. If you do not know the direction, then you can leave the default phrase "Any country" in the search form and click "show prices" - the system will give the cheapest offer available in the database.
In addition, there is:
The point of departure or arrival can be set as the city and country
You can set the duration of the trip
You can mark as specific dates of the trip, and set the search immediately by month.
Be the first to know about price changes.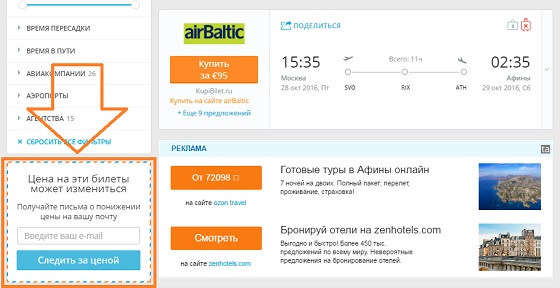 When searching for a ticket, you can subscribe to notifications about changes in its price.
I manage to fly mega-cheaply also because I know for sure the dates when airlines in their favorite destinations carry out sales. For example, for many years I have been subscribed to Greek Aegean Airlines, and during this time a whole history of the dates of their shares has been formed. By the way, the dates of their holding from year to year almost do not change.
But to follow the low prices for the right directions can be easier. For this, Aviasales has a price change subscription. Simply enter your intended trip information and the system will notify you as soon as the ticket price changes.
Install yourself a mobile app [important!]
It is even more convenient to keep track of the best prices when you have the Aviasales mobile app installed. By the way, according to the search engine, it is installed on every 8th smartphone in Russia. And if you still do not have it, then perhaps this is the reason why all the cheap air tickets "fly by".
But there is another trick , which most of them do not even know the active users of the application. To find the best price, after installing the application, try searching for the desired direction. In the meantime, the system is looking for, click "Add to Favorites."
After that, you will receive notifications to the phone on the desired route each time the price changes. Thus, you will be among the first to know about the new sale, and will be able to redeem the ticket is the cheapest.
Use the Lowest Price Chart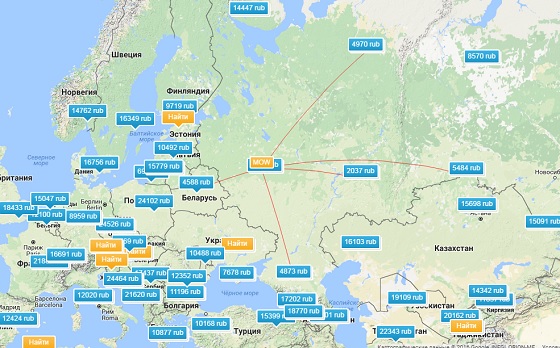 On the map, you can quickly navigate where to fly the cheapest
Search on the map is well suited if you can flexibly approach the planning of your trip and are not specifically tied to dates or to the place. Such a useful feature is also available from Aviasales .
With it, you can understand in seconds where you can fly cheaply and quickly. At the same time there are a number of filters to facilitate the search:
City of departure
Budget
Visa or visa waiver
Trip dates
Etc.
If you have not tried to search for a low price map before - try to do it right now .
Plan your trip well in advance.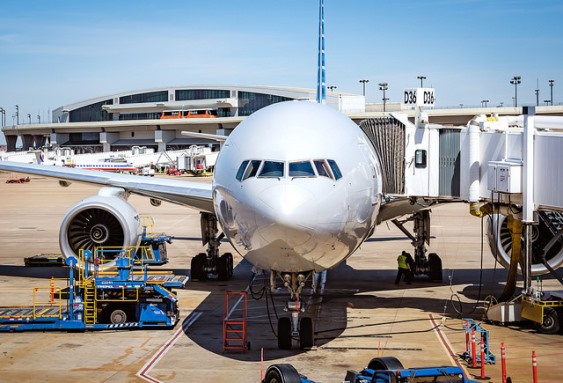 The earlier you buy tickets, the cheaper they will cost.
On flights, the rule often applies: the earlier you buy a ticket, the cheaper it will cost you. If your planning horizon is less than a month before departure, be prepared for the fact that your ticket will cost more. The best prices are easiest to find a few months before the trip .
In addition to the low price calendar for Aviasales , many airlines also have one. For example, here is a similar calendar of Greek Aegean Airlines. According to air carriers, you can also navigate well in advance.
In addition, during the period of sales, many airlines are even more cheaper tickets for flights that are more than 3 months. And if you follow only certain dates of the flight , then such a "ball" can pass by you.
When you track the price of the route, do the following:
After receiving a notice of a sharp drop in prices in the right direction, I go to the airline's website and check its low price calendar.
Find the best deal
I return to Aviasales and check tickets for the same dates (as a rule, tickets are cheaper through Aviasales )
I redeem the cheapest plane ticket "for nuts".
Use loukosterov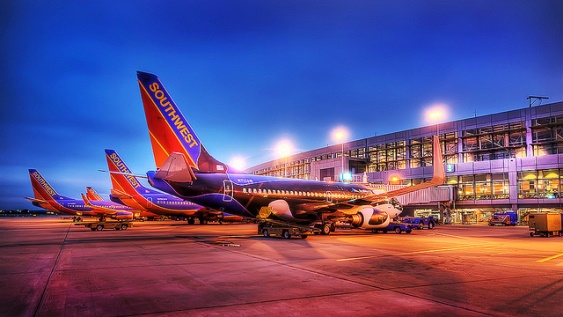 Loukoster is far from the only solution for cheap air travel.
Another way to fly cheap is to actively use low cost airlines. In recent years, quite a lot of flights have appeared from both Russia and Ukraine that can be flown to Europe cheaply: some of them are presented on Aviasales , others are not.
To keep all low-cost posters in the head (especially on foreign routes) is an impossible task, and listing them here is ungrateful. Loukosterov come and go, and information must be relevant. The good news is that there is a search engine that specializes in low-cost airlines - Azair .
The appearance of Azair leaves much to be desired, but it contains a fairly good list of low-cost carriers.
Just in case, we recall that when traveling by low cost carriers, in addition to the advantages, there are also disadvantages: restrictions on baggage, less convenient flight schedules, and often second-class airports. But if the main task is to buy the cheapest plane ticket, then, as they say, the gift horse doesn't look in the mouth.
Travel light
Previously, it was only a trend among low-cost airlines, but in recent years it has been increasingly found among traditional airlines: separate fares for traveling light and with luggage. In the first case, the traveler is assumed to board the plane exclusively with carry-on baggage and can take advantage of a lower fare.
Of course, if, at the last moment, the bagless carrier is carrying a bag, then the airline will already have a chance to win back.
Know about all promotions
We have already mentioned above that prices in certain areas can be monitored and the first to know about their changes. This is the way I fly often and cheaply. This works great if you know exactly where you want to fly.
But you can go further and at any time, in one fell swoop, to check all relevant promotions. At least those of them that are in the database Aviasales . It is well suited for spontaneous travel, when you want to fly cheaper, and where - depends on the availability of offers.
Regularly updated information on special offers can be found at this link . And the hottest of them are presented below:
Check nearby dates and cities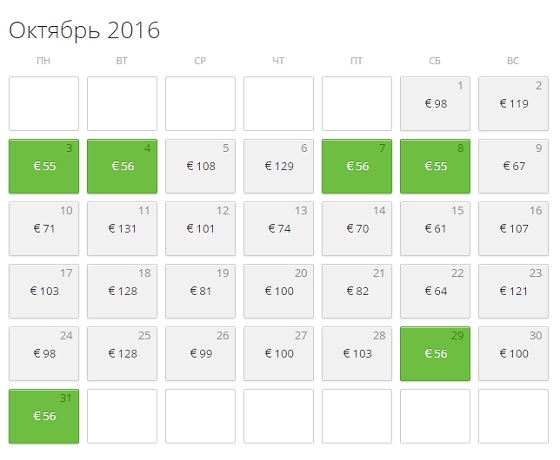 This is how the price calendar for flights in the context of one month
Did you know that the cheapest tickets usually fall between Tuesday and Thursday, while at the beginning and end of the week, on the contrary, flights usually cost more. Therefore, making a search, it always makes sense to check and neighboring dates. The difference can be very significant. Below for example a screenshot of the first flight from the Aviasales calendar.
Another thing to do is look at not only the "native" city of departure, but also neighboring ones: the difference in the price of an air ticket can justify buying a train ticket to get to a cheaper departure point. For example, on average, tickets from Moscow are cheaper than from St. Petersburg, although it is easier to get from one city to another.
Likewise, it is not always profitable for Ukrainians to plan their departure from the capital: it is often possible to fly from Kharkov and the Dnieper to Turkey, and from airports in Western Ukraine to Poland.
Save up to 30% on multiple (complex) routes
This is a very powerful topic for saving or, conversely, to make your journey much richer, and Aviasales also has this feature. But you need to deal with it a bit.
Option A: Buy flight cheaper

This is how the price calendar for flights in the context of one month
You probably noticed that a flight with a transfer is often cheaper than a direct one. And this can be very cool to save. Moreover, a saving of 30% is not at all uncommon. To make it clear "how" - let's do it with an example.
Let's say we need to get from Moscow to Paris. We choose the date randomly (in our case, October 15, 2016). Enter the data, as usual, on the Aviasales main page and get this result - a direct flight from Air France will cost 322 Euros.
Now, let's think about where planes should fly from Paris very often. In my case, Barcelona came to mind.
Switch to the tab "Create a difficult route" and enter 2 flights on the same date: Moscow-Paris and Paris-Barcelona. It turns out that we seem to be flying from Moscow to Barcelona with a transfer in Paris.
A few seconds for the search and result system: From Moscow to Barcelona via Paris by the same Air France - 238 Euro.

This is how the price calendar for flights in the context of one month
But we don't need to go to Barcelona. We were initially interested only in Paris, where we will get off at the time of transplantation.
Out of the blue, they saved almost 30%, while flying in the same plane as other passengers who bought tickets are more expensive. And the flight is the most direct for us.
Important
If you fly this way, check in your baggage not to the final destination, but to the place of transfer. In our case - for the flight Moscow-Paris-Barcelona - this is Paris. Otherwise, you will leave, and the load will fly further. To do this, at the reception you will need a reason why your baggage needs to be taken out of the plane in Paris, although your tickets to Barcelona. For example, you are carrying a transfer or in a bag the thing you need - but you never know.
Remember that if you missed a segment in the flight, the return ticket is canceled. In our case, if you bought tickets Moscow-Paris-Barcelona and Barcelona-Paris-Moscow, but left in Paris, then you will not fly back on this ticket, since Barcelona did not initially fly. To avoid confusion - just buy tickets separately, as if in one direction.
Option B: See more for the same money.
With the option of a complex route, you can go even further and expand your journey by seeing more for the same money. For example, we need to get from Moscow to Rome, but we also want to visit Paris.
By analogy with the method described above, we find tickets with a transfer in Paris. Only now we have another task - to spend a free day in the French capital. You can do this by playing with the time of departure and transfers.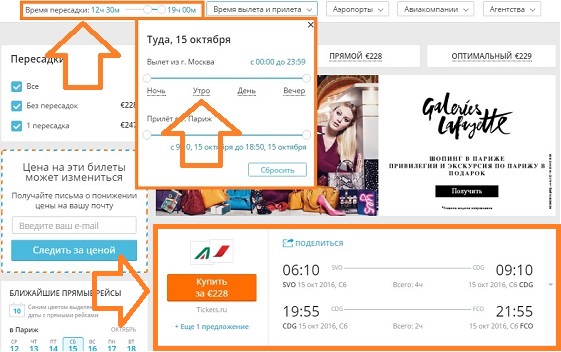 This is how the price calendar for flights in the context of one month
In a few minutes of searching, I had such a route: fly early in the morning from Moscow to get to Rome in the evening, but spend the whole day in Paris. Without additional costs and the need for a hotel, since there is a lot of time, but there is no overnight stay.
At last
All methods mentioned in the article are tested and work to find and buy the cheapest plane ticket. Add it to your bookmarks and save with these little tricks in the next trip, or try to check the methods mentioned right now - on fresh tracks.
If it was useful, share the article in social networks so that your friends can also take advantage of these recommendations.
Via grekoblog.com