How to get out alive from a falling elevator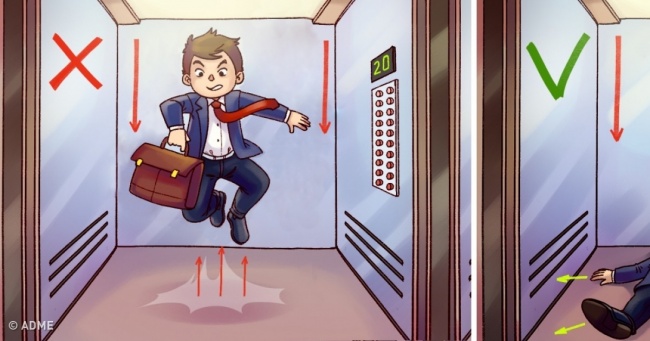 The elevator (English to lift - to lift) - the kind of the load-lifting car intended for vertical or inclined movement of loads on the special platforms moving on rigid guides.
The fall of the elevator - an emergency, which consists in the uncontrolled fall of the elevator down into the elevator shaft. The fall of the elevator leads to a variety of damage to people who were in the elevator at the time of its fall.
Unfortunately, none of us are immune from getting into an extreme situation, but it is in our power to know in advance how to act. Precisely timely and correct actions can save the life of you and your loved ones.
Shram.kiev.ua shares with you the recommendations of scientists and engineers about what you need and what you absolutely can't do if you find yourself in a falling elevator.

First, it will be hard for you to jump while in free fall. Secondly, the jump will reduce the speed of falling just as fast as it will be, and this is bad news for those who do not play basketball professionally, that is, for the majority. Thirdly, you cannot predict which part of your body you will land on and which injuries it will cause. The guys on the Discovery Channel have long proved that it is impossible to do this in this video .

It is also not the best option, because during the fall a weight that is 10 times greater than your body mass will fall on your legs. This can cause very serious injuries.

As soon as you feel that the elevator is falling, immediately lie on your back on the elevator floor. In this position, the impact force will be evenly distributed over the entire area of ​​your body.

Then you need to sit on the floor - in this position the load on the skeleton will be less than in a standing position. If there is very little space in the elevator, then bend your knees - this will also help reduce the impact force.
Via adme.ru & wiki