All About Jeans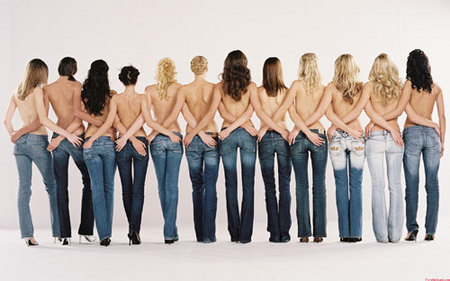 Blue jeans have been an important part of clothing for several decades. The trick of jeans is that they can successfully be both clothing for workers and decoration of the most beautiful model or movie star. Cotton fabric material was in use as early as the eighteenth century, largely due to successful trade and abundant cotton production. And the cotton fabric was worn for a very long time. Jeans were already perfect clothes for physical work, because they were worn for a long time and rarely torn.

Levi Strauss In the 19th century, one of the most famous jeans manufacturers in the world, Levi Strauss, appeared. Gold miners during the gold rush wanted to wear clothes that were strong enough to withstand the physical requirements of the mining industry. Levi Strauss began wholesale, literally clothed gold prospectors, in 1853.

But jeans became a symbol of culture only in the twentieth century. The 1930s brought to the western movies an American cowboy who wore blue jeans. It also brought jeans popularity. The 1950s fueled the desirability of jeans even more, as they became synonymous with teenage rebellion in movies and television. The 1960s saw the individualization of blue jeans as people began experimenting with various styles and decorations, such as patches, embroidery, and wild flowers.

Blue jeans reached their zenith in the 1980s when they were noticed by the world's leading clothing manufacturers. Not only were blue jeans glamorous, created in new styles, marked by emblems of designers and couturiers, but they also remained the main fashion of fashion models and movie stars. The popularity of blue jeans soared.

The peak of popularity of blue jeans declined in the 90s, as the demand for more traditional styles decreased. This happened because the children did not want to wear their parents' jeans and were in search of other fabrics and styles to make their own fashion.

Currently, jeans have a lot of colors and styles, but it is possible that the fashion for classic blue jeans will return.


The earliest known predecessor for jeans is the Indian exported thick cotton fabric in the 16th century, known as dangery.

Jeans were first created in Genoa, Italy, when the city had an independent republic and naval authority. The first jeans were made for the Genoese Navy because it required versatile trousers for its sailors, which could be non-worn like wet or dry, and whose legs could easily roll up so as not to wear on the deck. These jeans could be washed in large nets behind the ship, and sea water would bleach them.
In the 1850s, Levy Strauss, a Bavarian haberdashery merchant living in San Francisco, sold blue jeans called "Levi" to California miners and miners. One of Levy's clients was Jacob Davis, a tailor who often bought bales of fabric from the wholesale house of Levi Strauss and Co. One of Jacob Davis's clients came up with the idea of ​​making copper rivets on jeans to reinforce the places where jeans are torn and seam apart most often. Jacob did not have the necessary money to buy a patent and wrote to Levy, proposing to do a joint business on rivets.
After Strauss accepted Davis's offer on May 20, 1873, the two merchants received patent # 139,121 for "Improving Locking Pocket Openings," from the United States Patent Office and the Office Trademark, and blue jeans as we know them today were born .

Copper rivets for reinforcing pockets are a characteristic feature of blue jeans.
Outside the United States, especially in Russian popular culture, blue jeans were also fashionable expensive clothes, symbolizing American culture and a good life. Being an imported American product, especially in the case of the Soviet Union, which restricted hard currency imports, jeans were somewhat expensive. In Spain, they are known as "shepherds" or "cowboys" and in Chinese, jeans are known as niuzaiku, literally, "cowboy pants", indicating their association with the American West, cowboy culture, and working outdoors.

The varieties of jeans are determined by current styles, gender, and manufacturer. Here are some of the main types of jeans:

Ankle (Ankle)
Loose (Loose)
Straight (Direct, pipes)
Boot cut
Baggy (Baggy)
Phat pants
Slim fit
Boy Cut or Boyfriend
Bell bottom / flare
Saggy (Saggy)
Carpenter (Carpentry)
Original
Classic
Skinny Leg (Skinny Leg)
Wide Leg

Denim is also made of:

Shorts
Dresses
Skirts
Shirts
Cardigans
Bags
Fashion jeans are jeans that have been made as fashion and as a symbol of social standing. The Nakash brothers (Joe, Ralph and Avi Nakash) are generally credited with starting the trend when they launched their Jordache jeans line in 1978. Fashionable jeans are made for jeans for women and men, have all available sizes, and are often sold worn and fitted. The emblems and logos of the designer of fashionable jeans are usually sewn on the back pockets and on the right front pocket for small coins.

The most interesting thing in fashionable jeans is that, as a rule, they set the fashion in a woman's jeans clothes. And only then the fashionable style of jeans is adopted by men. It's funny, but women also put on flared pants for the first time. Fashion labels are also guided by this. For example, Jordache initially sold products only to women, but soon began to create jeans for men, the style of which completely copied the style of women's jeans. Recently, men's jeans fashion has somewhat stopped at baggy jeans. Most jeans companies do not plan anything revolutionary in men's jeanswear.
Within a few years of the launch of Jordache, many other brands were on the market. Among them: Sergio Valente,
Sasson, Gloria Vanderbilt, Chic, Calvin Klein and others.

Colorful, suggestive advertisements promoted many of the brands. Jordache's first commercials, with the phrase "You have a look" campaign, were rejected by the networks as "obscene, they were only aired by independent television stations in New York. Other unforgettable television campaigns advertised Gloria Vanderbilt advertising her jeans as" a million dollar views. "

In the late 1980s, fashion jeans from various couturiers lost popularity. In the early 2000s, they began to return to fashion with brands such as Evisu, Cotton Fabric of Aristocratic Origin, True Religion, Rock and Republic, Citizens of Humanity, and others worth more than two hundred dollars. Some of the older brands, namely Jordache, Sergio Valente, and Calvin Klein, are also returning to jeans projects that made them popular.

Jeans fetishism is a sexual fetish involving jeans or cotton, especially worn by women, but also by men. There are many jeans fetish sites that are mostly sexual in nature.

Jeans fetishism is:

ripped jeans
jeans worn during sex
denim shorts
cotton jacket
wet jeans
Be barefoot in jeans

Jeans were associated with sex right away when women began to wear them. The reason for jeans fetishism could be from the neatness and sexuality of jeans worn on women. Jeans could emphasize some parts of the female form that are believed to be sexy, including the hips, crotch, buttocks and legs. Being barefoot while wearing jeans is a sensuality that enhances association with sex. This may also apply to men wearing jeans.

Brands that are often associated with sexuality:

Jordache
Abercrombie & Fitch
Bongo jeans
Calvin klein
Parasuco
Miss sixty
Guess?
Seven for all Mankind
Low-rise jeans - jeans that sit on the buttocks of the hips. They are also called low jeans, hipsters, hip-huggers and lowriders. Worn by both men and women, short jeans are deliberately cut lower at the waist, thus covering less body on the stomach and back. They usually sit at least three inches lower than the belly button. Low jeans have existed since the 1960s, but their popularity has returned again after 2000. Especially among girls and boys between the ages of 14 and 25. Although its popularity has also increased among women and men of other ages.

Low jeans are currently available in many styles, and although skinny jeans are usually the most popular, they also exist in loose, baggy, and torn styles. Due to the popularity of short jeans, manufacturers also began to make low styles for other types of pants.

One of the effects of short jeans is not only showing more skin on the stomach, but also (partially or completely) opening the buttocks while sitting down or leaning. In many cases, the gap between the buttocks becomes visible.

Women and men often wear short jeans in fashion, and showing the gap between the buttocks and underwear is simply an additional "effect", although it also had an effect on fashion. Learning that their underwear is always no longer hidden in their pants, more women choose good underwear so that it matches with their short jeans, the same applies to men with a choice of shorts.

In 2003, Dr. Mulvinder S. Parmer pointed out that wearing tight, tight jeans puts pressure on the sensory nerve, which can cause pain. The problem with the previously examined patients was resolved when they avoided wearing tight, tight jeans after 4 to 6 weeks.
Ripped jeans - most jeans popular with teenagers. Torn places are made with sandpaper. To speed up the creation of torn places, you can also use a knife or blade. After the "operation" jeans must be washed.
Zipper on jeans (Zipper) - was invented in 1893 by the American Litcom Jadson and was a system of miniature hooks and eyelets. Swede Gideon Sundbek improved it in 1913. After him, she turned into a system of metal cloves that were intertwined with each other through a moving clamp. In jeans production, first used by the company "Lee" in 1926.
Indigo is a dark blue paint traditionally used in the production of denim. They say about it "lively", bearing in mind that in the process of wearing it fades and wipes. Indigo was used to dye wool four thousand years ago. It was obtained from the indigofer plant, which grows in India and China. In 1878, the German chemist Adolf von Bayer invented the synthetic indigo dye, which soon replaced the natural one, as more pure and stable.
Jeans for tall women
Tall women are interested in light long and low-waist jeans, extended downwards, possibly with straight wide or tucked-in trousers, loose models and banana jeans. It is better to abandon the shortened models, as well as models with narrowed down legs and fashionable straight, but narrow cigarettes. When buying, always pay attention to the growth designation on the label: you need to take jeans with a designation for tall or extra length. You can stop the choice on models with a raw bottom, which will allow the house to adjust the length of the pants at its discretion. Jeans for short women
First of all, you need to abandon jeans with fashionable tucked up legs, from light shades, from tight-fitting stretch fabric models, from very elongated models and models that are tapered down, as they all visually shorten the legs and reduce growth. But those same cigarettes with straight straight legs, as well as dark jeans, the length of which reaches the upper part of the shoe, slightly shortened jeans and jeans, the length of which reaches the beginning of the heel, will suit you. Under the latter, you can wear shoes with heels, which will not be evident, and thereby imperceptibly add a couple of centimeters in height. You also should not get too loose models in which you drown, as well as too tight, as the latter will draw attention to small growth. When choosing jeans, it is better to proceed from the fact that they should be in shape.

Jeans for women with unexpressed hips and flat buttocks
The best way out for women with unexpressed hips and flat buttocks is to purchase light-skinned jeans with high or, if your waist is thin, low waist. On the one hand, they draw attention to the lower part of the legs, taking it away from the hips and buttocks, and on the other hand, add extra volume, make the figure more prominent and feminine. And of course, jeans should sit well, be precisely fitted to the figure. And no creases: this will make your shapes more attractive.

Denim Jeans for Women
Women with unexpressed waist, as a rule, have to buy jeans a size or even two more than necessary, due to the fact that in all respects perfectly fitting trousers are tight at the waist. To correct this situation, choose not models that are free, but precisely fitted models with straight legs: as a rule, they are made narrow, so that a suitable waist volume will provide you with a semi-free, comfortable fit. Pants extended downwards will visually balance the upper and lower parts of the body, and wide straight legs will visually remove the waist, making it more proportional to the hips. For everything else, you can try on men's jeans: as a rule, they are wider at the waist, but already in the hips, and it is among these jeans models that you can find exactly what you need.

Jeans for women with wide hips
The back pockets of jeans should be large and cover the buttocks as much as possible, because if the pockets are too small or too wide apart, they will visually make the hips even wider. As for the models, loose dark jeans made from thick, denim fabric with straight wide trousers extending straight from the hip, as well as low-waist jeans will suit you. It must be remembered that tight-fitting models, models of stretching fabric, are light and narrowed down, with a narrow high waist and shortened visually. The hips will appear wider and lower than they really are.

Jeans for overweight women
Full women when buying jeans should pay attention to the fabric. Jeans from soft, thin jeans that fit your body, do not puff and keep their shape well fit you. As a rule, overweight women prefer too loose jeans, which are large for them and are pleated along the entire length. This is wrong, because too wide trousers make full women even more voluminous. It is better to give preference to dark jeans, slightly narrowed down, with not too narrow and at the same time not too wide trousers that emphasize the shapes without increasing, but not hiding them, since the result of their absence is complete formlessness, and this is even worse than moderate fullness. And of course, do not forget about jeans with an elastic waist: the right choice, promising convenience, comfort and aesthetics.

"Calvin Klein" - this couturier introduced the concept of sexy jeans and made them black and gave a tight shape. The advantage is that they sit well.

"Chaps" are real jeans from Ralph Lauren himself.

"Diesel" - favorite jeans of youth. Very soft and very thin, with an indispensable fly width on the bolts. Mostly worn and as if slightly spaced.

"GAP" - jeans, although they look extremely modest, but they fit perfectly. The main advantage is that you can choose any style and put on any figure.

"LEE" - these jeans models are on a par with "Wrangler" and "Levi'S". Original jeans differ in several ways: high-quality finish pockets, quality side and waist seams and, most importantly, the quality of the fabric itself.

"Levi Strauss & Co" - if the jeans are genuine, they are usually sold with a silver label. They can be both with wide trousers, and with rather narrow ones. The most popular 501th model appeared in 1837. And the most "pre-worn" 505th became the running gear in the beginning of the 60s when work (jeans) clothes became fashionable once and for all.

"Moschino" - jeans for those who know how much. Jeans are both comfortable and stylish.

"Mustang" - since 1980, the only German jeans that successfully compete in the local market with the American brands "Levi'S" and "Wrangler".

Today Mustang jeans are among the favorites of jeans fashion.

"Trussardi" - a solid brand for stylish. Slightly cramped in a step, pretty tight in the groin and pulled in the hips. But durable.

"Versace" - smooth, glossy and tight jeans from the famous couturier. You don't put anything extra in your pocket. They are very suitable for young girls, but not guys of strong physique.

"Wrangler" - sit like a glove. Even after washing, they look like new. Classic in the good sense of the word. The most original colors - from dark purple to pale blue and coffee.

1. Rivets
Buy rivets at the store. Modern rivets do not need to be hammered - they have petals on one side. Having pierced the riveting matter, bend the petals. If the fabric is very thick, you can make a small hole in advance. Rivets look good on pockets and side seams. You can also depict any drawing or word.
2. Patches
You can search at home or buy pieces of fabric of any shape, color, pattern, texture from a fabric store. You can cut out some shape from them or even make a collage. Just take a thread with a needle and sew these pieces to the place you like on your jeans.
3. Whitening
Jeans can be bleached using either bleach or baking soda. Just add bleach when washing. You can tie the knot jeans or drag them in some places with ropes, then after washing you get interesting stains. Alternatively, bleach your jeans and after a few hours of waiting they will become spotty.
4. Artificial mud
Fill a bucket with four liters of hot water and add about 100 grams of tea, let it brew. Dip the jeans or part of them in a bucket, and leave them for two to three days. If the jeans are not completely immersed, the color will rise slightly. After painting, remove the jeans from the water and dry them. Fill the bucket with water again, add vinegar essence and immerse the jeans in the solution for at least one day to fix the color. The holes on the jeans look very erotic
5. Holes
Just grab a sharp knife and cut holes in your jeans. Note that when walking, they will open various parts of the body, which can be very sexy and give an unpredictable reaction to others.
6. Decoration
Buy rhinestones, glass beads, beads, sparkles, buttons, or something similar from a haberdashery store. You can decorate your jeans to suit your taste. The scope for imagination is huge - you can even make ornaments or drawings.
7. Folds
Wash your jeans and let them dry a little. Then sprinkle a little starch on top of your wet jeans (you can buy it at the grocery store) and then iron them with a not very hot iron. You can make folds under the pockets or any others to your taste. Creases should hold until the next wash.
8. Drawings
To make drawings on jeans, you can use ink, wax crayons, nitro-paint, felt-tip pens and ballpoint pens. Bright colors will always look good, whether it's a flag, cherries or a flower.
9. Lettering
Use felt-tip pens or ballpoint pens to draw small labels on the jeans, the name of the musical group, hearts or funny drawings.
10. Belt on the rings
Remove belt loops from the belt, you can do it unevenly. Buy 10 metal rings and attach them to the jeans, about one centimeter from the top of the belt, grabbing them with threads on top and bottom. After that, you can skip behind them a thin strap or leather band.
11. Colored shapes
Take a piece of paper and cut out a heart, star or other shape. Put the resulting pattern on jeans and spray on top of it a spray for dyeing fabrics or a colored spray for hair.
12. Embroidery
Buy some floss. Draw a picture on the jeans with a small piece of chalk or soap, and then take the threads and embroider over the picture.
13. Fringe
Take the scissors and cut the ribbons from the legs, from the bottom up, towards the knee. The narrower the ribbons, the more interesting the fringe looks.
14. Scuffs
Put the jeans on a table or something solid and fasten them. Take sandpaper and lightly rub her legs. In these places, jeans will quickly become lighter and get a well-worn look.
15. Spread seams
Partially spread the seams at the bottom of the legs and just let them hang out. It looks especially cool if the jeans inside the seam are a different color. So that the seam does not diverge further, fasten it across several stitches.
16. Lampas
Buy about three meters of braid and sew it on your jeans along the outer side seam. Alternatively, you can take a colored rope or floss and make stitches along the side seam.
17. Chasing (advice courtesy of RJ)
If you have preserved in your home the old hobbies of your parents called "chasing", they can be used as follows. Inside the soaked jeans, put a small plaque, then minted, rub well with household soap, and brush until the pattern appears. The process is laborious, but the effect will be amazing! The basic requirement is that coinage must not be shifted so that the pattern is not blurry.

Jeans are so popular and beloved by everyone that I want to give them special attention. It is impossible to imagine the wardrobe of a modern girl (women, men - anyone) without these universal pants. Jeans, in fact, can absolutely correctly fit into any situation and decorate their wearer. Unless, of course, choose them correctly.
Fortunately, those days passed when jeans were bought in reserve for many years to come. The choice of jeans in our stores is now such that it can confuse even the most experienced buyer. In some ways this situation is probably even more complicated than the one that was long ago, when something happened, it was worn. The choice is generally not an easy thing. But we will figure it out.

When choosing jeans, it is important to choose them correctly:
- color,
- finish
- style
- the size.

When choosing a color, you must first focus on your preferences. And also where you plan to go in these jeans. If you're in the office, then it's probably better to choose the more strict ones - dark and not grated. And if for the soul - then there is freedom of choice. You just need to keep in mind that light jeans can slightly grow fat, but dark ones can slim. Vertical scuffs also add length and harmony to the legs. But with scuffs you need to be careful - see that they are of a natural look and in natural places - preferably where jeans would be worn themselves. And then the rear view can be quite funny.
On jeans, two sizes are usually indicated - W and L. This is respectively the width at the waist and the length at the inner seam. These sizes on jeans are indicated in inches. An inch is about 2.5 centimeters. Next is a matter of simple recounting. Measure your sizes and divide into two and a half. Get your approximate jeans size.

Jeans can be any color, even red, even green. But for jeans it's exotic. The range of classic jeans is usually distributed from dark blue to light blue tones. Another factor is the presence of various types of scuffs. This is pretty fashionable right now.
When choosing a finish that can also be very diverse, from embroideries and rhinestones to deliberately shaggy-looking holes in different places, you need to consider where you intend to wear these jeans. And yet - keep an eye on quality. It is on the finish that the overall quality and price of the item is determined, and jeans are no exception.

And finally, we moved on to the most important - the style of your pants. The style can both disfigure the figure to the extreme, and vice versa - make the Cinderella a princess. Fasonov also exists unmeasured, and it is very important to find the right one.
It will not work to talk about all the possible options, so I will describe only a few basic models:
- Direct
- Flared
- wide
- Wide, tapered down
- Narrow
- Shortened (breeches)

Before considering these options in detail, I want to dwell on two more, which can relate to any of the listed types. These are stretch jeans and hipster jeans.
Stretch jeans are jeans with elastic thread added to their fabric. Such jeans are usually softer and better fit on the figure in the sense that they fit better. And emphasize all its bends, without masking them. This must be borne in mind.
I like very much low-waist jeans (and any pants in general) and consider them quite advantageous even for a not-so-perfect figure - because in this case the belly and hips are not emphasized, and they can be masked with something long, worn on top. What, of course, should not be done is to leave them for show. A naked tummy above a low belt is beautiful only if it is absolutely flawless, flat and tanned.

Straight jeans (the same Levi's 501) is a classic. A model that will never go out of style. They are more or less suitable for everyone. The only thing that can be blamed is that they are boring. But if you lay the foundation of the wardrobe and choose the "official" jeans, then they, in my opinion, are the most suitable option. Skinny jeans - suitable for a very good figure. They are often stretch. If the shape of the legs is not perfect, then it is better to abandon this model. Such jeans, although they lengthen the legs, but hide little. Strange, but they can be advised to women with wide hips and slender legs - the legs will appear longer, the figure will be thinner, and the hips will have to be hidden under a long sweater. I prefer to wear such jeans, tucking them into boots - with other shoes they do not look very good.

Wide jeans are an obvious camouflage option. Well hide leg imperfections and fullness in their upper part. Lengthen legs. It should look as if they are large in size or two. The danger is that with wide hips, the silhouette of the figure in wide jeans will resemble a hero's bust on a massive monument.
Wide jeans, narrowed down, the so-called "bananas" - in my opinion, generally not a very good option. He does not lengthen his legs, and all the flaws of his wide pants are present. It can be chosen if there are no problems with the growth and length of the legs, but you need to somehow balance the broad shoulders.

Cropped jeans - breeches - are also a fashionable acquisition of recent years. Lightweight summer option. The principle of choosing a style here is the same as that of "large" pants, you just need to remember that the breeches visually shorten the legs. Therefore, they are well combined with high-heeled shoes.
Jeans, flared down - perhaps the most difficult model. It combines the properties of both narrow and wide trousers. Sometimes they can decorate a figure very much, making it more slender, lengthening its legs and hiding their imperfections, but sometimes they can visually widen the hips. I do not recommend choosing this model to women with wide hips - such a silhouette will resemble a "guitar".
And finally. Choosing jeans is not an easy task. These are endless fitting. But, if you finally found your own style, don't be too lazy - remember, even write down this company and model number - this will greatly facilitate further searches and will be useful in life more than once, because jeans never go out of style.

Size Chart for Jeans

size hip waist
26 --- 84 --- 92
27 --- 86 --- 94
28 --- 88 --- 96
29 --- 90 --- 98
30 --- 92 --- 100
31 --- 94 --- 102
32 --- 96 --- 104
33 --- 98 --- 106
34 - 100 - 108
35 - 102 - 110
36 - 104 - 112
38 - 108 - 116
40 - 112 - 120
42 - 116 - 122

length height
30 ----- 164
31 ----- 170
32 ----- 176
34 ----- 185

You can run into fake jeans not only in the market. With the same likelihood, you can be handed a poppycock in a regular store, sports store or even in a boutique. You may ask, where is it better to buy jeans then? Better, of course, abroad. There is much less likelihood of getting bad jeans. In this case, it is better to combine leisure and shopping. The best goods and relaxation where there are no Russians. Well, if this is not possible, then we go to the store so that you can examine and buy jeans in a relaxed atmosphere.

Many jeans retailers have been advised to pay attention to the country of manufacture. This is fundamentally wrong! Online stores have only one goal - to steal goods. And what label they will hang ... Remember the catch phrase: "All smuggling is done in Odessa." With jeans the same situation. All jeans, even the most sophisticated Japanese and American, have long been sewn in China, Thailand and other Asian countries. Well, back in Turkey. Another thing is that they are sewn in a legal factory or on the swarthy erotic knee of a Chinese old woman.

Fake famous brands Lee, Wrangler and Levi's. It is difficult to talk about the number of fakes: no one has yet done research on this most curious topic. But as for tastes, Turkish manufacturers, for example, adore copying Lee popular in CIS countries. Therefore, it is better to exclude these brands from the number of purchases at all if you buy jeans in Russia.

First of all, you need to weed out jeans at a price. Good branded jeans cost between $ 150 and $ 300.

Now examine the texture of a potential purchase by touch. Even ordinary cheap cotton can be made to look like heavy-duty denim with starch. But after washing, such jeans will come to an end. Basically, it is due to the fabric in the production of fakes that savings are made. In appearance, jeans may not differ from real Lee, but the fake weighs not 850 grams, as expected, but much less. The thin denim that goes to Turkish or Maltese (same Chinese) jeans is surprisingly cheap in the East. Note that even specialists can hardly distinguish fakes from business people at a distance of several steps. Therefore, if you don't just want to give your money to the seller, be careful!

Particular attention should be paid to the quality of tailoring jeans. When choosing jeans, you need to pay attention to how the seams are trimmed inside. They must be well stitched so that the fabric does not sprawl and not a single thread can be pulled. These sutures are called "overlock seams" or "covering the edges of the fabric". With them, the other seams last longer. Jeans have double seams made for durability. At the same time, the seams create strips on the inner and outer sides of the legs, giving it harmony. Levis put double seams inside and single outside, Wranglers put double seams outside. At the same time, they made the fabric darker and the threads brighter.

Be sure to make sure that the jeans accessories are branded - "zippers", rivets, buttons, before you buy them. On branded jeans only fit accessories with the designation YKK (but not TIT, MKK, TLF and the like) or their own, if any. Only at the branded thing on the "dog" of the zipper, on the back of the staves and buttons, you can clearly read the name of the company or brand. The "dog" itself should have a double latch and not slide, even if the zipper is not fully buttoned. For example: LS & Co-SF. What it means: "Levi Strauss & Co, model San Francisco." If such notes are missing or could not be disassembled, put the jeans back in place and do not ask the seller any more questions. By the way, "Levis 501" is available only with a fastener on the "bolts" - five buttons. Remember that two identical pairs of jeans simply do not exist, so when you are planning to go to the booth to try on, then grab some jeans with you, including one size larger and smaller than what you wear. Do not forget that jeans have a habit of stretching in some places during the process of wearing. However, after washing they also sit down successfully. However, remember that branded jeans can shrink a maximum of two percent after washing.

Destroy Fashionable jeans style, styled as "hippies". Jeans are wrinkled, rubbed or washed with sharp objects, which makes them rubbed into holes. The edges are not hemmed, but simply chopped off.

Second Hand. If you see a similar tag on jeans, do not rush to conclusions. Of course, the first thing that comes to mind is that these jeans, like clothes from the stores of the same name, are worn. In fact, the "Second Hand" tag only means that the jeans are artificially aged. Using a variety of abrasive materials: jets of sand, grated brick or special powders. Such jeans are not cheap. The prestige of worn jeans, apparently, went from the tradition laid down in the same XIX century, to transmit so comfortable for work and low-wear pants from generation to generation. By the way, even today very old jeans (30 years or more) are usually sold at auctions. And they can cost from 500 to several thousand dollars. The record price today is 125 thousand dollars.

Sta Prest. Jeans with an "eternal" arrow were released for the first time in the 60s in Knoxville (USA). Again, polyester was added to the fabric, and then, folding the trousers in half, they were "baked" using a special technology. Wash such trousers as much as you want, the arrow will still remain in place.

Vanguard. This style has dominated in jeans fashion for the past 3-4 years. It is expressed in an unusual cut, silhouettes with "pribabah" and bright finish.

Tanks are wide, spacious jeans with many pockets in the most unexpected places, for example, on the knee or on the ankle. Good for people whose profession or hobby is associated with great mobility and the need to have their hands free: locksmiths, scooters, robbers and crackers ...

Bib - and in Russian, overalls. Now it is not very popular with the bulk of the population. But this is a favorite type of clothes for pregnant women, as well as everyone who suffers from a lack of waist. Well and, of course, "bibs" will suit everyone who wears "tanks".

Denim is a rough cotton teak, from which, in fact, jeans are sewn. The material got its name from Serge de Nimes, a coarse fabric produced in the French city of Nimes. A denim fabric is a high-quality twill, the hem of which is directed from the lower left corner to the upper right. Today, classic "denim" is produced in America, Greece, Japan, and Turkey.

Classic. By default, it is considered the model from Levi Strauss, numbered 501. These are straight trousers with a fairly wide belt. With many decorative metal rivets. They have 5 pockets: 2 at the back, 2 at the front and a small pocket on the back of the right front, it used to be for a watch, now it is used to carry a small coin.

Flares - were super popular in the mid-70s. Today again in favor. However, the latest generation of flared jeans is no longer enough just to have an extension from the knee down. It would be nice to decorate this "expansion" with a cut, fringe or embroidery.

Broken twill. This is the name of the material, to the touch softer than a traditional jeans. Outwardly, it resembles satin, but the structure is much denser.

Carrots are almost classic jeans, but if you look closely, you will notice that the legs in them are expanded at the top and narrowed down. Such a silhouette was invented especially for women in order to emphasize the features of their figure.

Glowing jeans. In daylight they shine in the sun. This effect is achieved by adding polyester. On the inside, such a fabric shines more than on the outside.

Stretch - first of all, slim women were liked. Tightly fit the figure. Especially successfully obtained from this fabric jeans-cigarettes.

The classic color of jeans is deep blue. But at the same time, if you look closely, you can see that only the warp threads are painted, the weft threads still remain white. Blue "denim", the so-called "varena", is obtained by washing the classic blue material with the addition of chlorine or other bleaches. Indigo (from the plant of the same name) - that was the name of the first natural dye for jeans, it was he who gave the trousers a blue color. Today jeans of the most unexpected colors are popular. Beige and pink, fuchsia and poisonous orange. Sometimes they write directly on the label how many times the fabric was immersed in the paint. Usually 6 to 16 times (Dips). Of course, the more dives, the more stable the color.

So that the jeans acquire light shades, they are specially boiled with pumice, in no case in bleach, as we did in Soviet times. In the process of cooking, they are wiped on these pebbles, therefore, on the hardest places (for example, below), they are sometimes wiped and look worn. In fact, this is one of the indicators of branded jeans, and in some jeans you can find a piece of pumice or sand from it as evidence. You should remember that the more jeans are boiled (the lighter they are), the less they are worn.

Typically, the fabric on the outside of the jeans has one color and the inside the other. Let's say jeans are blue on the outside (visible) side, and white on the inside. But now there are jeans of the "double" color: they have the same color both on the outside and on the inside. These jeans have a more saturated color.

In general, it is better to start the first wash immediately, so that the fabric softens and you do not feel uncomfortable in new trousers. In order for the denim to retain its texture and color for longer, it is advisable to adhere to the symbolic instructions on the label when washing.

If you decide to wash your jeans, then remember that it is better not to soak them at all. However, if necessary, in order to avoid red stains of rust around the rivets, do not soak the jeans for more than 1 hour, and in warm water. For soaking, it is better to use soap (laundry), because washing powders brighten the fabric more and give a tarnishing of rivets, corners and buttons. Black or colored jeans can be soaked by adding a little vinegar. Before washing, it is better to fasten the zipper on the jeans.

It is better to wash jeans in water with a temperature not exceeding 40 ° C, and, better, by hand. Do not use "superpowders" with bioactive components or a whitening effect - they will cause irreparable damage to the color. Apply their miraculous effect better to white linen, but not to blue, black jeans. Vinegar can be added to the water. Wash with a medium hard brush (you can choose a wardrobe with a hard pile). Having spread the jeans on a flat surface (for example, having "spread" them in the bathtub), soaping the brush (and not the jeans!), Lightly press it. In the most contaminated areas, you can try your best from the heart, however, in "critical" places, rub more carefully - there the paint sheds especially intensively there.

If you are lazy. as the heroine of the novels Dontsova and Ustinova, you can also wash in the washing machine, just use the normal cycle. Before washing, fasten your jeans and turn them inside out. If jeans with leather inserts, then after washing, treat still wet skin with glycerin, it will be smooth and elastic. All jeans always fade a bit, but really good jeans will not lose color. And after two or more washes, the water will no longer be frighteningly black or blue.

"Soared" jeans (if you washed by hand) you need to rinse in cool water. You can also first a little warm, and then cold water. In this case, it is better not to wrinkle jeans. To squeeze the jeans, it is better to call a friend for help, raise the jeans and, holding the trouser leg with your palms, drive the water down. It is desirable to dry jeans in the fresh air, but not in the sun! (SEE PICTURE). Jeans need to be dried by gently straightening and turning inside out. Fasten the jeans with clothespins to the belt, since all the metal parts are at the top, this part should dry faster. It is better to iron the jeans wet and using steam, after this procedure they will become softer, more comfortable, and they will look newer and neater.