Subsistence minimum 2012-2013
Living wage for 201
2

years

The Law On the State Budget 2012 provides for the following minimum subsistence level and minimum wage for 2012.
Subsistence level for 2012
From 1 January 2012 - 1017 UAH
From 1 April 2012 - 1037 UAH
From 1 July 2012 - 1044 UAH
From 1 December 2012 - 1096 UAH
The minimum salary for 2012
From 1 January 2012 - 1073 UAH
From 1 April 2012 - 1094 UAH
From 1 July 2012 - 1102 UAH
From 1 October 2012 - 1118 UAH
From 1 December 2012 - 1134 UAH
The minimum wage for 2013
From January 1, 2013 to November 30, 2013 - UAH 1,147
From 1 December 2013 - 1218 UAH
Living wage for 201
3

year

The draft state budget for 2013, approved on September 13, 2012 at a meeting of the Cabinet, set a living wage (on average per person)
From 1 January 2013 to 30 November 201 - 1108 UAH
From December 1, 2013 - 1176 UAH
For children under 6 years
From January 1, 2013 to November 30, 2013 - UAH 972
From December 1, 2013 - UAH 1032
For children from 6 to 18 years
From 1 January 2013 to 30 November 2013 - 1210 UAH
From December 1, 2013 - 1286 UAH
For the able-bodied people
From January 1, 2013 to November 30, 2013 - UAH 1,147
From 1 December 2013 - 1218 UAH
For persons with disabilities
From January 1, 2013 to November 30, 2013 - 894 gr,
From December 1, 2013 - 949 UAH
The draft budget also sets the level of the minimum wage for 2013 .
The minimum wage is the statutory amount of wages for simple, unskilled labor, below which there can be no payment for the monthly and hourly rate of work performed by the employee (scope of work) (Article 95 of the Labor Code of Ukraine).
The minimum wage is a state social guarantee, mandatory throughout the territory of Ukraine for enterprises, institutions, organizations of all forms of ownership and management and individuals.
This is the last year's increase in the subsistence level and all related payments.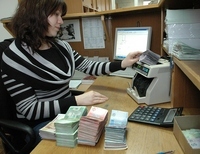 It should be noted that the law on the state budget for 2013 was quite economical: the subsistence minimum and all the social payments associated with it throughout the year, one can say, did not increase much. The minimum wage, pensions and benefits raised in January. And the next - the last this year - an increase is planned for December.
Recall that the subsistence level is set for four main categories of the population, and also calculated on average for the resident of the country ( see table number 1 ). This standard is used to determine the size of most social payments. And at their calculation the subsistence minimum is used for the category of citizens who are supposed to receive the payment. For example, when determining the size of pensions, the subsistence minimum for disabled people is applied, allowances for families with children - a living wage for children of different ages, the minimum wage is the subsistence minimum for the able-bodied.
As we have already said, in connection with the increase in the subsistence minimum, all payments related to it will increase. To begin with, from December 1, the minimum wage will rise from 1147 to 1218 hryvnia. And also all salaries to state employees.
Increases payments to families with children and child benefits.
For example, help with the birth of the first child will increase by 1 thousand 800 hryvnia - up to 30 thousand 960 hryvnia. At 3 thousand 600 hryvnia will help with the birth of a second child, which will rise to 61 thousand 920 hryvnia. And for 7 thousand 200 hryvnia will increase payments to the third and all subsequent children - up to 123 thousand 840 hryvnia. In addition, minimum and maximum amounts of childcare assistance will be increased to the age of three, as well as assistance to single mothers, payments to children guarded or guarded, orphans and those whose parents shy away from paying child support.
Most importantly, in the country for 55 hryvnia will grow a minimum pension, which is set at the subsistence level for disabled people - from 894 to 949 hryvnia.
Also, the minimum payments to disabled people - liquidators of the consequences of the Chernobyl accident, as well as war invalids and combatants ( see Table 2 ) will also increase. Recall that in our country for them the increased size of the minimum pension (from 165 to 285 percent of the subsistence minimum).
Increase in December those allowances to pensions, which depend on the subsistence level. For example, the maximum payment for the experience - from 8 hryvnia 94 kopecks to 9 hryvnia 49 kopecks for each "extra" year. Donors to the pension will not be paid extra 110 hryvnia 80 kopecks, and 117 hryvnia 60 kopecks (10 percent of the subsistence minimum per person on average). There was also an increase in the children's war premium (amounting to 7 percent of the subsistence minimum for disabled persons) from 62 hryvnia 58 kopecks to 66 hryvnia 43 kopecks . Increases and increases for war veterans ( see Table 3 ).
Specifically, we emphasize that it is just about increasing the existing premiums and increases, and not about the appearance of new surcharges to pensions since December. All allowances are assigned to retirees at the same time as pension calculation. But then their size grows as the living wage grows.
It should be recalled that from 2013, surcharges to pensions to combatants during the Great Patriotic War and disabled people of the II and III groups of the Great Patriotic War, who reached 85 years of age, were established in a single amount - 50 percent of the subsistence minimum.
In addition, due to the increase in the subsistence minimum, the size of pensions will grow among servicemen, the minimum amount of which is set at a rate of 100 to 130 percent of the subsistence minimum (from 949 to 1234 hryvnia), depending on the category. The minimum pension of unemployed miners will increase (which is covered by the Law "On raising the prestige of miner's work"), set at the level of three subsistence minimums (since December 2 thousand 847 hryvnia).
All types of pensions for special merits will be raised, amounting to 20 to 40 percent of the subsistence level (from 189 hryvnia 80 kopecks to 379 hryvnias 60 kopecks), as well as state social assistance for care and payments to Chernobyl victims.
On November 19, the Verkhovna Rada adopted a bill initiated by the Cabinet, which introduces a rule on the enrollment of childcare leave for children up to 3 years in the insurance record of women and will be taken into account when calculating a pension. Every year, 500 thousand women leave for such a holiday in Ukraine. For each mother, such a decision is confidence in the future, strengthening of social protection.
Ministry of Social Policy is developing a package of proposals on the possible return of women with young children to work. In particular, a draft law has been prepared that will allow women with children to work remotely. On the one hand, a woman will be able to pay attention to the family, on the other hand, have additional earnings, gradually return to work. Regardless of whether a woman decides to work as a career or devote herself to a family, she will have the opportunity to realize her decision.
December 1 will increase assistance for the birth of children : the first child from 29,160 to 30,960 UAH. (For 1 800 UAH.), The second - from 58 320 UAH. Up to 61,920 (UAH 3,600), the third and subsequent - from 116,640 to 123,840 (by UAH 7,200).
This year, as part of the Social Initiatives of the President of Ukraine, the allowance for the care of children with disabilities of subgroup A (with exceptionally high loss of health) was significantly increased to 100% of the subsistence minimum for children. At the moment, the state aid for disabled children without a care allowance is 949 UAH, for children with disabilities up to 6 years with a supplement for care - 1 180 UAH., From 6 to 18 years - 1,307 UAH., For disabled children ( Subgroup A) up to 6 years old with a surcharge for care - 1 696 UAH., For children of this subgroup from 6 to 18 years old with extra care - 1 950 UAH.
Regarding children with disabilities, deprived of parental care , this year the President renewed justice - they began to receive at 894 UAH. (From December 1 - UAH 949), social assistance is more, since they received state aid for disability, adding it to the total amount of the allowance. So 1 612 children from July 2013 received instead of 1 944 UAH. (Children under 6 years) and 2 420 UAH. (From 6 to 18) - 2 838 UAH. And 3 314 UAH. respectively.
Table number 1
How will the cost of living change

For whom
From 1 January
From 1 December
(In UAH per person per month)
Average per person
1108
1176
For children under 6 years
972
1032
For children from 6 to 18 years
1210
1286
For the able-bodied
1147
1218
For the disabled (pensioners)
894
949
Table number 2
How will the minimum payments to some war veterans and Chernobyl victims increase?

To
The percentage of the subsistence minimum
The amount of payments in hryvnia from January 1, 2013
The amount of payments in hryvnia from December 1, 2013
The lowest payment for invalids - liquidators of the consequences of the Chernobyl nuclear power plant accident, war invalids and combatants (excluding pension for special merits)
Invalids of the 1st group; Participants in military operations during the Great Patriotic War of 1941-1945 and the 1945 war with imperialist Japan, who turned 85 years old and more
285%
2547,90
2704.65

Invalids of the 2 nd group

255%
2279.70
2419.95
Invalids of the 3rd group
225%
2011,50
2135.25
Participants in hostilities
165%
1475.10
1565.85
Table №3
How will the allowances to pensions change?

(Laws of Ukraine "On the Status of War Veterans, Guarantees for Their Social Protection" and "On Victims of Nazi Persecution")

To
The percentage of the subsistence minimum
The amount of payments in hryvnia from January 1, 2013
The amount of payments in hryvnia from December 1, 2013

The disabled war veterans , as well as former juvenile prisoners of concentration camps, ghettos and other places of detention (who were under the age of 14 at the time of confinement), recognized as disabled due to general illness, labor injury and for other reasons:

І groups

ІІ groups

ІІІ groups

Including the participants of military operations during the Great Patriotic War and the disabled of the ІІ and ІІІ groups), who reached 85 years of age

50%

40%

thirty%

50%

447.00

357.60

268.20

447.00

474.50

379.60

284.70

474.50

Members of families of deceased, missing and deceased war invalids, their widows and widowers who did not marry (not married) repeatedly
42%
375.48
398.58

Participants in hostilities;

Former juvenile prisoners of concentration camps, ghettos and other places of forced detention (who at the time of imprisonment did not turn 14 years old);

Children born in designated places of forced confinement of their parents;

Widows (widowers) of invalids of the Great Patriotic War who did not marry (did not marry) repeatedly

Widows (widowers) of invalids of the Great Patriotic War who did not marry (did not marry) repeatedly

25%
223.50
237.25

Participants of the war, former prisoners of concentration camps, Gestapo and other places of forced detention during the Great Patriotic War and World War II; Persons who were forcibly removed for forced labor to the territory of Germany or its allies who were at war with the former USSR, or in the territories of other states occupied by Germany; Children of partisans, underground workers, other participants in the struggle with the National Socialist regime behind enemy lines, who, in connection with the patriotic activities of their parents, were subjected to reprisals, physical reprisals, persecutions:

Awarded orders and medals

To other persons from the above list

20%

15%

178,80

134.10

189.80

142.35