The smartphone in your hands: 5 online services for citizens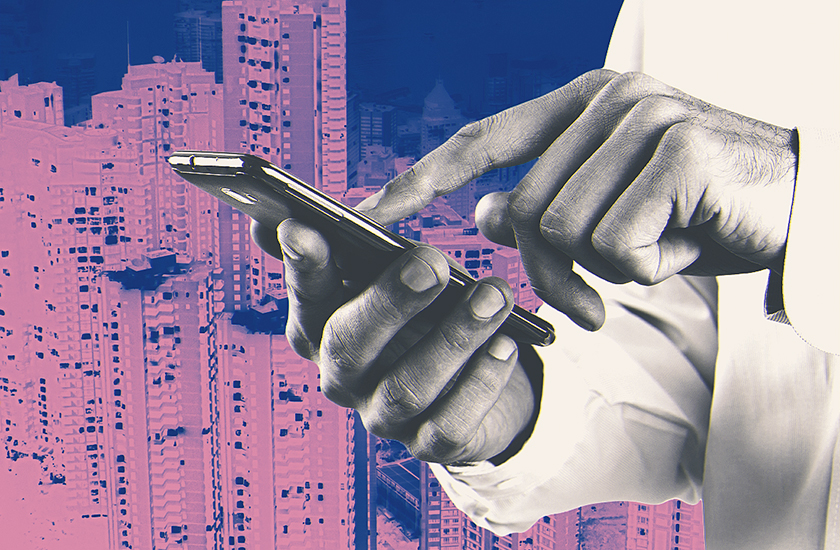 Imagine a modern resident of the city without a smartphone in his hand is almost impossible.
That is why we decided to collect 5 online services that will help Ukrainian citizens feel comfortable in the city, spend less time and money and even make the city better.
That's what, in our opinion, an active citizen with a smartphone and Internet access must be able to do!
Complaining and thanking utilities by 1551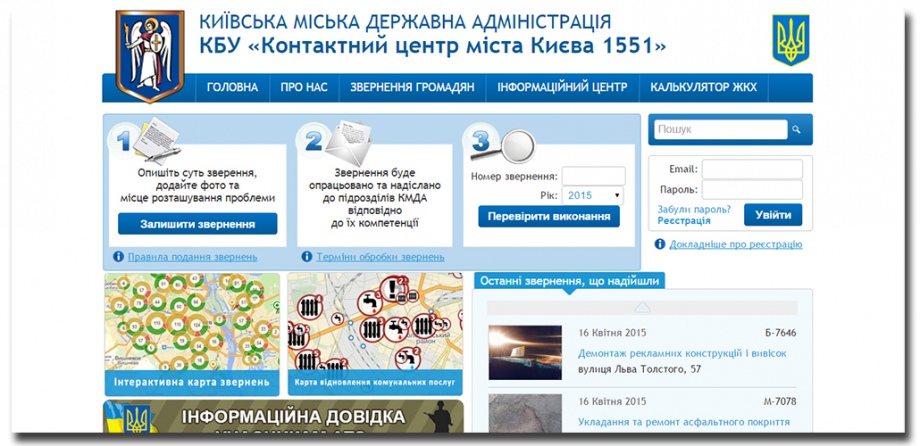 With the advent of the online service Contact Center of Kiev, complaining and thanking utilities has become much easier. If the elevator breaks down in your house, they do not turn on the heating (or, more importantly, do not turn off) on time, you notice a hole on the road or are worried why no one has been watering the trees in the park for a long time - here you are. All online appeals are automatically registered and fall into the authorities responsible for a particular area. They promise to respond to the complaint within a month.
Experienced complainants say that the appeal to "1551" really has a result - it is quite possible that after this letter a long-awaited shop will appear under your house, and new asphalt will be laid on the road nearby. It is only worth remembering and writing a letter of gratitude for the work done before 1551. Believe me, they will be pleased.
Track traffic on EasyWay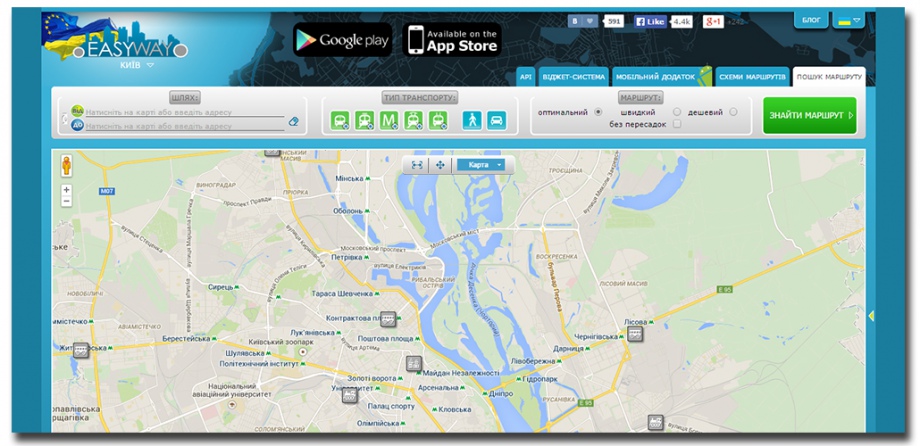 EasyWay website was created in Lviv in 2011, in 2012 the site helped foreign visitors to Euro 2012, and in 2013 it already became a technical partner of Google, Yandex and Here in supporting public transport in Ukraine.
EasyWay will make life easier for those who often travel by public transport. You can download the EasyWay application for Android and iOS for free, which will help you choose the route that is convenient for you, taking into account the financial and time costs, as well as pave the shortest car route.
In addition, not so long ago there was another very useful opportunity - now users can monitor the movement of buses, trolleybuses, trams and a city electric train thanks to the GPS installed there, which means that now you will know exactly how many minutes your transport will arrive, and you can better to calculate the time.
The service will be useful for many - it contains information about routes in more than 50 cities of Ukraine, Russia, Moldova, Kazakhstan and other countries.
Search for a fellow traveler on Blablacar and GiveMeALift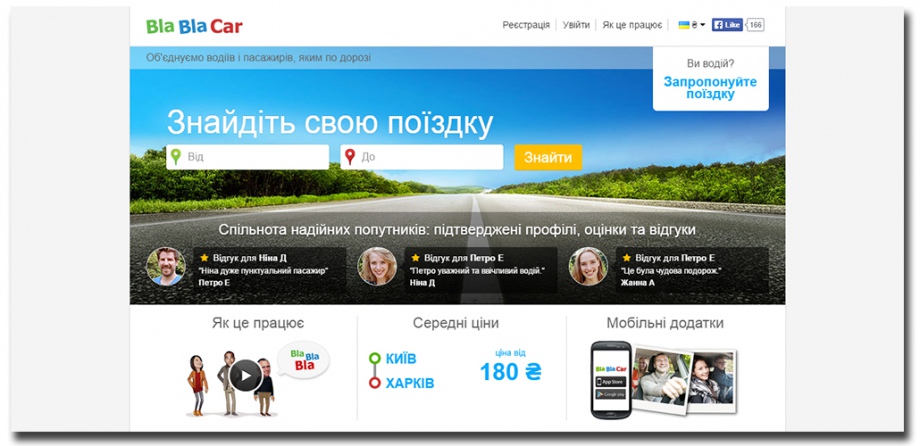 The public economy (or sharing economy) is one of the powerful trends in modern megacities. It is often easier and more profitable for a modern city dweller to use some things together with other people, especially when it comes to cars. Such car-sharing services as Blablacar and GiveMeALift make it easy to find a travel companion who, for example, drives his car every day along the same route as you.
Blablacar is mainly focused on long-distance trips - here you can see in advance who is traveling on the route you need and choose a price that suits you.
But GiveMeALift is better adapted to dynamic movements within the city. At any time, you can use the mobile application to create a request in which indicate exactly where you are and where you need to go. If there is a driver nearby, ready to take a fellow traveler, the system will immediately inform you.
Also, if you are a car driver, you want to save a little on the trip and do not mind the company, drop a request here and the system will try to find a suitable passenger for you.
Pay utility bills on iPay, Plategka, Portmone, EasyPay and Privat24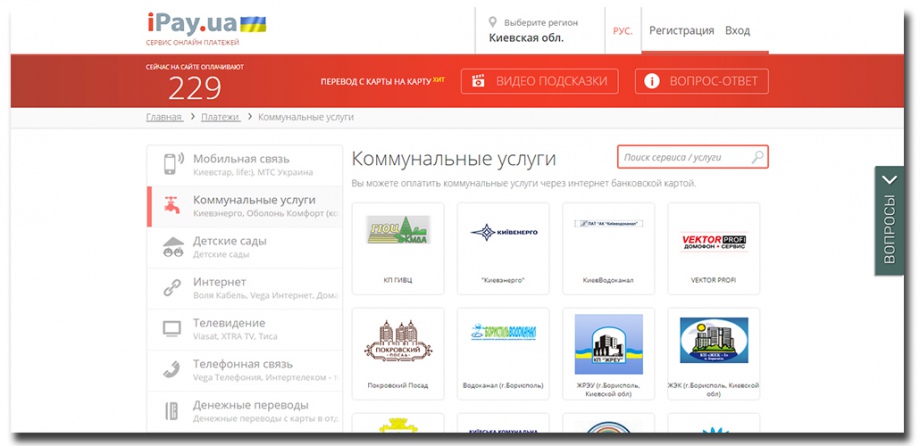 Perhaps today to stand long lines in Oschadbank to pay utility bills can only either staunch conservatives, or people with excess free time. After all, there are already quite a lot of online services with which you can literally do this both from a computer and from a smartphone in a few minutes. The most popular: iPay , Plategka , Portmone , EasyPay and banking systems (for example, Privat24 ).
Most of them are built according to one scheme: you need to register in the system, enter your bank card details and select the service you need to pay. This can be gas, water, electricity, a monthly fee for a phone, a fee for a kindergarten or school, as well as much more. These services are also convenient for those that have the function of regular patches. So you can enter the necessary data only once, then they will be automatically paid monthly from your card.
Some of these services focus on a specific type of payment. For example, on the new Kyivenergo website, you can easily calculate and pay the amount you need to pay for electricity and see statistics on its use. In addition, here you will not be charged for the use of the service, while other online services provide for the commission, although they offer favorable conditions for registered regular users.
Search for a doctor at DOC.ua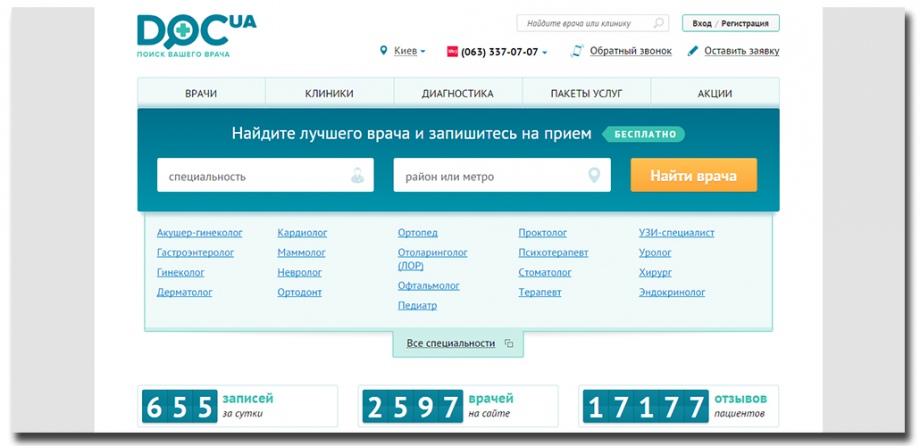 Everyone who has ever visited state clinics knows how difficult it is to get to the right doctor. Typically, city dwellers have to sit out at least two lines in city clinics: first to a therapist, and then to a specialized doctor. Those citizens who are willing to abandon free medicine in favor of a paid, but quick and convenient medical service will definitely appreciate online portals like Doc.ua.
If you are sick, here you can, without leaving your home, find the right qualified specialist for you. First, you can take advantage of the functions of online diagnostics - choose the symptoms that bother you yourself. In accordance with them, the system will tell you which doctors are best to contact. Then you will need to choose one of them, paying mandatory attention to qualifications, work experience, rating and reviews of other users about it. In addition, it is possible to choose a doctor who takes not far from your home. If you have made your choice, immediately make an appointment.
The service is already operating in several large Ukrainian cities: Kiev, Dnepropetrovsk, Nikolaev, Kharkov, Odessa and Lviv. In the near future they plan to expand and launch the project in other cities of Ukraine.
Via pb.platfor.ma