Free online photo and image editor in Russian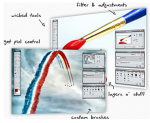 Despite the mention in the title, it will not be about the popular worldwide graphic editor PhotoShop, but about another editor worth mentioning. Just the word Photoshop, like Photoshop online, has become a household name, and they are often used to refer to any image editor. Just as copiers are called "copiers", and diapers - "diapers", despite the fact that these are only the names of manufacturing companies.
On our site you can open and use an online image editing service from a well-known company Pixlr, which in many ways reminds everyone of the well-known Photoshop online. Unlike the online version of PhotoShop, this one works much faster, while offering a wide range of features and capabilities.
Service is absolutely free photo editor in Russian, besides not requiring registration!
Photoshop Online
Pixlr service, like online PhotoShop, is an interactive photo editor that allows you to edit a photo or any other image directly on the Internet without downloading and installing any programs on your computer. Being directly on our site, you can upload and edit a photo: resize and crop a photo, glue photos, add an inscription, adjust brightness and contrast and much more.
For its work, the online editor will only require an Internet connection and a flash plug-in installed in your browser (all recent versions of browsers such as Internet Explorer, Mozilla Firefox and Opera initially have this plug-in in the database, you will not need to install anything).
Vintage Retro Effects Editor
The main advantages of the service are high speed, excellent image quality and a fully Russified menu of the editor. Thanks to a Flash-based system, the speed of downloading and processing images is unmatched on the Internet. No delays and temporary downtime, the editor works fine even at the weakest speeds of the Internet and low-power computers.
Detailed help on all the features of the service, unfortunately, is only in English. But we corrected this flaw and posted on the pages of our site instructions on working in the editor in Russian. It will help you quickly learn the functions and settings of the service and use them to the maximum when creating and editing an image.
A large number of features and functions of the graphical editor make it an indispensable assistant both for solving quite serious image processing tasks requiring precise color settings and using various effects, as well as for simpler actions, for example, creating an avatar for Vkontakte with beautiful lettering and color backing or simple red eye removal from a photo.
Privacy when working with the editor
If your browser supports the Flash 10 version plugin, there is no need to upload your files somewhere, the image for editing will be opened directly in your browser.
If you are using an older version of the plug-in, the file will be uploaded first to the server and then to the program, the server has a fairly well-protected system!
The image that was uploaded is automatically deleted from the server 5 minutes after the end of work with it in the editor.