Free Online Graphic Editors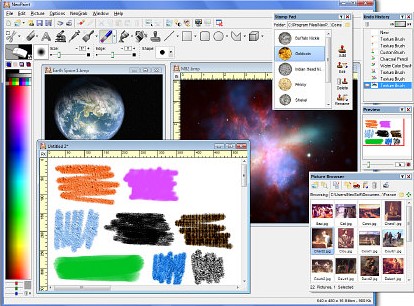 Your attention is a list of online editors.
Free online photo and image editor in Russian
Pixlr service, like online PhotoShop, is an interactive photo editor that allows you to edit a photo or any other image directly on the Internet without downloading and installing any programs on your computer. Being directly on our website, you can upload and edit a photo: resize and crop photos, glue photos, add text, adjust brightness and contrast, and much more.
Photoshop online in Russian and without registration
Avatars for Vkontakte, their own gluing, photo frames, download: graffiti for Vkontakte, wallpapers for desktop, pictures, tools: crop a photo, reduce photo, photo hosting
MyPictureResize.com - online photo editor
Our online photo editor allows you to quickly and easily change photos online. Enlarge or reduce the size of the photo, convert the image to another format, expand the photo, add an inscription on the photo, create an avatar and more.
Smilart Fan Studio
This is a free online photo processing resource downloadable from the FanStudio.ru website. With it, you can in a matter of seconds find the desired image, edit it and send it to the correct address.
aviary
An aviary on a mission to make creation accessible to artists of all genres, from graphic design to audio editing. They are a privately held company headquartered in Long Island, New York, with team members around the world. Their founders also created Worth1000.com, a talented community of 500,000 digital artists who participate in amazing daily contests.
Lunapic
There are many editing options in Lunapic that you can choose to make your photos unique and fun. You have a toolbar where you can edit photos and create something new. LunaPic.com has many animation options, such as animated brilliance, reflections, Groovy animated color change, winking and more.
Phixr
Phixr is a super-easy site editor that allows you to store and edit images. It has all the basic functions for editing photos, as well as some additional features like making your photos sepia-tone or black and white, adding text, adding speech bubbles and sharpening an image.
Photoshop.com
Photoshop.com is the best solution for managing, editing, storing and sharing photos online, with tutorials, inspiration, and more. Photoshop.com is available from any web-enabled computer, compatible mobile phone, and directly from AdobePhotoshopElements 7 and AdobePremiereElements 7 software. With Photoshop.com, you can organize, customize, create, email, display, and store photos.
Picnik
Picnik makes your photos fabulous with easy to use but powerful editing tools. A bunch of effects, fonts, shapes, and frames. It's quick, easy and fun.
roundpic.com
The online tool for creating anti-aliasing angles of images blends them rounded (web 2.0!). It is very suitable for avatars and images.
Splashup
Previously, Fauxto, is a powerful editing tool and photo manager. When using the function of professionals and beginners if you want, this is an easy-to-use editor, works in real time and allows you to edit many images.
FotoFlexer
He is the world's most advanced online digital photo editor. It performs very complex effects, previously available only to professionals using expensive software. Simultaneously.
Picreflect
It is a handy tool on the net that will make a cool reflection to the image. Select the required options, and load the image from the PC or URL to get the reflection.
Pixer.us
You can edit your photos online using only the browser. Upload a photo using the "upload image" form. In a few seconds, the image will be displayed on the screen and you can start playing with it. After you have made the fixing of the photo, click on the "Save" button to load it using your preferred file format.
fotoklassniki.ru
Making a free photo frame or avatar for Odnoklassniki is easy! Upload your favorite photo to the fotoklassniki.ru website to create a frame or avatar, add a super photo effect and text to the photo, select the appropriate effect and get a great avatar!
FOTKA YEAR
These are Over 1350 Photo Effects That You Can Make Online Free.
cooltext.com
Text generator for web pages, and more. If you need an impressive emblem without a lot of project work, simply choose which image you would like, fill out the form, and you will create your own text image on the fly.
Banner code generator, or buttons for website, blog, forum, diary
With this program, you can quickly create an image link with a tooltip. The page after the click will open in a new window.
Drawing
Drawing is one of many of its features, probably the main one, but others are no less important. The project developers came up with many interesting "chips" for which you may want to spend a considerable amount of your free time on Drawi with interest and even delight. On the main page of the project, in principle, you will immediately find everything you need.
Jewelery generator
For your photos and avatar. One interesting flash generator that quickly decorates any avatar or photo of your choice .... This is a good lesson in which, as usual. I'm in the pictures will give explanations on foreign inscriptions on this non-Russian site)) .. So .... let's go ..
Musical Postcard Generator
This generator will help you create your beautifully designed music card even if you do not know the html code. After adding a postcard, you will receive the html code and easily publish it in your diary (blog, website), congratulate your friends. Carefully read the instructions below and correctly enter the required values ​​in the appropriate fields. Good luck
Online makeup selection
Dear girls, the online service, which will be discussed today, will be primarily useful for you! MakeovR will allow you to experiment with your appearance. If you have long been going to change the color of your lipstick, powder, shadows, etc., but did not dare, then this online service will help you safely test hundreds of possible makeup options on yourself. The whole menu is made in English, and so that it is easy for you to navigate, I will provide a translation into Russian of its main points (at the same time I will explain their functionality).
Photofania
This is an amazing resource where you can use photo effects online to create vivid and creative photos. Free photo effects on Photographs give you interesting solutions for creating unique photos. Avatars for contact, etc. social networks, postcards, posters, collages - all this is very easy to do using photo effects online. Using Photofania, you can confidently create works no worse than fashion designers who own photoshop perfectly.
Choose a photo effect!
Your photos - that's what we created picjoke for (photoshop online). You no longer need to study photoshop for months, to understand color corrections, textures, gradients. You do not know what is the difference between vector graphics and raster? This is absolutely not important. Do you like creativity and creativity? We are your humble servants.
Pixlr
Welcome to the most popular online photo editor in the world! 3 online photo editor on the same service. A very good version of this free version of Photoshop with the most essential functions for editing photos and images. For an ordinary user, he is also more suited to the fact that in his settings you can choose any of 30 languages, including Russian! We must pay tribute to the developers of this editor - the translation is done very well, and not through Promt, as is often the case with foreign services))).
Tuxpi Photo Editor
A tool for editing photos. 58 tools. Here you can easily experiment with your pictures, creating a retro picture, a pencil drawing, a fashionable portrait, a demotivator ... Everything is very clear and registration is not required.
piZap
Very easy photo editor.
pho.to
Pho.to has a lot of free online services for editing and improving photos, creating avatars, animations and photo collages, as well as creating photo albums and publishing photos on the Internet. All services are created using our best technologies to make everything that you do with digital photos even more convenient and exciting!
flamingtext
... on THIS SITE in a few minutes without much effort you can make various signs and inscriptions for decoration (do not forget to see samples on all 14 pages) Now the site has many Russian fonts, and a whole field for creating records and logos according to your imagination. The site is simple. Choose a category, click on the selected.
Funphotobox
English-language site, there are about hundreds of original photo masks and frames.
jpgfun
This is an online service that allows you to create photo funny photos, insert your photos into frames and place photos on the covers of magazines for free and without registration. The site has a lot of photo jokes and photo frames. All you need is to select a photo effect, upload your photo and click on the "Create image" button and the photo effect is ready!
vramke.com
This is a free online service that will help you effortlessly insert your photo into a beautiful frame and is completely free. First you need to upload your photo and select the desired set of photo frames. If necessary, you can add different clipart and labels.
photo505
This is a free online service that allows you to create professional photo masks with your photos in seconds. Site in Russian. There is a large selection of photo effects and photo jokes online. Using facial recognition technology
blog gif
Great free online service in french. There are many sections, with many tools.
On-line script generators
42 generators of various purposes for web masters and bloggers in Russian.
Loonapix
Loonapix is ​​a free online service in Russian that allows you to create beautiful frames and collages online. You only need to upload a photo, select the desired frame or effect and adjust the photo to the desired size, all this is done quickly and easily!
slideshow
Create your own slideshow with our wonderful generator. Creating a slideshow has never been easier! Our slideshows are the best way to view photos from special events: weddings, graduations, and others. Creating a slideshow takes only a few minutes.
dumpr
Online collages and effects are easy! You simply choose the effect, upload your photo and admire the result! Service in English
Greetings generator
Service to create a greeting card. Allows you to generate a congratulatory inscription, according to the parameters set by you (Zodiac sign, gender, place of residence, marital status, etc.) As well as insert a photo, select the background color and frame for your postcard
free4design
Choose a frame, calendar or photo effect, click on the picture, upload your photo and decorate it online!
Image Chef
Hundreds of individual cards of your choice.
onservis.ru
The OnServis.ru website offers you a catalog of services "Free online services" in Russian, which presents a variety of interactive services for business and personal use.
Befunky
Befunky is a free photo editor online, in English, which does not even require registration for work. I went to the site and you can immediately start working.
Multator
Multator is an online editor of cartoons in Russian. With the help of our project you can easily draw a cartoon, regardless of your skill.
Big huge labs
We help you to do cool things with your digital photos since 2005.

FOTO Mixer
Photos in the new design
makeoveridea
Virtual beauty salon Upload your photo and try on her makeup and hair.
The collection of links to online graphic editors is constantly updated, as they appear on the network. Come here next time and you will find something new! Leave your links in the comments!