Oat cookies
These cookies are made from whole grain flour and oatmeal, part of the butter is replaced with vegetable fat (organic vegetable shortening - no cholesterol and no trans fats), which makes the cookies more crispy. Dried fruits and nuts can be taken any.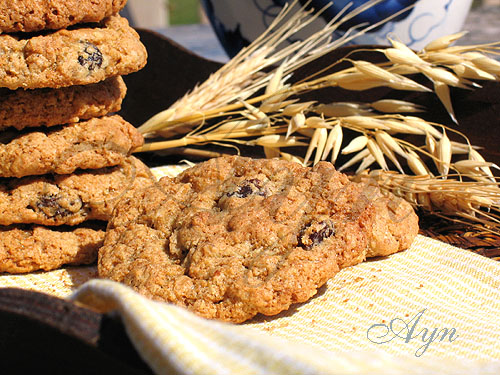 (1 cup = 240 ml)
Original recipe
1/2 cup (110 g) cream of unsalted butter, room temperature
1/2 cup (110 g) vegetable shortening (or butter)
3/4 cup sugar
3/4 cup brown sugar
1 tsp baking powder
1 tsp soda
2 eggs
2 tsp vanilla essence
2 tbsp milk
2 cups whole grain flour
2 cups oatmeal
1/4 cup toasted wheat germ (wheat germ)
1 cup raisins or other dried fruits
1 cup finely chopped nuts
Cooking:
Preheat oven to 190 ° C / 375 ° F.
In a large bowl, beat with a mixer shortening or butter; add sugar, baking powder, soda and beat until white, 3 minutes. Add the eggs one at a time, whisking well after each, add milk and vanilla (stop the mixer several times and clean the walls of the bowl with a spatula). Pour the flour gradually and beat with a mixer.
Add the remaining ingredients (from cereal to nuts) and mix with a wooden spoon (thick dough).
Put the dough with a teaspoon on a baking sheet (grease the baking sheet) at a distance of 5 cm (or nibble off the pieces, ~ 3 cm in diameter).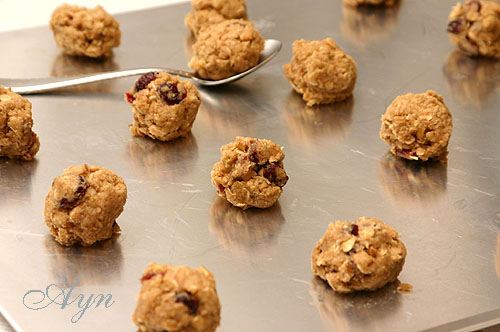 Bake for 10-12 minutes until lightly browned (cookies will be soft in the middle, seemingly unbaked, but will harden after cooling).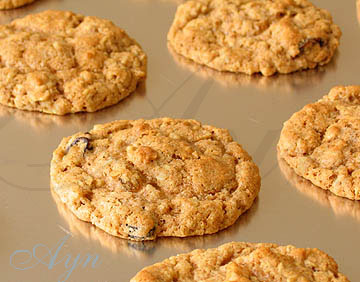 Leave the finished cookies on a baking sheet for 1 minute, and then transfer to a wire rack until completely cooled.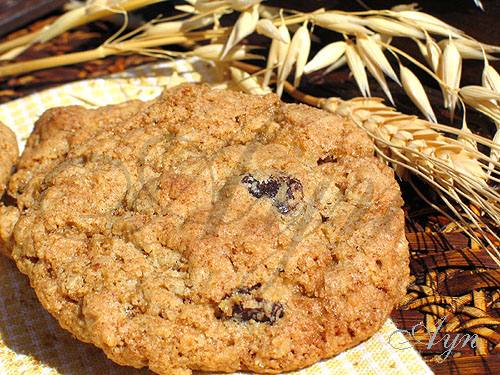 Store in a sealed container.
Enjoy your meal!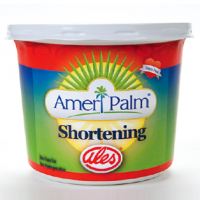 Vegetable shortening like margarine is made from vegetable oil, the only difference is that shortening contains 100% fat, and margarine 60-80% fat. It is better to use Organic shortening (from palm oil - pressed palm oil), since it does not contain trans fats. Trans fat is made when manufacturers add hydrogen to vegetable oil - a process called hydrogenation, when liquid oils turn into solid fats like shortening and hard margarine.