Oatmeal Raisin Cookies (Mom's Recipe)
Depending on the baking time, this oatmeal cookie may be soft or crunchy.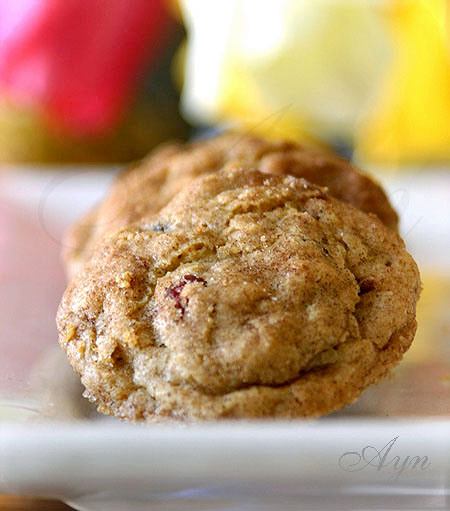 Original recipe:
225 g (2 sticks) butter, room temperature
3/4 cup sugar
3/4 cup brown sugar
2 eggs
1 tsp vanilla essence
1 1/2 cups flour
1/2 cup whole grain flour
1 tsp soda
1/2 tsp salt
1 1/2 cups oatmeal
1 1/2 cups raisins or dried cranberries
Sprinkling
1/4 cup sugar
2 tsp cinnamon
Mom's recipe:
225 g butter (preferably 78% fat)
250 g white sugar (150 white and 100 g brown)
210 gr flour
1/2 tsp salt
80 gr whole grain flour
1 teaspoon of soda
240 gram glass of oatmeal with a hill (130 g of product)
1.5 hours of raisins, cranberries, cherries, cornel, chicken, etc.
Cooking:
Preheat oven to 190 ° C / 375 ° F. Lubricate with oil or cover with baking sheet parchment paper.
Beat butter in a large bowl with a mixer. Gradually add sugar and beat until fluffy.
Add eggs, one at a time, whisking well after each. Add vanilla.
Combine the whisk in a separate bowl with flour, soda and salt. Gradually add to the oil mass. Beat until smooth. Add oatmeal and raisins, mix.
Mix sugar with cinnamon in a saucer.
Form from the dough balls with a diameter of 2-3 cm, roll in sugar with cinnamon and put on a baking sheet at a distance of 5 cm.
Bake for 8-10 minutes, until lightly browned (regardless of the desired structure of the cookie, immediately after baking, it should remain soft in the middle, after cooling, the cookie will harden). Leave the finished cookies on a baking sheet for 1 minute, and then transfer to a wire rack until completely cooled.
Store in a sealed container.
Bon Appetit!