Recipes for cakes and all kinds of pastries
Learning to bake and decorate cakes (recipes and tips)
The correct dough
I use this dough for many cakes, I just change the cream and fillings + I add cocoa to the dough if I need a chocolate cake. The dough goes well with sour cream, curd, butter cream.
2 eggs
1st degree of sugar
200g sour cream
0.5 cans of condensed milk
1 hl soda without a hill (to extinguish with vinegar or lemon juice)
2st. flour
Mix eggs with sugar and whisk with a little whisk, stir in sour cream, condensed milk and soda. Add flour, mix (the dough will be like thick cream), you can add cocoa. From this dough, bake 2 cakes and then cut each into 2 pieces. Oil form and bake until dry matches.
CAKE RECIPES
Quick Sponge Cake

Girls are still a cool recipe for quick biscuit, and do not fool their eggs separately! 2 eggs, 1 tbsp. flour 1 tbsp. sugar, 1 tsp baking powder, 100 gr. oils, 1 / 2st. milk, all whisk and 20 minutes in the oven! Cream any, yesterday tried butter + condensed milk - delicious!

Puchery pincher

2 eggs 1 glass of sugar beat up add half a can of condensed milk. 200g.smetana..one tsp of soda (do not quench) two and a half sakana flour can be a little less .. Half poured the oven into the form and in the second half added cocoa (I I like darker spoons 2.5 .. CREAM 450 g .7 tablespoons of sugar stirred with four tablespoons of cocoa added 3 or 4 tablespoons. sour cream and 100gr.masla..na fire all dissolve and pour ..

Kiev cake

Cakes: 5 whipped protein with a glass of sugar and a glass of powdered sugar. Smear a cold sheet with butter (grate) or cover with parchment paper and put whipped squirrels on it in small portions with a teaspoon.
Put in a warm oven and bake on low heat (130-100)
Cream 1 5 yolks grind with 3/4 cup of sugar 300g. drain oils.
Cream 2 egg grind with 1/2 cup of sugar, mix with a teaspoon of starch or flour, gently, pour a thin stream into boiling milk (1/2 cup), stirring constantly, so that there are no lumps.
When the cream is cool, mix it with cream 1.
Crush and fry 30 walnuts a little (about 200g.)
Put a bowl of baked proteins on a large plate and brush with cream.
Sprinkle with nuts so repeat 3 times. (I got 4 times).
Decorate the cake if desired with cream, chocolate, crushed nuts. I decorated it with melted chocolate, in which I added a little boiled condensed milk and cream. Boca decorated with crushed nuts and chocolate. Put the cake in a cold place for 5-7 hours. Cut with a knife dipped in hot water.
Exit cake about 1kg.200gr. Given its calorie content, enough for a rather big company.
ENJOY YOUR MEAL!
Ingredients: 6 pcs. Egg, sugar 2 and 1/4 cup, powdered sugar 1 cup, oil plums. 320gr., Flour or starch 1chl., Milk 1/2 cup, walnut 30pcs., Chocolate for decoration if desired.

Count ruins

girls found a recipe for hearing-delicious))))
Try awesome delicious cake. But it will take time and patience. But the result is amazing! Even those who are not very fond of meringues, always ask for a bit of an encore. We take 6 eggs (on average, closer to large, size cake). Eggs should not be completely fresh (well, not from under the chicken), be sure to be cold. Separates the whites from the yolks, gently and beat the whites for about 5 minutes. Then we gradually begin to add sugar (but only gradually) at the rate of 60 g of sugar per 1 protein. Stir for about 20 minutes. Then bake small bezushchechki in a cold oven, they should turn out pieces of 100-120. He takes a can of condensed milk from 200-250 grams of butter, finely weave 150 grams of walnuts (namely, walnuts) nuts and begin to create our cake. Lay out a layer of bezushek on a dish, spread each one with cream and sprinkle with nuts, and so on each bezushku until they run out. In the form of a cone. This cake is called "Count ruins". Surely you met him, but this is the real one. I have a recipe for many years, I do not remember from whom. But I am glad my relatives and friends for a very long time.

Cake "summer"

In the full sense of the word, it does not need to be baked, which is very good in the summer when it is hot. I call it simply - jelly.
Ingredients: 1 packet of sour cream (450g), 1g of sugar, 1 bag of instant gelatin, 3 packs of fruit jelly (red, green, yellow), 150-200g of profiteroles (I bought ready-made, you can of course make from choux pastry, but in summer the whole point ) or just a sweet cracker., fruit for decoration.
Preparation: Prepare jelly in advance (red and green), I dilute it with a smaller amount of water to make it better. Beat sour cream with sugar. Gelatin diluted in 0.5 glass of boiling water and gradually pour into the sour cream, without ceasing to beat. Put in the fridge for 5 minutes to begin to thicken slightly, then add the cracker (or profiteroles), cut into cubes, gel into a mold and into the fridge! In principle, it freezes quite quickly. Top with fruit and pour with yellow jelly. Frozen and ready! In the summer, just super! Cool refreshing cake ... While I was writing, I already wanted to ...

Cake "Truffle" (Truffle Cake)

For sponge cakes:
6 yolks
5 proteins
2/3 Art. Sahara
1/2 tsp tartar
2 tbsp. hot water
2 tbsp. cocoa powder
5 tbsp. flour for cakes (cake flour)
2 tbsp. starch

For syrup:
3 tbsp. water
2 tbsp. Sahara
1 tbsp. liqueur

For cream:
150 g dark chocolate
2 tbsp. cream

For candy truffles:
150 g chocolate
1/3 Art. cream
1 tsp liqueur

200 grams of chocolate to cover candy and chips

Cakes.
Preheat oven to 190C. Draw on parchment 8 circles with a diameter of 20 cm.
Beat whites with 1/3 tbsp. sugar to stable peaks.
Mix the yolks with the remaining sugar and beat until the mixture brightens. Continuing to beat, add the cocoa dissolved in hot water.
Sift flour with starch and gently mix in the yolk mass.
Add squirrels in 3 steps.
Put the dough inside the drawn circles (about half a cup in each) and flatten with a spatula.
Bake for 5-8 min. Allow to cool and separate the paper.

Syrup.
Bring water to the boil with sugar. Remove from heat and add liqueur.

Cream.
Its better to start cooking the day before assembling the cake. Bring the cream almost to a boil and pour chopped chocolate over them. Refrigerate in the refrigerator for several hours (or even better all night). On the day of cake assembly, whip the cream until resistant peaks.

Candies.
Pour chopped chocolate with hot cream and mix until chocolate is completely dissolved, add liqueur. Refrigerate in the refrigerator for several hours. Gathering with a teaspoon, roll the chocolate mass into small balls, put them on parchment paper and put them in the freezer for 1 hour. Melt the chocolate. Dip each ball in melted chocolate and leave to freeze.

Assembly.
Moisten each cake with syrup and sandwich cream. Cover the sides and top of the cake with cream. Dusted with chocolate chips and decorate with candy-truffles.

Delicious roll

4 eggs. 125 gr..sahara.50g of flour 50 g of starch 3 tablespoons of cocoa .. baking powder 1 tsp .. whites apart from the yolks beat up .. beat the yolks into there proteins and sifted flour mixed with starch and cocoa .. smooth on a sheet .. for 15 minutes in the oven .. then roll up cool unroll any stuffing ..

Strawberry cake

Dough:
6 eggs
150 gr. Sahara
150 gr. flour

Cream:
300 ml. cream (can sour cream)
2 tbsp. instant pudding (instant)
powdered sugar
finely chopped strawberries

Beat yolks with 1/4 of sugar, add flour. Beat the whites in a strong foam with the remaining sugar and carefully, in portions to make the mass. Bake 3 cakes in the form of 25 cm on oiled paper at 180 degrees.
For cream, whip cream with pudding and powder and add strawberries.
Soak the cooled cakes with strawberry syrup and brandy, spread with cream, leaving some of the cream to spread to the top. Decorate as desired

Napoleon

Cakes: 250 grams of margarine, a little more than 0.5 tbsp. water, flour (I take by eye), and you can add 0.5 tbsp. sour cream. Knead the dough, divide it into 7-9 koloboks and put in the refrigerator for 10-15 minutes. Then bake cakes, beat the dough with a fork, roll thinly.
Cream: 1 l of milk, 3 eggs, 2 tbsp. sugar, 3 tbsp. l flour with a hill, 200 gr plums. oil bag van. Sahara. Milk put on a small fire to boil. Meanwhile, rub eggs with 1 tbsp. sugar and add flour, stir until a homogeneous consistency. When the milk starts to boil, make more fire, and add this mixture to the milk, you need to stir it quickly with a spoon so that the cream does not burn and does not come in lumps. Cream put cool to room temperature.
Drain oil, room temperature beat with 1 tbsp. Sahara. When the cream has cooled, slowly add butter to it, whipping. Bring to a uniform consistency and smear cakes, sprinkle the top and sides of the cake with crumbs. All the cake is ready!

Tropikanka

DOUGH:
2 tablespoons
1 pack of margarine
salt
2 tbsp. flour
8-9 eggs (depending on size)

CREAM:
1 liter sour cream
1.5 st.sahara
1 \ 4 lemon cut finely burnt with skin (if sour cream is rare, add 2-3 bags of thickener for sour cream)

Fruits
Cooking method
Boil water with margarine and salt, pour flour into boiling water and stir terribly at a trot with a spatula in advance to form a homogeneous mass, for there were no lumps. Continue to stir for fire until the dough does not brew and will not otlipat from the walls of the bowl. Remove from heat, stirring to cool in advance warm. Eggs beat in portions of 2-3 pieces. and knead in advance the formation of a homogeneous glisian mass.
Put the mass in the pastry bag and squeeze out the baking paper for which the cake contour is drawn in advance. Draw the outline of the dough, squeezing the tube out of the bag, as thick as a finger. Then we "connect" the contour with membranes. The stove is already in a preheated oven for medium heat near 45-50 minutes, 20-25 do not open the oven. Cakes smeared with cream, laying them for no reason, lay for the membrane crosswise, let it stand in the cold for 3-4 hours (better for the night).
From above you put fruit (kiwi, orange, banana, tangerine, for the beauty of pomegranate seeds if grapes). Pour transparent "Jelly for cake".

SEEDS

0.5 lit. sour milk
0.5 cans of sugar
0,5loboda soda
0.5 glass of oil
2 yolks
how much flour will take (not cool)
We bake, and then while hot we grease: 2 protein + 1st degree of sugar (beat).
I bake gingerbread often according to this recipe, and the form can be made different.

Napoleonchik

Dough:
3 tbsp. flour
250g margarine
1/2 glass of water
Knead the cakes and refrigerate for an hour.

Cream:
2 cups milk
2 cups sugar
3 yolks
2 tbsp. flour
150 gr. oils

Grind the yolks with sugar, add flour, a little hot milk, combine with the remaining milk and bring to a boil. Add cinnamon to taste!

PIE

0.5 water or milk (warm)
0.5 tsp salt
9st. l sugar
1p. Vanilla
6st.l.pods oil
100g of yeast
6-7 st. Moki
First, put the brew to come, and then knead the dough. Cover the bowl with film and put in the fridge for 2 hours. And then sculpt whatever you want.

Rolls

Dough: 4 eggs, 1 tbsp. sugar, 1 tbsp. flour, 1 tsp of baking powder,
3 tbsp. l hot water, 3 tbsp. l sunflower oil.

Beat eggs with sugar until white. In a separate bowl, mix the whisk with sieved. flour with baking powder.
Then gently introduce into the egg mixture. Then stir in the water and oil. Pour the dough on a baking sheet. baking paper and greased. Butter, and bake at temperature. 180 degrees I have an electric oven, I do in the mode of the fan-.

I take about 15-20 minutes.

Remove the biscuit from the oven, remove the paper and roll it hot while still hot.
Allow to cool. Then gently deploy, spread with cream and roll again roll. Decorate as desired.







Cookies Roll

dough:
300g margarine (soft)
300 gr. sour cream
50 gr. yeast
flour
Knead until the dough does not stick to the hands - the dough should be soft, easy to roll.
Divide into 4-6 parts. Put in the fridge for 30 minutes.
Filling:
2 lemons to immerse in boiling water for 1.5 minutes, then mince + 1 cup of sugar.
Roll the dough into rectangles (along the length of the pan), put the stuffing in the middle and pinch it along the edges and in the middle (a long flat rectangle with a seam in the middle (top) is obtained)
I lay on the baking pan along the length of 2 rectangles.
Bake, cut hot into long pieces, sprinkle with sugar.
And that's it! enjoy your meal!

And I make the cream "by eye" (based on 1 roll):
3 tablespoons each: sour cream (or milk), butter, cocoa, sugar - bring to a boil.
Cool slightly. Add 100 grams. Raisins, 100 gr. Walnut nuts and 100-150g. brandy or cherry liqueur.
The cream should not be very thick - so that all the liquid soaked the biscuit, and only chocolate, raisins and nuts remained inside.

The cream is very tasty! And the roll turns out a little wet, juicy. And despite the alcohol content, he is not very "drunk" - children can also be given

Cake Snickers

4 eggs
100 g sugar
1 cup sour cream
3 tbsp. cocoa
1 pack of vanilla sugar
1 pack of baking powder
250 gr.-300 gr. flour

first cream:
1 can of boiled condensed milk
200 gr. butter
200 gr. nuts (i had roasted peanuts)

second cream:
400 gr. 35% fat cream (I took 26% on Health)
2 tbsp. Sahara

Glaze:
3 tablespoons sour cream
2 tablespoons cocoa
5 tablespoons sugar
20 gr. butter.

Oil form bottom

Beat eggs with sugar, add sour cream, add flour, vanilla sugar, baking powder, cocoa and mix everything. Bake the cake at 200 ° C until cooked. Cool and cut into two parts.

Beat the butter with boiled condensed milk, add roasted nuts, stir, put on the cake (leave a little cream for the top cake) and evenly distribute. Beat cream with sugar into a dense mass and spread it gently on butter cream, put the second cake on top (spread it with butter cream a little, and put anointed side on butter cream).

For the glaze:
Sour cream, sugar and cocoa mix, bring to a boil over low heat. Then add oil. Warm icing pour a spoon on the cake. Decorate as desired. The cake should stand for at least 5 hours in the refrigerator

I still soaked the cakes with syrup: 4 tablespoons sugar, 6 tablespoons. water, 3 tablespoons of brandy

---
MASTIC RECIPES
Mastic

2 tablespoons cold water
1.5 tsp of gelatin
1.5 tbsp liquid glucose
2 tsp. glycerol
450 grams of powdered sugar

Pour gelatin with water and let it swell. Then heat gelatin on the stove until it is dissolved, but DO NOT boil, add glucose and glycerin. Stir and add gradually sifted icing sugar, knead mastic first in the bowl, then on the table. That's all.
it is gelatinous mastic ..

mastic or fondant

2 tbsp. l water
1 + 1/2 tsp gelatin (no slides)
1 + 1/2 tbsp. glucose
2 tsp. glycerol
455 gr. sifted icing sugar

1. In slightly warm water, add gelatin, mix, allow to dissolve. Put in a microwave for 8-10 seconds (time depends on the power of the microwave) IMPORTANT! DO NOT allow boiling gelatin, otherwise it should be thrown out immediately.
2. While hot gelatin is poured there, add glycerin and glucose, mix until smooth.
3. Add the icing sugar in parts and knead until it is impossible to stir with a spoon. Then pour the rest of the powder and knead with your hands until smooth.

Marzipan

225 gr ground almonds
230 grams of powdered sugar, sifted
1 tablespoon lemon juice
1 small egg or 1 medium protein
Mix almonds and powder, make a well, pour in lemon juice and an egg (pre-whipped) and knead. You can add almond flavor.
Gelatinous mastic

1.5 tsp gelatin + 2 tbsp. water - in the microwave, but do not bring to a boil
then add 2 tsp. glycerin (or oil) + 1.5 Art. l glucose (honey) - how much powder will take.

---
RECIPES CREAMS
Icing

protein (cold) + 1 stack sah. powder
Butter glaze

The portion is calculated for a product weighing 450 g:
125 g (1/2 cup) of softened unsalted butter
225 g (2 cups) sifted icing sugar
10 ml (2 tsp) milk
5 ml (1 tsp) vanilla essence

This very popular glaze can be quickly made from butter, powdered sugar, flavoring agent and food coloring. Oil glaze looks great on the cake.

Put the butter in a bowl and whisk it with a wooden spoon or electric mixer in a fluffy mass.
Add milk powder and vanilla essence to the butter, as well as (optionally) a flavoring agent. Beat the mass until it becomes homogeneous.

In an even layer, apply the icing on the cake with a metal spatula knife (spatula). You can make patterns from it.

Oil cream

Flavorings

the portion is calculated for a product weighing 350 g
60 ml (4 tbsp.) Of water
75 g (1/3 cup) of refined white granulated sugar
2 egg yolks
150 g (2/3 cup) of softened unsalted butter

Butter cream is an exquisite filling and the basis for cake decorating.
Cooking butter cream takes more time, but it's worth it. This thick and plastic cream is good sandwich cakes, cover the cakes and put on them patterns. The cream remains for several hours at room temperature, but it is better to use it immediately after preparation. Do not whip the cream again, otherwise it will roll.

Pour water into a small saucepan, bring to a boil, remove from the heat and pour the granulated sugar. Heat gently until sugar dissolves.
Boil quickly until the liquid has the consistency of syrup. To test, remove the saucepan from the heat and put a drop of syrup on the convex side of a dry teaspoon. Take another spoon, press to the one with the syrup, and spread to the sides. The syrup should be pulled with a thin thread. If this does not work out, put the saucepan on the fire again, boil quickly and check again in a minute.

Whisk the egg yolks in a bowl. Continuing to beat, slowly pour a sugar syrup in a continuous stream. Beat until mixture is thick, light and cool. Raised mixer tips should leave a mark on the surface.

Beat the butter in a separate bowl until it becomes fluffy. Add the egg mixture to it gradually, beating well after each serving.
Put or pour in your chosen flavor and gently mix all with a spatula.

Protein cream

Protein cream is made correctly in syrup, not sugar. The syrup is brewed to the state - dipping a spoon into the syrup, and then into the cold water should turn out a sticky caramel. Squirrels need to be whipped separately for a very long time, so that there would be not just foam, but thick condensation after that with a thin stream of syrup. And in the end, be sure to add a little citric acid — it also gives the cream a hold. You can still add a little odor for the smell. And now the proportions: 4 protein, 1.5 tbsp. sugar (syrup) And make sure that the yolks do not get, and there is nothing fatty because of this, proteins can not be whipped. This recipe is tested, I studied at the pastry chef, true 7 years ago.

White Chocolate Butter Cream

We will need:
180 gr. chopped white chocolate
2.5 tbsp. flour
250 ml of milk
200 gr. Sahara

200 gr. butter
Vanilla

Pour the milk into the saucepan, add the flour and mix well so that there are no lumps.
Add sugar to milk and put on fire.
Bring the mixture to a boil and cook over low heat until thick, stirring constantly (so as not to burn).
Remove the saucepan from the heat and immediately add the chocolate.
Stir until the chocolate is completely dissolved and cool completely.

Beat the butter with a mixer until white, adding vanillin.
Gradually add chocolate mass to the butter and beat well until smooth.

My notes:
I did not boil the cream on the fire, but in the microwave.
If you have such an opportunity - be sure to try.

Cooking cream in the microwave has significant advantages.
- The cream will cook much faster than on the stove.
(only it is necessary to stir it every 20-30 seconds, especially at the very end)
- There is no risk that the cream will suddenly burn on the bottom.

just before decorating, let the cream stand in the fridge until thick!
DREAMCREAM "Charlotte"

Sugar-384g .; butter-422g .; whole milk, 250g .; 67g eggs; vanilla powder-4g; Cognac-1.6g. Exit 1000g. This cream has excellent taste, has a gentle melting cream. However, its stability during storage due to the presence of such products as milk, eggs, is much lower than creams on powdered sugar and condensed milk.
For this cream is prepared egg-milk syrup. Sugar c milk bring to a boil. Beat eggs for 5-7 minutes so that they do not curl up during the subsequent operation, up to 10% of sugar can be added to the egg mass. Gradually, hot milk with sugar is poured into the cauldron with beaten eggs, with a thin stream, if the milk is poured in immediately, the eggs will be rolled up. The resulting mass is sent to a water bath and boiled at a temperature of 104-105 ° C until thick (about 10 minutes). The egg-milk syrup is filtered and cooled to 20 ° C. Cooling the syrup should be quick, slow cooling can lead to folding eggs, in addition, on the surface of the syrup can form a thick dry crust. To quickly cool the syrup, put the dishes with the syrup in cold water. To avoid a crust, the syrup should be stirred periodically.
Butter is cut into pieces and beat 7 -10 min. on a quiet run, then switch to high speed, gradually add the egg-milk syrup in small portions, brandy, vanilla powder and beat another 10-15 minutes.
Signs of readiness of the cream include a 2.5-fold increase in volume, a smooth-glossy surface with bubbles appearing. The cream, raised on a wooden spatula, should slowly slide off of it, the rapid slipping of the cream indicates that it contains more moisture. Such a cream will not keep its shape well and during storage the syrup may separate from the oil.
Full use of syrup, established by the formulation, testifies to the good quality of the oil and the readiness of the cream. With low quality butter cream looks like a curd mass and when jigging does not retain a clear pattern and shape.
Sometimes Charlotte cream is prepared on condensed milk. It is prepared in the same way, only water is added to the condensed milk, beaten eggs and boiled in a water bath for 2-3 minutes, the mass is well mixed, and then rubbed through a sieve. Quality Requirement:
homogeneous mass of yellowish, well-preserved shape. Chocolate Cream "Charlotte"
Sugar-371g .; butter-382g .; whole milk-247g .; eggs- 66g .; cocoa powder-48g .; 1.4 g vanilla powder; Cognac-1,5g. Exit 1000g.
The cream is made the same way as Charlotte cream, only after adding the egg-milk syrup, sifted cocoa powder is gradually poured in. Here is such a chocolate cream (Ganache)
500 gr cream
500 grams of dark chocolate
50 grams of butter

Heat the cream to be hot, but do not boil !!!
Pour the chopped chocolate and butter and stir until the chocolate and butter are separated. Refrigerate at least 4 hours, but better at night.
Remove from the refrigerator, let stand 10 minutes and beat. All-cream is ready and they can be decorated. Chocolate (black) - 250 g Water - 200 ml
Cream - 300 ml
Butter - 80 g
Sugar (sand) - 80 g
Smash the chocolate into pieces, put in a saucepan, add water and 200 ml of cream. Bring to a boil, stir and boil for 10 min. Cook sugar with 2 tbsp. l water to caramel. Caramel combine with melted chocolate. Add the remaining 100 ml of cream and chopped butter. Whisk with a whisk and pour into dessert glasses. If you wish, you can add 2 tbsp to the cream. l whiskey or rum.

Cream cheese

For the cream.
300ml cream 35%
150g cottage cheese
200g of sugar.

Preparation of cream: Cold cream, beat in cool foam, carefully add sugar and continue to beat with a mixer for 10 minutes. We wipe through the sieve with cottage cheese and add to the cream and gently stir everything. Put in the fridge for 30 minutes.

---
WHERE CAN ONE BUY???
Marshmallow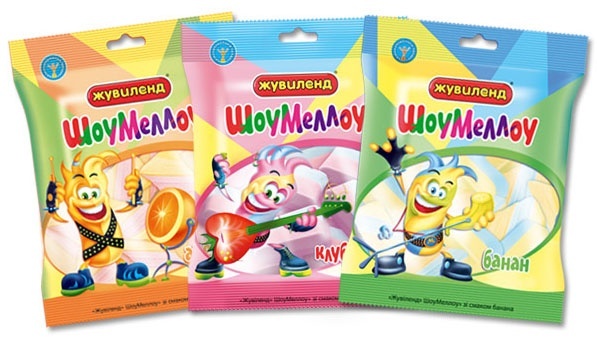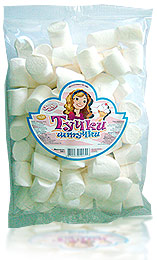 You can buy in the following stores: ATB, Big Spoon, Antoshka, Metro, pl. Ostrovsky, Caravan
Beads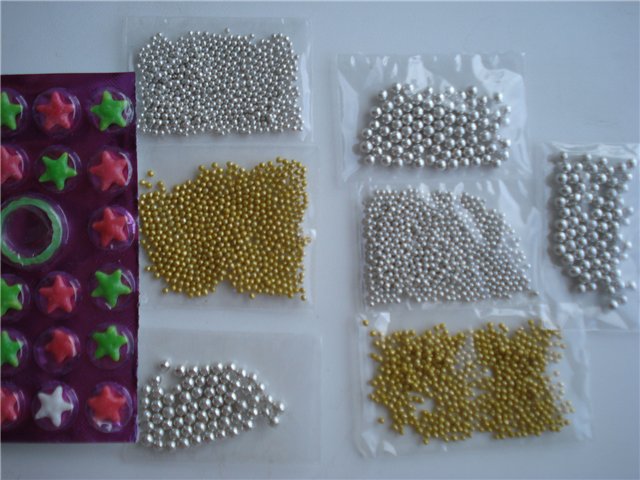 You can buy at the market, where they sell spices, or in specialized departments of supermarkets.
Cream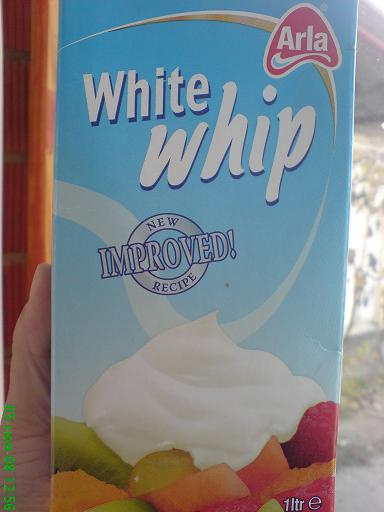 We recommend this cream ...
Dredging (molds)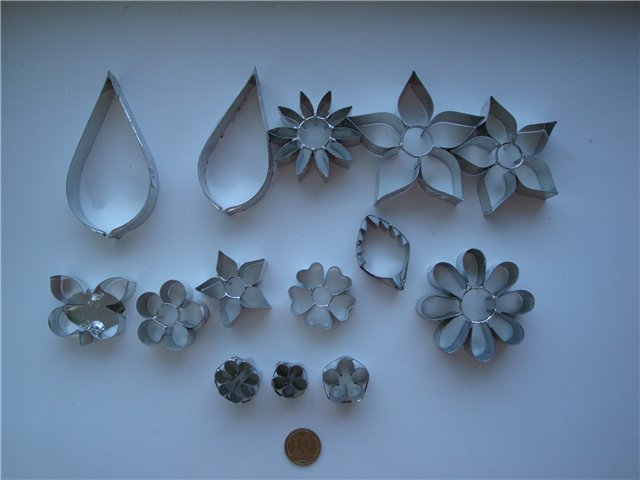 Price and appearance of the grooves for mastic, marzipan, dough
Colorants
Only in the markets (powder: Decorate, Kviten)
Gel, Kandurin In Moscow, well, or in Kiev at a frantic price

Pastry syringes, nozzles on the code., Bags
Pastry syringes, nozzles on the code., Bags can be bought in stores "Contact", Eva, Prostor, Lakeshore, METRO, Caravan



---
STEPS LESSONS AND USEFUL LINKS
Orchid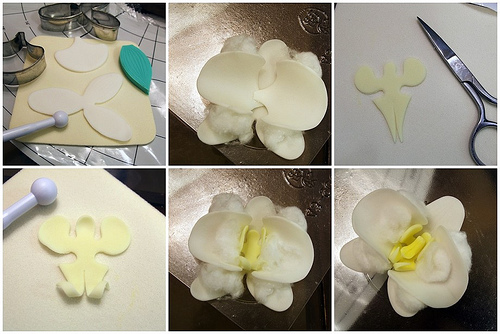 Lilies


First, using the molds cut out 6 petals. If the molds are not, you can make a piece of cardboard and cut with a knife.
Then we treat the edges in the petals so that they are wavy with the help of the back end of a brush or a toothpick, and put them to dry on the bottle so that they acquire a convex shape.
Then we make a pestle, thread it onto a toothpick (to make it easier to attach to the cake) and our dried petals are already attached to it. (First 3 upper petals are in the shape of a Mercedes badge, then 3 lower ones) dip in melted chocolate. But they must dry well, so they must be done in advance!
I left the collected lily to dry in a glass. I first lined it with foil and cellophane so that the lily took the desired shape!

Butterfly


The butterfly is made very simple.
Melt white and black chocolate in a water bath. On the parchment, draw a butterfly and then outline it with melted chocolate, put an object on a thread for shaping and put it in a walker until it freezes!
Numbers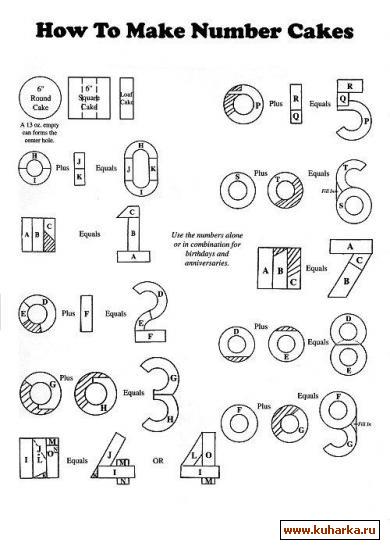 Step by Step Cooking Classes
how to make a handbag / cosmetic bag http://povary.ru/forum/index.php?showtopic=976&st=200
http://povary.ru/forum/index.php?showtopic=976&st=240 shoe
shoe2 http://mymink.5bb.ru/viewtopic.php?id=1577
pillow, ballerina http://povary.ru/forum/index.php?showtopic=976&st=260
hat http://povary.ru/forum/index.php?showtopic=976&st=80&p=25513&#entry25513
wicker basket http://povary.ru/forum/index.php?showtopic=976&st=380
bear - baby http://povary.ru/forum/index.php?showtopic=976&st=420
beautiful lily http://forum.gorod.dp.ua/showthread.php?t=70746
caramel wave http://povary.ru/forum/index.php?showtopic=976&st=180
dog cake http://www.povarenok.ru/recipes/show/12203/
hedgehog cake http://saechka.ru/kuche/batch/125.php
instructions for sculpting figures and colors http://www.kuharka.ru/talk/eat/cake/4736.html
many interesting cakes http://saechka.ru/kitchen/207/
---
VIDEO LESSONS
How to sculpt from mastic
How to cover a cake with mastic