Infographics of possible traps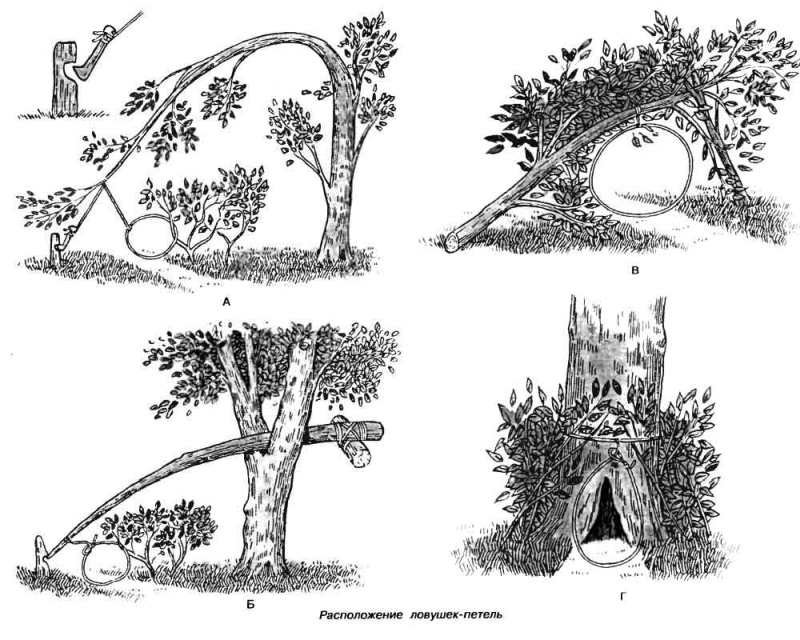 A trap is a technical device for killing or catching a victim. The victim may be a person, an animal. When creating (installing) traps take into account the morals, lifestyle and habits of the victim.
For game fishing, shoes, venters, gates, chokes, traps, baggage, cages, gags, fillies, dippers, decks, hubcaps, koshi, hooks, carcasses, kulems, mice and rats traps, sweeps, hollows, mouths, weights, pestles are used. , loops, dies, leggings, springs or podpruzhki, saky, samolovy, crossbows, clips, snares, slots, chairs, stupas, snares, stabs, cherkany, tents, pits, etc.
For example, a raccoon trap is used, or a raccoon trap ( eng. Raccoon trap ) is a special device for catching raccoons. It is a cage with a slamming door and a lure inside. In many countries, the device is prohibited because it is dangerous to pets.
Traps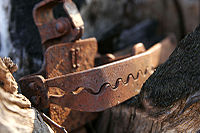 Hare trap
Trap (Türk. Kapkan) is a device for catching animals, consisting of one or several springs, arcs (claws) that capture the neck or paw of an animal and a plate that activates the trap when pressed. The principal feature of the trap design is the impossibility of pushing the arcs of the actuated device by applying an effort directly to them (the opening is blocked), otherwise a large beast, for example, a bear, could easily be released; to free the victim and bring the trap into a cocked state, it is necessary to additionally act on the cocking mechanism, sometimes with the help of a special lever. A cable or chain is used to hold the trap with the caught beast in place.
Claw compression forces lead to incision of the skin, damage to the tendons, as well as dislocation of the joints, fracture of the bones and even tearing of the limb as a result of attempts by the animal to break free. Caught animal dies within a few days from injuries, pain and - in the cold season - frostbite.
The law in many countries either completely prohibits the installation of traps, or obliges owners to check them every 24 hours. The use of traps is permitted, in particular, in Russia, Canada, Ukraine and the United States.
Bird traps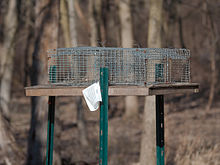 Bird trap
For catching of songbirds, westerners, traps, onions, donuts, samokroy, hiding places, etc. are used.
Birds of prey are caught in bell nets, kutni, tours, etc.
A popular bird trap is bait fish of the same species.
For hunting grouse, black grouse and wood grouse use popruzhok and jump (snare on birds).
Via Last Day Club & wiki