Disposal of energy-saving lamps. Addresses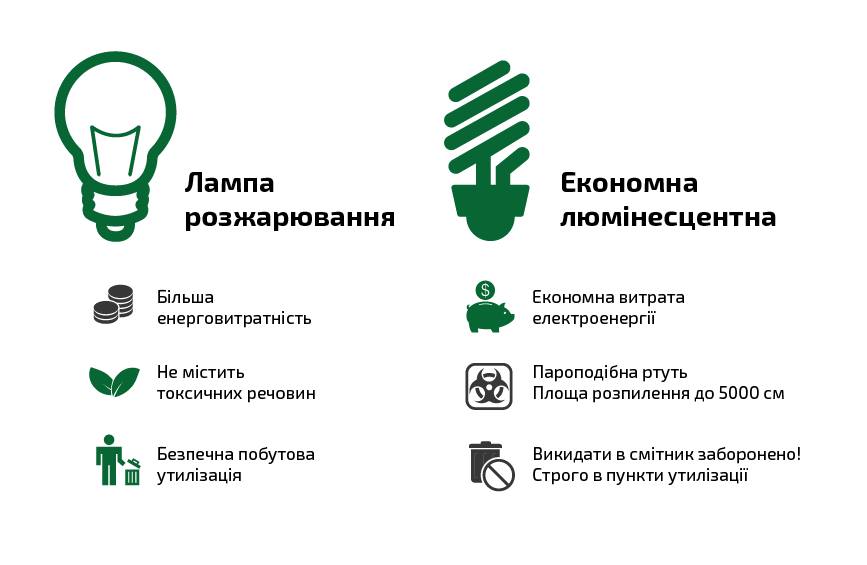 Used batteries and energy-saving bulbs should never be thrown into garbage bins. The toxic substances that they contain require special disposal. And in the landfills of household waste for many years, toxic fumes will exude into the environment.
Not many people know what an ordinary energy-saving light bulb is. In fact, this is a glass spiral, inside of which there are mercury vapor, and a special layer of a substance called a phosphor is deposited on the walls. Under the action of an electric discharge, mercury vapor emits ultraviolet rays, which in turn cause the phosphor deposited on the tube wall to emit light. Pure mercury alone is not so dangerous. If you pour a bucket of mercury, then the spot of contact with air will be about 300 square centimeters.
In a fluorescent lamp, mercury is in such a finely dispersed state that the contact area of ​​the microspheres of mercury with air will be about five thousand square centimeters! Moreover, these vapors do not dissolve in air, but "freeze" for a long time. In the body, mercury vapors accumulate and "hit" the central nervous system, kidneys. Mercury poisoning is especially dangerous for children.
Energy-saving light bulbs, although they are expensive, but help to save: they are characterized by low energy consumption and high levels of lighting. Everyone who uses such bulbs saw an icon on the packaging that indicates that such a bulb should not be thrown into the trash can.
Experts say that in Ukraine only 2% of people read the instructions for using fluorescent lamps and consciously want to hand over such lamps according to the rules for recycling. But there are no collection points and disposal systems for mercury-containing lamps in Ukraine. Therefore, hazardous lamps, along with household waste, are brought to a garbage can, where mercury enters the soil, or to a waste incineration plant, where such lamps are burnt, or, at best, they will be taken away and delivered for industrial processing.
And environmentalists say that broken fluorescent lamps began to be found in rivers, forests and near garbage cans more and more often.
More dangerous than garbage
Each discharge lamp contains a toxic metal - mercury. It is considered one of the most toxic substances known to humans. At the same time, manufacturers and doctors assure that there is no danger when using a mercury lamp, even if it breaks in the room: it is enough to ventilate the rooms and wipe the floor with a solution of potassium permanganate - the amount of toxic metal vapors is not significant here. If you do not limit your field of view to the garbage can, but look at the problem globally, the picture is not so attractive: each lamp contains from 4 to 150 mg of mercury.
According to experts, if you multiply this amount by the population of Ukraine and the number of lamps per each Ukrainian (at home and at work), then annually more than 500 kilograms of mercury (!) Fall into Ukrainian landfills. At the same time, only one gram of mercury is in an environment that can lead to pollution (exceeding the level of maximum permissible concentrations) of more than 3300000 m3 of air or 200000 m3 of water.
Even its meager doses can cause acute physical and mental disorders, in particular, micromercurialism is a special type of mercury poisoning - a disease that occurs when a person is exposed to mercury concentrations for a long time, much less than the maximum permissible.
Something about Mercury
Mercury is considered especially dangerous through its ability to influence not only the physical condition of a person, but also its mental health. Under the influence of insignificant concentrations, a person loses working capacity, cannot concentrate, experiences constant headaches and irritability, sleeps poorly. The influence of large concentrations can completely destroy a person: a person cannot understand whether she is full or hungry, in a good mood or in a bad one.
With severe mercury poisoning, a slight tremor of the fingers and hands can develop into a complete upset of muscle work - a person cannot walk and even eat on his own. In addition, severe poisoning can lead to madness. Pregnant women and children are especially vulnerable to this toxic metal. Recently, pregnant women are less and less recommended to consume fish, so useful minerals are so necessary for pregnant women, because of the excessive content of mercury in the fish. Mercury easily overcomes the mother's natural barrier — the placenta — and enters the baby's body.
In addition, breast milk of a mother may be the cause of mercury poisoning. Europe is ready to abandon mercury. For example, authorities in Norway and Sweden have banned the use of mercury in production, as well as its import and export. The same ban will come into force in the United States in 2010.
This means that in these countries traditionally the "mercury industries" will be forced to do without this toxic metal: alternative mercury-free technologies will need to be used in dentistry, in laboratory tests and in the chlor-alkali industry. In addition, in 2007, the EU countries banned the manufacture of thermometers containing mercury in order to reduce mercury circulation in the environment. By the way, in the USA mercury thermometers were outlawed back in 2002.
Good to know
As it turned out, manufacturers are not too conscientious in fulfilling their reporting responsibilities. Most manufacturers of energy-saving lamps do not comply with the requirements and do not inform consumers that their products contain toxic gas vapors. Of course, these bulbs are advertised as energy-saving and environmentally friendly, they can be found marking all countries of the world - German, Polish, American ... except for the proper Ukrainian.
They have different brands, for example, that the package (cardboard box) is made of recycled paper, but in fact none of these beautiful packages informs the consumer about what to do if, for example, the lamp breaks in the room and mercury will pour out, and also does not inform what to do after the bulb fails.
And only a few manufacturers from the few dozen that are now on the Ukrainian market warn that such a lamp should not be thrown into the trash. And in some manufacturers, the ban prohibition sign is contained under the bottom cover of the package - where it is unlikely that anyone will ever notice it.
Addresses where you can and should take old lamps
Operational Rescue Service. Kiev, st.Zhelyanskaya, 26a

(entrance from 34 Antonovich St.). Tel

044) 289-70-13 (around the clock), tel / fax: 289-71-24. The head of the service is Didenko Vladimir Ivanovich. Waste energy-saving lamps, mercury thermometers, batteries are accepted.
TOV "DEMIKON" Kiev, tel .: (044) 4230571, (044) 4228914, st. Krimsky Academician 27

.
Katran Company, Kiev, tel .: (044) 468-18-32, (067) 286-11-44, Moskovsky pr. 8

.
NPP Ecosphere LLC , Kharkov, 1 Gagarina Ave., building 416, tel. (057) 717-74-92, 758-58-08, fax 754-42-77, 757-47-65, performs the collection and transportation of industrial waste of any volume of all hazard classes for their subsequent disposal or disposal, including spent mercury, devices containing mercury, spent fluorescent lamps.
PKF "NERO" Kherson , 79, Ukraine, tel. (80552) 26-26-67, fax 26-26-67, receives waste fluorescent lamps and mercury-containing devices.
LLC Ecotek Kharkov , Frunze, 10, of. 13, tel. (38 (057)) 7164287, 7164288, fax 7164287, collects and removes hazardous waste, including fluorescent lamps and DRL, as well as devices containing mercury; spent mercury.
Victoria LLC, Kharkov , Student 20, 25, tel. (057) 714-07-76, fax 717-03-64, provides recycling services: mercury-containing lamps and mercury-filled devices, other waste containing mercury.
RAF-PLUS Odessa , Kovalevsky, 29a, off.11, tel. (38048) 7173761, fax 7173775, offers services for the disposal of mercury-containing waste.
State specialized motor transport enterprise for the transport of dangerous goods of the Institute of Scintillation Materials of the National Academy of Sciences of Ukraine Kharkov , st. Plekhanovskaya, 18, tel. (0572) 588929. The company performs work related to the disposal (collection, transportation, storage, processing and disposal) of hazardous waste of all hazard classes, including spent mercury-containing lamps and devices, mercury and its compounds
LLC "Eco-Standard" Kharkov , per. Valkovsky, 6, tel. (0572) 8-050-4020909, fax 546575, provides services for the removal and further disposal of waste of all hazard classes, including mercury-containing.
LLC "Green Port" Odessa , Customs Square 1, tel. (048) 729-31-34.729-44-20, fax 729-30-07, receives waste fluorescent lamps, oily waste (used oils), worn tires and other rubber products.
MVKP "Viking" Nikolaev , st. Metallurgists, 26A, apt. 2, tel. (8 (0512)) 25-93-47, fax 25-92-47, provides services to enterprises and organizations of Ukraine in the collection, storage, transportation of mercury-containing lamps, devices and metallic mercury for the purpose of their further disposal.
LLC "Victoria" Kharkov , st. Studencheskaya, 20, 23, tel. (057) 717-03-64, fax 717-07-76, provides transportation services for mercury-containing wastes (devices, lamps, sludges), oil waste, used tires, used batteries to disposal sites, which is carried out partner enterprises. There is a branch in the city of Kerch.
Operational and Rescue Service of Kharkov , per. Teatralnaya 12, tel. (057) 706-43-07, works on re-packing unsuitable pesticides, eliminating mercury pollution (demercurization).
Poltava demercurization plant, Poltava , st. Zavodskaya, 3, 206, tel. (0532) 191016, fax 501375, we offer services for the disposal of waste gas discharge lamps.
LLC "Enterprise" Ecology ", Donetsk , 50th Guards Division, 17, Tel. (0622) 941420 acceptance for disposal of waste fluorescent and other mercury-containing lamps.
ELGA LLP, Shostka Sumy region , Lenin str., 59 PO Box 96, tel. (+ 3805449) 70022, conducts disposal of mercury lamps, carries out demercurization of premises, transport.
MCHP "OCHAG", Lugansk , apt. Dimitrova 23, tel. (0642) 420-630, fax 543-986, utilizes fluorescent and mercury-containing lamps.
LLC "Nikitrtut" Gorlovka Donetsk region, st. Voznesensky, 20, tel. (06242) 4-12-08, (062) 333-61-01, 333-60-20, provides services for the disposal of all types of mercury-containing waste (excluding organic compounds of mercury): sludge from various industries, catalysts, filters, sorbents, fragments of building structures, soil contaminated with mercury, lamps with mercury filling, thermometers and devices filled with mercury, mercury rectifiers, chemical current sources, etc. The cost of disposal including VAT: 600-2700 UAH. per ton; UAH 0.24 for 1 lamp. The company acquires spent and expired mercury at a price of 2-8 UAH. per 1 kg (including VAT).
State Specialized Road Transport Enterprise for the Transport of Dangerous Goods (SAP POG), Kharkiv , st. Plekhanovskaya, 18. Tel./fax (0572) 177-483, 177-476. The company carries out work (identification, reloading, loading, transportation, unloading, disposal, disposal, etc.) related to hazardous production wastes, including: waste mercury-containing lamps and devices, oils, batteries, acids, alkalis, solvents; waste galvanic and thermal production; unsuitable or expired chemical preparations; other industrial wastes.
NPP Zaporizhpromekologiya Zaporizhia e, ul. Istomina, 108a, tel. +380 67 2712525, + 380 95 2333244 deals with the disposal of fluorescent and energy-saving lamps.
LLC "Firma Diola", Poltava , Zavodskaya St., 3, tel. (532) 519143, (67) 5300249 is engaged in the processing of mercury-containing devices
Shop "Bezpeka", Kirovograd , Sovetskaya St., 1a - acceptance of waste batteries.