Posters on small arms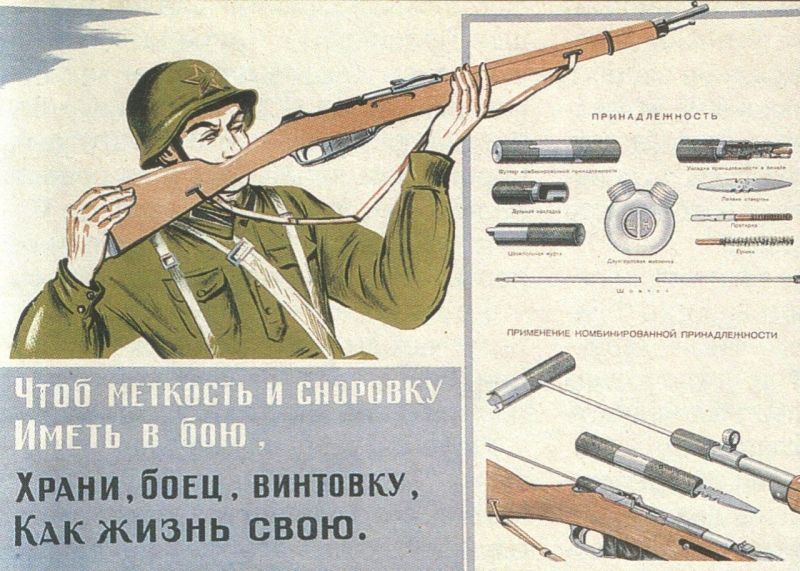 Small arms - barrel weapons for firing bullets or other striking elements. Depending on the source of energy, a firearm, pneumatic, mechanical and electric small arms are distinguished for throwing the injuring element. GOST 28653-90 defines small arms as a barrel with a caliber of less than 20 mm, intended for throwing bullets, shot or grains.
Firearms are kinetic weapons in which the force of pressure of gases generated by the combustion of propellant (propellant) or special combustible mixtures is used to accelerate and eject a projectile (mines, bullets) from the barrel bore. It combines a means of direct destruction (an artillery shell, a mine, a bullet) and a means of throwing them toward the target (gun, mortar, machine gun, etc.). It is subdivided into artillery, small arms and grenade launchers.
9 mm Makarov pistol

Hand-held anti-tank grenade launcher

5.45 mm AK-74M Kalashnikov assault rifle

5.45 mm Hand-held bullet Kalashnikov RPK-74M

7.62 mm Kalashnikov machine guns PKM, PKT

7,62 mm Dragunov sniper rifle

30 mm Automatic grenade launcher AGS-17

Grenade launcher GP-25

Hand Shrapnel Grenades

40 mm Shots to barrels and special grenade launchers

Hand-held anti-tank grenade launcher RPG-7

Shot of PG-7V

Hand-held anti-tank grenade launcher RPG-7D

AKMAS Automatic Kalashnikov

7.62 mm The Kalashnikov RPK machine gun

23 mm Special carbine KS-23

9 mm Special small-sized submachine gun PP-90

7,62 mm Self-loading pistol PSS (6-p-28)

7,62 mm Sniper self-loading rifle IED (OTS-03)

9 mm Automatic special AS "VAL" (6-p-30)

9 mm Automatic special 9-A-91

7.62 mm Scout knife shooting NRS-2

9 mm Self-loading pistol for silent and flameless shooting "PB" (6-p-9)

9 mm Pistol machine gun PP-91 "Cedar"

9x19 mm pistol GSh-18

9 mm P-96M pistol

12x7 Sniper Rifle OSV-96

12,7 mm Sniper rifle OSV-96

DS3 sight, Cartridges, Accessory, rifle carrying case, store cover

DS4 and DS6 Night Vision Scopes

Comparative evaluation of the effectiveness of grenade launcher systems