25 inexpensive ways to take children for the whole summer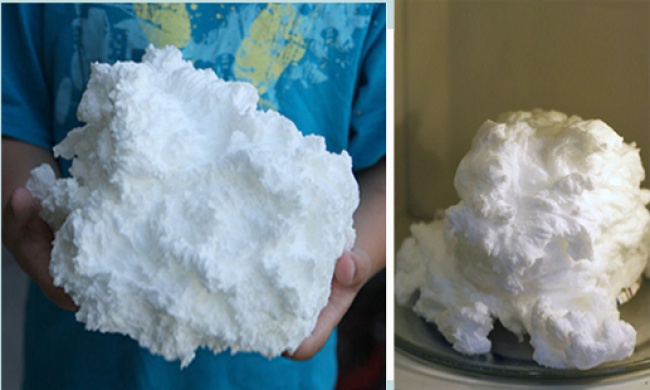 To invent entertainment for your child is an invaluable experience. Especially when it can be done without spending money.
We offer you a selection of unusual, but at the same time simple ways to take children.
1. Make a roadway for machines from the adhesive tape.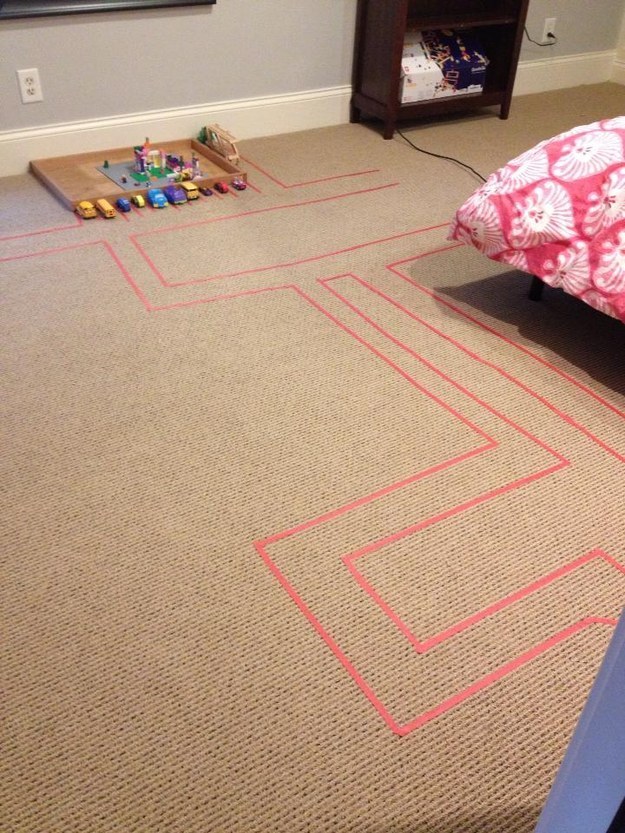 2. Insulating tape can also be used as an alternative to chalks.
"Divide" the field for classics or any other game - it will take your child for a long time.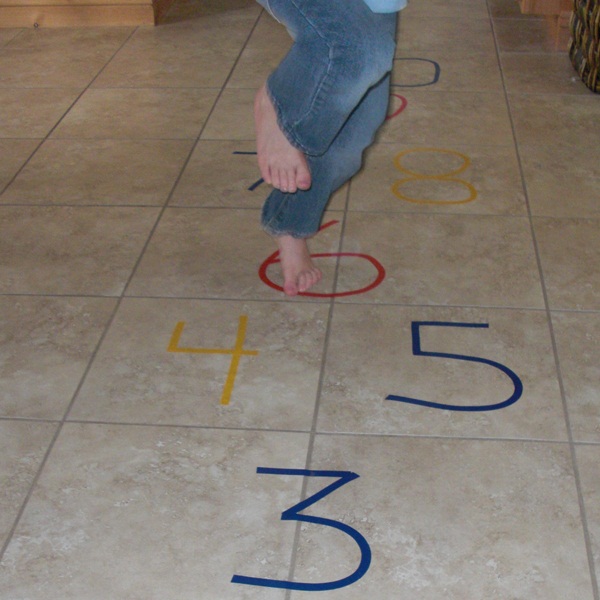 3. Several sponges for dishes and a pair of colored crayons - all that is needed for an impromptu darts tournament.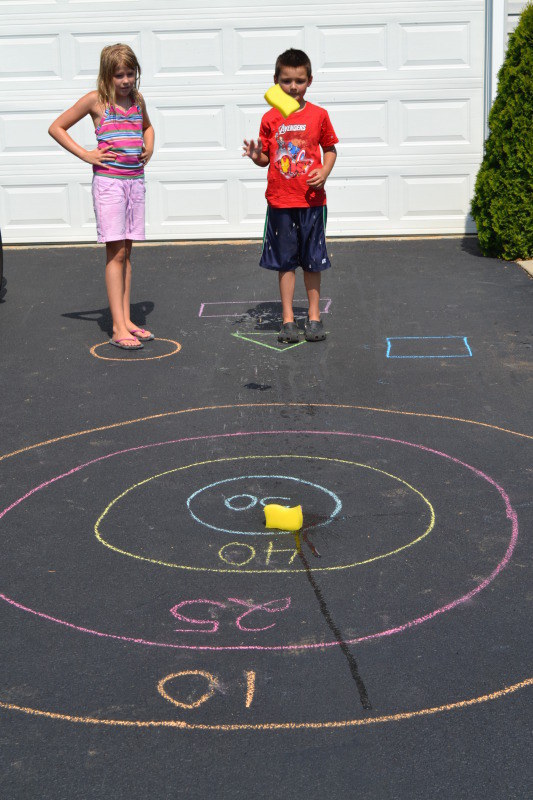 4. Do you remember paper dolls for carving, to which various clothes and accessories were applied?
You can make the game of dressing a bit more realistic.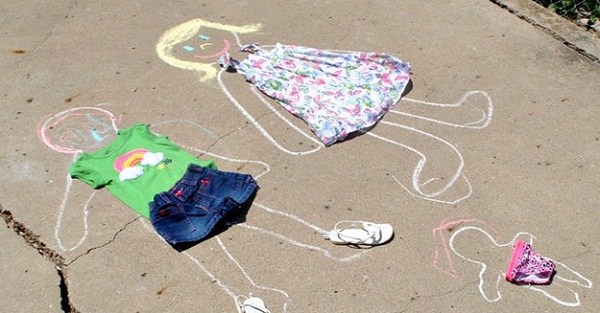 5. Exploding packages with paint will turn the roads near your house into a real work of art.
To make colored bombs, you will need:
packages with Zip-lock;
corn starch;
food coloring or watercolor;
vinegar;
soda;
paper towels or napkins.
Mix the starch, vinegar and dye and fill the mixture with one-third of the pack. Then pour the soda into the middle of the napkin and form a bomb from it. Put a bomb in the package and seal the bag tightly. Then shake the contents well. The package will start to swell and in a few minutes there will be an explosion, which will color the streets with rainbow colors.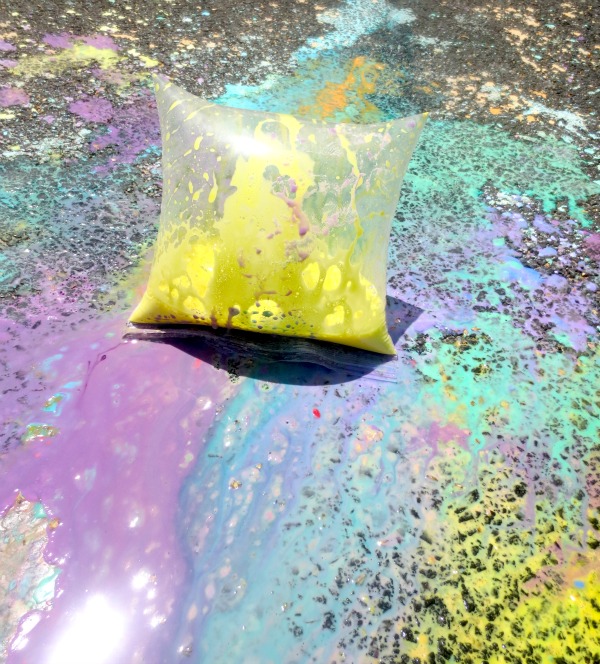 6. Interesting and colorful drawings will be obtained if you paint with food coloring on liquid glue.
As a "canvas" you can use plastic covers from sour cream or cheese.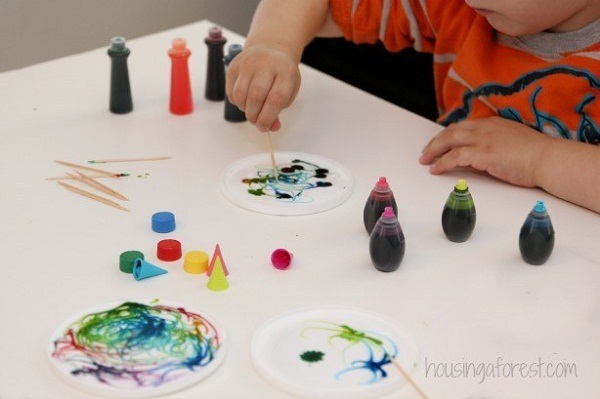 7. Another way to introduce the child to the creativity with the help of bubble bags, paints and paper (an old piece of wallpaper will do).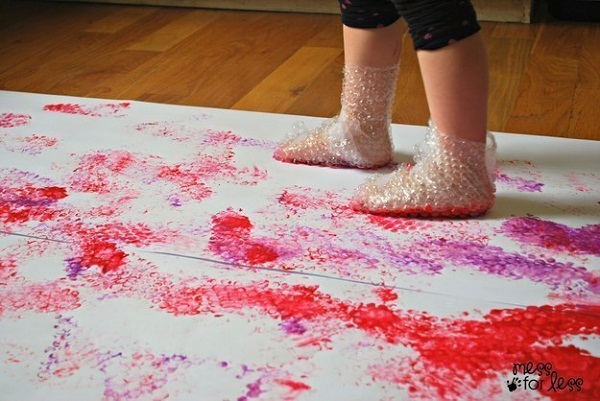 8. Make a tarpaulin to play the ball yourself.
You will need a tarp, a rope, scissors, a marker and an adhesive tape.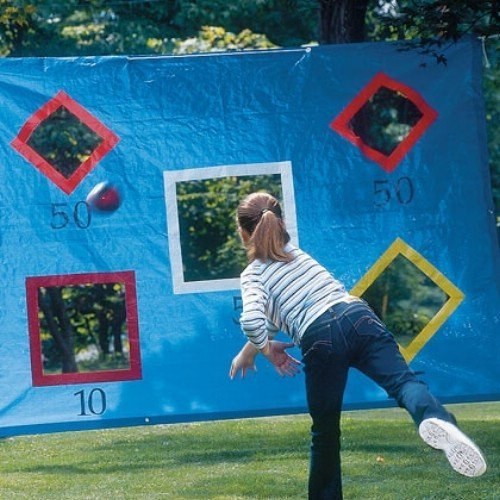 9. Build a tower of chopped sponges.
This lesson will calm the child who is rustling.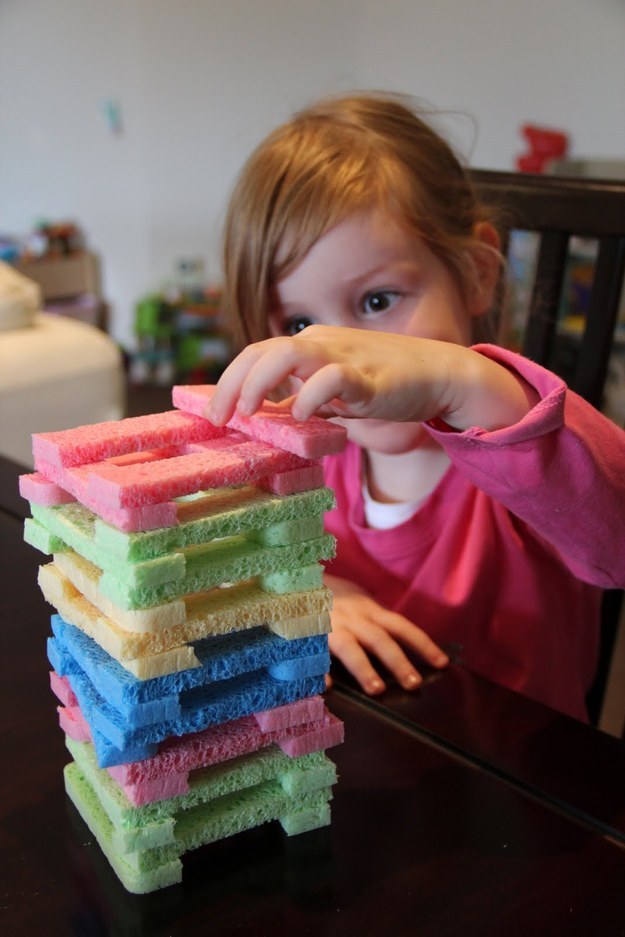 10. Make a river of foil and a bottle of water.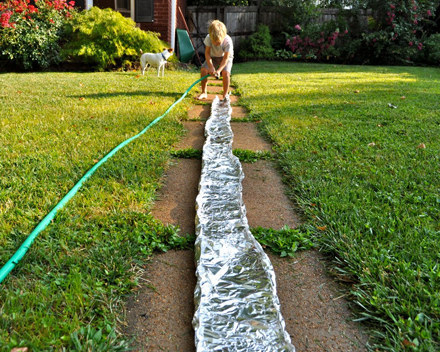 11. Attach the sleeve from the paper towel to the wall.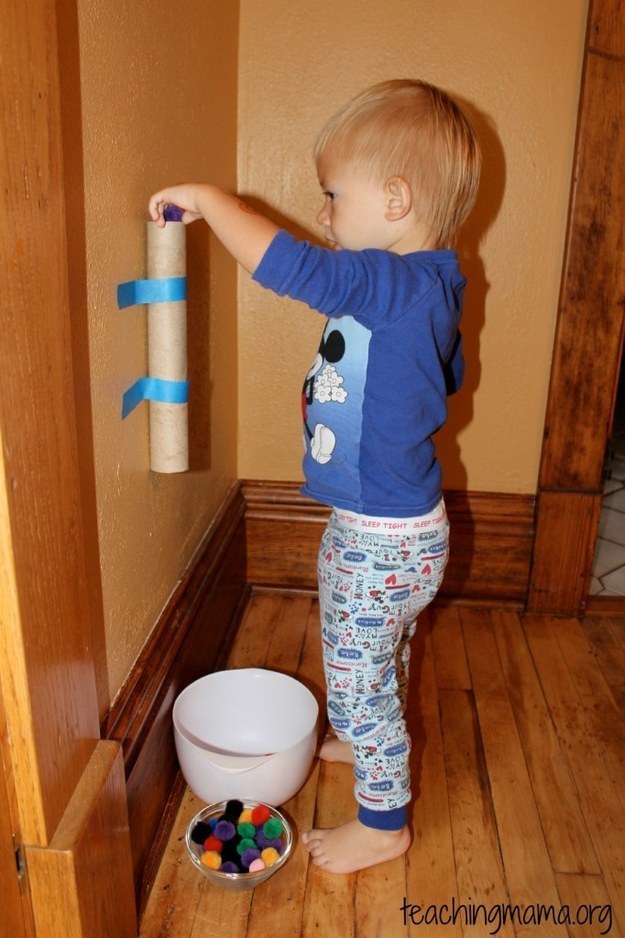 12. If you have a piece of sacking lying around, make a canvas for embroidery.
This lesson will be useful for the development of fine motor skills.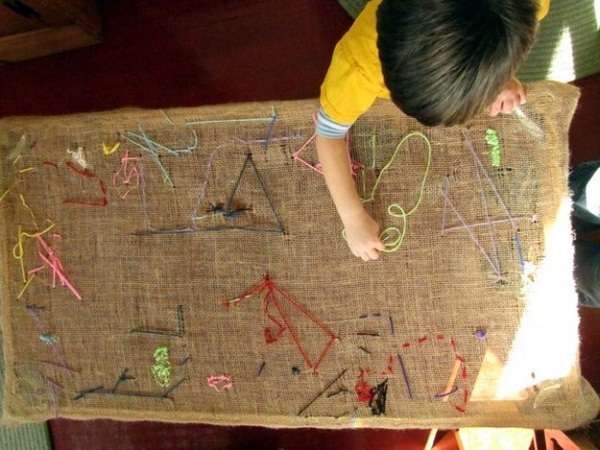 13. Do you remember how you painted with chopsticks in the sand on the sand? To reproduce this lesson at home, use a box filled with sugar, and a pencil.
You can print the letters and ask the child to redraw them.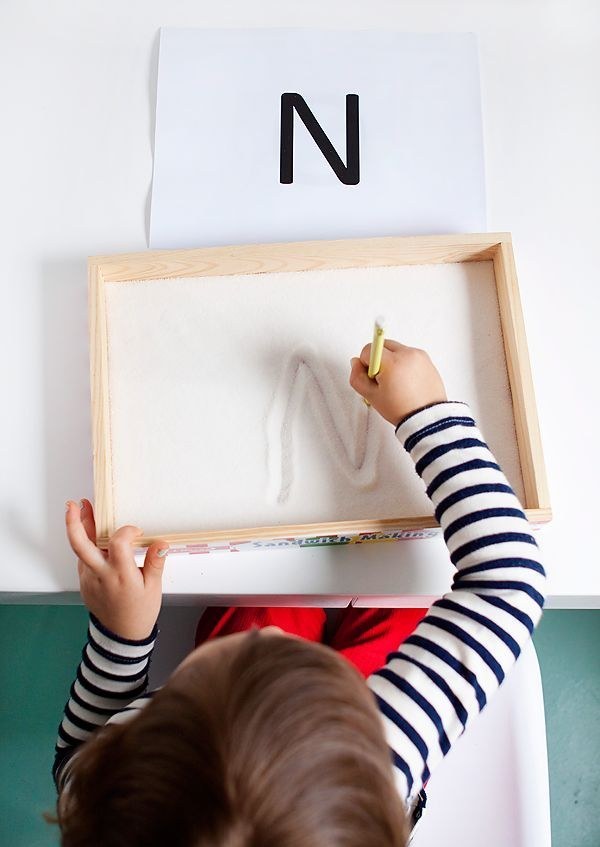 14. Beat the tent city. And do not forget to build a fire.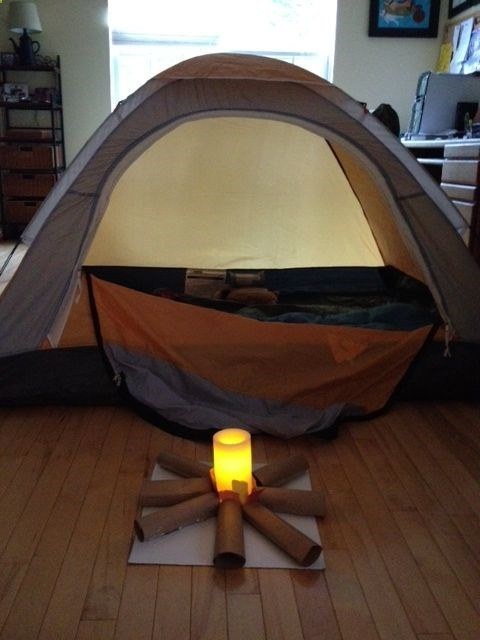 15. Make a jet balloon.
You will need:
rope or fishing line (about 2 meters);
balloon;
2 chairs;
a straw for cocktails;
Scotch;
scissors.
Pull the rope between two chairs, beforehand passing it into the straw. Blow the balloon (but do not tie it) and stick it with a stick to the straw. Let's release the ball ... and launch the rocket!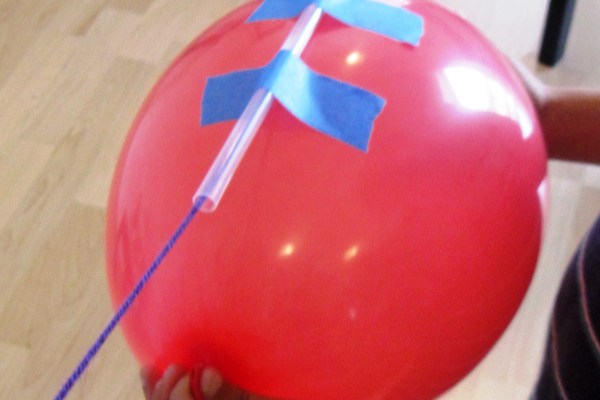 16. Arrange a home bowling tournament from improvised items.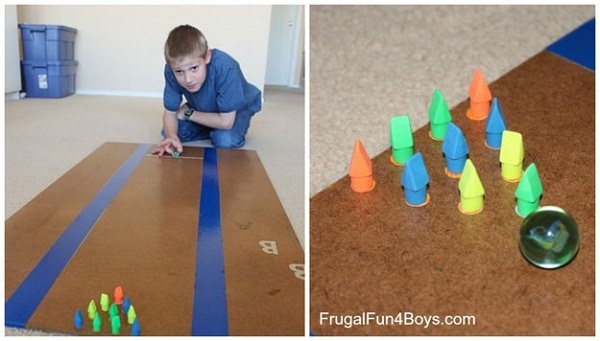 17. A skillfully attached rope will make your children feel like superheroes.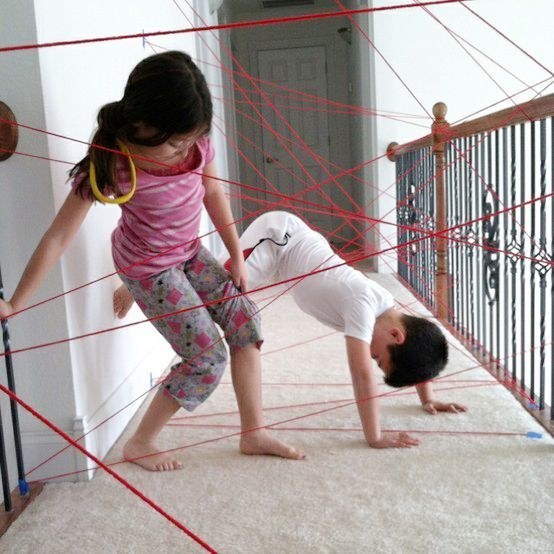 18. Put the soap in the microwave and give your child a soapy cloud.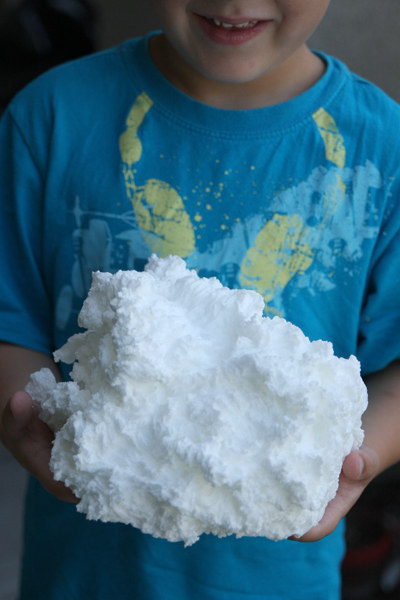 19. Arrange a tennis competition with disposable plates, ice cream sticks and a balloon.
Most importantly, with such a ball you do not risk breaking a family vase.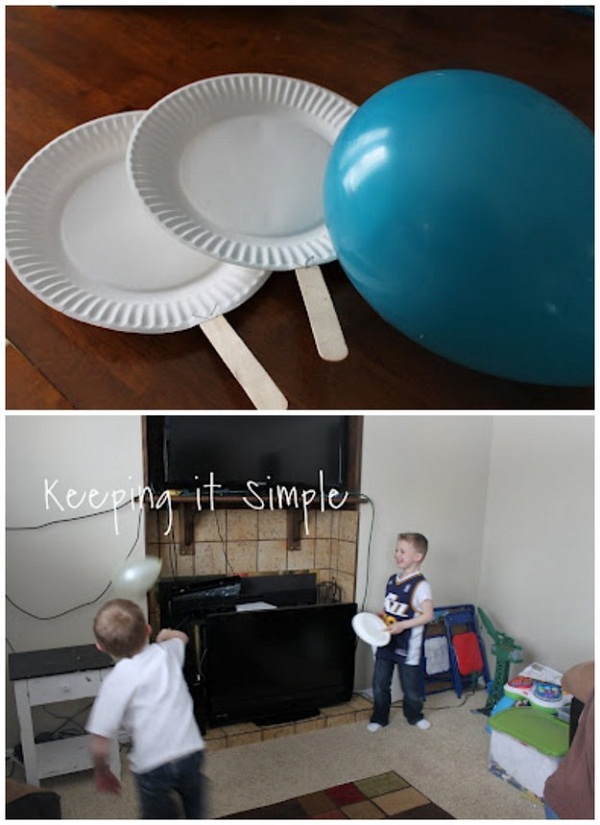 20. Build a "web" of adhesive tape.
You can use bullets from old newspapers as shells.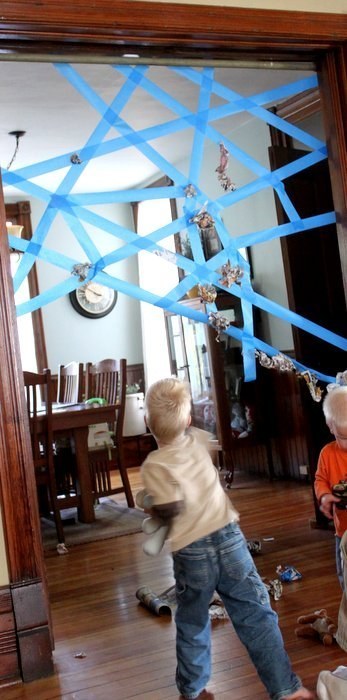 21. If you allow the dimensions of the apartment - turn the stairs into a hill.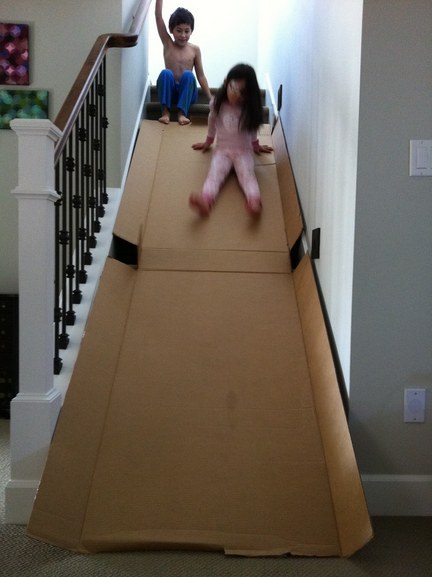 22. Make a rainbow snake from soap bubbles.
You will need:
plastic bottle;
balloon;
sock;
adhesive tape;
food colorings;
dishwashing liquid.
Cut the bottom of the bottle and pull the sock onto the resulting hole. Secure the sock with adhesive tape. Baste the toe with food coloring. Mix the dishwashing detergent with a little water. Dip a sock into this mixture and start blowing rainbow bubbles.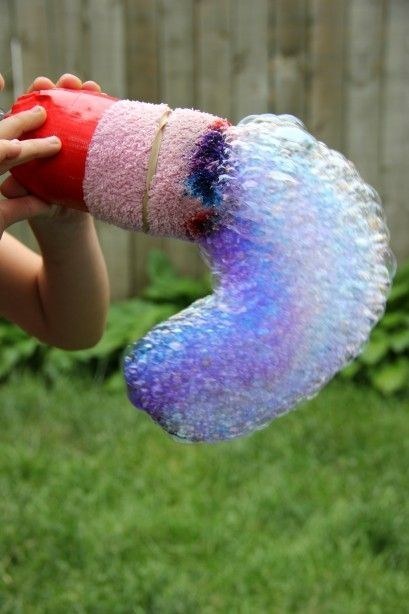 23. Another entertainment with soap bubbles.
To make giant soap bubbles, you will need a soapy solution and a "blowing device", which can be used as a gym hoop or two rods with a rope.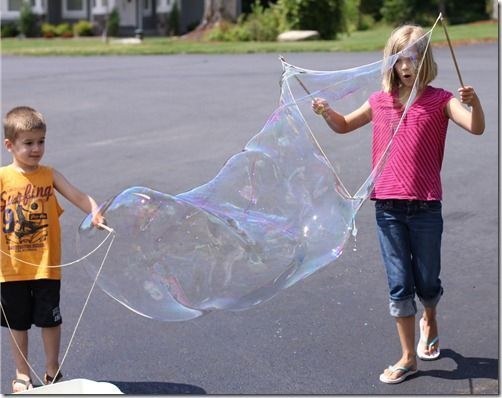 24. Make a toy kapitoshku, filling the balloons with flour.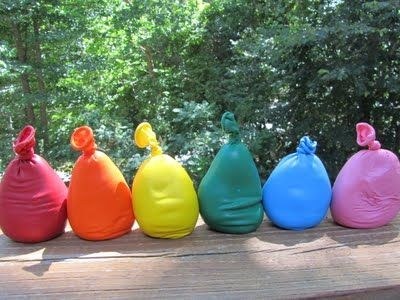 25. Let your child become a designer of her own clothes.