27 books every girl should read before age 27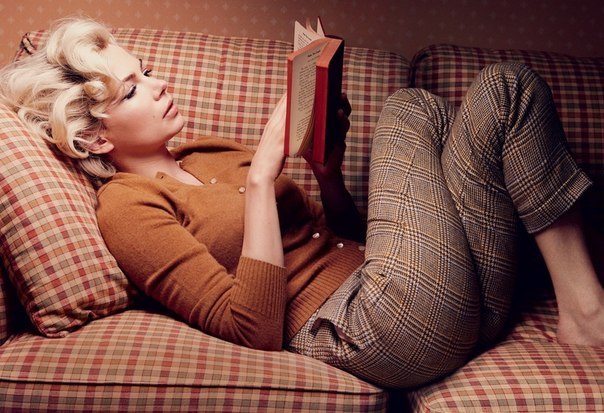 1. Life is a loan. Erich Maria Remarque
A man, his car, a frail girl dying of tuberculosis. The heroine spends all the money on Balenciaga dresses, and the hero really wants to believe in the best. The ironic and absurd finale turns this sentimental story on its head. If you believe in the dubious thesis that every girl at the age of 17 should read Remarque, then let it be Life on loan.
2. Portrait of Dorian Gray. Oscar wilde
The beautiful and capricious young man Dorian does not want to grow old. The talented artist Basil paints his portrait and, without knowing it, literally conveys his soul on canvas. Now Dorian is young forever, and the portrait is aging instead of him. A beautiful mystical novel about the naive egoism of the young, about the immorality of beauty, and about how scary it is to never change.
3. Lord of the Flies. William Golding
A terrible book about the entertainment of English schoolchildren on a desert island. Little boys live the evolution of the opposite, turning from civilized children into evil, wild animals, cultivating fear and strength, capable of killing. The story about freedom, which implies responsibility, and about the fact that youth and innocence are not at all synonymous.
4. The night is tender. Francis Scott Fitzgerald
Expensive cars, villas on the Cote d'Azur, silk dresses - but there is no happiness. The love triangle with the participation of a doctor named Dick, his young neurotic wife Nicole and the frivolous young actress Rosemary is the main novel about love, strength and weakness.
5. Slaughterhouse number 5. Kurt Vonnegut
The subtitle of the novel - "Crusade of Children" - the most correct definition of the Second World War. This is the war that the children went to - 17-year-old boys with missing brains. The protagonist makes an infinite movement in time, remembering his senseless and not at all heroic campaign against the World evil. In this book about the war - not a single battle scene. Only the stupidity and absurdity of the whole undertaking through the eyes of a living young man.
6. Lolita. Vladimir Nabokov
One can argue endlessly about whether it was a dirty perversion or pure feeling, provocation or confession. It doesn't matter. Read this book about the relationship of forty-year-old Humbert and his thirteen-year-old stepdaughter is at least to understand why we all sometimes behave so strangely, talking to adult men.
7. A Clockwork Orange. Anthony Burgess
Rebellious, iconic, cruel and very teenage book. It is worth reading when you are 16, or not at all. The main character - a young man Alex, a bully, a sadist and a terrible monster rape, kill, speaks strange slang and unexpectedly transforms into a respectable citizen, an employee of the music archive. There is no logic, there is only a miracle, but quite understandable - Burgess began to write a novel, thinking that he would die, but he finished, already knowing that the fatal diagnosis was a mistake.
8. Light breathing. Ivan Bunin
An important story about a high school student Olya Mescherskaya, femininity and first sex, an officer in love and a shot at the station. "Easy breathing" is an important quality of girls, which makes men go crazy with love, and the young ladies themselves are inexcusably frivolous in their own lives.
9. Transformation. Franz Kafka
Kafka - a complex writer gloomy. A young girl to love him is not easy. But you have to try. The novel "Transformation" is an absurdist pamphlet on the theme of human loneliness. A young traveling salesman, Gregor, one fine morning, wakes up with a disgusting centipede, a cockroach, a beetle, a nasty filth that his own family is afraid to even look at. If you leave aside the author's modernistic pranks, you understand that this is all about life, about the illusory nature of love, about ugliness and the loneliness of everyone.
10. The mistress of the French lieutenant. John fowles
Every day a young woman in black is standing on the beach and looks at the horizon. The woman's name is Sarah, and the rumor is that she is waiting for the sailor lover who has dishonored her. A young man is going to marry a young charming girl. But one day he sees a woman in black, and everything goes awry. Will he marry or give free rein to feelings? It's up to you. Brilliant Fowles wrote two versions of the final to show that conscience is an individual choice.
11. Dear friend. Guy De Maupassant
Classic French novel with "anti-hero" in the title role. A young journalist Georges Duroy is trying to break through in Paris. He is untalented, greedy, cowardly and illiterate. But very beautiful. A terrible story about how smart and talented women become victims of their own blindness. This novel is a vaccination against stories with gigolos for life.
12. Alice in Wonderland. Lewis Carroll
Great tale dedicated to the little girl, the familiar author. "Lolita" with no signs of sex. "Alice" is useful to re-read in adulthood to develop fantasy, an unexpected view of things and a sense of humor.
13. Jen Eyre. Charlotte Bronte
The poor, ugly governess with an iron will is the most unexpected character for the novel of the era of Victorian England. Jen Eyre is the first to tell a man about her love, but refuses to obey the whims of her lover, chooses independence and insists on equal rights with a man. Contemporaries were horrified by such debauchery, and young girls are still happy to reread the story of strong and uncompromising love.
14. Scarlet sails. Alexander Green
A beautiful, romantic, since childhood familiar fairy tale about Assol, Gray and unshakable faith in the dream with a simple and clear morality - any miracle can happen if you do it yourself. For yourself or for someone you love.
15. Baby. Arkady and Boris Strugatsky
The piercing history of the cosmic Mowgli, abandoned by parents on an uninhabited planet. As you might guess, it is we who are the wildest babies abandoned by the hippie generation to the mercy of fate. "They went on a dangerous free flight, but they didn't find anything" - many Moscow boys and girls grown on Beatles records and stories about Che Guevara will say the same about their parents.
16. Nastya. Vladimir Sorokin
The first and main story of the collection "Pir" about a young girl that her parents ate on her sixteenth birthday should be read immediately after graduation, when the heart is still languishing in Turgenev bliss and Bunin sadness. The story "Nastya" differs from "Dark Avenues" in the same way as adult life from childhood. And if you start adult life, then with the story "Nastya". Then it won't be scary anymore.
17. What to do. Nikolay Chernyshevsky
The first socialist story in Russian is devoted, oddly enough, not to the struggle with the tsarist regime, but to relations between men and women. Young heroes struggle with jealousy and possessiveness, learn to respect each other.
18. Tramps drachma. Jack Kerouac
Twenty-year-old veterans who returned from the war did not find the truth or dignity in America of the mid-40s, and began to wander. To the sounds of jazz in smoked clubs, to the whistle of the wind through the cracks of freight cars, to the bone bones after spending the night on bare ground and, of course, to endless conversations about Christianity, Buddhism, communism, anarchism — they gradually opened for themselves the meaning of the universe and the meaning of human life.
19. April witchcraft. Ray bradbury
This is a very simple and short story about unhappy love. On several pages, one of the most sincere and lyrical writers of the 20th century lucidly explains to all young girls that unhappy love is the most magical thing that can happen to a person.
20. Notes of the revolutionary. Peter Kropotkin
Revolutionary and anarchist Peter Kropotkin talks about his life in the Page Corps - a military school for children of the Russian elite. This book is about how a person can defend.
21. Asylum. Diary in letters. Anne frank
Diary of a 15-year-old girl Anne, who, together with her family, is hiding in Amsterdam from the fascists who have already sent other Jews in Holland to concentration camps. Anna wittily and aptly writes about herself, about her peers, about adults, about the world and about her first sexual dreams, and this diary is an amazing document illustrating what happens in the head of a young lady when the world collapses around. Anna did not live two months before the victory over fascism - she was nevertheless found and sent to a concentration camp, but her diary lives in translations into many languages ​​of the world.
22. Carrie. Stephen King
The first novel of the great writer King about the unfortunate girl Carrie White, endowed with the gift of telekinesis. A detailed chronicle of a cruel, beautiful and well-justified revenge for bullying classmates sneaks to the bone and, most importantly, looks much more adequate, truthful and realistic than, say, the movie "Dogville" by Lars Von Trier.
23. Foam days. Boris Vian
It is through this short novel of the fabulous French mystifier Vian that we know that lilies are blooming in the girls' breasts, and musical instruments can mix cocktails. In a world full of cruel, ironic, but always impeccably beautiful metaphors, I want to live my whole life. We live.
24. Neuromancer. William Gibson
One of the inventors of the cyberpunk style, the popular American science fiction created the gloomy, brutal and magnificent world of the future, entangled in networks of megacorporations, flooded with neon light and drowning in endless loneliness. The most romantic book of our chrome days about everlasting wanderings.
25. Catcher in the rye. Jerome David Salinger
The history of the young egoist, maximalist and idealist Holden Caulfield's growing up will remain the most famous and most instructive book about the young for many years. That we all are: touchy, unkind, confused, wild and infinitely beautiful, because they are sincere, naive and vulnerable.
26. While a friend in a coma. Douglas Copeland
The author of the popular book "Generation X", as you know, counted us all. However, Copeland is not only and not so much a social writer, he is above all a brilliant lyricist with a touch of pure madness. "When a girlfriend is in a coma" is a semi-fantastic drama about love and friendship, full of subtle, brightest observations. It is after "Girlfriend ..." that Copeland seems to be the only writer in the world who loves us seriously.
27. Trap for Cinderella. Sebastian Japprizo
Easy wonderful detective about young French devils who love white clothes and open cars. One of the most magnificent works of striking maiden mischief, meanness, and nastiness, written with endless admiration.