500+ Soviet films online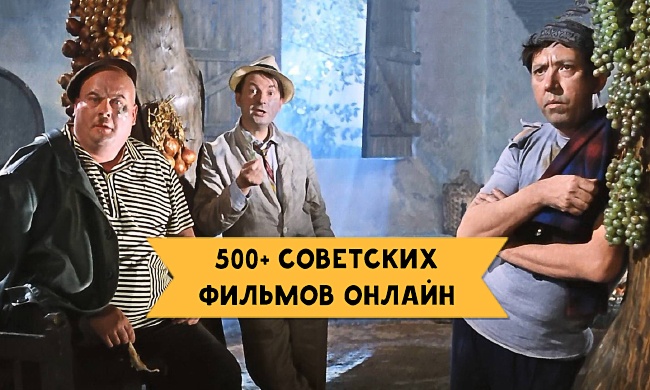 The leaders of the Soviet film distribution are the films that were watched by the largest number of viewers during the rental year in Soviet cinemas. Film attendance in the USSR was calculated by the number of tickets sold in the first year of rental, in contrast to other countries, such as the United States and modern Russia, where the main criterion for success for the audience is the box office of the film for the estimated period.
In fact, there were no open sources of information about audience success in the USSR. Access to it was given to a narrow group of specialists and employees of film distribution organizations. Absolute (that is, for the entire period 1940-1989) rental leaders are the first Soviet action movie "Pirates of the 20th Century" and the Mexican melodrama "Esenia".
A real holiday for all lovers of Soviet cinema: Mosfilm uploaded all the films that were released during the USSR to the network. This is definitely enough for life. Watch - do not review!
BUT
The accident - the daughter of the cop (1989 | Drama)
Car, Violin and Dog Blot (1974 | Musical)
Agony (1974 | Historical)
Admiral Nakhimov (1946 | Biographical)
Admiral Ushakov (1953 | Biographical)
Adjutant of His Excellency (1969 | Historical)
Aibolit 66 (1966 | Adventures)
Promotion (1987 | Adventure)
Alexander Nevsky (1938 | Historical)
Diamonds for Mary (1975 | Melodrama)
Scarlet Sails (1961 | Adventures)
Andrei Rublev (1966 | Biographical)
Anna Karenina (1967 | Drama)
Anna Pavlova (1983 | Biographical)
Arsenal (1928 | Drama)
Assa (1987 | Melodrama)
Certificate of Maturity (1954 | Melodrama)
Athos (1975 | Comedy)
Ah, vaudeville, vaudeville ... (1979 | Musical)
Aelita, don't bother men (1988 | Comedy)
B
Bagration (1985 | Biographical)
Ballad of a Soldier (1959 | Drama)
Battalions ask for fire (1985 | Military)
Pace Run (1968 | Drama)
Running (1970 | Drama)
Guilty Without Guilt (1945 | Drama)
Without Witnesses (1983 | Drama)
Without the Sun (1987 | Drama)
Without limitation (1986 | Detective)
Without Fear and Reproach (1962 | Comedy)
Fatherlessness (1976 | Melodrama)
Crazy Day (1956 | Comedy)
White Sun of the Desert (1969 | Adventure)
Belorussky Railway Station (1970 | Military)
White Nights (1959 | Drama)
The White Explosion (1969 | Military)
Beach (1983 | Melodrama)
Beware of the car (1966 | Comedy)
Take care of men! (1982 | Comedy)
Immortal Garrison (1956 | Drama)
Raging Gold (1976 | Adventure)
Big Money (1981 | Comedy)
Battle of Moscow (1985 | Military)
Fight After Victory (1972 | Drama)
The Big Break (1973 | Comedy)
Big Ore (1964 | Drama)
The Wrestler and the Clown (1957 | Drama)
Boris Godunov (1986 | Historical)
The Brothers Karamazov (1968 | Drama)
The Diamond Arm (1968 | Comedy)
The battleship Potemkin (1905) (1925 | Historical)
Be my husband (1981 | Comedy)
The father had three sons (1981 | Melodrama)
AT
In the area of ​​special attention (1977 | Action)
Squared 45 (1955 | Adventure)
Last resort (1982 | Action)
Thursday and Never Again (1977 | Melodrama)
At six o'clock in the evening after the war (1944 | Military)
Valentine and Valentine (1985 | Melodrama)
Taimyr Calls You (1970 | Comedy)
You are waiting for a citizen Nikanorova (1978 | Melodrama)
Vassa 1 episode (1982 | Drama)
Vassa 2 episode (1982 | Drama)
True Friends (1954 | Comedy)
Version of Colonel Zorin (1978 | Detective)
Funny Guys (1934 | Comedy)
Spring (1947 | Comedy)
Spring on the Oder (1967 | Military)
The Evening Maze (1980 | Comedy)
Eternal Call, 1st film (1973 | Drama)
Eternal Call, 2nd film (1982 | Drama)
Takeoff (1979 | Biographical)
Adult Children (1961 | Comedy)
Visit of the lady (1989 | Tragicomedy)
Wii (1967 | Horror)
Leap Year (1961 | Drama)
Attention turtle! (1969 | Comedy)
No Return (1973 | Melodrama)
The Return of Vasily Bortnikov (1953 | Drama)
The Return of St. Luke (1970 | Detective)
War and Peace (1965 | Historical)
Station for Two (1982 | Melodrama)
Volga-Volga (1938 | Comedy)
The Resurrection (1960 | Drama)
Ascent (1976 | Drama)
Time for Desires (1984 | Romance)
Time forward! (1965 | Drama)
The Horseman on the Golden Horse (1980 | Film-Tale)
Meeting on the Elbe (1949 | Drama)
Introduction (1962 | Drama)
Goal Selection (1974 | Biographical)
Calling Fire on You (1963 | Detective)
Departure Delayed (1974 | Drama)
Height (1957 | Drama)
Shot (1966 | Drama)
R
Garage (1979 | Comedy)
Midshipmen, go ahead! (1987 | Adventure)
Where is nofelet? (1987 | Comedy)
Burn, Burn, My Star (1969 | Tragicomedy)
Zero City (1988 | Science Fiction)
The City Accepted (1979 | Detective)
Hot Snow (1972 | Drama)
Citizen Leshka (1980 | Comedy)
Garnet Bracelet (1964 | Romance)
Hussar Ballad (1962 | Comedy)
Gutta-percha Boy (1957 | Drama)
D
Long live Mexico! (1978 | Documentary)
Ladies Invite Cavaliers (1980 | Comedy)
Cottage (1973 | Comedy)
Two Captains (1976 | Adventures)
Twenty-Six Days from the Life of Dostoevsky (1980 | Biographical)
Twice Born (1983 | Military)
Two Arrows (1989 | Adventure)
Twelve Chairs (1971 | Comedy)
The Noble Nest (1969 | Melodrama)
Girl without an Address (1957 | Comedy)
Girl with a Guitar (1958 | Musical)
Girls (1961 | Comedy)
Nine Days of One Year (1961 | Drama)
Heart Matters (1973 | Drama)
The Motley Case (1958 | Detective)
The Artamonov Case (1941 | Drama)
Business People (1962 | Comedy)
Angel Day (1968 | Drama)
Dersu Uzala (1975 | Adventures)
Children of Vanyushin (1973 | Drama)
Children of Captain Grant (1936)
Jamilya (1968 | Drama)
Gentlemen of Fortune (1971 | Comedy)
Day Stars (1966 | Drama)
Turbine Days (1976 | Drama)
Welcome, or No Trespassing (1964 | Comedy)
Good morning (1955 | Comedy)
Kindness (1979 | Comedy)
The Road (1955 | Adventure)
Road to the Sea (1965 | Adventure)
Dear Elena Sergeevna (1988 | Drama)
Friend (1987 | Drama)
My friend, Kolka! .. (1961 | Comedy)
Dulcinea of ​​Tobos (1980 | Drama)
Soul (1981 | Musical)
Uncle's Dream (1966 | Tragicomedy)
Uncle Vanya (1970 | Drama)
E
Jewish Happiness (Menachem Mendel) (1925 | Comedy)
Ilf and Petrov traveled by tram (1971 | Comedy)
Once Again About Love (1968 | Melodrama)
F
Hot Summer in Kabul (1983 | Action)
Wait for me (1943 | Romance)
Iron Stream (1967 | Historical)
Kerosene Wife (1988 | Drama)
The Marriage of Balzaminov (1964 | Comedy)
Groom from the Other World (1958 | Comedy)
The Woman Who Sings (1978 | Musical)
Cruel Romance (1984 | Drama)
Cruelty (1959 | Drama)
Live in Joy (1978 | Comedy)
The Living and the Dead (1963 | Drama)
Life by the Limit (1989 | Drama)
Life is Beautiful (1979 | Drama)
Three Bachelors Lived (1973 | Comedy)
Once upon a time there lived an old man with an old woman (1964 | Drama)
Zhukovsky (1950 | Biographical)
3
Behind the window of a department store (1955 | Comedy)
Behind the Matches (1980 | Comedy)
Forgotten Melody for Flute (1987 | Comedy)
The Endhouse Riddle (1989 | Detective)
Law (1989 | Drama)
Legal Marriage (1985 | Romance)
Star Boy (1957 | The Tale Movie)
Starfall (1981 | Romance)
Call, open the door (1965 | Adventure)
Sannikov Land (1973 | Adventures)
The Mirror (1974 | Drama)
Zigzag of Fortune (1968 | Comedy)
Winter Evening in Gagra (1985 | Musical)
Zmeelov (1985 | Melodrama)
Gold (1969 | Drama)
The Golden Key (1939 | Film-Tale)
The Golden Calf (1968 | Comedy)
AND
And yet I believe (1972 | Documentary)
And life, and tears, and love (1984 | Drama)
Ivan Vasilyevich Changes the Profession (1973 | Comedy)
Ivan the Terrible (1944 | Historical)
Ivan's childhood (1962 | Drama)
Ivantsov, Petrov, Sidorov (1978 | Drama)
The Perfect Husband (1980 | Romance)
Go and see (1985 | Drama)
The Idiot (Nastasya Filippovna) (1958 | Drama)
The Chosen (1982 | Drama)
Ilya Muromets (1956 | Film-Tale)
Incognito from St. Petersburg (1977 | Comedy)
Interdevochka (1989 | Melodrama)
Irony of Fate or Enjoy Your Bath! (1975 | Comedy)
The story of Asya Klyachina, who loved, but never married (1966 | Drama)
Exodus (1967 | Drama)
Seeking a Woman (1982 | Comedy)
July rain (1966 | Drama)
TO
To the Black Sea (1957 | Comedy)
Cavalier of the Golden Star (1950 | Drama)
Prisoner of the Caucasus, or Shurik's New Adventures (1966 | Comedy)
Every evening at eleven (1969 | Melodrama)
Every Day by Dr. Kalinnikova (1973 | Drama)
Cossacks (1961 | Drama)
Executed at Dawn ... (1964 | Drama)
What should I call you now? .. (1965 | Adventures)
How to Be Happy (1985 | Comedy)
Guelder-rose red (1973 | Drama)
Stone Guest (1966 | Drama)
Stone Flower (1946 | Film-Tale)
Reed Paradise (1989 | Drama)
Captain's Daughter (1958 | Historical)
Carnival Night (1956 | Comedy)
Painting (1985 | Drama)
Carousel (1970 | Comedy)
Katala (1989 | Melodrama)
Skating rink and violin (1960 | Drama)
Kin-Dza-Dza! (1986 | Comedy)
Canary Cage (1983 | Drama)
To me, Mukhtar! (1964 | Drama)
Commander of the Happy Pike (1972 | Military)
Comedy of Bygone Days (1980 | Comedy)
The Committee of 19 (1971 | Fiction)
Communist (1957 | Historical)
Glinka Composer (1952 | Biographical)
The End of Eternity (1987 | Science Fiction)
Ships storm the bastions (continuation of the film "Admiral Ushakov") (1953 | Biographical)
Crown of the Russian Empire, or Elusive Again (1971 | Action)
Corps of General Shubnikov (1980 | Drama)
Red Tent (1969 | Action)
Red Square (1970 | Historical)
Red, Blue, Green (1966 | Musical)
Red Bells (1982 | Historical)
Kreutzer Sonata (1987 | Drama)
Die Hard (1967 | Adventure)
Wings (1966 | Drama)
Who will pay for luck (1980 | Adventure)
Kuban Cossacks (1949 | Comedy)
Doll (1988 | Drama)
Courier (1986 | Comedy)
L
Lady Macbeth of Mtsensk County (1989 | Drama)
Lenin in 1918 (1939 | Historical)
Lenin in October (1937 | Historical)
Lermontov (1986 | Biographical)
Cranes Are Flying (1957 | Drama)
Moon Rainbow (1983 | Sci-Fi)
Beloved Woman Mechanic Gavrilova (1981 | Comedy)
Earthly Love (1974 | Romance)
Love and Pigeons (1984 | Comedy)
M
Little Tragedies (1979 | Drama)
Mom (1976 | The Tale Movie)
Sailor from the Comet (1958 | Musical)
Mother (1989 | Drama)
Stepmother (1973 | Drama)
Dead Souls (1984 | Comedy)
Snowstorm (1964 | Drama)
Mimino (1977 | Comedy)
Minin and Pozharsky (1939 | Biographical)
Incoming World (1961 | Military)
Mikhailo Lomonosov (1984 | Biographical)
Midshipman Panin (1960 | Adventure)
Michurin (1948 | Biographical)
Much Ado About Nothing (1973 | Musical)
My Affectionate and Tender Beast (1978 | Drama)
Young (1971 | Melodrama)
The Silence of Dr. Evens (1973 | Science Fiction)
Moscow does not believe in tears (1979 | Melodrama)
Moscow - My Love (1974 | Melodrama)
Guys! .. (1981 | Melodrama)
We Are From Jazz (1983 | Musical)
We are from Kronstadt (1936 | Historical)
We met somewhere (1954 | Comedy)
Mary Poppins, Goodbye (1983 | Musical)
N
In a Lively Place (1955 | Drama)
On the Roads of War (1958 | Military)
On a clear fire (1975 | Historical)
Above Tissa (1958 | Adventure)
Appointment (1980 | Tragicomedy)
On the Eve (1959 | Drama)
Heiress in a straight line (1982 | Comedy)
Insolent (1961 | Drama)
The beginning of the unknown century (1987)
Invasion (1944 | Military)
Do not be sad! (1969 | Drama)
Can not be! (1975 | Comedy)
The Incredible Adventures of Italians in Russia (1973 | Comedy)
Unexpectedly (1983 | Comedy)
An Uninvited Friend (1980 | Drama)
Unknown Pages from the Life of a Scout (1990 | Adventures)
Incorrigible liar (1973 | Comedy)
Nylon 100% (1973 | Comedy)
Unfinished Piece for Mechanical Piano (1976 | Drama)
Unsent Letter (1959 | Romance)
The Unbelievers (1959 | Comedy)
A few days from the life of Oblomov (1979 | Comedy)
The Elusive Avengers (1966 | Action)
The New Adventures of the Elusive (1968 | Action)
New Gulliver (1935 | Fantasy)
Normandy Neman (1960 | Drama)
Night Passenger (1961 | Detective)
Night Crew (1987 | Drama)
ABOUT
Say a word about poor hussar (1980 | Comedy)
About Friends-Companions (1970 | Adventures)
Oh sport, you are the world! (1980 | Documentary)
Ordinary Miracle (1978 | Comedy)
Ordinary Fascism (1965 | Documentary)
Fire Versts (1957 | Military)
Lonely Dormitory (1983 | Comedy)
Solo Swimming (1985 | Adventure)
October (1927 | Historical)
They fought for their homeland (1975 | Military)
They went east (1964 | Military)
Life threatening! (1985 | Comedy)
Dangerous Friends (1979 | Adventure)
Guardian (1970 | Comedy)
Operation Y and Shurik's Other Adventures (1965 | Comedy)
Optimistic Tragedy (1963 | Historical)
Liberation (1968 | Military)
Autumn Marathon (1979 | Tragicomedy)
Particularly Important Mission (1980 | Drama)
No special signs (1978 | Historical)
The train stopped (1982 | Drama)
Othello (1955 | Melodrama)
Father Sergius (1978 | Drama)
Retired Goat Drummer (1981 | Comedy)
The Fox Hunt (1980 | Drama)
P
The Fall of Berlin (1949 | Military)
Pack (1965 | Adventures)
Parade of the Planets (1984 | Tragicomedy)
A guy from our city (1942 | Drama)
Foam (1979 | Comedy)
Peppy Longstocking (1984 | Comedy)
The First Glove (1946 | Musical)
First Date (1960 | Melodrama)
First Teacher (1965 | Drama)
First Tier (1955 | Melodrama)
Interception (1986 | Adventure)
Dog Watchdog and Unusual Cross (1961 | Comedy)
Songs of the Sea (1970 | Musical)
Petersburg night (1934 | Drama)
Pilots (1988 | Military)
Plumbum, or The Dangerous Game (1986 | Drama)
Along the main street with an orchestra (1986 | Melodrama)
Nicknamed "The Beast" (1991 | Action)
For family reasons (1977 | Comedy)
Victory (1984 | Military)
The Story of a Real Man (1948 | Military)
The Tale of an Unknown Actor (1976 | Drama)
The Turn (1978 | Drama)
Wounded (1977 | Drama)
The train goes east (1947 | Comedy)
Late Berry (1978 | Melodrama)
Call me to the far light (1977 | Melodrama)
Sing a song, a poet ... (1971 | Biographical)
Pokrovsky Gate (1982 | Comedy)
Obstacle Course (1984 | Drama)
The Stop (1963 | Comedy)
Wormwood - Bitter Grass (1982 | Melodrama)
Remember your name (1974 | Drama)
Springbok (1955 | Melodrama)
Portrait of the artist's wife (1981 | Melodrama)
The Last Victim (1975 | Drama)
Abduction (1984 | Comedy)
Adventures of Count Nevzorov (1982 | Drama)
The Dentist's Adventures (1965 | Comedy)
The Poem of Wings (1979 | Biographical)
Poem of the Sea (1958 | Drama)
The Poet (1956 | Drama)
Preliminary Investigation (1978 | Detective)
Chairman (1964 | Romance)
Premonition of Love (1982 | Comedy)
Before Parting (1984 | Romance)
Premature Man (1971 | Drama)
Missing Witness (1971 | Adventures)
Farewell tour of "Artist" (1979 | Detective)
Farewell (1981 | Drama)
Travel of Monsieur Perrishon (1986 | Adventure)
The Bunny (1934 | Drama)
Five Evenings (1978 | Drama)
Five days, five nights (1960 | Military)
R
Slave of Love (1975 | Romance)
Once upon a time is not necessary (1987 | Comedy)
The Story of an Unknown Person (1980 | Drama)
Tales of Lenin (1957 | Biographical)
Investigation (1980 | Detective)
Report from the line of fire (1984 | Military)
Rodney (1981 | Drama)
Practical Joke (1976 | Romance)
Rock and Fortune (1989 | Musical)
Romance of Lovers (1974 | Musical)
Romeo and Juliet (1954 | Film Ballet)
Ruslan and Lyudmila (1971 | Film-Tale)
Russian Question (1947 | Melodrama)
Russian Souvenir (1960 | Musical)
Lynx Returns (1986 | Adventure)
Sadko (1952 | Film-Tale)
FROM
Beauty Salon (1985 | Comedy)
The most charming and attractive (1985 | Comedy)
Moonshiners (1961 | Comedy)
The Last Day (1972 | Detective)
Sashka (1981 | Drama)
Wedding (1944 | Comedy)
Sveaborg (1972 | Historical)
Peers (1959 | Romance)
The Bright Way (1940 | Musical)
A date with youth (1982 | Melodrama)
Pig and Shepherd (1941 | Musical)
One among strangers, one among strangers (1974 | Drama)
Apartment for rent with child (1978)
Northern story (1960 | Melodrama)
Family Happiness (1969 | Comedy)
Seven Days of Hope (1988 | Drama)
Seven Nannies (1962 | Comedy)
Seraphim Polubes and other inhabitants of the Earth (1983 | Drama)
Hearts of Four (1941 | Comedy)
Heart beats again (1956 | Drama)
Seryozha (1960 | Melodrama)
Sibiriada (1977 | Historical)
The Tale of How Tsar Peter Arapa Married (1976 | Musical)
The Tale of Lost Time (1964 | Film-Tale)
The Tale of Tsar Saltan (1966 | Film-Tale)
Tale of Wanderings (1982 | Film-Tale)
Fast Train (1988 | Melodrama)
A Word for Protection (1976 | Drama)
Office Romance (1977 | Comedy)
Two Comrades Served (1968 | Drama)
Case Squared 36-80 (1982 | Action)
Case at Mine Eight (1957 | Drama)
Brave People (1950 | Drama)
Death on Takeoff (1982 | Detective)
Funny People (1977 | Comedy)
Snow Tale (1959 | Film-Tale)
Absolutely Missing (1973 | Comedy)
Soldier's Heart (1958 | Romance)
Solaris (1972 | Science Fiction)
Forty-First (1956 | Historical)
The Magpie Thief (1958 | Drama)
Cheka Officer (1963 | Adventures)
Assassination in a Murder (1986 | Detective)
Spartak (1975 | Film Ballet)
A calm day at the end of the war (1970 | Military)
Sport, Sports, Sports (1970 | Documentary)
Sportloto-82 (1982 | Comedy)
Statute of limitations (1983 | Drama)
Urgently ... Secretly ... Gubcheka (1982 | Historical)
Stalingrad (1989 | Military)
Stalker (1979 | Science Fiction)
Station Warden (1972 | Drama)
Old Friend (1969 | Comedy)
Old New Year (1980 | Comedy)
The strike (The Devil's Nest, The History of the Strike) (1924 | Historical)
Steppe (1977 | Drama)
One Hundred Grams "For Courage" (1976 | Comedy)
Strange Woman (1977 | Romance)
Insurance Agent (1985 | Comedy)
Cooking (1965 | Comedy)
Suvorov (1940 | Biographical)
Fate (1977 | Melodrama)
The Fate of Man (1959 | Military)
Vanity (1979 | Comedy)
The Fight in the Snowstorm (1977 | Drama)
Happiness (The Money-Givers) (1934 | Drama)
T
Tabor goes to heaven (1976 | Drama)
The Secret of Blackbirds (1983 | Detective)
The Secret of Villa Greta (1983 | Detective)
The Secret of the Notebook (1981 | Detective)
Long Range Tactics (1978 | Drama)
Tehran 43 (1980 | Detective)
Theme (1979 | Romance)
Shadows disappear at noon (1971 | Drama)
Silence (1963 | Drama)
Only Three Nights (1969 | Melodrama)
The Same Munchausen (1979 | Adventure)
Point, point, comma ... (1972 | Comedy)
Inn on Pyatnitskaya (1977 | Detective)
Tractor Drivers (1939 | Comedy)
Disturbing Departure (1983 | Action)
Third Half (1962 | Drama)
The Third Meshchanskaya ("Threesome Love") (1927 | Melodrama)
Three days in Moscow (1974 | Comedy)
The thirty-first of June (1978 | Melodrama)
Thirty Three (1965 | Comedy)
Thirty-Four Ambulance (1981 | Drama)
Thirteen (1936 | Drama)
Tunnel (1966 | Military)
You and Me (1971 | Drama)
At
At the Dangerous Line (1983 | Drama)
At Your Doorstep (1962 | Drama)
At the Quiet Pier (1958 | Comedy)
Kill the Dragon (1988 | Fantasy)
Dismissal to the Shore (1962 | Melodrama)
Taming the Fire (1972 | Biographical)
The Taming of the Shrew (1961 | Comedy)
Success (1984 | Drama)
Satisfy My Sorrows (1989 | Drama)
Morning Trains (1963 | Drama)
F
The Magician (1967 | Romance)
Formula of Love (1984 | Comedy)
Front without Flanks (1974 | Drama)
Front Behind Enemy Lines (1981 | Military)
Front Behind the Front Line (1977 | Military)
X
Walking Over Three Seas ("Athanasius Nikitin") (1957 | Adventures)
Going through the throes (1957 | Historical)
The owner of the taiga (1968 | Detective)
Hockey Players (1964 | Romance)
Cold Summer 53 years ... (1987 | Drama)
We are sitting well! (1986 | Comedy)
Ts
Regicide (1991 | Historical)
Belated Flowers (1969 | Melodrama)
Kissing Dawns (1978 | Comedy)
Circus (1936 | Musical)
H
The Seagull (1970 | Drama)
Tchaikovsky 1 episode (1969 | Biographical)
Tchaikovsky Series 2 (1969 | Biographical)
Private Investigator, or Operation "Cooperation" (1989 | Comedy)
Chegem Detective (1986 | Comedy)
Man in His Place (1972 | Drama)
Man from the Capuchin Boulevard (1987 | Western)
The Invisible Man (1984 | Science Fiction)
Via Gobi and Khingan (1981 | Drama)
Black rose - emblem of sadness, red rose - emblem of love (1989 | Comedy)
The Black Prince (1973 | Detective)
Damn With A Briefcase (1966 | Comedy)
Honest, smart, unmarried ... (1981 | Comedy)
Fourth (1972 | Drama)
Clear Sky (1961 | Romance)
Chicherin (1986 | Drama)
Scarecrow (1983 | Drama)
W
Chance (1984 | Adventure)
The Blackmailer (1987 | Drama)
Swedish Match (1954 | Comedy)
July Sixth (1968 | Historical)
School of slander (1952 | Film play)
A Noisy Day (1960 | Comedy)
U
Shield and Sword (1968 | Historical)
E
Crew (1979 | Adventure)
This Fun Planet (1973 | Science Fiction)
I AM
I walk around Moscow (1963 | Melodrama)
I am Cuba (1964 | Drama)