Dictionary of Old Slavonic words + Old Slavonic font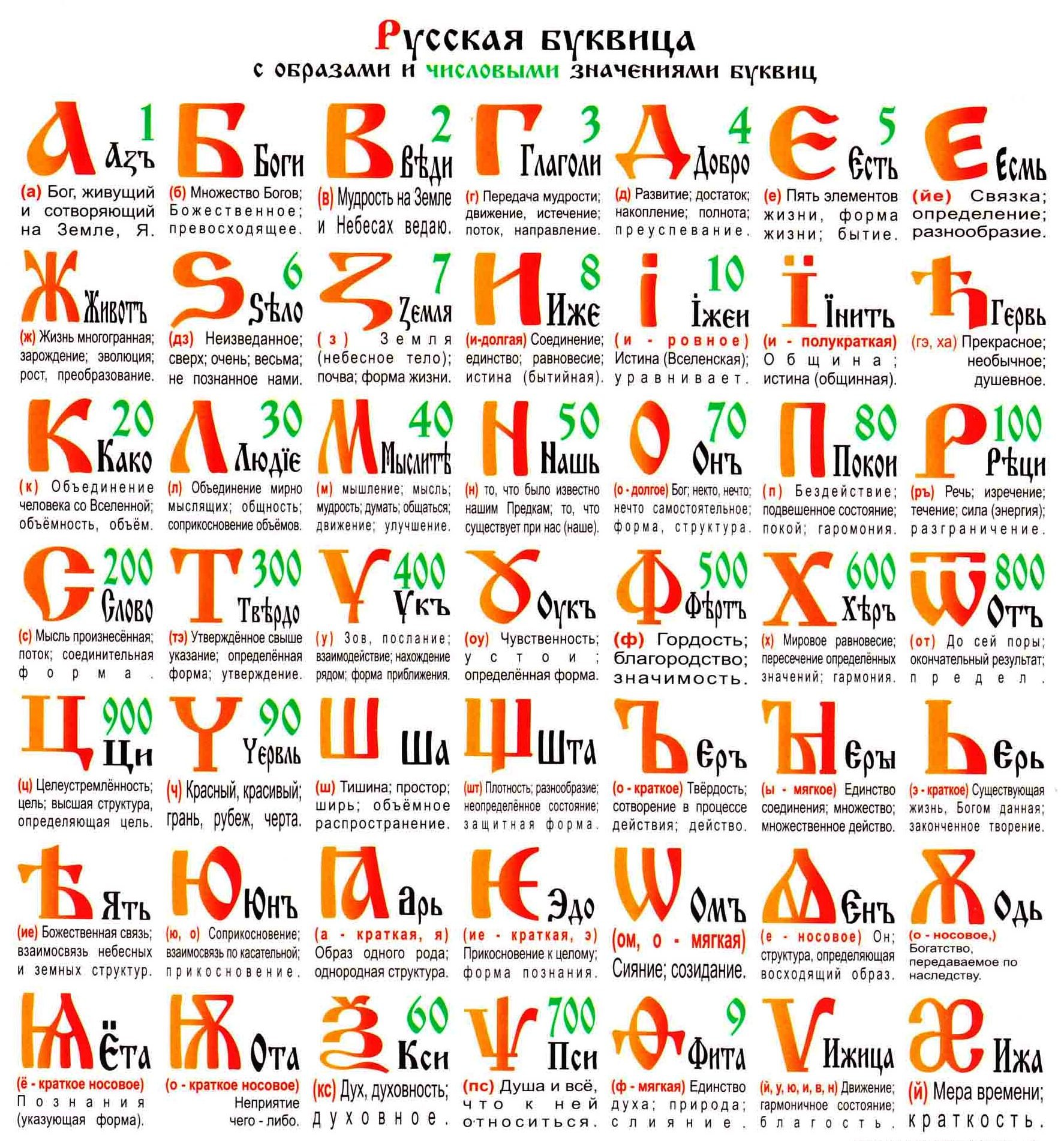 The Old Slavonic language ( Old Slav) is the first Slavic literary language based on the dialect of the Slavs who lived in the 9th century in the vicinity of the city of Solun (the eastern group of the South Slavic branch of the Proto-Slavic language). Language-based writing was developed in the middle of the 9th century by the enlightening brothers Cyril and Methodius.
Old Slavicism - words borrowed from the Old Slavonic language, the language of liturgical books. Therefore, Old Church Slavism also includes Church Slavism.
In the 9th-11th centuries, it was the literary language of most Slavic peoples and influenced the formation of many then Slavic languages. The alphabet used for the Old Slavonic language was Glagolitic and Cyrillic. From the very beginning, Old Slavonic was a book-literary language and was never used as a means of everyday communication.
And ABYA - immediately, immediately
ABO - or, or
ABY - to; if; if only; at least
ABBA - father, rector of the monastery in the East
ADAMANT - diamond
AEP - air
ALREADY - if, what, which, even, and here
AGIO - meanwhile, in fact, even
IMPORTANT - how, suddenly, so
AZ - I
AKI - how
ACRIDA - locust; young shoot of a plant
ALABYSH (alabish) - pie, crumpet, fritters; ALABISH TO GIVE (ironic) - hit, give a slap in the face
ALAFA - award
WISH - fast, starve
ALTYN - a three-kopeck coin
ALCHBA - hunger, fasting
AMANAT - hostage
AMEN - truly; true so
AMO (AMOGE, CAMO) - where
ANAFORA - offering; prosphora
ANO - but, but, however, even
ARAPCHIK - Dutch chervonets
ARKUDA - bear
ARCUCHI - speaking
ARSHIN - a Russian measure of length, containing four quarters (spans) four vertices (one third of a fathom), equal to 0.711 m; ruler, bar of such a length for measurement. Approximately corresponds to the length of the entire arm from the shoulder
ATO - yes, yes
ASHE - if, though, whether
B BAGR - crimson
BAGRETZ - red paint; grade cloth
BAGRETSOVY - bright red, crimson
BAGGEN - precious crimson fabric; clothes from this fabric
BAENKA - bath
BASE - a curse, the same as the "old grunt"
BAIDANA - chain mail
PRAISE - Paganism
BALIUS - the sorcerer; caster; doctor
BASA - beauty, grace, decoration, outfit
STRIKE - dress up, flaunt
BASKAK - Lord, Governor
BASKOY - beautiful, elegant
BACHKO - father, father
BAYAT - speak, tell
BDETI - stay awake, do not sleep; care
BE - he was, she was, it was
BEBRYAN - fabric made from silk of special dressing
POVERTY - impoverishment, calamity
HAZARD - escheat estate, income or quitrent from such an estate
LIVING - POVERTY
WHITE WHEAT - corn, millet
BERDO - loom accessory
Conversation - bench, bench
Beserman - Mohammedan
DISAPPOINTED - unprecedented
IMPRESSORITY - hopelessness, lack of funds
UNLESS - someone who is not happy, unhappy
BEST - you were
BEH - I was, was
BEHOM - we were
BEHU - they were
Birev - ruler, bailiff, headman
BIRICH - herald
BISKUP - Catholic Bishop
GOOD - good, good; nice, beautiful
WELCOME - praise, praise
CLAIM - seduce, deceive
SICKNESS - deception, seduction; temptation, doubt
BLUES - observe, guard
BLESS - lie, cheat
FUCK - lies, deceit
BO - because, because
GODDESS, GODDENESS - godfather (mother)
BOLOGO - good, good
BOLOGNA - lowland, the space between the two shafts
BOLMA - most of all, mainly
Borzo - fast
BORONIA - defense
BORTNIK - engaged in flight flight, i.e. forest beekeeping, honey extraction of wild bees
VOGA - a deep puddle, pothole, yamina, flooded with water
Scolding - war
BROWN - patterned (about fabric)
BROTHER - brother, a vessel for beer
BRACI - wedding feast, revel
BRAZHNO - food, food, food, edible
DRAGON, DRAGGER - a small net that is used for fishing together, fording
CUT - take care
BROZDO - reins
Brynsky - Bryansk
SLOG - feast
BRAZG - Dawn
WAKE - BE
RANGE - courage, ardor; boldness, rampant; rampage
Mace - Mace
BULAT - steel
BURZAMETSKY, MURZAMETSKY - Eastern
BURNASTY - red-brown (about the fox)
BUSA ​​- a large dugout boat with a sharp bow
BEADS (BEADS) - gray-smoky
BUYAVA, BUYEVO - cemetery, grave
EXISTENCE - grass, cereal; plant food; potion of herbs
FISHERY - a blade of grass, a stem of grass; fortune teller on herbs
THE BRICK - a story about evil spirits, the reliability of which is not doubted
FAST - you were
OVER - he was
BYAHU - they were IN
IMPORTANT - hard, hard
VAP - paint
VAPNITSA - a vessel for paints
VAPNO - lime
VARGAN ("on the barrow, on the barrow") - perhaps from the "worg" - a clearing overgrown with tall grass; open, slanting place in the forest
VARITI - anticipate, warn; keep safe
VASILISK - serpent
VASN - perhaps, as if
VEDATI - know, know; be able to
VEZHA - a tent, a yurt, a wagon
VEYA - branch
GREATNESS - praise, exaltation; greatness
VELIY - great, long, abundant
GREAT - great
Beelzebel - the devil
VELMI - very, very
VEM - I know
ROPE - rope; peasant community
VERES - juniper
VEREYA (spindles, vereyka, vereyushka) - a pillar on which gates are hung; mowing at doors, gates
HELP - rough hemp fabric
VERTEP - cave; stash; a large box with puppets, controlled from below through the slots in the floor of the box, in which performances were played on the theme of the Nativity of Christ
MALZEN - damaged
VERSIONS - compare, equalize
VERTOGRAD - garden
TOPs - fruits
APR - horseback; riding in front
VESI - you know
VESTNO - publicly, publicly
EVENING - western; evening
EVENING - yesterday
LEAD - crave
WIN - revel
FINDING - disagreement; debate; Search
VIEW - image
WIKLINA - tops
VICA - twig, twig, long branch
ALWAYS - when
OUTSIDE - the one that
VNTI - enter
VOZH - escort
RETURN NEXT - to wake up
HEAT - snot
AGE - growth
VOI - warriors
HAMMERS - stems, straws, blade of grass; sheaf top with ears
STONE - smell, aroma
VORONETS - a bar in a hut serving as a shelf
RETURN - refrain
ENLIGHTEN - steal, carry, steal
RAPTURE - abduction
SURROUNDING - rags
VSKU - why, why
ALL - in vain
COLLAPSE - habituate
TURN UP - throw something inside
LIFT - lift up
EXTEND - pay attention
VLADIMIR - army, battle, battle
RISE - in vain, in vain
EXPRESS - pick up, kidnap, take
CARE - print
SELECT - hound dog; bloodhound
BEGIN - marina
Come out - lean out
OUT - took out
REMOVE - remove from the scabbard
VOIRI (VIRIY, IRIY) - a wondrous, promised, warm side, somewhere far from the sea, accessible only to birds and snakes
EXTEND - escape
CUT OFF - release, force
STEEP - push out
WOW - food, meal time
EXIT - salary
CALCULATION - doctrine
YOU - neck
VYALITSA - blizzard
VYATSHY - noble
VYASCHE - more
SCRIPT - a larger, senior, noble
G GAVRAN - raven
GUY - oak grove, grove, small deciduous forest
HARIP - a foreigner, a wanderer
HBEZH - joint, bend; turn, tilt
VERB - word
SMOOTH - hungry, insatiable, greedy, predatory
EYE - shin, ankle
GLUM - noisy fun, game; mockery
Gobino - wealth; the harvest
GUINEO - post
Godina - nice clear weather, a bucket
BOAT - marvel, admire, stare; staring, staring eyes; mock
GOLIK - a broom without leaves
GOLITSA - leather gloves with no wool lining
HEAD - noise, scream
HOLLANDCHICK - gold coins beaten at the St. Petersburg Mint
GOLOMYA - a lot; open space
GONZATI - Avoid
RACE - flee
MUCH - skillfully, skillfully; very very
Woe is up
MOUNTAIN - upper, high; supreme, heavenly, divine
CITY - part of the bridge
MOUNTAIN - mustard
GUEST GUEST - guest
GOSTITVO - feast
GUEST - merchant
GRANATE - gun
GRANESLOVE - church verse; someone praiseworthy
GRANESLOVNIK - the name of a complex book
DREAM - a bunch; a bush of trees or shrubs; fruit, berry
GRIVNA - monetary and weight unit, silver or gold bar weighing about a pound; jewelry worn around the neck
GRID - princely bodyguard, combatant, warrior
BREAST - frozen
SAD - hard, sad
PRINTER - a shelf going from the stove to the wall
GRANDS - go
LIP - Bay, backwater
GOODER - singer, musician
H beep - a three-stringed violin without recesses on the sides of the body
GUMNO - a room, a shed for compressed bread; threshing pad
D TWIN - twice
DEBR - hillside, gorge
DOOR - husband's brother
NINTH - nine days
DEZH - dough dough, teapot; tub in which knead the dough for bread
DEI - really, unless
DELIA - for, for the sake of
DAYNITA - morning dawn; the star
DESA - right hand
DESA - right
DETAIL - business, action
ACTIONS - do, create, commit; speak
DIVIUS - wild; cruel, rude; marvelous
LENGTH (VALLEY) - palm
DMENIA - arrogance
DEMIT - become arrogant
DAY - today
DOBLE - valor, valiant
BEAUTIFUL - beautiful
UPDATE - provide; provide; appropriate, appropriate
DOCAMEST - bye, since
COMPLETION - peace treaty, consent
VALUE - down
DONDEZHE (DONDE) - until
PROMISE - old, old
DOHA - fur coat with mechlm inside and out
DROLA - dear, dear, beloved
FRIEND - Comrades, community, companions; army; wife
FRIENDLY - another; princely
DREAH - sad
DOUBLE - strong, strong; valiant; skillful; noble
DAUGHTER - daughter E TOGETHER - when; while
HIS HERE - which
FOOD - really; unless otherwise
ONE - wild boar
Hedgehog - what if, when
ECZARCH - a clergyman exposed by a special, higher authority
Elephant - elephant
ELIKO - how much, as soon as possible, who, what
ELITS - those that
ELMAZHE - because, because when
EMATI (IMATI, FAT) - take, take
EMSHAN - wormwood
ENDOVA - a wide copper cup with a nose; ravine
EPISTOLY - letter, message
ERNISH - from ernik: small, small forest, small birch shrub
Erofeyich - bitter wine; herbal vodka
ECA - food, food
ETHER - some, some
F JAGRA - a powder ignition wick
ZHALNIK - cemetery, graves, graveyard
WISH - Grace, Award
GRAVES - to crave
ZHELV - corn, abscess; turtle
ZHELDA - herbs
JELLY - sadness
MARRY - chase, chase
Belly - life, property; soul; livestock
GONESE'S ANIMAL - take life
ANIMAL LICHOVAN - life deprived
FAT - wealth, abundance
LIVING - standing bread, crops; wealth; barley (nort.), unrefined rye (sout.), all spring bread (east.).
EAT - sacrifice
ZHUPAN - ancient semi-caftan
W FORCING - complaining, crying
TAKEN - the upper part of the city wall; fence
PLANET (LILLET) - ash pan of a Russian stove
SPEECH - the last day before fasting, which allows you to eat
CLEARANCE - shame
LOOK - to condemn, blaspheme, condemn
CONQUEST - delay, delay
KISS - sneeze
TITLE - ledge in the riverbed
ZALAZ - danger, fatality
HALL - a twisted bunch of ears; usually done by a sorcerer or witch to spoil or to the damage of a Niva, as well as the owner of a Niva
REMEMBER - confusion, anxiety, excitement
ZANE - for, because, because
BEFORE - because, because, because
CREEPY - dirty or dirty something new clean; lightened heart (from "restore"; divert the soul to lighten the heart).
COMMANDMENTS - to order; punish
TO BE RADIATED - to be glad
INFECT - kill, fight
ZAROD - a large stack of hay, bread, not round masonry, but oblong
ZASEK - bastard, bunker; partition bins
ZASPA - groats
BLAST - shadow
ZATI - save, avoid
SHARPENED - deaf, deserted
COMMIT - take, grab
BUILDER - builder, architect; potter
POTION - grass, greens; medicine, poison; powder
GREEN - very, very; accurately, thoroughly; completely
GREEN - strong
ZEN - earth
GUN - take a look
ZIPUN - peasant caftan made of coarse thick cloth, in the old days without a collar
Banner - sign, indication
KNOWLEDGE - knowledge
ZRAK - view, image, face
MATURE - ripe berries
MATURE - see, watch
AND IDEAS, IDEAS - where, when, since
IZHE - which
RESOURCE - reservation, explanation; slander
ANNOUNCED - announce
PUBLISHED BY CROMOL - traitor
ISRAD - treason
ISRAET - traitor
JEWS - excellent
IZOGRAF - icon painter
AMAZED - lose your mind
TAKE OUT - Catch
EXCEPT - withdraw
ICON - manager of church property
IMATI - take, borrow, grab
INDE - in another place, in some places; or
INO - then, in that case, perhaps, only
IPAT - Governor
HUMP - person, creature
IRIY - paradise, warm countries
ART - experience
CONFESSIONS - order, tell
EXTRA - praise, glory, thanks
EXIT - destroy
SOURCE - the most important thing, essence, outcome
SOURCE - in passing
SOURCE - a hut, a bath
WATCHES - spend
STRING - stretch, stretch; stretch out
ISHEM - honey, intoxicated drink
K KAZHENIK - Skopets
PUNISHMENT - admonition, exhortation
INDICATOR - Mentor
KALIGI - low-top boots
KAL - sewage, dirt
KALNY - dirty
KALUGER - monk
CAMARA - arch, shelter; tent, chamber
CAMO - where
KANORHATI - read as a recitative; sing psalms
CAPA - hat
CAPTURE - get together
HOOD - together, together
KATUNA - wife
KENDAR - a measure of weight (about 3 pounds)
KERAST - a snake; echidna
KEREMIDA - stove
KERSTA - coffin, grave
KEYA - trick, deceit
SWING - horse, foal
KEY - fit
KEY - steering wheel, steer
KMET - warrior
KOBE - magic, fortune telling; happiness, luck
KNOWLEDGE - perfidy
KOY (KUYU) - which, which
TIGHTNESS - quarrel, turmoil
COLO - cart, cart, wheel
Mosquitoes - roof vaults
COMON - war horse
KOMKATATI - Communion
CRACKING - Communion
COPRINA - silk
FOOD - food; kind of tax, content; feast, treat
FEEDING - feed
KOROSTA - coffin
COSNETI - procrastinate
COSNO - slowly
KOTORA - quarrel, enmity
LITTLE - scolding, cursing, quarreling
KOFAR - slave Indian
KOSCHEI - slave, captive
KOSCHUNA - blasphemy; funny jokes
DRAMA - rebellion, rebellion; evil intent, deceit; ambush
KRASNA - yarn, weaving mill
KRIN - Lily
EXCEPT IN VISION - looking to the side, despite this
KRYLOSHANE - clergy
MIRACLES - MIRACLES
KUNA - marten skin, a monetary symbol in Ancient Russia
KUPINA - bush, bush
BUY - market, marketplace
BUY - together
KUSCHA - tent
KYI (KYI) - which which; some
KOMET - warrior, combatant L. LAGVITSA - bowl
LAGODITI - indulge; do nice
LANITA - cheek
GLACIERITY - gluttony
LACCERDS - gluttonous; pampered
LEK - dice game
LEPOTA - beauty, magnificence; decency
BEST - the best
FLATTERY - deception, cunning; heresy; conspiracy
CHILDREN - shoots of plants
SUMMER - possible
LEKHA - ridge, heap
More than - interest
DARK - evil
LITCH - number, score
LOSENIK - insignificant, miserable
LOV - hunting
LOVITA - hunting, fishing
LOVISHCHE - a place for animal and fish hunting
FALSE - womb, uterus
LOMOVA - heavy
LONIS - last year
LUKA - bend, gyrus
LUKAREVO - sinuous
LUKNO - bast basket
LUTOVY - bast
LYSENITA - bast shoes
ANYTHING - well, anything, maybe even
LOVE - love, affection; addiction, addiction; consent
FLATFUL - cunning, deceiving
LYADINA - thicket, shrubbery; young forest
M MAESTAT - throne, throne
MAMMON - a kind of monkey
MASTER - mastery
MEGHISTAN - dignitaries, nobles
THROWING - BOWS
The Swordsman - a princely retinue in Ancient Russia; guard, squire
MILF - sheepskin; outerwear; cloak
MNITI - think, believe
MOV - bath
Grave - hill
MREZHA - network
MOODY, WONDERING - delay, slowly
MUNGITS - Mongols
MUSICIAN - musical
MUSICIA - music
MUKHOYAR - Bukhara fabric made of cotton with wool or silk
Mshitsa - small insect, midge
MUKHORTY - nondescript, frail
MYTHAR - tax collector, extortionate
WASHED - payment; file trade duty; outpost
N OBSERVATIONS - take care, help
NAV - death
LOCATE - slander
NAZIRATI - watch
CELEBRATE - indicate, represent
MORE - especially
INDICATOR - Mentor, Teacher
NAKRY - tambourines, drums
NALESTI - get, find
STEAM - strain
DETAILS - assign
FLOORS - in half, in two
Vain - suddenly, unexpectedly
ALIEN - invent
DARN - call
Deliberate - definite, famous; noble; a great
ORDER - order, establishing order
NASAD - ship
HERED - a descendant
PURCHASE - convey, announce, inform
MOOD - inheritance of the princely throne
NAYU - our
HARVEST - hire
NEVOLOZ - ignoramus
NEOGLE - perhaps, perhaps
KINDLESS - negligence
INCLUDED - unworthy
DISEASES - displeasure, annoyance; enmity
GERMAN - foreign, foreign
SILENTLY - dumb
UNUSUAL - nasty
UNTRASPECTIVE - pregnant
UNKNOWN - hostile, diabolical
INSECURITY (INSECURITY) - believe, doubt; think
NETI - nephew
UNWASTE - incorruptible
NEVER (NIKOLI) - never
WITHOUT GREAT - nothing special
NOG - peas
ZERO - maybe; almost right then
NUDMA - by force
NEEDED - hard
NECESSARY - forced, bad
US - us
DIFFERENT - ruin, den, pit, gully
ABOUT CHURCH - cheat, win over
BOTH - however, but
WEIGHT - hang, hang
OBESITI - notify, notify
OFFEND - get around
FACILITIES - to exalt, glorify
VOID - backtrack
OBLO, BOUND - round
Smell FLOOR - on the other half, on the other side
CHAIN ​​- seducer, sorcerer
IMAGE - view, image; icon; example, symbol, sign
TRAIN - tax with a quitrent
OVER - hang, hang
OVO - whether, then ... then, or ... or
WARNING - sometimes
OVY - one, one, this, that; such some
GARAGE - on the right
LONG-LINE - single-breasted outerwear
ODRINA - building, hut, stable
AUGER - what if
OKAYATI - call unhappy, miserable; find unworthy
FEED - manage
SURROUNDINGS - around, around
OKSAMIT - silk fabric with a pile of gold or silver threads
DIPPER - try, try to do something
OLAFA - award, gift
OLE - however, but
LOADED - closed
ONAGES - recently
ONOMO - so
ONSITSA - someone, some
ONUDU - since then from there
OPANITSA - bowl, dishes
DANGER - tail
OPrati - wash
DESCRIBE - change, hunker down
AGAIN - back, back
YELLOW - Plowman
SCREAM - plow
ORI - horse
ORT'MA - the veil; blankets
EfE - here
MUCH - grieve
OSLOP - pole, club
OCH - tip
OSTROG - stockade, fence made of stakes or logs
FIT - surround, besiege
OTAI - secretly, hidden
KICKED - to be eliminated, removed
AUTHORITY - Paternal
HEAT - heat
MARKER - renegade
I WILL NOW - from where, from there, why, therefore, because of that
DENIAL - condemnation, prohibition
LEGEND - teenager, youth; Prince's bodyguard
REPORTING - Disowning
REPORT - damage, ruin
HUNT - hide; leave; lag behind; to abstain
OCET - vinegar
OTHER - if
OCHINA - fatherland, inheritance transferred from father to son
OSHUYU - on the left; P OTHERS - silk fabrics
PAKI - again, again, again
PARDUS - cheetah, leopard
PAROBYK - boy, servant, servant
PAHATI - blow, flutter
PACE - more, higher, higher, better
EASTERN - Wormwood
PENYAZH - money coin
SWITCH - outsmart
CROSSING - scared
REMOTE - interpret, translate from another language
TRANSFER - abrasion
PERSI - breasts
FINGER - a handful of earth, earth, decay
PESTUN - educator
PAINING - care, care, chores
LIVING - take care
ПЬЬЬЦЬ - pedestrian
PASCHI - infantry
PIRA - suma
SQUARE - noise, scream; commotion
FLESH - the body
SUDDEN - bodily
PLUS - foot
UPOVSMO - a bundle, a skein
TALE - news, message, story
DRAG - silk
DAMAGE - topple
CONVENIENCE - tell, say, show
Pohansky - pagan
FUCKED - Gentile
SIMILARITY - Comparison, Use
TEACH - Subjugate
HANDLER - subordinate
ENDURANCE - flattery, guile
SHAME - a sight; mockery
POSORUTI - watch
GOGGLET - bent, twisted
BEARING - passing
FIELD - judicial duel
POLMA - half
SHEARS - scare
THICK - Felt
PM - South
MIDNIGHT - North
FULL - open
MOMAVATI - give a sign
WATCHES - gifts
PONE - although at least
PONT - the sea
GO - grab, grab
PERISHCHE - a travel measure with a length of 1000 steps; daily transition
ACCEPT - promote
PREKLEOK - nickname
FAULTS - wall-mounted guns
DROPS - dust
PORT - a piece of fabric. clothes
PORTNO - canvas
PORUB - dungeon, prison, cellar
POSCEPATI - chop, split; to harm
Proverb - verbal agreement, consent; proverb
AFTER - witness
SALMON - by the sun
SHOT - plague, epidemic
DEMAND - exterminate
SEARCH - try hard
PUSH - get out, try
CLIMB - hit, kill
SNAKE - sniff
KITCHEN - Mockery
EXPLORE - take
RIGHT - real, right
TURN - convert, incline
PRAGUE - scout, spy; messenger
ADORABLE - deceitful, deceitful
CHURCH - deception, delusion; seduction; wicked machinations
DISPUTE (PRYA) - dispute, litigation; objection; a court case
PREPARATION - the middle of something
PROMISE - famous, illustrious
Balk - threaten
BREAK - tear
STUMPING - stumble, stumble; to err
FRONT - run dry
BAPTURE is a threat
PRIVACY - call, invite; to attract
HAIRDRESS - outerwear
Butt - example
PRAGUE - resist
VISIT - visit, visit; send mercy; to consider
PRISNO - always
PRISNY - native, close
PRAISES - outfit
PRITOCHNIK - writer of parables
CLICK - prove
PROKY - the remainder
INDUSTRIALIST - Defender
LOVE - become famous
SIMPLY - stretch, stretch; proceed; spread out, put
VERSUS - fingerprint, list; duty
PROTESANCHIK - guard
MESSAGE - predetermine
OTHER - the future, in the future
YARNS - dry, fry (with immersion in oil), bake
FIR - pride, arrogance
PIER - finger
FIVE - Friday
P RATIO - discord
TO GROW - to disperse; disappear, empty
RESPONSE - a shame; feud
DISTRIBUTE - divided into three parts
CANCER - tomb
RALO - plow
RAMENA - shoulders (from neck to elbow)
RAMENO - intense, strong, fast
RAMO - shoulder
SPARE - arrange
RASPOP - pop-rascal
RATAY - plowman
WORK - love, passion
Jealousy - zeal
REZANA - monetary unit
CUTTING - usury, extortion
ADVERTISEMENT ESI - (you) said
REL - crossbeam
RESOURCE - truth; dignity
REH - (I) said
SPEECHES - speak, say
DECIDE - untie
GROW - run, walk fast, ride
BIRTHDAY - pointy stake
RIGA - pods
ROTA - oath, oath
РУЦЕ – руки
РЯДЕЦ - чиновник
РЯДИТИСЯ - сговариваться, устраиваться
РЯДОВИЧ - купец; торговец в торговых рядах
РЯДЪ - строй, порядок, ряд
РЯП - рябчик, куропатка
РЯСЫ - украшение С СВАРА - ссора
СВАРИТИ - бранить, укорять; казнить, поражать
СВЕНЕ - кроме, сверх, вне, помимо; вопреки
СВЕРСТАН - приравнен
СВИЦКИЙ - шведский
СЕ БО – ибо вот
СЕМО И ОВАМО - сюда и туда
СИЛЬНИК - силач; всемогущий
СИЛЯЖЬ - низкий кустарник
СИНГЛИТ - совет вельмож
СИРЕЧЬ - то есть
СИРОМАХ - бедняк
СИЦЕ – так
СКАРЕДНЫЙ - скверный
СКАРЛАТ - дорогая ткань, вид бархата
СКАРЯДИЕ - скверность, мерзость; печаль, тоска
СКИМАХ (СХИМНИК) - монах
СКИМЬНЬ - львенок
СКОЛИЯ - черви
СКОРА - шкура, мех
СКРАНИЯ - виски, щеки
СКЪПАНИЕ - расщепление, рассечение
СКУДЕЛЬНИЦА - горшок
СКУПЬ - вместе
СЛАНА - иней
СЛАНЫЙ - соленый
СЛОВУТИЕ - молва, слух; знатность
СЛОВУТНЫЙ - знаменитый, известный, славный
СЛУХ - доносчик; ухо
СЛЫ - послы
СМАГА - пламя, огонь, жар
СМОТРЕНИЕ - попечение
СМЫКА - колодка
СНИДАТЬ - есть, закусывать
СОБИНА - имущество
СОКОЛАТИ - болтать, стрекотать
СОЛИЛО - блюдо
СОЛОМЕНЬ (ШЕЛОМАНЬ) - холм
СОНЬМ - собрание, сбор; съезд, собор
СООБЕДНИК - сотрапезник
СОЧИВО - чечевица
СПЕКУЛАТОР - палач
СПОД - круг, группа
СПОНА - препона, препятствие
СПЯТИ - опрокинуть, обратить в бегство
СРАЧИЦА - исподняя рубашка
СРОК - отрывок, кусок
СТАФИЛЬЕ - изюм
СТЕГНО - бедро
СТЕЗЯ – тропа, узкая дорога
СТЕПЕНЬ - ступень
СТЕРВО - труп; гибель
СТОМАХ - желудок
СТРАНЬ - подле, напротив
СТРАННЫЙ - странник; иностранный
СТРАСТЬ - страдание, бедствие, мучение, несчастье, порок
СТРАТИГ - военачальник
СТРУЖИЕ - древко копья
СТРЫЙ - дядя по отцу
СТРЪХА - нижняя часть крыши
СТУД - позор
СУГНУТИ - настигнуть, догнать
СУГУБЫЙ - двойной, удвоенный
СУЕТА - напрасно, впустую; ничтожность
СУЛИЦА - короткое метательное копье
СУРЬСКИЙ - сирийский
СУСТУГ - металлическая нагрудная пряжка, застежка
СХОДАТАЙ - выходец, потомок
СЫНОВЕЦ - племянник
СЫР - творог
СЫРОЯДЕЦ - дикарь, варвар
СЪВАЖАТИ - побуждать к ссоре
СЪВЕЧАТИ - условиться
СЪДЕТЕЛЬ - создатель; помощник
СЪЗДАТИ - построить, создать
СЪЛУЦИЙ - горбатый
СЪПЛЕТАНЬЕ - ссора, свара
СЪСУТИ - насыпать
СЪТУЖАЮЩИЙ - притесняющий
СЫТА - вода, подслащенная медом; разварной мед
СЯКЫЙ - такой
Т ТАЛЬ - заложник
ТАРЪЛЬ - плоская круглая посудина
ТАТЬ - вор, грабитель
ТАЧЕ - потом
ТВАРЬ - изделие, произведение; создание, творение
ТЕЗОИМЕНИТЫЙ - одноименный
ТЕМЬ - поэтому
ТИУН - домовый управитель при князьях и боярах
ТОВАР - стан, обоз; имущество
ТОЛМА - так
ТОЛМАЧ - переводчик
ТОЛСТИНА - грубая ткань
ТОЧИИ - подобный, такой
ТРЕБНЫЙ - нужный
ТРЕСКА - жердь, кол
ТРЕСКИ - спички
ТРОСТЬ - палочка для писания; трость, палка
ТРЯСЦА - лихорадка
ТУГА - печаль, тоска, скорбь
ТУЛ - колчан
ТУМБАН - большой барабан
ТУНЕ – даром, напрасно
ТУТНЬ - гром, грохот; конский топот
ТЩА - напрасно
ТЩАНИЕ - старание, забота
ТЩЕТА - суета; недостаток, убыток
ТЯЖЬКЫЙ - тяжелый, опасный
У УБЛАЖАТИ – прославлять
УБО – так, итак; в таком случае
УБРУС (УБРУСЕЦ) - платок, полотенце
УВЕДЕТИ - узнать
УВЕР - утешение, успокоение; утеха, радость; наставление
УВОЗ - спуск, подъем
УГОЗНИТИ - избежать
УГРИН - венгр
УД - член
УДОЛИЕ - ложбина, долина; яма
УЖЪ - веревка
УЗОРОЧЬЕ - драгоценные вещи, украшенные узорами
УЙ - дядя по матери
УКЛАД - дань
УКЛОНИТИ - отклонить, направить в сторону
УКОРИТИ - устыдить, осудить, оскорбить, обидеть, унизить
УКРОП - горячая, теплая вода
УКРОХ - кусок
УКУПИТИ - собрать, составить
УЛУЧИТИ - получить, наследовать
УМЕТЫ - отбросы, грязь
УНЕ – лучше
УНЕНЧ - просящий
УНОТЫ - юноши, юные
УНУК - внук
УНЬЦЬ - олень, теленок
УПОЛОВНЯ - ковш
УРИСТАНЬЕ - бег, скачка
УРОК - уговор, условие; наставление, указание; плата, подать, штраф
УСМЯГЛЫЙ - усталый
УСНИЕ - кожа
УСПЕНИЕ - погружение в сон; мирная кончина
УСТРЪТИ - встретить
УТЕЧИ - убежать
УТИНОК - щепка
УТЫЙ - исхудалый
УХАРИ - маски
УХЫЩРЕНИЕ - хитрость; art; ремесло
Ф ФАРИС (ФАРЬ) - конь
ФРЯЖСКИЙ - итальянский; европейский
ФУТРИНА (ФУРТОВИНА) - буря, непогода
Х ХАРАЛУГ - булат, сталь
ХАРАЛУЖНЫЙ - булатный
ХАРАТЬЯ (ХАРТИЯ) - пергаментная рукопись, грамота, книга
ХИНОВИ - половцы
ХИНОВСКИЙ - половецкий
ХИТРОСТЬ - мудрость, искусность
ХОРУГВЬ - знамя
ХОТЬ - любимый, любимая, желание
ХУПАВЫЙ - тщеславный, гордый, хвастливый; нарядный; ленивый
ХЫТРЕЦ - художник, творец
ХЫТРЫЙ - искусный, знающий, мудрый
Ц ЦВИЛИТИ - огорчить, мучить
ЦЕЛОВАТИ - приветствовать
ЦЕЖЬ - кисельный раствор
ЦЕРЬ - трут
Ч ЧАДЬ - слуги; младшая дружина
ЧАЮ – ожидаю
ЧЕКАН - топор
ЧЕЛЯДЬ - прислуга
ЧЕРВЛЕНЫЙ - красный
ЧИ - разве, или, хотя
ЧИЛИ - или
ЧИРЫ - башмаки
ЧПАГ - карман, мешок
ЧРЕДИМЫЙ - придерживающийся установленного порядка
ЧРЕСЛА - поясниться
ЧУМ - ковш
ЧЮДЬ - западнофинские племена
Ш ШАР - краска, цвет
ШАРОВИ - краски, цвета
ШЕЛОМ - шлем
ШЕРТ - напиток; клятва; договорные отношения
ШИША - вор, бродяга
ШУБАШ - военачальник
ШУЙЦА - левая рука
Ю ЮЖИК - родственник
ЮЗА - цепь, оковы
Я ЯДЬ - еда, пища
ЯЖЕ – которая, которые, которых
ЯЗВА - рана; беда, печаль
ЯЗВЕНЪ - ранен
ЯКО - что, так что, чтобы, ибо, хотя
ЯКОЖЕ – как; so that
ЯПОНЧИЦА - накидка, плащ
ЯРУГА - проходимый овраг
ЯРЫЙ - мощный, буйный
ЯСТИ - есть
ЯТИ - взять, брать, схватить, достигнуть

Via Internet & Wiki