Domestic mistakes that kill the beauty of the interior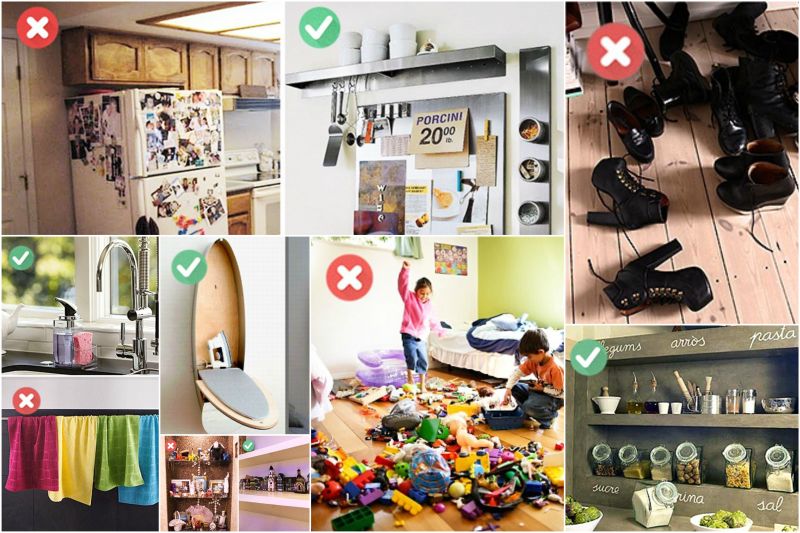 Interior (fr. Interieur <lat. Interior - internal, antonym exterior) - architectural and artistic interior design of the building, providing a person with aesthetic perception and favorable living conditions; the interior of a building or a separate room, the architectural solution of which is determined by its functional purpose.
The interior design is based on the synthesis of pragmatic and artistic ideas and solutions aimed at improving the human condition in a complete, aesthetically perfect form. The interior consists of three components:
construction shell - floor, walls, ceiling;
subject filling (equipment, furniture);
functional processes that form and space, and sensory-psychological atmosphere.
No matter how much you fight over the design in your apartment, well, it does not look like apartments from magazines, but do not fight! It seems that you follow all the rules, combine the colors and maintain the style, but still something is not right. We at Shram.kiev.ua have collected common mistakes in the design of living space, which are sure to be all your attempts.
Fridge Magnets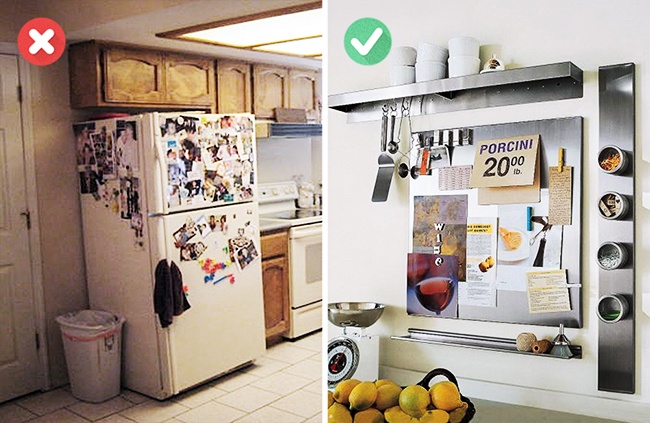 Magnets sticking to the refrigerator, make a visual confusion in the kitchen. There is a way out for collectors: to organize a place for storing memorabilia on a wall using a magnetic board or magnetic paint.
Souvenirs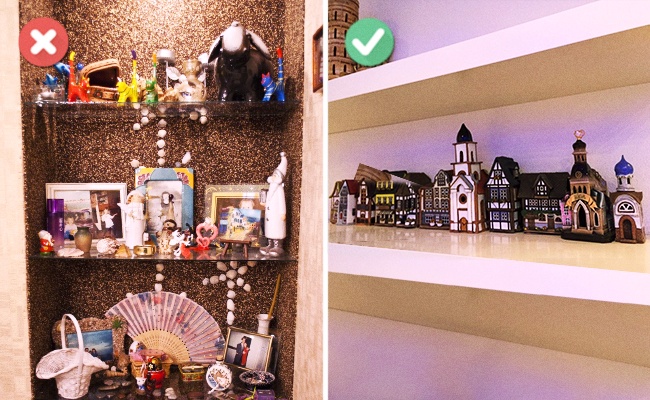 Souvenirs also bring chaos in the way the house looks. But unlike magnets they have nowhere to attach. The situation can save the structuring of your collection: let the shelf will be only teapots from different countries or boxes. Or architectural structures, as in the picture.
Dishwashing liquid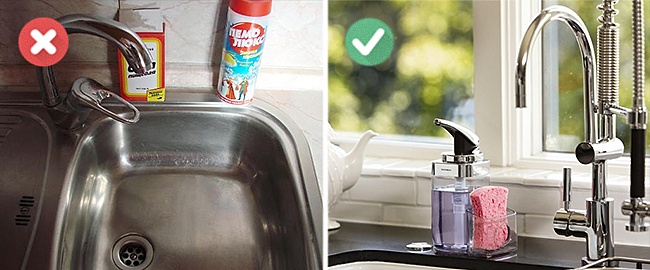 Your kitchen could be a dream kitchen, if not for cleaning products in the most prominent place - consider designers. But what to do, because every housewife in the kitchen should have on hand gels and powders. The output can be reusable dispensers, matched in color and texture to the interior of the kitchen. Bought, poured, enjoy.
Storage on the ironing board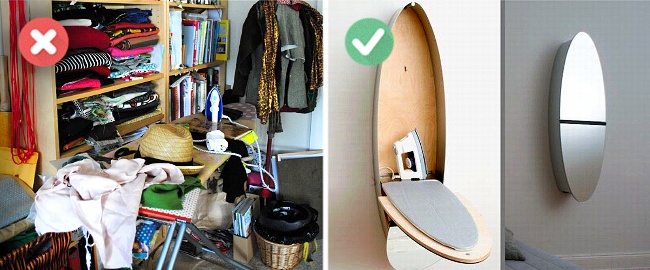 Some use an ironing board for storing things. Designers advise not to be lazy and do not forget to put it in a specially designed place. For convenient storage of this item of use have come up with a lot of non-standard solutions.
A pile of shoes in the hallway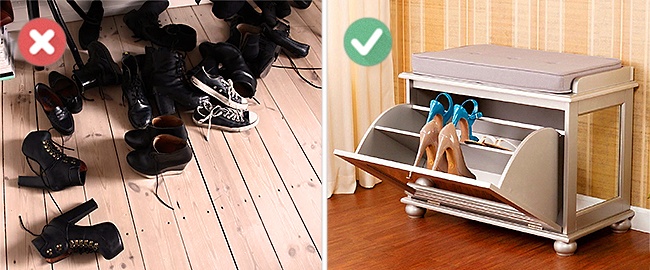 Unfortunately, due to weather conditions we have to have a huge amount of seasonal shoes. But experts advise us to make an effort and come up with some clever way to delicately store all boots, ankle boots, sneakers, shoes, etc. This may be a shelf disguised as an ottoman, or even a hanger. As a result, the place will be more, and the home - much more beautiful.
Multicolored towels in the bathroom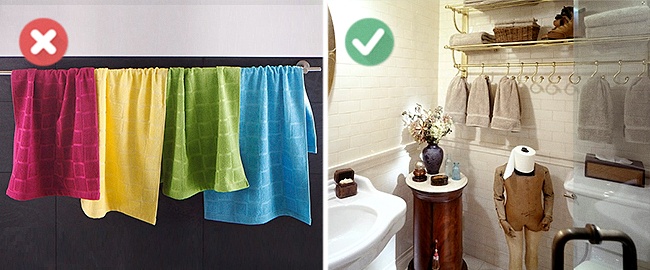 When we imagine what our bathroom will look like after the renovation, it's unlikely that we have bath towels with huge dolphins in our head. A towel that is not matched to the subject can destroy a carefully designed bathroom interior. Naturally, you do not need to throw out everything at once; you can gradually replace all the textiles in the bathroom with the one that suits her the most in color.
Sport equipment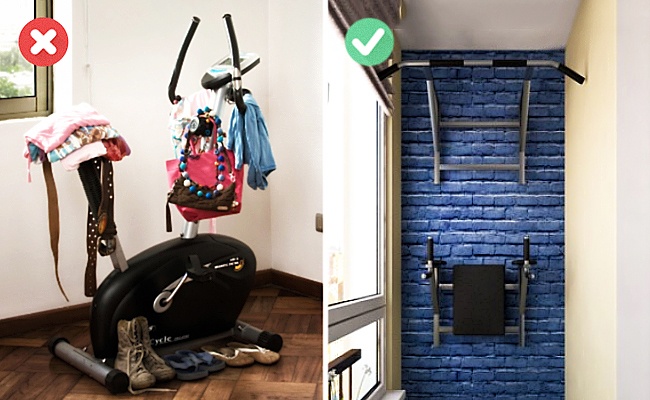 If you haven't sat on an exercise bike for a year, then perhaps it's not so necessary in an apartment. Well, if workouts are regular, then you can think about a special corner for dumbbells or arrange a mini-gym on the balcony.
Bedclothes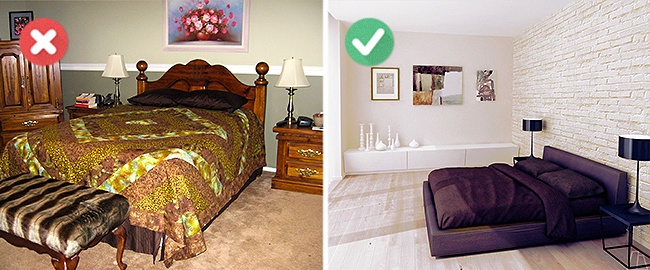 If there are paintings in the bedroom and there are antique clocks, then leopard bedding will look so so there. Exit two: gradually replace, like towels in the bathroom, or sew a huge blanket that will cover everything, and sketch on top of decorative pillows.
Little things in the kitchen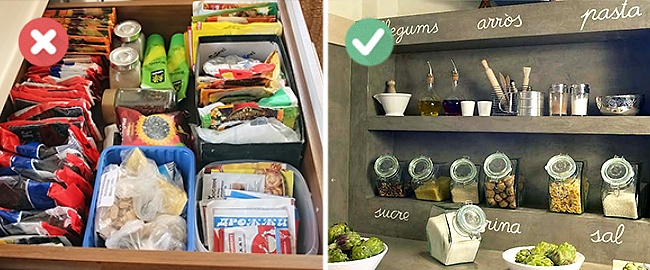 This is surprising, but the spices and oils can be kept on hand and without spoiling the kitchen with numerous packages, sachets and cans. Organizing the storage of small things in the kitchen will make it attractive, and the process of cooking - a real pleasure.
Kids toys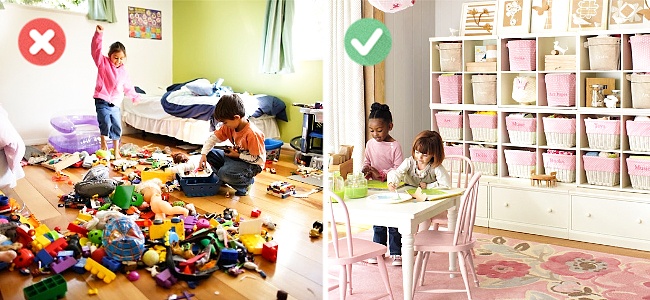 No doubt, it is difficult to maintain an ideal order when there are children in the house. And yet, children can become a factor that does not destroy a single ensemble, but vice versa. Colored containers for storage in the nursery, for example, will help to accustom to order from childhood and make the room a real designer masterpiece.