PSP firmwares p.5
6.35 PRO-A3 Full Pack - Modified-Virtual Firmware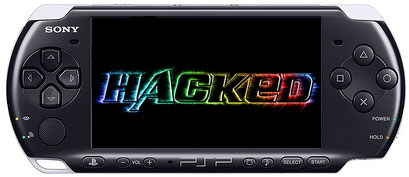 Installation:
1. Firmware 6.35 must be installed on the PSP (it is in Section 3.3)
2. Unpack the entire archive to a memory card (internal memory in the case of PSP GO)
2.2 If you have questions on the replacement of files - click agree
3. Delete the folder "UPDATE" or "UPDATE1" depending on your PSP
3.3. "UPDATE" - normal PSP, "UPDATE1" - PSP Go (the path of this folder is "PSP / GAME")
3. Run "6.35 PRO-A Updater" from the "Game" menu and press X to install.
Differences from 6.35 PRO:
1. Unlocked 51 MB of memory for all PSPs except FAT.
2. Built-in NP9660 and M33 Driver.
3. Launch ISO and CSO directly from XMB.
4. Added VSH menu.
5. Extended homebrew support.
6. Support version.txt in the folder "seplugins /"
VSH MENU Settings:
1. CPU CLOCK XMB - processor frequency in the menu.
2. CPU CLOCK GAME - CPU frequency in games.
3. USB DEVICE - using this item you can change the connected device to flash0 / 1/2/3 or UMD Disk.
4. UMD ISO MODE - driver for running ISO images.
5. XMB PLUGINS - disable / enable all plugins in the VSH category.
6. GAME PLUGINS - disable / enable all plugins in the category GAME.
7. POPS PLUGINS - disable / enable all plug-ins in the POPS category.
8. USB CHARGE - allows you to charge the PSP via USB whenever the console is turned on. Does not work on PSP FAT!
9. HIDE MAC - the item replaces the mac address in the system information.
10. SKIP GAMEBOOT - do not show a short video before launching any game or program.
11. HIDE PIC - hide full-screen backdrops and video previews for all elements of the "Game" menu.
12. FLASH PROTECT - write protection flash0.
13. FAKE REGION - emulation of various PSP regions.
14. SHUTDOWN DEVICE - complete shutdown of the console.
15. SUSPEND DEVICE - switch to sleep mode.
16. RESET DEVICE - reboot the PSP to the official firmware.
17. RESET VSH - restart the graphic shell.
18. EXIT - exit
Running the game and hamster:
Games we throw the .ISO .CSO format into the "ISO" folder on the memory card (internal memory in the case of PSP GO)
All homemade (homebrew) throw here "PSP / GAME /"
Plugins:
Plugins throw here "seplugins /"
But you need to turn them on only through a computer, since This can not be done on the PSP.

Download PSP firmware 6.35 PRO-A3 Full Pack
[

]
5.03 TN HEN kxploit Signed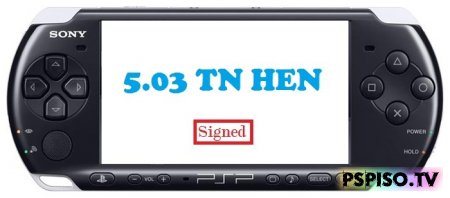 This exploit is intended for owners of PSP 2000 and 3000 with firmware 5.03.
This program is the rescue of owners of unplugged consoles, such as the PSP 2000 with the TA-088v3 and PSP 3000 card. This exploit allows you to take a step towards installing virtual custom firmware.
In essence, it presents itself as an alternative to ChikenHEN, which has a huge number of advantages.
Installation from XMB !!!
Innovations:
The Davee $ v1 method is used to get power_buf_address, it is faster and more accurate. And.
Description:
1. An exploit is launched only if you have previously installed HEN - an exploit and virtual firmware. The launch is made from the XMB menu on the official firmware.
2. Almost no installation failures, as was the case with ChikenHEN.
3. There is a VSH - menu.
4. Allows you to run unsigned Home Bru applications.
5. If you already had a firmware before this, then this exploit loads it automatically.
6. When the console is completely turned off, this exploit crashes and requires re-installation. But thanks to the signature of the exploit by the Sony key, the installation will not take much trouble.
Installation:
1. Download the file for your console, then unzip the file and place the EBOOT file on the memory card of your PSP so that the path to it looks like this:
ms0: \ PSP \ GAME \ 503_kxploit \ EBOOT.PBP
The EBOOT file should be in the folder 503_kxploit. If the file is added to another folder, the program will not start.
2. Run the program on your PSP and wait for the installation.
3. In the case, if your console hangs during installation, go to "Settings" -> "System Settings" and change the UMD Cache parameter to "off". After that, try installing again (thanks to goblin_maks user for the hint).

Download PSP firmware 5.03 TN HEN kxploit Signed [for Version <6 PSP 2000]
[

]

Download PSP firmware 5.03 TN HEN kxploit Signed [for Version <6 PSP 3000]
[

]

Download PSP firmware 5.03 TN HEN kxploit Signed [for Version 6 (2000 and 3000)]
[

]
Yes, and also, you probably noticed that when you throw Homebrew Programs or Games, the menu appears with the Program or Game "Damaged Data", to fix it you just need to rename the file from "%" to "% __ SCE__File name", and another file in "__SCE__ File Name" or go to Recovery Menu-> Configuration-> Hide Corrupt icons (only for custom firmware: OE and M33).